According to new data, overexpression of the nicotinamide adenine dinucleotide (NAD) hydrolase, CD38, in systemic sclerosis (SSc) leads to NAD depletion and fibrosis. These intriguing findings link inflammation, NAD metabolism and fibrosis and bare striking resemblance to age-related changes in SSc. Could DNA damage also connect these seemingly unrelated pathways?
Access options
Subscribe to Journal
Get full journal access for 1 year
$59.00
only $4.92 per issue
All prices are NET prices.
VAT will be added later in the checkout.
Tax calculation will be finalised during checkout.
Rent or Buy article
Get time limited or full article access on ReadCube.
from$8.99
All prices are NET prices.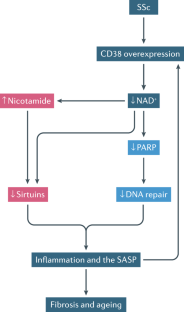 References
1.

Xie, N. et al. NAD+ metabolism: pathophysiologic mechanisms and therapeutic potential. Signal Transduct. Target Ther. 5, 227 (2020).

2.

Shi, B. et al. Targeting CD38-dependent NAD+ metabolism to mitigate multiple organ fibrosis. iScience 24, 101902 (2021).

3.

Luen Tang, B. Srt1 and Mitochondria. Mol. Cells 39, 87–95 (2016).

4.

Vachharajani, V. T. et al. Sirtuins link inflammation and metabolism. J. Immunol. Res. 2016, 8167273 (2016).

5.

Wu, S. & Zhang, R. CD38-expressing macrophages drive age-related NAD+ decline. Nat. Metab. 2, 1186–1187 (2020).

6.

Campisi, J. Aging, cellular senescence, and cancer. Annu. Rev. Physiol. 2013, 685–705 (2014).

7.

Svegliati, S. et al. Oxidative DNA damage induces the ATM-mediated transcriptional suppression of the Wnt inhibitor WIF-1 in systemic sclerosis and fibrosis. Sci. Signal. 7, ra84 (2014).

8.

Diguet, N. et al. Nicotinamide riboside preserves cardiac function in a mouse model of dilated cardiomyopathy. Circulation 137, 2256–2273 (2018).

9.

Desdín-Micó, G. et al. T cells with dysfunctional mitochondria induce multimorbidity and premature senescence. Science 368, 1371–1376 (2020).
Acknowledgements
The work of E.V.A. is supported by the POR Campania FESR 2014-2020 "SATIN" grant, and the work of A.G. is supported by Fondazione di Medicina Molecolare e Terapia Cellulare (Ancona-Italy).
Ethics declarations
Competing interests
The authors declare no competing interests.
About this article
Cite this article
Avvedimento, E.V., Gabrielli, A. Linking NAD metabolism and DNA repair to inflammation in SSc. Nat Rev Rheumatol (2021). https://doi.org/10.1038/s41584-021-00629-8