Stem cells in the pituitary master gland remain mystifying; moreover, they have hardly been explored in humans. A new study applied transcriptome and chromatin accessibility profiling at single-cell resolution to human postmortem pituitary glands from individuals of different ages, thereby providing insights into the heterogeneity and regulatory mechanisms of the projected human pituitary stem cell population.
This is a preview of subscription content
Access options
Subscribe to Nature+
Get immediate online access to the entire Nature family of 50+ journals
Subscribe to Journal
Get full journal access for 1 year
$59.00
only $4.92 per issue
All prices are NET prices.
VAT will be added later in the checkout.
Tax calculation will be finalised during checkout.
Buy article
Get time limited or full article access on ReadCube.
$32.00
All prices are NET prices.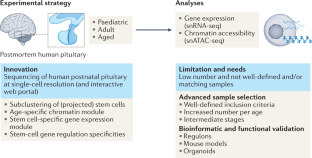 References
Chen, J. et al. The adult pituitary contains a cell population displaying stem/progenitor cell and early embryonic characteristics. Endocrinology 146, 3985–3998 (2005).

Zhang, Z. et al. Single nucleus transcriptome and chromatin accessibility of postmortem human pituitaries reveal diverse stem cell regulatory mechanisms. Cell Rep. 38, 110467 (2022).

Ruf-Zamojski, F. et al. Single nucleus multi-omics regulatory landscape of the murine pituitary. Nat. Commun. 12, 2677 (2021).

Vennekens, A. et al. Interleukin-6 is an activator of pituitary stem cells upon local damage, a competence quenched in the aging gland. Proc. Natl Acad. Sci. USA 118, e2100052118 (2021).

Laporte, E. et al. Decoding the activated stem cell phenotype of the vividly maturing neonatal pituitary. Preprint at bioRxiv https://doi.org/10.1101/2022.01.18.476723 (2022).

Zhang, S. et al. Single-cell transcriptomics identifies divergent developmental lineage trajectories during human pituitary development. Nat. Commun. 11, 5275 (2020).

Fauquier, T., Rizzoti, K., Dattani, M., Lovell-Badge, R. & Robinson, I. C. A. F. SOX2-expressing progenitor cells generate all of the major cell types in the adult mouse pituitary gland. Proc. Natl Acad. Sci. USA 105, 2907–2912 (2008).

Russell, J. P. et al. Pituitary stem cells produce paracrine WNT signals to control the expansion of their descendant progenitor cells. eLife 10, e59142 (2021).

Zhu, X., Tollkuhn, J., Taylor, H. & Rosenfeld, M. G. Notch-dependent pituitary SOX2+ stem cells exhibit a timed functional extinction in regulation of the postnatal gland. Stem Cell Reports 5, 1196–1209 (2015).

Zhu, X., Gleiberman, A. S. & Rosenfeld, M. G. Molecular physiology of pituitary development: signaling and transcriptional networks. Physiol. Rev. 87, 933–963 (2007).
Acknowledgements
We thank L. Hemeryck (KU Leuven, Belgium) for her help in creating the first version of the figure.
Ethics declarations
Competing interests
The authors declare no competing interests.
About this article
Cite this article
Laporte, E., Vankelecom, H. The human pituitary master gland stripped to single-cell resolution. Nat Rev Endocrinol 18, 395–396 (2022). https://doi.org/10.1038/s41574-022-00696-1
Published:

Issue Date:

DOI: https://doi.org/10.1038/s41574-022-00696-1