Abstract
Light is reflected at the interface between heterogeneous media due to the mismatch of impedance1,2,3. Removing this mismatch using additional materials, a technique known as anti-reflection, has so far been restricted to specific frequencies and incidence angles3,4,5,6,7. The anti-reflection of white light, which requires the simultaneous matching of impedance over extremely wide angular and spectral ranges, has until now been considered impossible. Here, we develop a theory of universal impedance matching and introduce a matching layer that enables the perfect transmission of white light. The ability of a matching layer to assist in omnidirectional and frequency-independent anti-reflection has been confirmed analytically and numerically. We explain the feasibility of a universal matching layer using metamaterials, and demonstrate a transmission rate of over 99% for white light in the visible range with a double-layered dielectric metamaterial. This is confirmed experimentally by demonstrating the omnidirectional anti-reflection of microwaves in heterogeneous media.
Your institute does not have access to this article
Relevant articles
Open Access articles citing this article.
Hongchen Chu

,

Haoyang Zhang

…

Yun Lai

Nature Communications Open Access 26 July 2021

Xiaolong Lv

,

Chuanfei Li

…

Yunsheng Guo

Scientific Reports Open Access 04 May 2020
Access options
Subscribe to Nature+
Get immediate online access to the entire Nature family of 50+ journals
Subscribe to Journal
Get full journal access for 1 year
$99.00
only $8.25 per issue
All prices are NET prices.
VAT will be added later in the checkout.
Tax calculation will be finalised during checkout.
Buy article
Get time limited or full article access on ReadCube.
$32.00
All prices are NET prices.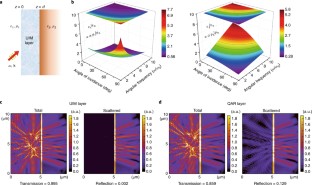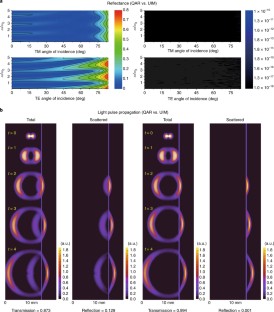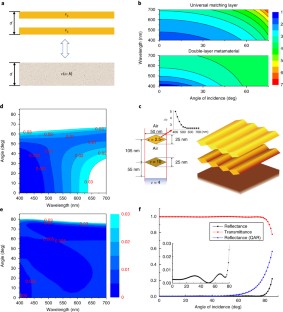 References
Born, M. & Wolf, E. Principles of Optics (Cambridge Univ. Press, Cambridge, 2003).

Brewster, D. On the laws which regulate the polarisation of light by reflection from transparent bodies. Phil. Trans. R. Soc. Lond. 105, 125–159 (1815).

Rayleigh, L. On the intensity of light reflected from certain surfaces at nearly perpendicular incidence. Proc. R. Soc. Lond. 41, 275–294 (1886).

Macleod, H. A. Thin-film Optical Filters (McGraw-Hill, New York, 1989).

Raut, H. K., Ganesh, V. A., Nair, A. S. & Ramakrishna, S. Anti-reflective coatings: a critical, in-depth review. Energ. Environ. Sci. 4, 3779–3804 (2011).

Clapham, P. B. & Hutley, M. C. Reduction of lens reflection by the 'moth eye' principle. Nature 244, 281–282 (1973).

Huang, Y. F. et al. Improved broadband and quasi-omnidirectional anti-reflection properties with biomimetic silicon nanostructures. Nat. Nanotech. 2, 770–774 (2007).

Spinelli, P., Verschuuren, M. A. & Polman, A. Broadband omnidirectional antireflection coating based on subwavelength surface Mie resonator. Nat. Commun. 3, 692 (2012).

Berenger, J. P. A perfectly matched layer for the absorption of electromagnetic waves. J. Comput. Phys. 114, 185–200 (1994).

Pendry, J. B., Schurig, D. & Smith, D. R. Controlling electromagnetic fields. Science 312, 1780–1782 (2006).

Leonhardt, U. Optical conformal mapping. Science 312, 1777–1780 (2006).

Kay, I. & Moses, H. E. Reflectionless transmission through dielectrics and scattering potentials. Appl. Phys. 27, 1503–1508 (1956).

Ablowitz, M. J. & Clarkson, P. A. Solitons, Nonlinear Evolution Equations and Inverse Scattering (Cambridge Univ. Press, Cambridge, 1992).

Horsley, S. A. R., Artoni, M. & La Rocca, G. C. Spatial Kramers–Kronig relations and the reflection of waves. Nat. Photon. 9, 436–439 (2015).

Taflove, A. & Hagness, S. C. Computational Electrodynamics: The Finite-Difference Time-Domain Method (Artech House, London, 2005).

Halevi, P. & Fuchs, R. Generalised additional boundary condition for non-local dielectrics. J. Phys. C 17, 3869–3888 (1984).

Churchill, R. J. & Philbin, T. G. Electromagnetic reflection, transmission and energy density at boundaries of nonlocal media. Phys. Rev. B 94, 235422 (2016).

Kim, K. H. & Park, Q. H. Perfect anti-reflection from first principles. Sci. Rep. 3, 1062 (2013).

Landau, L. D., Lifshitz, E. M. & Pitaevskii, L. P. Electrodynamics of Continuous Media (Pergamon, Oxford, 1960).

Yeh, P. Optical Waves in Layered Media (Wiley, Hoboken, NJ, 2005).

Belov, P. A. et al. Strong spatial dispersion in wire media in the very large wavelength limit. Phys. Rev. B 67, 113103 (2003).

Chebykin, A. V., Orlov, A. A., Simovski, C. R., Kivshar, Y. S. & Belov, P. A. Nonlocal effective parameters of multilayered metal–dielectric metamaterials. Phys. Rev. B 86, 115420 (2012).

Nicolson, A. M. & Ross, G. F. Measurement of the intrinsic properties of materials by time-domain techniques. IEEE Trans. Instrum. Meas. 19, 377–382 (1970).

Weir, W. B. Automatic measurement of complex dielectric constant and permeability at microwave frequencies. Proc. IEEE 62, 33–36 (1974).
Acknowledgements
This work was supported by the Samsung Science and Technology Foundation under project no. SSTF- BA1401-05. Q.-H.P. thanks Y. Kivshar and W. Choi for comments and encouragement.
Ethics declarations
Competing interests
The authors declare no competing financial interests.
Additional information
Publisher's note: Springer Nature remains neutral with regard to jurisdictional claims in published maps and institutional affiliations.
Supplementary information
Supplementary discussion, conditions and derivations; Supplementary Figures 1–6; Supplementary References 1–9.
Propagation of an optical pulse, moving to the right, incident onto a quarter-wave anti-reflection layer.
Propagation of an optical pulse, moving to the right, incident onto a universal impedance matching layer.
About this article
Cite this article
Im, K., Kang, JH. & Park, QH. Universal impedance matching and the perfect transmission of white light. Nature Photon 12, 143–149 (2018). https://doi.org/10.1038/s41566-018-0098-3
Received:

Accepted:

Published:

Issue Date:

DOI: https://doi.org/10.1038/s41566-018-0098-3