Abstract
Aedes aegypti and A. albopictus mosquitoes are the main vectors for dengue virus (DENV) and other arboviruses, including Zika virus (ZIKV). Understanding the factors that affect transmission of arboviruses from mosquitoes to humans is a priority because it could inform public health and targeted interventions. Reasoning that interactions among viruses in the vector insect might affect transmission, we analysed the viromes of 815 urban Aedes mosquitoes collected from 12 countries worldwide. Two mosquito-specific viruses, Phasi Charoen-like virus (PCLV) and Humaita Tubiacanga virus (HTV), were the most abundant in A. aegypti worldwide. Spatiotemporal analyses of virus circulation in an endemic urban area revealed a 200% increase in chances of having DENV in wild A. aegypti mosquitoes when both HTV and PCLV were present. Using a mouse model in the laboratory, we showed that the presence of HTV and PCLV increased the ability of mosquitoes to transmit DENV and ZIKV to a vertebrate host. By transcriptomic analysis, we found that in DENV-infected mosquitoes, HTV and PCLV block the downregulation of histone H4, which we identify as an important proviral host factor in vivo.
Access options
Access Nature and 54 other Nature Portfolio journals
Get Nature+, our best-value online-access subscription
$29.99 per month
cancel any time
Subscribe to this journal
Receive 12 digital issues and online access to articles
$119.00 per year
only $9.92 per issue
Rent or buy this article
Get just this article for as long as you need it
$39.95
Prices may be subject to local taxes which are calculated during checkout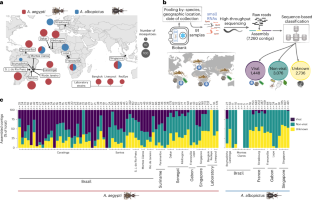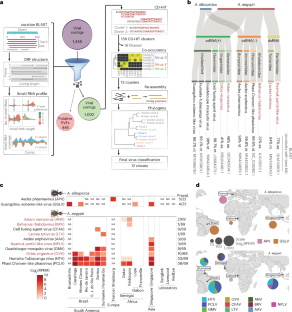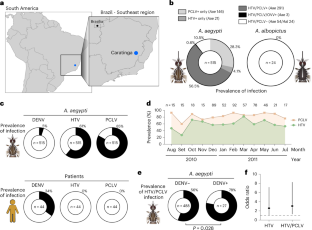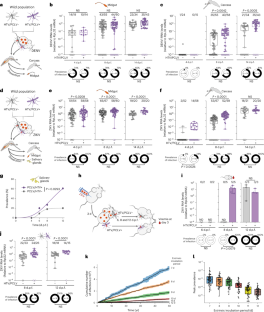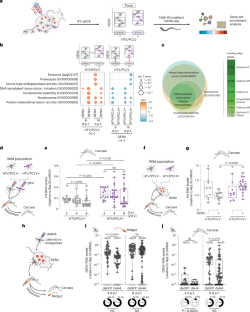 Data availability
Small RNA and transcriptome libraries from this study have been deposited in the Sequence Read Archive (SRA) at NCBI (project accession PRJNA722589). Sequences spanning the RdRP region from newly discovered viruses were deposited in GenBank under accession MZ556103-MZ556111. Accession numbers for small RNA libraries are provided in Supplementary Table 1. Source data are provided with this paper.
References
Weaver, S. C., Charlier, C., Vasilakis, N. & Lecuit, M. Zika, chikungunya, and other emerging vector-borne viral diseases. Annu. Rev. Med 69, 395–408 (2018).

Bhatt, S. et al. The global distribution and burden of dengue. Nature 496, 504–507 (2013).

Messina, J. P. et al. Global spread of dengue virus types: mapping the 70 year history. Trends Microbiol. 22, 138–146 (2014).

Franklinos, L. H. V., Jones, K. E., Redding, D. W. & Abubakar, I. The effect of global change on mosquito-borne disease. Lancet Infect. Dis. 19, e302–e312 (2019).

Kraemer, M. U. G. et al. Past and future spread of the arbovirus vectors Aedes aegypti and Aedes albopictus. Nat. Microbiol. 4, 854–863 (2019).

Cromwell, E. A. et al. The relationship between entomological indicators of Aedes aegypti abundance and dengue virus infection. PLoS Negl. Trop. Dis. 11, e0005429 (2017).

de Almeida, J. P., Aguiar, E. R., Armache, J. N., Olmo, R. P. & Marques, J. T. The virome of vector mosquitoes. Curr. Opin. Virol. 49, 7–12 (2021).

Aguiar, E. R. G. R. et al. Sequence-independent characterization of viruses based on the pattern of viral small RNAs produced by the host. Nucleic Acids Res. 43, 6191–6206 (2015).

Boyles, S. M. et al. Under-the-radar dengue virus infections in natural populations of Aedes aegypti mosquitoes. mSphere 5, e00316–20 (2020).

Ramos-Nino, M. E. et al. High prevalence of Phasi Charoen-like virus from wild-caught Aedes aegypti in Grenada, W.I. as revealed by metagenomic analysis. PLoS ONE 15, e0227998 (2020).

Shi, C. et al. Stable distinct core eukaryotic viromes in different mosquito species from Guadeloupe, using single mosquito viral metagenomics. Microbiome 7, 121 (2019).

Zakrzewski, M. et al. Mapping the virome in wild-caught Aedes aegypti from Cairns and Bangkok. Sci. Rep. 8, 4690 (2018).

Patterson, E. I., Villinger, J., Muthoni, J. N., Dobel-Ober, L. & Hughes, G. L. Exploiting insect-specific viruses as a novel strategy to control vector-borne disease. Curr. Opin. Insect Sci. 39, 50–56 (2020).

Vasilakis, N. & Tesh, R. B. Insect-specific viruses and their potential impact on arbovirus transmission. Curr. Opin. Virol. 15, 69–74 (2015).

Aguiar, E. R. G. R., Olmo, R. P. & Marques, J. T. Virus-derived small RNAs: molecular footprints of host-pathogen interactions. Wiley Interdiscip. Rev. RNA 7, 824–837 (2016).

Morazzani, E. M., Wiley, M. R., Murreddu, M. G., Adelman, Z. N. & Myles, K. M. Production of virus-derived ping-pong-dependent piRNA-like small RNAs in the mosquito soma. PLoS Pathog. 8, e1002470 (2012).

Myles, K. M., Wiley, M. R., Morazzani, E. M. & Adelman, Z. N. Alphavirus-derived small RNAs modulate pathogenesis in disease vector mosquitoes. Proc. Natl Acad. Sci. USA 105, 19938–19943 (2008).

Frangeul, L., Blanc, H., Saleh, M.-C. & Suzuki, Y. Differential small RNA responses against co-infecting insect-specific viruses in Aedes albopictus mosquitoes. Viruses 12, 468 (2020).

Olmo, R. P. et al. Control of dengue virus in the midgut of Aedes aegypti by ectopic expression of the dsRNA-binding protein Loqs2. Nat. Microbiol. 3, 1385–1393 (2018).

Sedda, L. et al. The spatial and temporal scales of local dengue virus transmission in natural settings: a retrospective analysis. Parasit. Vectors 11, 79 (2018).

Schultz, M. J., Frydman, H. M. & Connor, J. H. Dual insect specific virus infection limits Arbovirus replication in Aedes mosquito cells. Virology 518, 406–413 (2018).

Fredericks, A. C. et al. Aedes aegypti (Aag2)-derived clonal mosquito cell lines reveal the effects of pre-existing persistent infection with the insect-specific bunyavirus Phasi Charoen-like virus on arbovirus replication. PLoS Negl. Trop. Dis. 13, e0007346 (2019).

Sedda, L., Taylor, B. M., Eiras, A. E., Marques, J. T. & Dillon, R. J. Using the intrinsic growth rate of the mosquito population improves spatio-temporal dengue risk estimation. Acta Trop. 208, 105519 (2020).

Lin, J.-J. et al. Aggressive organ penetration and high vector transmissibility of epidemic dengue virus-2 cosmopolitan genotype in a transmission mouse model. PLoS Pathog. 17, e1009480 (2021).

Sun, P. et al. A mosquito salivary protein promotes flavivirus transmission by activation of autophagy. Nat. Commun. 11, 260 (2020).

Lourenço, J. & Recker, M. Natural, persistent oscillations in a spatial multi-strain disease system with application to dengue. PLoS Comput. Biol. 9, e1003308 (2013).

Lourenço, J. et al. Epidemiological and ecological determinants of Zika virus transmission in an urban setting. eLife 6, e29820 (2017).

Subramanian, A. et al. Gene set enrichment analysis: a knowledge-based approach for interpreting genome-wide expression profiles. Proc. Natl Acad. Sci. USA 102, 15545–15550 (2005).

Flaus, A., Downs, J. A. & Owen-Hughes, T. Histone isoforms and the oncohistone code. Curr. Opin. Genet. Dev. 67, 61–66 (2021).

Lyons, S. M. et al. A subset of replication-dependent histone mRNAs are expressed as polyadenylated RNAs in terminally differentiated tissues. Nucleic Acids Res. 44, 9190–9205 (2016).

Baidaliuk, A. et al. Cell-fusing agent virus reduces arbovirus dissemination in Aedes aegypti mosquitoes in vivo. J. Virol. 93, e00705–e00719 (2019).

Blitvich, B. J. & Firth, A. E. Insect-specific flaviviruses: a systematic review of their discovery, host range, mode of transmission, superinfection exclusion potential and genomic organization. Viruses 7, 1927–1959 (2015).

Colpitts, T. M., Barthel, S., Wang, P. & Fikrig, E. Dengue virus capsid protein binds core histones and inhibits nucleosome formation in human liver cells. PLoS ONE 6, e24365 (2011).

Mourão, D. et al. A histone-like motif in yellow fever virus contributes to viral replication. Preprint at bioRxiv https://doi.org/10.1101/2020.05.05.078782 (2020).

Girardi, E. et al. Histone-derived piRNA biogenesis depends on the ping-pong partners Piwi5 and Ago3 in Aedes aegypti. Nucleic Acids Res. 45, 4881–4892 (2017).

Varjak, M. et al. Aedes aegypti Piwi4 is a noncanonical PIWI protein involved in antiviral responses. mSphere 2, e00144-17 (2017).

Parry, R. & Asgari, S. Aedes anphevirus: an insect-specific virus distributed worldwide in Aedes aegypti mosquitoes that has complex interplays with Wolbachia and dengue virus infection in cells. J. Virol. 92, e00224-18 (2018).

Zhang, G., Asad, S., Khromykh, A. A. & Asgari, S. Cell fusing agent virus and dengue virus mutually interact in Aedes aegypti cell lines. Sci. Rep. 7, 6935 (2017).

Nasar, F., Erasmus, J. H., Haddow, A. D., Tesh, R. B. & Weaver, S. C. Eilat virus induces both homologous and heterologous interference. Virology 484, 51–58 (2015).

Kenney, J. L., Solberg, O. D., Langevin, S. A. & Brault, A. C. Characterization of a novel insect-specific flavivirus from Brazil: potential for inhibition of infection of arthropod cells with medically important flaviviruses. J. Gen. Virol. 95, 2796–2808 (2014).

Romo, H., Kenney, J. L., Blitvich, B. J. & Brault, A. C. Restriction of Zika virus infection and transmission in Aedes aegypti mediated by an insect-specific flavivirus. Emerg. Microbes Infect. 7, 1–13 (2018).

Goenaga, S. et al. Potential for co-infection of a mosquito-specific flavivirus, nhumirim virus, to block West Nile virus transmission in mosquitoes. Viruses 7, 5801–5812 (2015).

Alefelder, S., Patel, B. K. & Eckstein, F. Incorporation of terminal phosphorothioates into oligonucleotides. Nucleic Acids Res. 26, 4983–4988 (1998).

Marques, J. T. et al. Loqs and R2D2 act sequentially in the siRNA pathway in Drosophila. Nat. Struct. Mol. Biol. 17, 24–30 (2010).

Martin, M. Cutadapt removes adapter sequences from high-throughput sequencing reads. EMBnet j. 17, 10–12 (2011).

Matthews, B. J. et al. Improved reference genome of Aedes aegypti informs arbovirus vector control. Nature 563, 501–507 (2018).

Chen, X.-G. et al. Genome sequence of the Asian Tiger mosquito, Aedes albopictus, reveals insights into its biology, genetics, and evolution. Proc. Natl Acad. Sci. USA 112, E5907–E5915 (2015).

Langmead, B., Trapnell, C., Pop, M. & Salzberg, S. L. Ultrafast and memory-efficient alignment of short DNA sequences to the human genome. Genome Biol. 10, R25 (2009).

Zerbino, D. R. Using the Velvet de novo assembler for short-read sequencing technologies. Curr. Protoc. Bioinform. https://doi.org/10.1002/0471250953.bi1105s31 (2010).

Bankevich, A. et al. SPAdes: a new genome assembly algorithm and its applications to single-cell sequencing. J. Comput. Biol. 19, 455–477 (2012).

O'Leary, N. A. et al. Reference sequence (RefSeq) database at NCBI: current status, taxonomic expansion, and functional annotation. Nucleic Acids Res. 44, D733–D745 (2016).

Altschul, S. F., Gish, W., Miller, W., Myers, E. W. & Lipman, D. J. Basic local alignment search tool. J. Mol. Biol. 215, 403–410 (1990).

Fu, L., Niu, B., Zhu, Z., Wu, S. & Li, W. CD-HIT: accelerated for clustering the next-generation sequencing data. Bioinformatics 28, 3150–3152 (2012).

Aguiar, E. R. G. R. et al. A single unidirectional piRNA cluster similar to the flamenco locus is the major source of EVE-derived transcription and small RNAs in Aedes aegypti mosquitoes. RNA 26, 581–594 (2020).

Whitfield, Z. J. et al. The diversity, structure, and function of heritable adaptive immunity sequences in the Aedes aegypti genome. Curr. Biol. 27, 3511–3519.e7 (2017).

Palatini, U. et al. Comparative genomics shows that viral integrations are abundant and express piRNAs in the arboviral vectors Aedes aegypti and Aedes albopictus. BMC Genomics 18, 512 (2017).

Katoh, K., Misawa, K., Kuma, K. & Miyata, T. MAFFT: a novel method for rapid multiple sequence alignment based on fast Fourier transform. Nucleic Acids Res. 30, 3059–3066 (2002).

Miller, M. A., Pfeiffer, W. & Schwartz, T. The CIPRES science gateway: a community resource for phylogenetic analyses. In Towns J. Proc. 2011 TeraGrid Conference on Extreme Digital Discovery - TG '11 41, 1-8 (ACM Press, 2011).

Darriba, D. et al. ModelTest-NG: a new and scalable tool for the selection of DNA and protein evolutionary models. Mol. Biol. Evol. 37, 291–294 (2020).

Kumar, S., Stecher, G., Li, M., Knyaz, C. & Tamura, K. MEGA X: molecular evolutionary genetics analysis across computing platforms. Mol. Biol. Evol. 35, 1547–1549 (2018).

Letunic, I. & Bork, P. Interactive Tree Of Life (iTOL) v4: recent updates and new developments. Nucleic Acids Res. 47, W256–W259 (2019).

Barletta, A. B. F. et al. Microbiota activates IMD pathway and limits Sindbis infection in Aedes aegypti. Parasit. Vectors 10, 103 (2017).

Donald, C. L. et al. Full genome sequence and sfRNA interferon antagonist activity of Zika virus from Recife, Brazil. PLoS Negl. Trop. Dis. 10, e0005048 (2016).

Bolger, A. M., Lohse, M. & Usadel, B. Trimmomatic: a flexible trimmer for Illumina sequence data. Bioinformatics 30, 2114–2120 (2014).

Patro, R., Duggal, G., Love, M. I., Irizarry, R. A. & Kingsford, C. Salmon provides fast and bias-aware quantification of transcript expression. Nat. Methods 14, 417–419 (2017).

Robinson, M. D. & Oshlack, A. A scaling normalization method for differential expression analysis of RNA-seq data. Genome Biol. 11, R25 (2010).

Robinson, M. D., McCarthy, D. J. & Smyth, G. K. edgeR: a Bioconductor package for differential expression analysis of digital gene expression data. Bioinformatics 26, 139–140 (2010).

Korotkevich, G. et al. Fast gene set enrichment analysis. Preprint at bioRxiv https://doi.org/10.1101/060012 (2016).

Di Tommaso, P. et al. T-Coffee: a web server for the multiple sequence alignment of protein and RNA sequences using structural information and homology extension. Nucleic Acids Res. 39, W13–W17 (2011).

Guindon, S. et al. New algorithms and methods to estimate maximum-likelihood phylogenies: assessing the performance of PhyML 3.0. Syst. Biol. 59, 307–321 (2010).

Lefort, V., Longueville, J.-E. & Gascuel, O. SMS: Smart Model Selection in PhyML. Mol. Biol. Evol. 34, 2422–2424 (2017).

Lambert, D. Zero-inflated Poisson regression, with an application to defects in manufacturing. Technometrics 34, 1–14 (1992).

Hilbe, J. M. Negative Binomial Regression (2007).

Cameron, A. C. & Trivedi, P. K. Regression Analysis of Count Data (Cambridge Univ. Press, 1998).

Zeileis, A., Kleiber, C. & Jackman, S. Regression models for count data in R. J. Stat. Softw. 27, 8 (2008).
Acknowledgements
We thank all members of the ZIKAlliance consortium, especially A.-B. Failloux and A. Kohl for helping with establishing a network of collaborators and contributing fruitful discussions; current and former members of the Marques laboratory and the M3i unit - Insect Models of Innate Immunity, especially S. Blandin and N. Martins for suggestions and discussions. This work of the Interdisciplinary Thematic Institute IMCBio, as part of the ITI 2021-2028 programme of the University of Strasbourg, CNRS and Inserm, was supported by IdEx Unistra (ANR-10-IDEX-0002), by the SFRI-STRAT'US project (ANR 20-SFRI-0012), and EUR IMCBio (IMCBio ANR-17-EURE-0023) under the framework of the French Investments for the Future Program as well as by the previous Labex NetRNA (ANR-10-LABX-0036) to J.T.M and J.-L.I. This work was also supported by grants from Conselho Nacional de Desenvolvimento Científico e Tecnológico (CNPq) to J.T.M. and E.R.G.R.A.; Fundação de Amparo a Pesquisa do Estado de Minas Gerais (FAPEMIG), Rede Mineira de Imunobiológicos (grant no. REDE-00140-16), Rede Mineira de Biomoléculas (grant no. REDE-00125-16), Instituto Nacional de Ciência e Tecnologia de Vacinas (INCTV), Fonds Régional de Coopération pour la Recherche FRCT2020 Région Grand-Est – ViroMod and Institute for Advanced Studies of the University of Strasbourg (USIAS fellowship 2019 to J.T.M.); Google Latin American Research Award (LARA 2019) to J.T.M. and J.P.P.d.A.; FAPESP (Grant No. 13/21719-3) to M.L.N.; the European Union's Horizon 2020 research and innovation programme under ZIKAlliance grant agreement no. 734548 and Investissement d'Avenir Programs (ANR-10-LABX-0036 and ANR- 11-EQPX-0022) to J.-L.I. and J.T.M.; and ANR PRC TIGERBRIDGE, grant no. 16-CE35-0010-01 to C.P. J.T.M., B.P.D., E.G.K and M.L.N. are CNPq Research Fellows. M.L.N. was partly funded by the Centers for Research in Emerging Infectious Diseases (CREID), the Coordinating Research on Emerging Arboviral Threats Encompassing the Neotropics (CREATE-NEO) grant U01 AI151807 by the National Institutes of Health (NIH/USA). This study was financed in part by the Coordenação de Aperfeiçoamento de Pessoal de Nível Superior—Brasil (CAPES)—Finance Code 001 to J.T.M. and V.A.-S. R.P.O. received a post-doctoral fellowship from CAPES.
Ethics declarations
Competing interests
The authors declare no competing interests.
Peer review
Peer review information
Nature Microbiology thanks the anonymous reviewers for their contribution to the peer review of this work.
Additional information
Publisher's note Springer Nature remains neutral with regard to jurisdictional claims in published maps and institutional affiliations.
Supplementary information
Supplementary Table 1Overview of small RNA libraries. Metadata of small RNA libraries used in our study (SRA deposit ID, species, mosquito capture location, number of mosquitoes per pool, RNA treatment, and sequencing method). Supplementary Table 2Small RNA assembly metrics. Detailed information of assembled contigs with length >50 nt and length >199 nt per small RNA library. Supplementary Table 3Overview of contigs with similarity to viral sequences deposited in GenBank. Detailed information of BLASTn or BLASTp hits from contigs matching viral sequences (length > 199 nt) per small RNA library. Supplementary Table 4Overview of CD-Hit clusters. Number of contigs that compose each CD-Hit cluster. Supplementary Table 5List of oligonucleotides used in this study. Supplementary Table 6Parameters used to model DENV transmission.
Rights and permissions
Springer Nature or its licensor (e.g. a society or other partner) holds exclusive rights to this article under a publishing agreement with the author(s) or other rightsholder(s); author self-archiving of the accepted manuscript version of this article is solely governed by the terms of such publishing agreement and applicable law.
About this article
Cite this article
Olmo, R.P., Todjro, Y.M.H., Aguiar, E.R.G.R. et al. Mosquito vector competence for dengue is modulated by insect-specific viruses. Nat Microbiol 8, 135–149 (2023). https://doi.org/10.1038/s41564-022-01289-4
Received:

Accepted:

Published:

Issue Date:

DOI: https://doi.org/10.1038/s41564-022-01289-4