Abstract
Internal N6-methyladenosine (m6A) modification is one of the most common and abundant modifications of RNA. However, the biological roles of viral RNA m6A remain elusive. Here, using human metapneumovirus (HMPV) as a model, we demonstrate that m6A serves as a molecular marker for innate immune discrimination of self from non-self RNAs. We show that HMPV RNAs are m6A methylated and that viral m6A methylation promotes HMPV replication and gene expression. Inactivating m6A addition sites with synonymous mutations or demethylase resulted in m6A-deficient recombinant HMPVs and virion RNAs that induced increased expression of type I interferon, which was dependent on the cytoplasmic RNA sensor RIG-I, and not on melanoma differentiation-associated protein 5 (MDA5). Mechanistically, m6A-deficient virion RNA induces higher expression of RIG-I, binds more efficiently to RIG-I and facilitates the conformational change of RIG-I, leading to enhanced interferon expression. Furthermore, m6A-deficient recombinant HMPVs triggered increased interferon in vivo and were attenuated in cotton rats but retained high immunogenicity. Collectively, our results highlight that (1) viruses acquire m6A in their RNA as a means of mimicking cellular RNA to avoid detection by innate immunity and (2) viral RNA m6A can serve as a target to attenuate HMPV for vaccine purposes.
This is a preview of subscription content
Access options
Subscribe to Nature+
Get immediate online access to the entire Nature family of 50+ journals
Subscribe to Journal
Get full journal access for 1 year
$119.00
only $9.92 per issue
All prices are NET prices.
VAT will be added later in the checkout.
Tax calculation will be finalised during checkout.
Buy article
Get time limited or full article access on ReadCube.
$32.00
All prices are NET prices.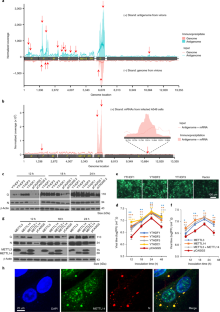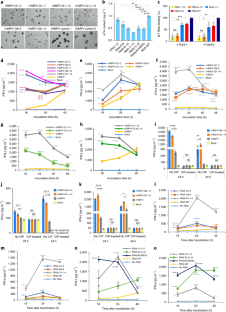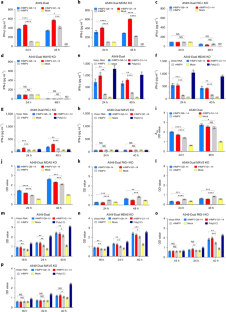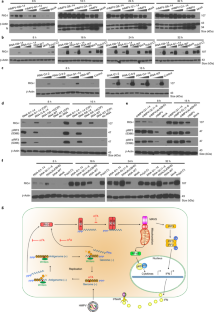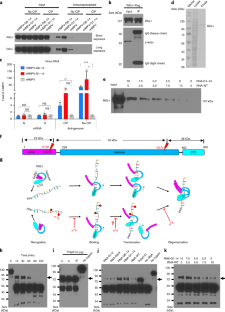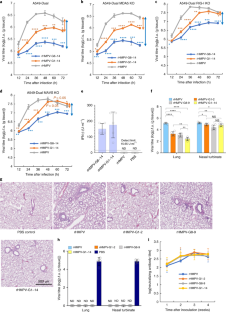 Data availability
The data supporting the findings of this study are available with the article and its Extended Data and Supplementary Information files, or are available from the corresponding author upon request. The raw sequencing data obtained from the MeRIP-seq reported in this paper has been deposited at the Gene Expression Omnibus with accession no. GSE136139. The source data underlying Figures, Extended Data Figures and Supplementary Figures are provided as a Source Data file.
References
Takeuchi, O. & Akira, S. Innate immunity to virus infection. Immunol. Rev. 227, 75–86 (2009).

Loo, Y. M. & Gale, M. Jr Viral regulation and evasion of the host response. Curr. Top. Microbiol. Immunol. 316, 295–313 (2007).

Chow, K. T., Gale, M. Jr & Loo, Y. M. RIG-I and other RNA sensors in antiviral immunity. Annu. Rev. Immunol. 36, 667–694 (2018).

Wu, B. et al. Molecular imprinting as a signal-activation mechanism of the viral RNA sensor RIG-I. Mol. Cell 55, 511–523 (2014).

Hornung, V. et al. 5′-Triphosphate RNA is the ligand for RIG-I. Science 314, 994–997 (2006).

Pichlmair, A. et al. RIG-I-mediated antiviral responses to single-stranded RNA bearing 5′-phosphates. Science 314, 997–1001 (2006).

Schlee, M. et al. Recognition of 5′ triphosphate by RIG-I helicase requires short blunt double-stranded RNA as contained in panhandle of negative-strand virus. Immunity 31, 25–34 (2009).

Kato, H. et al. Length-dependent recognition of double-stranded ribonucleic acids by retinoic acid-inducible gene-I and melanoma differentiation-associated gene 5. J. Exp. Med. 205, 1601–1610 (2008).

Runge, S. et al. In vivo ligands of MDA5 and RIG-I in measles virus-infected cells. PLoS Pathog. 10, e1004081 (2014).

Shuman, S. What messenger RNA capping tells us about eukaryotic evolution. Nat. Rev. Mol. Cell Biol. 3, 619–625 (2002).

Furuichi, Y., LaFiandra, A. & Shatkin, A. J. 5′-Terminal structure and mRNA stability. Nature 266, 235–239 (1977).

Hyde, J. L. & Diamond, M. S. Innate immune restriction and antagonism of viral RNA lacking 2′-O methylation. Virology 479-480, 66–74 (2015).

Li, J., Wang, J. T. & Whelan, S. P. A unique strategy for mRNA cap methylation used by vesicular stomatitis virus. Proc. Natl Acad. Sci. USA 103, 8493–8498 (2006).

Ray, D. et al. West Nile virus 5′-cap structure is formed by sequential guanine N-7 and ribose 2′-O methylations by nonstructural protein 5. J. Virol. 80, 8362–8370 (2006).

Chen, Y. et al. Biochemical and structural insights into the mechanisms of SARS coronavirus RNA ribose 2′-O-methylation by nsp16/nsp10 protein complex. PLoS Pathog. 7, e1002294 (2011).

Li, J., Fontaine-Rodriguez, E. C. & Whelan, S. P. Amino acid residues within conserved domain VI of the vesicular stomatitis virus large polymerase protein essential for mRNA cap methyltransferase activity. J. Virol. 79, 13373–13384 (2005).

Ma, Y. et al. mRNA cap methylation influences pathogenesis of vesicular stomatitis virus in vivo. J. Virol. 88, 2913–2926 (2014).

Zust, R. et al. Ribose 2′-O-methylation provides a molecular signature for the distinction of self and non-self mRNA dependent on the RNA sensor Mda5. Nat. Immunol. 12, 137–143 (2011).

Daffis, S. et al. 2′-O methylation of the viral mRNA cap evades host restriction by IFIT family members. Nature 468, 452–456 (2010).

Abbas, Y. M. et al. Structure of human IFIT1 with capped RNA reveals adaptable mRNA binding and mechanisms for sensing N1 and N2 ribose 2′-O methylations. Proc. Natl Acad. Sci. USA 114, E2106–E2115 (2017).

Yue, Y., Liu, J. & He, C. RNA N6-methyladenosine methylation in post-transcriptional gene expression regulation. Genes Dev. 29, 1343–1355 (2015).

Roundtree, I. A., Evans, M. E., Pan, T. & He, C. Dynamic RNA modifications in gene expression regulation. Cell 169, 1187–1200 (2017).

Frye, M., Harada, B. T., Behm, M. & He, C. RNA modifications modulate gene expression during development. Science 361, 1346–1349 (2018).

Zhao, B. S. et al. m6A-dependent maternal mRNA clearance facilitates zebrafish maternal-to-zygotic transition. Nature 542, 475–478 (2017).

Lavi, S. & Shatkin, A. J. Methylated simian virus 40-specific RNA from nuclei and cytoplasm of infected BSC-1 cells. Proc. Natl Acad. Sci. USA 72, 2012–2016 (1975).

Furuichi, Y., Shatkin, A. J., Stavnezer, E. & Bishop, J. M. Blocked, methylated 5′-terminal sequence in avian sarcoma virus RNA. Nature 257, 618–620 (1975).

Moss, B., Gershowitz, A., Stringer, J. R., Holland, L. E. & Wagner, E. K. 5′-Terminal and internal methylated nucleosides in herpes simplex virus type 1 mRNA. J. Virol. 23, 234–239 (1977).

Sommer, S. et al. The methylation of adenovirus-specific nuclear and cytoplasmic RNA. Nucleic Acids Res. 3, 749–765 (1976).

Kennedy, E. M. et al. Posttranscriptional m6A editing of HIV-1 mRNAs enhances viral gene expression. Cell Host Microbe 22, 830 (2017).

Lichinchi, G. et al. Dynamics of the human and viral m6A RNA methylomes during HIV-1 infection of T cells. Nat. Microbiol. 1, 16011 (2016).

Xue, M. et al. Viral N 6-methyladenosine upregulates replication and pathogenesis of human respiratory syncytial virus. Nat. Commun. 10, 4595 (2019).

Gokhale, N. S. et al. N 6-methyladenosine in Flaviviridae viral RNA genomes regulates infection. Cell Host Microbe 20, 654–665 (2016).

Tirumuru, N. et al. N 6-methyladenosine of HIV-1 RNA regulates viral infection and HIV-1 Gag protein expression. eLife 5, e15528 (2016).

Tan, B. et al. Viral and cellular N 6-methyladenosine and N6,2′-O-dimethyladenosine epitranscriptomes in the KSHV life cycle. Nat. Microbiol. 3, 108–120 (2018).

Courtney, D. G. et al. Epitranscriptomic enhancement of influenza A virus gene expression and replication. Cell Host Microbe 22, 377–386 e375 (2017).

Hesser, C. R., Karijolich, J., Dominissini, D., He, C. & Glaunsinger, B. A. N 6-methyladenosine modification and the YTHDF2 reader protein play cell type specific roles in lytic viral gene expression during Kaposi's sarcoma-associated herpesvirus infection. PLoS Pathog. 14, e1006995 (2018).

Imam, H. et al. N 6-methyladenosine modification of hepatitis B virus RNA differentially regulates the viral life cycle. Proc. Natl Acad. Sci. USA 115, 8829–8834 (2018).

Durbin, A. F., Wang, C., Marcotrigiano, J. & Gehrke, L. RNAs containing modified nucleotides fail to trigger RIG-I conformational changes for innate immune signaling. mBio 7, e00833-16 (2016).

Jiang, F. et al. Structural basis of RNA recognition and activation by innate immune receptor RIG-I. Nature 479, 423–427 (2011).

Wang, X. et al. N 6-methyladenosine-dependent regulation of messenger RNA stability. Nature 505, 117–120 (2014).

Wang, X. et al. N 6-methyladenosine modulates messenger RNA translation efficiency. Cell 161, 1388–1399 (2015).

Meyer, K. D. et al. 5′ UTR m6A promotes cap-independent translation. Cell 163, 999–1010 (2015).

Schildgen, V. et al. Human metapneumovirus: lessons learned over the first decade. Clin. Microbiol. Rev. 24, 734–754 (2011).

Myong, S. et al. Cytosolic viral sensor RIG-I is a 5′-triphosphate-dependent translocase on double-stranded RNA. Science 323, 1070–1074 (2009).

Zheng, J. et al. HDX-MS reveals dysregulated checkpoints that compromise discrimination against self RNA during RIG-I mediated autoimmunity. Nat. Commun. 9, 5366 (2018).

Devarkar, S. C., Schweibenz, B., Wang, C., Marcotrigiano, J. & Patel, S. S. RIG-I Uses an ATPase-powered translocation-throttling mechanism for kinetic proofreading of RNAs and oligomerization. Mol. Cell 72, 355–368 (2018).

Kariko, K., Buckstein, M., Ni, H. & Weissman, D. Suppression of RNA recognition by Toll-like receptors: the impact of nucleoside modification and the evolutionary origin of RNA. Immunity 23, 165–175 (2005).

Sioud, M., Furset, G. & Cekaite, L. Suppression of immunostimulatory siRNA-driven innate immune activation by 2′-modified RNAs. Biochem. Biophys. Res. Commun. 361, 122–126 (2007).

Chen, Y. G. et al. N 6-methyladenosine modification controls circular RNA immunity. Mol. Cell 76, 96–109 (2019).

Zheng, Q., Hou, J., Zhou, Y., Li, Z. & Cao, X. The RNA helicase DDX46 inhibits innate immunity by entrapping m6A-demethylated antiviral transcripts in the nucleus. Nat. Immunol. 18, 1094–1103 (2017).

Rubio, R. M., Depledge, D. P., Bianco, C., Thompson, L. & Mohr, I. RNA m6 A modification enzymes shape innate responses to DNA by regulating interferon β. Genes Dev. 32, 1472–1484 (2018).

Winkler, R. et al. m6A modification controls the innate immune response to infection by targeting type I interferons. Nat. Immunol. 20, 173–182 (2019).

Herfst, S. et al. Recovery of human metapneumovirus genetic lineages A and B from cloned cDNA. J. Virol. 78, 8264–8270 (2004).

Zhang, Y., Wei, Y. & Li, J. Development and optimization of a direct plaque assay for human and avian metapneumoviruses. J. Virol. Methods 185, 61–68 (2012).

Dominissini, D., Moshitch-Moshkovitz, S., Salmon-Divon, M., Amariglio, N. & Rechavi, G. Transcriptome-wide mapping of N 6-methyladenosine by m6A-seq based on immunocapturing and massively parallel sequencing. Nat. Protoc. 8, 176–189 (2013).

Kim, D. et al. TopHat2: accurate alignment of transcriptomes in the presence of insertions, deletions and gene fusions. Genome Biol. 14, R36 (2013).

Love, M. I., Huber, W. & Anders, S. Moderated estimation of fold change and dispersion for RNA-seq data with DESeq2. Genome Biol. 15, 550 (2014).

Liu, L., Zhang, S. W., Huang, Y. & Meng, J. QNB: differential RNA methylation analysis for count-based small-sample sequencing data with a quad-negative binomial model. BMC Bioinformatics 18, 387 (2017).

Tripathi, S. et al. Meta- and orthogonal integration of influenza "OMICs" data defines a role for UBR4 in virus budding. Cell Host Microbe 18, 723–735 (2015).

Cai, H. et al. Zinc binding activity of human metapneumovirus M2-1 protein is indispensable for viral replication and pathogenesis in vivo. J. Virol. 89, 6391–6405 (2015).

Zhang, Y. et al. Rational design of human metapneumovirus live attenuated vaccine candidates by inhibiting viral mRNA cap methyltransferase. J. Virol. 88, 11411–11429 (2014).
Acknowledgements
This study was supported by grants from the National Institutes of Health (no. R01AI090060) to J.L., no. P01 AI112524 to M.E.P., S.N. and J.L., and nos. R01 HG008688 and RM1 HG008935 to C.H. C.H. is an investigator of the Howard Hughes Medical Institute. We thank R. A. M. Fouchier for the infectious cDNA clone of HMPV, J. Yount for the RIG-I plasmid and members of the J. Li laboratory for critical readings of the manuscript.
Ethics declarations
Competing interests
C.H. is a scientific founder of Accent Therapeutics. J.L., C.H., M.E.P. and S.N. have filed a provisional patent application (no. 62/748,175).
Additional information
Publisher's note Springer Nature remains neutral with regard to jurisdictional claims in published maps and institutional affiliations.
Supplementary information
About this article
Cite this article
Lu, M., Zhang, Z., Xue, M. et al. N6-methyladenosine modification enables viral RNA to escape recognition by RNA sensor RIG-I. Nat Microbiol 5, 584–598 (2020). https://doi.org/10.1038/s41564-019-0653-9
Received:

Accepted:

Published:

Issue Date:

DOI: https://doi.org/10.1038/s41564-019-0653-9