Abstract
Here we report the isolation of the influenza A/H1N1 2009 pandemic (A/H1N1pdm) and A/H3N2 viruses carrying an I38T mutation in the polymerase acidic protein—a mutation that confers reduced susceptibility to baloxavir marboxil—from patients before and after treatment with baloxavir marboxil in Japan. These variants showed replicative abilities and pathogenicity that is similar to those of wild-type isolates in hamsters; they also transmitted efficiently between ferrets by respiratory droplets.
Access options
Subscribe to Journal
Get full journal access for 1 year
$59.00
only $4.92 per issue
All prices are NET prices.
VAT will be added later in the checkout.
Tax calculation will be finalised during checkout.
Rent or Buy article
Get time limited or full article access on ReadCube.
from$8.99
All prices are NET prices.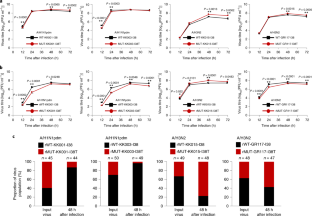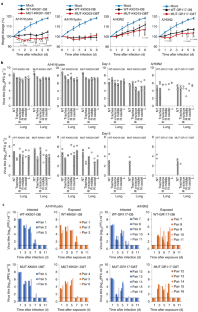 Data availability
Numerical source data that underlie the graphs shown in Figs. 1 and 2, and Extended Data Figs. 2, 3, 4 and 5 are provided with the paper. The data that support the findings of this study are available from the corresponding authors on reasonable request. Samples were deposited in the Sequence Read Archive of the NCBI, under project accession number PRJNA573567.
References
1.

Noshi, T. et al. In vitro characterization of baloxavir acid, a first-in-class cap-dependent endonuclease inhibitor of the influenza virus polymerase PA subunit. Antiviral Res. 160, 109–117 (2018).

2.

Omoto, S. et al. Characterization of influenza virus variants induced by treatment with the endonuclease inhibitor baloxavir marboxil. Sci. Rep. 8, 9633 (2018).

3.

Hayden, F. G. et al. Baloxavir marboxil for uncomplicated influenza in adults and adolescents. N. Engl. J. Med. 379, 913–923 (2018).

4.

Takashita, E. et al. Detection of influenza A(H3N2) viruses exhibiting reduced susceptibility to the novel cap-dependent endonuclease inhibitor baloxavir in Japan, December 2018. Euro Surveill. 24, 1800698 (2019).

5.

Takashita, E. et al. Influenza A(H3N2) virus exhibiting reduced susceptibility to baloxavir due to a polymerase acidic subunit I38T substitution detected from a hospitalised child without prior baloxavir treatment, Japan, January 2019. Euro Surveill. 24, 1900170 (2019).

6.

Takada, K. et al. A humanized MDCK cell line for the efficient isolation and propagation of human influenza viruses. Nat. Microbiol. 4, 1268–1273 (2019).

7.

Gubareva, L. V. et al. Assessing baloxavir susceptibility of influenza viruses circulating in the United States during the 2016/17 and 2017/18 seasons. Euro Surveill. 24, 1800666 (2019).

8.

Takashita, E. et al. Susceptibility of influenza viruses to the novel cap-dependent endonuclease inhibitor baloxavir marboxil. Front. Microbiol. 9, 3026 (2018).

9.

Iwatsuki-Horimoto, K. et al. Syrian hamster as an animal model for the study of human influenza virus infection. J. Virol. 92, e01693-17 (2018).

10.

Imai, M. et al. Experimental adaptation of an influenza H5 HA confers respiratory droplet transmission to a reassortant H5 HA/H1N1 virus in ferrets. Nature 486, 420–428 (2012).

11.

Neumann, G. et al. Generation of influenza A viruses entirely from cloned cDNAs. Proc. Natl Acad. Sci. USA 96, 9345–9350 (1999).

12.

Niwa, H., Yamamura, K. & Miyazaki, J. Efficient selection for high-expression transfectants with a novel eukaryotic vector. Gene 108, 193–199 (1991).

13.

Martin, M. Cutadapt removes adapter sequences from high-throughput sequencing reads. EMBnet J. 17, 10–12 (2011).

14.

Li, H. & Durbin, R. Fast and accurate long-read alignment with Burrows-Wheeler transform. Bioinformatics 26, 589–595 (2010).

15.

Webster, R.G. et al. (eds) WHO Manual on Animal Influenza Diagnosis and Surveillance 2nd edn (WHO, 2002).

16.

Belser, J. A. et al. Pathogenesis and transmission of avian influenza A (H7N9) virus in ferrets and mice. Nature 501, 556–559 (2013).

17.

Maines, T. R. et al. Transmission and pathogenesis of swine-origin 2009 A(H1N1) influenza viruses in ferrets and mice. Science 325, 484–487 (2009).

18.

Zhang, Q. et al. H7N9 influenza viruses are transmissible in ferrets by respiratory droplet. Science 341, 410–414 (2013).

19.

Iwasaki, T. et al. Exacerbation of influenzavirus pneumonia by intranasal administration of surfactant in a mouse model. Arch. Virol. 144, 675–685 (1999).

20.

Lenth, R. V. Least-squares means: the R package lsmeans. J. Stat. Softw. 69, 1–33 (2016).

21.

Bates, D., Machler, M., Bolker, B. M. & Walker, S. C. Fitting linear mixed-effects models using lme4. J. Stat. Softw. 67, 1–48 (2015).
Acknowledgements
We thank S. Watson for scientific editing; Y. Sato and M. Ujie for technical assistance; S. Kurosawa for discussions. This research was supported by Leading Advanced Projects for medical innovation (LEAP) from the Japan Agency for Medical Research and Development (AMED; JP18am001007); Grants-in-Aid for Scientific Research on Innovative Areas from the Ministry of Education, Culture, Science, Sports and Technology (MEXT) of Japan (16H06429, 16K21723 and 16H06434); the Japan Initiative for Global Research Network on Infectious Diseases (J-GRID) from AMED (JP19fm0108006); a Research Program on Emerging and Re-emerging Infectious Diseases from AMED (JP19fk0108031, JP19fk0108056, JP19fk0108058 and JP19fk0108066); and the NIAID-funded Center for Research on Influenza Pathogenesis (CRIP, HHSN272201400008C).
Ethics declarations
Competing interests
M.Imai, Y.S.-T., K.I.-H., M.Kiso, J.M., A.Y., K.Takada, M.Ito, N.N., K.Takahashi, T.J.S.L., J.D., Z.K., D.K., H.V.B., A.T., H.Hagiwara, N.I., H.K., T.N., N.W., M.Koga, E.A., D.J. and H.Hasegawa have no competing interests. M.Y. has received a speaker's honoraria from Daiichi Sankyo. Y.K. has received a speaker's honoraria from Toyama Chemical and Astellas, grant support from Daiichi Sankyo Pharmaceutical, Toyama Chemical, Shionogi & Co and Kyoritsu Seiyaku, and is a founder of FluGen.
Additional information
Publisher's note Springer Nature remains neutral with regard to jurisdictional claims in published maps and institutional affiliations.
Supplementary information
Supplementary discussion, references and Tables 1–9.
About this article
Cite this article
Imai, M., Yamashita, M., Sakai-Tagawa, Y. et al. Influenza A variants with reduced susceptibility to baloxavir isolated from Japanese patients are fit and transmit through respiratory droplets. Nat Microbiol 5, 27–33 (2020). https://doi.org/10.1038/s41564-019-0609-0
Received:

Accepted:

Published:

Issue Date:
Further reading
Karen A. Kormuth

&

Seema S. Lakdawala

Nature Microbiology (2020)

Drugs (2020)