Abstract
Multiplexed modulation of endogenous genes is crucial for sophisticated gene therapy and cell engineering. CRISPR–Cas12a systems enable versatile multiple-genomic-loci targeting by processing numerous CRISPR RNAs (crRNAs) from a single transcript; however, their low efficiency has hindered in vivo applications. Through structure-guided protein engineering, we developed a hyper-efficient Lachnospiraceae bacterium Cas12a variant, termed hyperCas12a, with its catalytically dead version hyperdCas12a showing significantly enhanced efficacy for gene activation, particularly at low concentrations of crRNA. We demonstrate that hyperdCas12a has comparable off-target effects compared with the wild-type system and exhibits enhanced activity for gene editing and repression. Delivery of the hyperdCas12a activator and a single crRNA array simultaneously activating the endogenous Oct4, Sox2 and Klf4 genes in the retina of post-natal mice alters the differentiation of retinal progenitor cells. The hyperCas12a system offers a versatile in vivo tool for a broad range of gene-modulation and gene-therapy applications.
Your institute does not have access to this article
Relevant articles
Open Access articles citing this article.
Nature Communications Open Access 19 May 2022
Access options
Subscribe to Nature+
Get immediate online access to the entire Nature family of 50+ journals
Subscribe to Journal
Get full journal access for 1 year
$99.00
only $8.25 per issue
All prices are NET prices.
VAT will be added later in the checkout.
Tax calculation will be finalised during checkout.
Buy article
Get time limited or full article access on ReadCube.
$32.00
All prices are NET prices.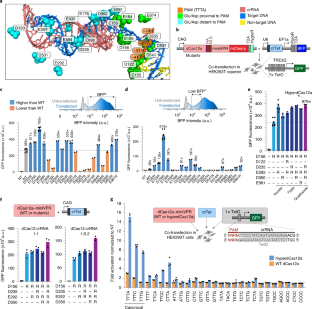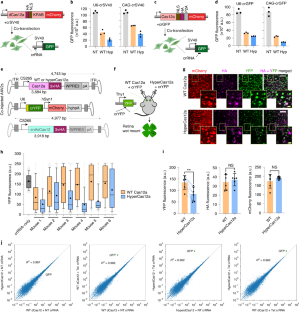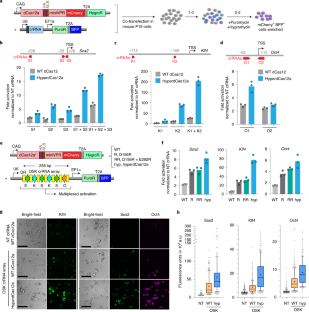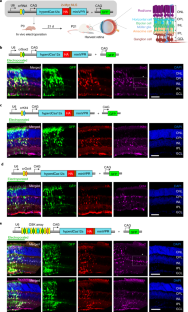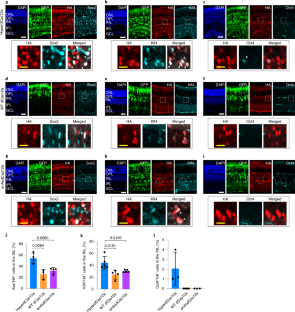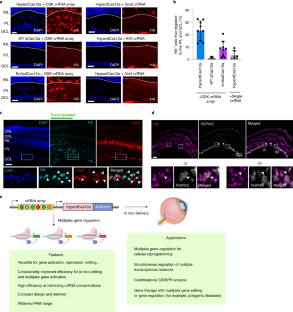 Data availability
Whole-transcriptome sequencing data can be accessed in Gene Expression Omnibus under the accession code GSE166817. Key constructs and plasmids will be available on Addgene (https://www.addgene.org/Stanley_Qi/). All other data supporting the findings of this study are available from the corresponding authors on reasonable request. Source data are provided with this paper.
References
Qi, L. S. et al. Repurposing CRISPR as an RNA-guided platform for sequence-specific control of gene expression. Cell 152, 1173–1183 (2013).

Doudna, J. A. & Charpentier, E. The new frontier of genome engineering with CRISPR–Cas9. Science 346, 1258096 (2014).

Zetsche, B. et al. Cpf1 is a single RNA-guided endonuclease of a class 2 CRISPR–Cas system. Cell 163, 759–771 (2015).

Zetsche, B. et al. Multiplex gene editing by CRISPR–Cpf1 using a single crRNA array. Nat. Biotechnol. 35, 31–34 (2017).

Kleinstiver, B. P. et al. Engineered CRISPR–Cas12a variants with increased activities and improved targeting ranges for gene, epigenetic and base editing. Nat. Biotechnol. 37, 276–282 (2019).

Campa, C. C., Weisbach, N. R., Santinha, A. J., Incarnato, D. & Platt, R. J. Multiplexed genome engineering by Cas12a and CRISPR arrays encoded on single transcripts. Nat. Methods 16, 887–893 (2019).

Fonfara, I., Richter, H., Bratovi, M., Le Rhun, Ä. & Charpentier, E. The CRISPR-associated DNA-cleaving enzyme Cpf1 also processes precursor CRISPR RNA. Nature 532, 517–521 (2016).

Gier, R. A. et al. High-performance CRISPR–Cas12a genome editing for combinatorial genetic screening. Nat. Commun. 11, 3455 (2020).

Kim, D. et al. Genome-wide analysis reveals specificities of Cpf1 endonucleases in human cells. Nat. Biotechnol. 34, 863–868 (2016).

Bin Moon, S. et al. Highly efficient genome editing by CRISPR–Cpf1 using CRISPR RNA with a uridinylate-rich 3′-overhang. Nat. Commun. 9, 3651 (2018).

Li, F. et al. Comparison of CRISPR/Cas endonucleases for in vivo retinal gene editing. Front. Cell. Neurosci. 14, 570917 (2020).

Tak, Y. E. et al. Inducible and multiplex gene regulation using CRISPR-Cpf1-based transcription factors. Nat. Methods 14, 1163–1166 (2017).

Ling, X. et al. Improving the efficiency of CRISPR-Cas12a-based genome editing with site-specific covalent Cas12a-crRNA conjugates. Mol Cell 81, 4747–4756 (2021).

Zhang, L. et al. AsCas12a ultra nuclease facilitates the rapid generation of therapeutic cell medicines. Nat. Commun. 12, 3908 (2021).

Jones, S. K. et al. Massively parallel kinetic profiling of natural and engineered CRISPR nucleases. Nat. Biotechnol. 39, 84–93 (2021).

Liu, P. et al. Enhanced Cas12a editing in mammalian cells and zebrafish. Nucleic Acids Res. 47, 4169–4180 (2019).

Kocak, D. D. et al. Increasing the specificity of CRISPR systems with engineered RNA secondary structures. Nat. Biotechnol. 37, 657–666 (2019).

Nguyen, L. T., Smith, B. M. & Jain, P. K. Enhancement of trans-cleavage activity of Cas12a with engineered crRNA enables amplified nucleic acid detection. Nat. Commun. 11, 4906 (2020).

Wang, D., Zhang, F. & Gao, G. CRISPR-based therapeutic genome editing: strategies and in vivo delivery by AAV vectors. Cell 181, 136–150 (2020).

Zhang, Y. et al. Enhanced CRISPR–Cas9 correction of Duchenne muscular dystrophy in mice by a self-complementary AAV delivery system. Sci. Adv. 6, eaay6812 (2020).

Yamano, T. et al. Structural basis for the canonical and non-canonical PAM recognition by CRISPR–Cpf1. Mol. Cell 67, 633–645 (2017).

Gao, L. et al. Engineered Cpf1 variants with altered PAM specificities. Nat. Biotechnol. 35, 789–792 (2017).

Kempton, H. R. et al. Multiple input sensing and signal integration using a split Cas12a system. Mol. Cell 78, 184–191 (2020).

Vora, S. et al. Rational design of a compact CRISPR–Cas9 activator for AAV-mediated delivery. Preprint at bioRxiv https://doi.org/10.1101/298620 (2018).

Wang, Q. et al. Mouse γ-synuclein promoter-mediated gene expression and editing in mammalian retinal ganglion cells. J. Neurosci. 40, 3896–3914 (2020).

Levy, J. M. et al. Cytosine and adenine base editing of the brain, liver, retina, heart and skeletal muscle of mice via adeno-associated viruses. Nat. Biomed. Eng. 4, 97–110 (2020).

Feng, G. et al. Imaging neuronal subsets in transgenic mice expressing multiple spectral variants of GFP. Neuron 28, 41–51 (2000).

Kleinstiver, B. P. et al. Genome-wide specificities of CRISPR–Cas Cpf1 nucleases in human cells. Nat. Biotechnol. 34, 869–874 (2016).

Liu, Y. et al. CRISPR activation screens systematically identify factors that drive neuronal fate and reprogramming. Cell Stem Cell 23, 758–771 (2018).

Lu, Y. et al. Reprogramming to recover youthful epigenetic information and restore vision. Nature 588, 124–129 (2020).

Liu, P., Chen, M., Liu, Y., Qi, L. S. & Ding, S. CRISPR-based chromatin remodeling of the endogenous Oct4 or Sox2 locus enables reprogramming to pluripotency. Cell Stem Cell 22, 252–261 (2018).

Lu, Y. et al. Reprogramming to recover youthful epigenetic information and restore vision. Nature 588, 124–129 (2020).

Gonatopoulos-Pournatzis, T. et al. Genetic interaction mapping and exon-resolution functional genomics with a hybrid Cas9–Cas12a platform. Nat. Biotechnol. 38, 638–648 (2020).

Breinig, M. et al. Multiplexed orthogonal genome editing and transcriptional activation by Cas12a. Nat. Methods 16, 51–54 (2019).

Matsuda, T. & Cepko, C. L. Controlled expression of transgenes introduced by in vivo electroporation. Proc. Natl Acad. Sci. USA 104, 1027–1032 (2007).

Wang, S., Sengel, C., Emerson, M. M. & Cepko, C. L. A gene regulatory network controls the binary fate decision of rod and bipolar cells in the vertebrate retina. Dev. Cell 30, 513–527 (2014).

Chan, C. S. Y. et al. Cell type- and stage-specific expression of Otx2 is regulated by multiple transcription factors and cis-regulatory modules in the retina. Development 147, dev187922 (2020).

Rocha-Martins, M. et al. De novo genesis of retinal ganglion cells by targeted expression of Klf4 in vivo. Development 146, dev176586 (2019).

Sharma, P. et al. Oct4 mediates Müller glia reprogramming and cell cycle exit during retina regeneration in zebrafish. Life Sci. Alliance 2, e201900548 (2019).

Lin, Y. P., Ouchi, Y., Satoh, S. & Watanabe, S. Sox2 plays a role in the induction of amacrine and Müller glial cells in mouse retinal progenitor cells. Investig. Ophthalmol. Vis. Sci. 50, 68–74 (2009).

Takahashi, K. & Yamanaka, S. Induction of pluripotent stem cells from mouse embryonic and adult fibroblast cultures by defined factors. Cell 126, 663–676 (2006).

Venkatesh, A., Ma, S., Langellotto, F., Gao, G. & Punzo, C. Retinal gene delivery by rAAV and DNA electroporation. Curr. Protoc. Microbiol. https://doi.org/10.1002/9780471729259.mc14d04s28 (2013).

Matharu, N. et al. CRISPR-mediated activation of a promoter or enhancer rescues obesity caused by haploinsufficiency. Science 363, eaau0629 (2019).

Liao, C. et al. Modular one-pot assembly of CRISPR arrays enables library generation and reveals factors influencing crRNA biogenesis. Nat. Commun. 10, 2948 (2019).

Magnusson, J. P. et al. Enhanced Cas12a multi-gene regulation using a CRISPR array separator. eLife 10:e66406 (2021).

Black, J. B. et al. Targeted epigenetic remodeling of endogenous loci by CRISPR/Cas9-based transcriptional activators directly converts fibroblasts to neuronal cells. Cell Stem Cell 19, 406–414 (2016).

Nuñez, J. K. et al. Genome-wide programmable transcriptional memory by CRISPR-based epigenome editing. Cell 184, 2503–2519 (2021).

Nakamura, M., Ivec, A. E., Gao, Y. & Qi, L. S. Durable CRISPR-based epigenetic silencing. BioDesign Res. 2021, 981582 (2021).

Kemaladewi, D. U. et al. A mutation-independent approach for muscular dystrophy via upregulation of a modifier gene. Nature 572, 125–130 (2019).

Xu, X. et al. Engineered miniature CRISPR–Cas system for mammalian genome regulation and editing. Mol. Cell. 81, 4333–4345 (2021).

Guo, L. Y. et al. Multiplex CRISPR genome regulation in mouse retina with hyper-efficient Cas12a. Protoc. Exch. https://doi.org/10.21203/rs.3.pex-1811/v1 (2022).

Clement, K. et al. CRISPResso2 provides accurate and rapid genome editing sequence analysis. Nat. Biotechnol. 37, 224–226 (2019).

Dobin, A. et al. STAR: ultrafast universal RNA-seq aligner. Bioinformatics 29, 15–21 (2013).

Anders, S., Pyl, P. T. & Huber, W. HTSeq-A Python framework to work with high-throughput sequencing data. Bioinformatics 31, 166–169 (2015).

Kwong, J. M. K., Caprioli, J. & Piri, N. RNA binding protein with multiple splicing: a new marker for retinal ganglion cells. Investig. Ophthalmol. Vis. Sci. 51, 1052–1058 (2010).
Acknowledgements
L.Y.G. acknowledges support from a Stanford's National Eye Institute (NEI) T32 Vision Training Grant (grant no. 5T32EY020485), the Knights Templar Eye Foundation (KTEF) and the VitreoRetinal Surgery Foundation (VRSF). L.S.Q. acknowledges support from the Li Ka Shing Foundation, National Science Foundation CAREER award (award no. 2046650), National Institutes of Health (grant no. 1U01DK127405), Chan Zuckerberg Initiative Neurodegeneration Challenge Network, Stanford Maternal and Child Health Research Institute (MCHRI) through the Uytengsu–Hamilton 22q11 Neuropsychiatry Research Award Program, Stanford–Coulter Translational Research Grant, and California Institute for Regenerative Medicine (CIRM; grant no. DISC2-12669). S.W. is supported by funding from the American Diabetes Association (grant no. 1-16-INI-16), NIH grant no. 1R01EY03258501, NIH grant no. R01NS109990, NIH-NEI grant no. P30-EY026877 and Research to Prevent Blindness, Inc. BioRender.com was used to generate illustrations in Fig. 1b, 1g, 2a, 2c, 2f, 3a, 4a and 6e. The members of the Qi, Wang and Hu laboratories provided valuable discussion and support for this project.
Ethics declarations
Competing interests
The authors have filed a provisional patent via Stanford University related to the work (US patent no. 63/148,652). L.S.Q. is a founder and scientific advisory board member of Epicrispr Biotechnologies.
Peer review
Peer review information
Nature Cell Biology thanks Stephen H. Tsang and the other, anonymous, reviewer(s) for their contribution to the peer review of this work.
Additional information
Publisher's note Springer Nature remains neutral with regard to jurisdictional claims in published maps and institutional affiliations.
Supplementary information
Supplementary Table 1. crRNA sequences. Supplementary Table 2. Plasmids used in each figure. Supplementary Table 3. Primer sequences. Supplementary Table 4. All genes from RNA-seq.
About this article
Cite this article
Guo, L.Y., Bian, J., Davis, A.E. et al. Multiplexed genome regulation in vivo with hyper-efficient Cas12a. Nat Cell Biol 24, 590–600 (2022). https://doi.org/10.1038/s41556-022-00870-7
Received:

Accepted:

Published:

Issue Date:

DOI: https://doi.org/10.1038/s41556-022-00870-7
Further reading
Hannah R. Kempton
Kasey S. Love
Lei S. Qi

Nature Chemical Biology (2022)

Nature Communications (2022)