Abstract
RIP1 and RIP3, cell death mediators, form fibrous amyloids. How RIP1/RIP3 amyloidal oligomers assemble functional necrosomes and control cell death is largely unknown. Here we use super-resolution microscopy to directly visualize cellular necrosomes as mosaics of RIP1 and RIP3 oligomers. The small (initial) mosaic complexes are round, and the large mosaics are in a rod shape. RIP3 oligomers with sizes of tetramer or above are the domains in mosaics that allow MLKL, recruited by phosphorylated RIP3, to oligomerize for necroptosis. Unexpectedly, RIP1 autophosphorylation not only controls the ordered oligomerization of RIP1 but also is required for RIP1-initiated RIP3 homo-oligomerization in correct organization, which is indispensable for the formation of functional rod-shaped mosaics. Similarly, apoptosis initiated by enzymatically defective RIP3 requires the formation of rod-shaped mosaics of RIP3 and RIP1 oligomers. The revealing of nanoscale architecture of necrosomes here innovates our understanding of the structural and organizational basis of this signalling hub in cell death.
Relevant articles
Open Access articles citing this article.
Eunjin Ju

,

Kyeong Ah Park

…

Gang Min Hur

Experimental & Molecular Medicine Open Access 28 September 2022
Access options
Access Nature and 54 other Nature Portfolio journals
Get Nature+, our best-value online-access subscription
$29.99 / 30 days
cancel any time
Subscribe to this journal
Receive 12 print issues and online access
$209.00 per year
only $17.42 per issue
Rent or buy this article
Get just this article for as long as you need it
$39.95
Prices may be subject to local taxes which are calculated during checkout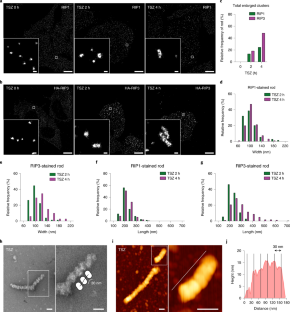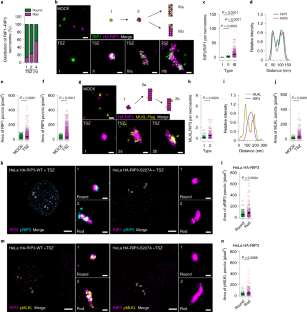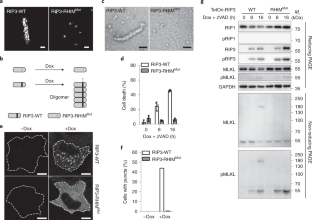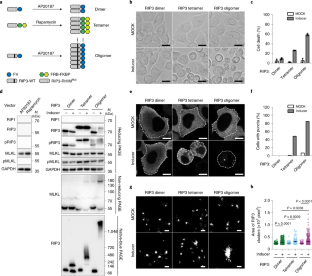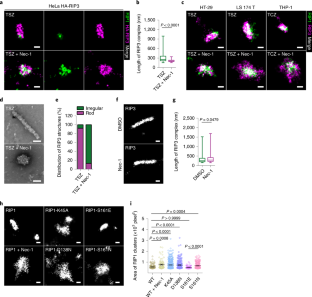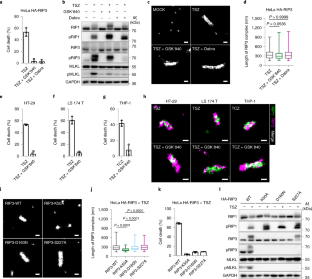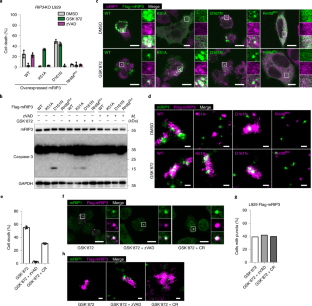 Data availability
The published structures of RIP1–RIP3 hetero-amyloid core (PDB 5V7Z), RIP1 kinase domain (PDB 4NEU), RIP1 death domain (PDB 6AC5) and RIP3 kinase domain (PDB 4M66) are accessible in the PDB (https://www.rcsb.org/) with respective IDs. Numerical source data giving rise to graphical representations and unprocessed images of blots are shown in source data figures. Detailed experimental procedures and additional data supporting the findings of this study are available from the corresponding author on reasonable request. Source data are provided with this paper.
References
Weinlich, R., Oberst, A., Beere, H. M. & Green, D. R. Necroptosis in development, inflammation and disease. Nat. Rev. Mol. Cell Bio 18, 127–136 (2017).

Wang, L., Du, F. H. & Wang, X. D. TNF-α induces two distinct caspase-8 activation pathways. Cell 133, 693–703 (2008).

Wilson, N. S., Dixit, V. & Ashkenazi, A. Death receptor signal transducers: nodes of coordination in immune signaling networks. Nat. Immunol. 10, 348–355 (2009).

Zhang, D. W. et al. RIP3, an energy metabolism regulator that switches TNF-induced cell death from apoptosis to necrosis. Science 325, 332–336 (2009).

He, S. D. et al. Receptor interacting protein kinase-3 determines cellular necrotic response to TNF-α. Cell 137, 1100–1111 (2009).

Cho, Y. et al. Phosphorylation-driven assembly of the RIP1–RIP3 complex regulates programmed necrosis and virus-induced inflammation. Cell 137, 1112–1123 (2009).

Yang, Z. H. et al. A non-canonical PDK1-RSK signal diminishes pro-caspase-8-mediated necroptosis blockade. Mol. Cell 80, 296 (2020).

Sun, L. et al. Mixed lineage kinase domain-like protein mediates necrosis signaling downstream of RIP3 kinase. Cell 148, 213–227 (2012).

Zhao, J. et al. Mixed lineage kinase domain-like is a key receptor interacting protein 3 downstream component of TNF-induced necrosis. Proc. Natl Acad. Sci. USA 109, 5322–5327 (2012).

Chen, X. et al. Translocation of mixed lineage kinase domain-like protein to plasma membrane leads to necrotic cell death. Cell Res. 24, 105 (2014).

Cai, Z. Y. et al. Plasma membrane translocation of trimerized MLKL protein is required for TNF-induced necroptosis. Nat. Cell Biol. 16, 200 (2014).

Wang, H. et al. Mixed lineage kinase domain-like protein MLKL causes necrotic membrane disruption upon phosphorylation by RIP3. Mol. Cell 54, 133–146 (2014).

Dondelinger, Y. et al. MLKL compromises plasma membrane integrity by binding to phosphatidylinositol phosphates. Cell Rep. 7, 971–981 (2014).

Degterev, A. et al. Chemical inhibitor of nonapoptotic cell death with therapeutic potential for ischemic brain injury. Nat. Chem. Biol. 1, 112–119 (2005).

Degterev, A. et al. Identification of RIP1 kinase as a specific cellular target of necrostatins. Nat. Chem. Biol. 4, 313–321 (2008).

Hitomi, J. I. et al. Identification of a molecular signaling network that regulates a cellular necrotic cell death pathway. Cell 135, 1311–1323 (2008).

Holler, N. et al. Fas triggers an alternative, caspase-8-independent cell death pathway using the kinase RIP as effector molecule. Nat. Immunol. 1, 489–495 (2000).

Sun, X. Q., Yin, J. P., Starovasnik, M. A., Fairbrother, W. J. & Dixit, V. M. Identification of a novel homotypic interaction motif required for the phosphorylation of receptor-interacting protein (RIP) by RIP3. J. Biol. Chem. 277, 9505–9511 (2002).

Chen, W. Z. et al. Diverse sequence determinants control human and mouse receptor interacting protein 3 (RIP3) and mixed lineage kinase domain-like (MLKL) interaction in necroptotic signaling. J. Biol. Chem. 288, 16247–16261 (2013).

Hildebrand, J. M. et al. Activation of the pseudokinase MLKL unleashes the four-helix bundle domain to induce membrane localization and necroptotic cell death. Proc. Natl Acad. Sci. USA 111, 15072–15077 (2014).

Petrie, E. J. et al. Conformational switching of the pseudokinase domain promotes human MLKL tetramerization and cell death by necroptosis. Nat. Commun. 9, 2422 (2018).

Mandal, P. et al. RIP3 induces apoptosis independent of pronecrotic kinase activity. Mol. Cell 56, 481–495 (2014).

Newton, K. et al. Activity of protein kinase RIPK3 determines whether cells die by necroptosis or apoptosis. Science 343, 1357–1360 (2014).

Li, J. et al. The RIP1/RIP3 necrosome forms a functional amyloid signaling complex required for programmed necrosis. Cell 150, 339–350 (2012).

Mompeán, M. et al. The structure of the necrosome RIPK1–RIPK3 core, a human hetero-amyloid signaling complex. Cell 173, 1244–1253.e1210 (2018).

Xie, T. et al. Structural insights into RIP3-mediated necroptotic signaling. Cell Rep. 5, 70–78 (2013).

Murphy, J. M. et al. The pseudokinase MLKL mediates necroptosis via a molecular switch mechanism. Immunity 39, 443–453 (2013).

Rust, M. J., Bates, M. & Zhuang, X. W. Sub-diffraction-limit imaging by stochastic optical reconstruction microscopy (STORM). Nat. Methods 3, 793–795 (2006).

Huang, B., Wang, W. Q., Bates, M. & Zhuang, X. W. Three-dimensional super-resolution imaging by stochastic optical reconstruction microscopy. Science 319, 810–813 (2008).

Sigal, Y. M., Zhou, R. B. & Zhuang, X. W. Visualizing and discovering cellular structures with super-resolution microscopy. Science 361, 880–887 (2018).

Malkusch, S. & Heilemann, M. Extracting quantitative information from single-molecule super-resolution imaging data with LAMA—LocAlization Microscopy Analyzer. Sci. Rep. 6, 34486 (2016).

Berg, S. et al. ilastik: interactive machine learning for (bio) image analysis. Nat. Methods 16, 1226–1232 (2019).

Bates, M., Huang, B., Dempsey, G. T. & Zhuang, X. W. Multicolor super-resolution imaging with photo-switchable fluorescent probes. Science 317, 1749–1753 (2007).

Wu, X. N. et al. Distinct roles of RIP1–RIP3 hetero- and RIP3–RIP3 homo-interaction in mediating necroptosis. Cell Death Differ. 21, 1709–1720 (2014).

Muthuswamy, S. K., Gilman, M. & Brugge, J. S. Controlled dimerization of ErbB receptors provides evidence for differential signaling by homo- and heterodimers. Mol. Cell. Biol. 19, 6845–6857 (1999).

Clackson, T. et al. Redesigning an FKBP–ligand interface to generate chemical dimerizers with novel specificity. Proc. Natl Acad. Sci. USA 95, 10437–10442 (1998).

Inobe, T. & Nukina, N. Rapamycin-induced oligomer formation system of FRB-FKBP fusion proteins. J. Biosci. Bioeng. 122, 40–46 (2016).

Zhang, Y. et al. RIP1 autophosphorylation is promoted by mitochondrial ROS and is essential for RIP3 recruitment into necrosome. Nat. Commun. 8, 14329 (2017).

Li, J. X. et al. The B-RafV600E inhibitor dabrafenib selectively inhibits RIP3 and alleviates acetaminophen-induced liver injury. Cell Death Dis. 5, e1278 (2014).

Chen, W. Z. et al. Ppm1b negatively regulates necroptosis through dephosphorylating Rip3. Nat. Cell Biol. 17, 434 (2015).

Harris, P. A. et al. Discovery of small molecule RIP1 kinase inhibitors for the treatment of pathologies associated with necroptosis. ACS Med. Chem. Lett. 4, 1238–1243 (2013).

Ding, J. J. et al. Structural and functional insights into host death domains inactivation by the bacterial arginine GlcNAcyltransferase effector. Mol. Cell 74, 922 (2019).

Dannappel, M. et al. RIPK1 maintains epithelial homeostasis by inhibiting apoptosis and necroptosis. Nature 513, 90 (2014).

Dillon, C. P. et al. RIPK1 blocks early postnatal lethality mediated by caspase-8 and RIPK3. Cell 157, 1189–1202 (2014).

Kaiser, W. J. et al. RIP1 suppresses innate immune necrotic as well as apoptotic cell death during mammalian parturition. Proc. Natl Acad. Sci. USA 111, 7753–7758 (2014).

Orozco, S. et al. RIPK1 both positively and negatively regulates RIPK3 oligomerization and necroptosis. Cell Death Differ. 21, 1511–1521 (2014).

Rickard, J. A. et al. RIPK1 regulates RIPK3-MLKL-driven systemic inflammation and emergency hematopoiesis. Cell 157, 1175–1188 (2014).

Roderick, J. E. et al. Hematopoietic RIPK1 deficiency results in bone marrow failure caused by apoptosis and RIPK3-mediated necroptosis. Proc. Natl Acad. Sci. USA 111, 14436–14441 (2014).

Wu, X. L. et al. The amyloid structure of mouse RIPK3 (receptor interacting protein kinase 3) in cell necroptosis. Nat. Commun. 12, 1627 (2021).

Meng, H. Y. et al. Death-domain dimerization-mediated activation of RIPK1 controls necroptosis and RIPK1-dependent apoptosis. Proc. Natl Acad. Sci. USA 115, E2001–E2009 (2018).

Jaco, I. et al. MK2 phosphorylates RIPK1 to prevent TNF-induced cell death. Mol. Cell 66, 698 (2017).

Dondelinger, Y. et al. MK2 phosphorylation of RIPK1 regulates TNF-mediated cell death. Nat. Cell Biol. 19, 1237–1247 (2017).

Geng, J. F. et al. Regulation of RIPK1 activation by TAK1-mediated phosphorylation dictates apoptosis and necroptosis. Nat. Commun. 8, 359 (2017).

Meng, Y. X., Sandow, J. J., Czabotar, P. E. & Murphy, J. M. The regulation of necroptosis by post-translational modifications. Cell Death Differ. 28, 861–883 (2021).

Huang, Z. et al. RIP1/RIP3 binding to HSV-1 ICP6 initiates necroptosis to restrict virus propagation in mice. Cell Host Microbe 17, 229–242 (2015).

Yang, J. Y. et al. Improved protein structure prediction using predicted interresidue orientations. Proc. Natl Acad. Sci. USA 117, 1496–1503 (2020).
Acknowledgements
This work was supported by the National Natural Science Foundation of China (81788101, 31420103910 and 81630042 to J.H.; 31871386, 31501115 and 32070736 to X.C.; 12090052 and 11874310 to J.S.), National Key R&D Program of China (2020YFA0803500 to J.H.), the 111 Project (B12001 to J.H.), the CAMS Innovation Fund for Medical Science (2019-I2M-5-062 to J.H.) and the China Postdoctoral Science Foundation (2016T90598 to X.C.). We thank L. Yao and C. Wu for help with electron microscopy; Q. Liu and Y. Fan (Bruker) for their assistance with confocal microscopy and AFM, respectively. We also acknowledge C. Zhou and L. Wang from Nikon for support and helpful discussions on super-resolution imaging.
Ethics declarations
Competing interests
The authors declare no competing interests.
Peer review
Peer review information
Nature Cell Biology thanks Sang-Hee Shim and the other, anonymous, reviewer(s) for their contribution to the peer review of this work. Peer reviewer reports are available.
Additional information
Publisher's note Springer Nature remains neutral with regard to jurisdictional claims in published maps and institutional affiliations.
Supplementary information
About this article
Cite this article
Chen, X., Zhu, R., Zhong, J. et al. Mosaic composition of RIP1–RIP3 signalling hub and its role in regulating cell death. Nat Cell Biol 24, 471–482 (2022). https://doi.org/10.1038/s41556-022-00854-7
Received:

Accepted:

Published:

Issue Date:

DOI: https://doi.org/10.1038/s41556-022-00854-7
This article is cited by
Benedikt Kolbrink
Friedrich A. von Samson-Himmelstjerna
Stefan Krautwald

Nature Reviews Nephrology (2023)

Eunjin Ju
Kyeong Ah Park
Gang Min Hur

Experimental & Molecular Medicine (2022)

Yaqiu Wang
Nagakannan Pandian
Thirumala-Devi Kanneganti

Cellular and Molecular Life Sciences (2022)