Abstract
Metabolic characteristics of adult stem cells are distinct from their differentiated progeny, and cellular metabolism is emerging as a potential driver of cell fate conversions1,2,3,4. How these metabolic features are established remains unclear. Here we identified inherited metabolism imposed by functionally distinct mitochondrial age-classes as a fate determinant in asymmetric division of epithelial stem-like cells. While chronologically old mitochondria support oxidative respiration, the electron transport chain of new organelles is proteomically immature and they respire less. After cell division, selectively segregated mitochondrial age-classes elicit a metabolic bias in progeny cells, with oxidative energy metabolism promoting differentiation in cells that inherit old mitochondria. Cells that inherit newly synthesized mitochondria with low levels of Rieske iron–sulfur polypeptide 1 have a higher pentose phosphate pathway activity, which promotes de novo purine biosynthesis and redox balance, and is required to maintain stemness during early fate determination after division. Our results demonstrate that fate decisions are susceptible to intrinsic metabolic bias imposed by selectively inherited mitochondria.
Relevant articles
Open Access articles citing this article.
Jordan A. Berg

,

Youjia Zhou

…

Jared Rutter

Nature Cell Biology Open Access 03 April 2023

Jixiang Xing

,

Luyao Qi

…

Yi Yang

World Journal of Surgical Oncology Open Access 03 October 2022

Shanjiang Zhao

,

Nuo Heng

…

Huabin Zhu

Cellular and Molecular Life Sciences Open Access 20 June 2022
Access options
Access Nature and 54 other Nature Portfolio journals
Get Nature+, our best-value online-access subscription
$29.99 / 30 days
cancel any time
Subscribe to this journal
Receive 12 print issues and online access
$209.00 per year
only $17.42 per issue
Rent or buy this article
Get just this article for as long as you need it
$39.95
Prices may be subject to local taxes which are calculated during checkout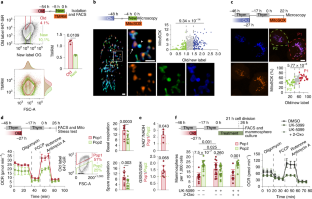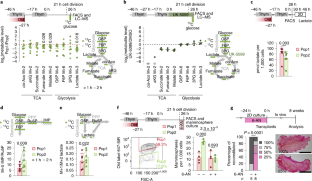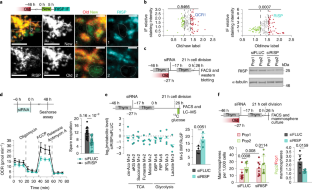 Data availability
The MS proteomics data have been deposited to the ProteomeXchange Consortium via the PRIDE partner repository with the dataset identifier PXD010667 (ref. 59). Proteomics data were searched against a human database (Swiss-Prot entries of the Uniprot KB database release 2016_01, 20198 entries) with a list of common contaminants appended (for details see the section 'Proteomics analysis of old and new mitochondria'). The datasets generated and analysed in this study are included as Supplementary Information. Other data supporting the findings of this study are available from the corresponding author on reasonable request. Source data are provided with this paper.
Code availability
To facilitate further analysis of the proteomics data, the code is available from the corresponding author in a ready to implement form per request.
References
Folmes, C. D. L., Dzeja, P. P., Nelson, T. J. & Terzic, A. Metabolic plasticity in stem cell homeostasis and differentiation. Cell Stem Cell 11, 596–606 (2012).

Vacanti, N. M. & Metallo, C. M. Exploring metabolic pathways that contribute to the stem cell phenotype. Biochim. Biophys. Acta 1830, 2361–2369 (2013).

Chandel, N. S., Jasper, H., Ho, T. T. & Passegué, E. Metabolic regulation of stem cell function in tissue homeostasis and organismal ageing. Nat. Cell Biol. 18, 823–832 (2016).

Shyh-Chang, N. & Ng, H. H. The metabolic programming of stem cells. Genes Dev. 31, 336–346 (2017).

Ron-Harel, N. et al. Mitochondrial biogenesis and proteome remodeling promote one-carbon metabolism for T cell activation. Cell Metab. 24, 104–117 (2016).

Tormos, K. V. et al. Mitochondrial complex III ROS regulate adipocyte differentiation. Cell Metab. 14, 537–544 (2011).

Jang, K.-J. et al. Mitochondrial function provides instructive signals for activation-induced B-cell fates. Nat. Commun. 6, 6750 (2015).

Yu, W.-M. et al. Metabolic regulation by the mitochondrial phosphatase PTPMT1 is required for hematopoietic stem cell differentiation. Cell Stem Cell 12, 62–74 (2013).

Knobloch, M. et al. A fatty acid oxidation-dependent metabolic shift regulates adult neural stem cell activity. Cell Rep. 20, 2144–2155 (2017).

de Almeida, M. J., Luchsinger, L. L., Corrigan, D. J., Williams, L. J. & Snoeck, H.-W. Dye-independent methods reveal elevated mitochondrial mass in hematopoietic stem cells. Cell Stem Cell 21, 725–729.e4 (2017).

Adams, W. C. et al. Anabolism-associated mitochondrial stasis driving lymphocyte differentiation over self-renewal. Cell Rep. 17, 3142–3152 (2016).

Ito, K. et al. A PML–PPAR-δ pathway for fatty acid oxidation regulates hematopoietic stem cell maintenance. Nat. Med. 18, 1350–1358 (2012).

Ryall, J. G. et al. The NAD+-dependent SIRT1 deacetylase translates a metabolic switch into regulatory epigenetics in skeletal muscle stem cells. Cell Stem Cell 16, 171–183 (2015).

Schell, J. C. et al. Control of intestinal stem cell function and proliferation by mitochondrial pyruvate metabolism. Nat. Cell Biol. 19, 1027–1036 (2017).

Ito, K. et al. Self-renewal of a purified Tie2+ hematopoietic stem cell population relies on mitochondrial clearance. Science 354, 1156–1160 (2016).

Ansó, E. et al. The mitochondrial respiratory chain is essential for haematopoietic stem cell function. Nat. Cell Biol. 19, 614–625 (2017).

Buck, M. D. D. D. et al. Mitochondrial dynamics controls T cell fate through metabolic programming. Cell 166, 63–76 (2016).

Khacho, M. et al. Mitochondrial dynamics impacts stem cell identity and fate decisions by regulating a nuclear transcriptional program. Cell Stem Cell 19, 232–247 (2015).

Chaffer, C. L. et al. Normal and neoplastic nonstem cells can spontaneously convert to a stem-like state. Proc. Natl Acad. Sci. USA 108, 7950–7955 (2011).

Raouf, A. et al. Transcriptome analysis of the normal human mammary cell commitment and differentiation process. Cell Stem Cell 3, 109–118 (2008).

Katajisto, P. et al. Asymmetric apportioning of aged mitochondria between daughter cells is required for stemness. Science 348, 340–343 (2015).

Keppler, A. et al. A general method for the covalent labeling of fusion proteins with small molecules in vivo. Nat. Biotechnol. 21, 86–89 (2003).

Pagliarini, D. J. et al. A mitochondrial protein compendium elucidates complex I disease biology. Cell 134, 112–123 (2008).

Calvo, S. E., Clauser, K. R. & Mootha, V. K. MitoCarta2.0: an updated inventory of mammalian mitochondrial proteins. Nucleic Acids Res. 44, D1251–D1257 (2016).

Hung, V. et al. Proteomic mapping of cytosol-facing outer mitochondrial and ER membranes in living human cells by proximity biotinylation. eLife 6, e24463 (2017).

Gottschling, D. E. & Nyström, T. The upsides and downsides of organelle interconnectivity. Cell 169, 24–34 (2017).

Murley, A. & Nunnari, J. The emerging network of mitochondria–organelle contacts. Mol. Cell 61, 648–653 (2016).

Guarani, V. et al. TIMMDC1/C3orf1 functions as a membrane-embedded mitochondrial complex I assembly factor through association with the MCIA complex. Mol. Cell. Biol. 34, 847–861 (2014).

Guerrero-Castillo, S. et al. The assembly pathway of mitochondrial respiratory chain complex I. Cell Metab. 25, 128–139 (2017).

Fernández-Vizarra, E. & Zeviani, M. Nuclear gene mutations as the cause of mitochondrial complex III deficiency. Front. Genet. 6, 134 (2015).

Diaz, F., Enríquez, J. A. & Moraes, C. T. Cells lacking rieske iron–sulfur protein have a reactive oxygen species-associated decrease in respiratory complexes I and IV. Mol. Cell. Biol. 32, 415–429 (2012).

Paradies, G., Paradies, V., De Benedictis, V., Ruggiero, F. M. & Petrosillo, G. Functional role of cardiolipin in mitochondrial bioenergetics. Biochim. Biophys. Acta 1837, 408–417 (2014).

Mejia, E. M. & Hatch, G. M. Mitochondrial phospholipids: role in mitochondrial function. J. Bioenerg. Biomembr. 48, 99–112 (2016).

Murphy, M. P. How mitochondria produce reactive oxygen species. Biochem. J 417, 1–13 (2009).

Patten, D. A. et al. OPA1-dependent cristae modulation is essential for cellular adaptation to metabolic demand. EMBO J. 33, 2676–2691 (2014).

Aguilaniu, H., Gustafsson, L., Rigoulet, M. & Nyström, T. Asymmetric inheritance of oxidatively damaged proteins during cytokinesis. Science 299, 1751–1753 (2003).

Shaw, F. L. et al. A detailed mammosphere assay protocol for the quantification of breast stem cell activity. J. Mammary Gland Biol. Neoplasia 17, 111–117 (2012).

Vannini, N. et al. The NAD-booster nicotinamide riboside potently stimulates hematopoiesis through increased mitochondrial clearance. Cell Stem Cell 24, 405–418.e7 (2019).

Sanderson, S. M. & Locasale, J. W. Revisiting the Warburg effect: some tumors hold their breath. Cell Metab. 28, 669–670 (2018).

Fendt, S. M. et al. Reductive glutamine metabolism is a function of the α-ketoglutarate to citrate ratio in cells. Nat. Commun. 4, 2236 (2013).

Faubert, B. et al. Lactate metabolism in human lung tumors. Cell 171, 358–371.e9 (2017).

Fan, J. et al. Quantitative flux analysis reveals folate-dependent NADPH production. Nature 510, 298–302 (2014).

Jalloh, I. et al. Glycolysis and the pentose phosphate pathway after human traumatic brain injury: microdialysis studies using 1,2-13C2 glucose. J. Cereb. Blood Flow Metab. 35, 111–120 (2015).

Miccheli, A. et al. Metabolic profiling by 13C-NMR spectroscopy: [1,2-13C2]glucose reveals a heterogeneous metabolism in human leukemia T cells. Biochimie 88, 437–448 (2006).

Ducker, G. S. et al. Reversal of cytosolic one-carbon flux compensates for loss of the mitochondrial folate pathway. Cell Metab. 23, 1140–1153 (2016).

Cox, J. et al. Andromeda: a peptide search engine integrated into the maxquant environment. J. Proteome Res. 10, 1794–1805 (2011).

Cox, J. & Mann, M. MaxQuant enables high peptide identification rates, individualized p.p.b.-range mass accuracies and proteome-wide protein quantification. Nat. Biotechnol. 26, 1367–1372 (2008).

Elias, J. E. & Gygi, S. P. Target-decoy search strategy for increased confidence in large-scale protein identifications by mass spectrometry. Nat. Methods 4, 207–214 (2007).

Gatto, L. & Lilley, K. S. MSnbase—an R/Bioconductor package for isobaric tagged mass spectrometry data visualization, processing and quantitation. Bioinformatics 28, 288–289 (2012).

Ritchie, M. E. et al. limma powers differential expression analyses for RNA-sequencing and microarray studies. Nucleic Acids Res. 43, e47 (2015).

Strimmer, K. A unified approach to false discovery rate estimation. BMC Bioinformatics 9, 303 (2008).

Folch, J., Lees, M. & Sloane Stanley, G. A simple method for the isolation and purification of total lipides from animal tissues. J. Biol. Chem. 226, 497–509 (1957).

Tigistu-Sahle, F. et al. Metabolism and phospholipid assembly of polyunsaturated fatty acids in human bone marrow mesenchymal stromal cells. J. Lipid Res. 58, 92–110 (2017).

Haimi, P., Uphoff, A., Hermansson, M. & Somerharju, P. Software tools for analysis of mass spectrometric lipidome data. Anal. Chem. 78, 8324–8331 (2006).

Hernebring, M., Brolen, G., Aguilaniu, H., Semb, H. & Nystrom, T. Elimination of damaged proteins during differentiation of embryonic stem cells. Proc. Natl Acad. Sci. USA 103, 7700–7705 (2006).

Shaik, I. H. & Mehvar, R. Rapid determination of reduced and oxidized glutathione levels using a new thiol-masking reagent and the enzymatic recycling method: application to the rat liver and bile samples. Anal. Bioanal. Chem. 385, 105–113 (2006).

Millard, P., Letisse, F., Sokol, S. & Portais, J. C. IsoCor: correcting MS data in isotope labeling experiments. Bioinformatics 28, 1294–1296 (2012).

Partanen, J. I. et al. Tumor suppressor function of liver kinase B1 (Lkb1) is linked to regulation of epithelial integrity. Proc. Natl Acad. Sci. USA 109, E388–E397 (2012).

Perez-Riverol, Y. et al. The PRIDE database and related tools and resources in 2019: improving support for quantification data. Nucleic Acids Res. 47, D442–D450 (2019).
Acknowledgements
We thank J. Bärlund and M. Simula for technical assistance and all members of the Katajisto Laboratory for discussion and comments, Å.-L. Dackland at the FACS Facility at the Department of Laboratory Medicine at the Karolinska Institutet, J. Juutila at the Centre of Excellence in Stem Cell Metabolism Metabolomics Facility, University of Helsinki, and M. Lohela at the Biomedicum Imaging Unit at the University of Helsinki. Part of this study was performed at the Live Cell Imaging Facility, Karolinska Institutet, Sweden, and at the Light Microscopy Unit at the Institute of Biotechnology, University of Helsinki. A. Kamleh (Thermo Fisher Scientific), G. Mackay and K. Vousden (Beatson Institute) are acknowledged for their support on the metabolomics setup. This study was funded by grants from the European Research Council (ERC, 677809), the Academy of Finland (266869, 304591 and 312436), the Knut and Alice Wallenberg Foundation (KAW 2014.0207), the Swedish Research Council 2018-03078, Cancerfonden 190634, the Center for Innovative Medicine (CIMED), the Sigrid Juselius Foundation, the Cancer Society of Finland, the Doctoral Programme in Biomedicine at the University of Helsinki (J.D.), the Alfred Kordelin Foundation (J.D.) and the Finnish Cultural Foundation (J.D.).
Ethics declarations
Competing interests
The authors declare no competing interests.
Peer review
Peer review information
Nature Cell Biology thanks Navdeep Chandel, Heather Christofk and the other, anonymous, reviewer(s) for their contribution to the peer review of this work. Peer reviewer reports are available.
Additional information
Publisher's note Springer Nature remains neutral with regard to jurisdictional claims in published maps and institutional affiliations.
Supplementary information
Supplementary Tables 1–5. Supplementary Table 1: Statistical analyses and sample sizes. Supplementary Table 2: Equipment and settings, fluorescence imaging. Supplementary Table 3: Proteomics analysis of old and new mitochondria—all hits. Supplementary Table 4: Peroxisomal proteins detected in old and new mitochondrial samples. Supplementary Table 5: ETC subunits detected in old and new mitochondrial samples.
About this article
Cite this article
Döhla, J., Kuuluvainen, E., Gebert, N. et al. Metabolic determination of cell fate through selective inheritance of mitochondria. Nat Cell Biol 24, 148–154 (2022). https://doi.org/10.1038/s41556-021-00837-0
Received:

Accepted:

Published:

Issue Date:

DOI: https://doi.org/10.1038/s41556-021-00837-0