Chromosomal instability (CIN) is a hallmark of malignant evolution that underpins cancer progression and therapeutic evasion. There are few established experimental systems to study CIN and ultimately develop potential therapeutic options. A new study now identifies the MSL chromatin complex as a potential vulnerability against CIN in cancer cells.
Access options
Subscribe to Journal
Get full journal access for 1 year
$59.00
only $4.92 per issue
All prices are NET prices.
VAT will be added later in the checkout.
Tax calculation will be finalised during checkout.
Rent or Buy article
Get time limited or full article access on ReadCube.
from$8.99
All prices are NET prices.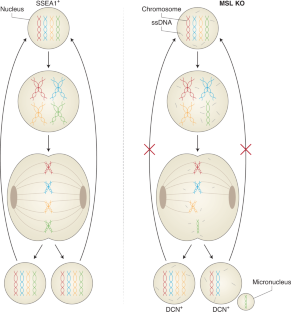 References
1.

McDonald 3rd, E. R. et al. Cell 170, 577–592.e10 (2017).

2.

Tsherniak, A. et al. Cell 170, 564–576.e16 (2017).

3.

Josep, M. et al. Nat. Cell Biol. https://doi.org/10.1038/s41556-021-00657-2 (2021).

4.

Negrini, S., Gorgoulis, V. G. & Halazonetis, T. D. Nat. Rev. Mol. Cell Biol. 11, 220–228 (2010).

5.

Sheikh, B. N. & Akhtar, A. Nat. Rev. Genet. 20, 7–23 (2019).

6.

Scaffidi, P. & Misteli, T. Nat. Cell Biol. 13, 1051–1061 (2011).

7.

Ben-David, U. & Amon, A. Nat. Rev. Genet. 21, 44–62 (2020).

8.

Shogren-Knaak, M. et al. Science 311, 844–847 (2006).

9.

Groth, A., Rocha, W., Verreault, A. & Almouzni, G. Cell 128, 721–733 (2007).

10.

Clemente-Ruiz, M. et al. Dev. Cell 36, 290–302 (2016).

11.

Baell, J. B. et al. Nature 560, 253–257 (2018).

12.

MacPherson, L. et al. Nature 577, 266–270 (2020).
Ethics declarations
Competing interests
M.A.D. has been a member of advisory boards for GlaxoSmithKline, CTX CRC, Storm Therapeutics, Celgene and Cambridge Epigenetix. The M.A.D. laboratory received research funding from CTx CRC.
About this article
Cite this article
Motazedian, A., Dawson, M.A. MSL pushes genomic instability over the edge. Nat Cell Biol 23, 295–296 (2021). https://doi.org/10.1038/s41556-021-00666-1