Abstract
Rewiring of cellular programmes in malignant cells generates cancer-specific vulnerabilities. Here, using an unbiased screening strategy aimed at identifying non-essential genes required by tumour cells to sustain unlimited proliferative capacity, we identify the male-specific lethal (MSL) acetyltransferase complex as a vulnerability of genetically unstable cancers. We find that disruption of the MSL complex and consequent loss of the associated H4K16ac mark do not substantially alter transcriptional programmes but compromise chromosome integrity and promote chromosomal instability (CIN) that progressively exhausts the proliferative potential of cancer cells through a p53-independent mechanism. This effect is dependent on pre-existing genomic instability, and normal cells are insensitive to MSL disruption. Using cell- and patient-derived xenografts from multiple cancer types, we show that excessive CIN induced by MSL disruption inhibits tumour maintenance. Our findings suggest that targeting MSL may be a valuable means to increase CIN beyond the level tolerated by cancer cells without inducing severe adverse effects in normal tissues.
Access options
Subscribe to Journal
Get full journal access for 1 year
$59.00
only $4.92 per issue
All prices are NET prices.
VAT will be added later in the checkout.
Tax calculation will be finalised during checkout.
Rent or Buy article
Get time limited or full article access on ReadCube.
from$8.99
All prices are NET prices.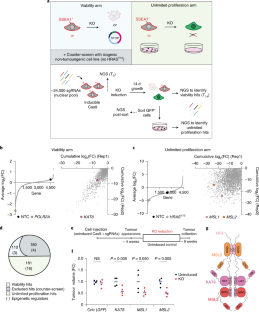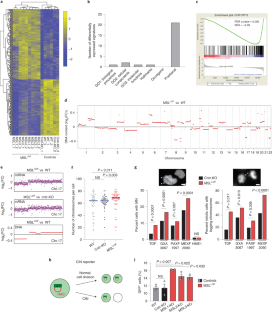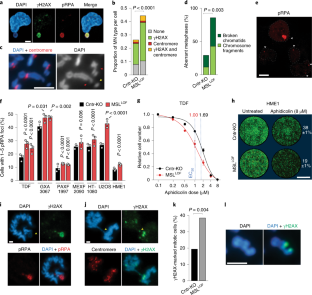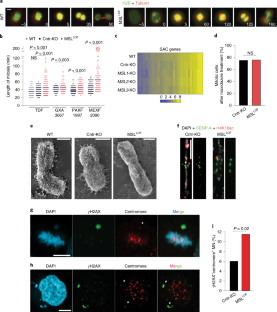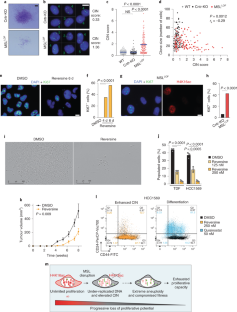 Data availability
The accompanying RNA-seq and DNA-seq dataset is available through GEO: GSE144019. Gene sets used for GSEA are available through the MSigDB database v.7.2 at https://www.gsea-msigdb.org/gsea/msigdb/index.jsp. Source data are provided with this paper. All other data supporting the findings of this study are available from the corresponding author upon reasonable request.
References
1.

Mair, B., Moffat, J., Boone, C. & Andrews, B. J. Genetic interaction networks in cancer cells. Curr. Opin. Genet Dev. 54, 64–72 (2019).

2.

Witkiewicz, A. K. et al. Targeting the vulnerability of RB tumor suppressor loss in triple-negative breast cancer. Cell Rep. 22, 1185–1199 (2018).

3.

Kumar, M. S. et al. The GATA2 transcriptional network is requisite for RAS oncogene-driven non-small cell lung cancer. Cell 149, 642–655 (2012).

4.

Li, L. et al. Identification of DHODH as a therapeutic target in small cell lung cancer. Sci. Transl Med. 11, eaaw7852 (2019).

5.

He, S., Nakada, D. & Morrison, S. J. Mechanisms of stem cell self-renewal. Annu. Rev. Cell Dev. Biol. 25, 377–406 (2009).

6.

Dick, J. E. Stem cell concepts renew cancer research. Blood 112, 4793–4807 (2008).

7.

Hayflick, L. Mortality and immortality at the cellular level. A review. Biochemistry (Mosc.) 62, 1180–1190 (1997).

8.

Serrano, M., Lin, A. W., McCurrach, M. E., Beach, D. & Lowe, S. W. Oncogenic ras provokes premature cell senescence associated with accumulation of p53 and p16INK4a. Cell 88, 593–602 (1997).

9.

Dawson, M. A. The cancer epigenome: concepts, challenges, and therapeutic opportunities. Science 355, 1147–1152 (2017).

10.

Wainwright, E. N. & Scaffidi, P. Epigenetics and cancer stem cells: unleashing, hijacking, and restricting cellular plasticity. Trends Cancer 3, 15 (2017).

11.

Komlodi-Pasztor, E., Sackett, D., Wilkerson, J. & Fojo, T. Mitosis is not a key target of microtubule agents in patient tumors. Nat. Rev. Clin. Oncol. 8, 244–250 (2011).

12.

Marusyk, A., Almendro, V. & Polyak, K. Intra-tumour heterogeneity: a looking glass for cancer? Nat. Rev. Cancer 12, 323–334 (2012).

13.

Tirosh, I. et al. Single-cell RNA-seq supports a developmental hierarchy in human oligodendroglioma. Nature 539, 309–313 (2016).

14.

Barabe, F., Kennedy, J. A., Hope, K. J. & Dick, J. E. Modeling the initiation and progression of human acute leukemia in mice. Science 316, 600–604 (2007).

15.

Lan, X. et al. Fate mapping of human glioblastoma reveals an invariant stem cell hierarchy. Nature 549, 227–232 (2017).

16.

Scaffidi, P. & Misteli, T. In vitro generation of human cells with cancer stem cell properties. Nat. Cell Biol. 13, 1051–1061 (2011).

17.

Torres, C. M. et al. The linker histone H1.0 generates epigenetic and functional intratumor heterogeneity. Science 353, aaf1644 (2016).

18.

Mortimer, T. et al. Redistribution of EZH2 promotes malignant phenotypes by rewiring developmental programmes. EMBO Rep. 20, e48155 (2019).

19.

Morales Torres, C. et al. Selective inhibition of cancer cell self-renewal through a quisinostat–histone H1.0 axis. Nat. Commun. 11, 1792 (2020).

20.

Menyhart, O. et al. Guidelines for the selection of functional assays to evaluate the hallmarks of cancer. Biochim. Biophys. Acta 1866, 300–319 (2016).

21.

Wang, T., Wei, J. J., Sabatini, D. M. & Lander, E. S. Genetic screens in human cells using the CRISPR–Cas9 system. Science 343, 80–84 (2014).

22.

Keller, C. I. & Akhtar, A. The MSL complex: juggling RNA–protein interactions for dosage compensation and beyond. Curr. Opin. Genet. Dev. 31, 1–11 (2015).

23.

Shogren-Knaak, M. et al. Histone H4-K16 acetylation controls chromatin structure and protein interactions. Science 311, 844–847 (2006).

24.

Galupa, R. & Heard, E. X-chromosome inactivation: a crossroads between chromosome architecture and gene regulation. Annu. Rev. Genet. 52, 535–566 (2018).

25.

Gupta, A. et al. Involvement of human MOF in ATM function. Mol. Cell Biol. 25, 5292–5305 (2005).

26.

Gupta, A. et al. The mammalian ortholog of Drosophila MOF that acetylates histone H4 lysine 16 is essential for embryogenesis and oncogenesis. Mol. Cell Biol. 28, 397–409 (2008).

27.

McDonald, O. G. et al. Epigenomic reprogramming during pancreatic cancer progression links anabolic glucose metabolism to distant metastasis. Nat. Genet. 49, 367–376 (2017).

28.

Zhu, L. et al. Expression of hMOF, but not HDAC4, is responsible for the global histone H4K16 acetylation in gastric carcinoma. Int. J. Oncol. 46, 2535–2545 (2015).

29.

Ravens, S. et al. Mof-associated complexes have overlapping and unique roles in regulating pluripotency in embryonic stem cells and during differentiation. eLife 3, e02104 (2014).

30.

Dickinson, M. E. et al. High-throughput discovery of novel developmental phenotypes. Nature 537, 508–514 (2016).

31.

Tonnessen-Murray, C. A., Lozano, A. & Jackson, J. G. The regulation of cellular functions by the p53 protein: cellular senescence. Cold Spring Harb. Perspect. Med. 7, a026112 (2017).

32.

Sammons, M. A., Zhu, J., Drake, A. M. & Berger, S. L. TP53 engagement with the genome occurs in distinct local chromatin environments via pioneer factor activity. Genome Res. 25, 179–188 (2015).

33.

Subramanian, A. et al. Gene set enrichment analysis: a knowledge-based approach for interpreting genome-wide expression profiles. Proc. Natl Acad. Sci. USA 102, 15545–15550 (2005).

34.

Potapova, T. A., Zhu, J. & Li, R. Aneuploidy and chromosomal instability: a vicious cycle driving cellular evolution and cancer genome chaos. Cancer Metastasis Rev. 32, 377–389 (2013).

35.

Lee, H. S. et al. A new assay for measuring chromosome instability (CIN) and identification of drugs that elevate CIN in cancer cells. BMC Cancer 13, 252 (2013).

36.

Blackford, A. N. & Jackson, S. P. ATM, ATR, and DNA-PK: The trinity at the heart of the DNA damage response. Mol. Cell 66, 801–817 (2017).

37.

Wilhelm, T., Said, M. & Naim, V. DNA replication stress and chromosomal instability: dangerous liaisons. Genes (Basel) 11, 642 (2020).

38.

Groth, A., Rocha, W., Verreault, A. & Almouzni, G. Chromatin challenges during DNA replication and repair. Cell 128, 721–733 (2007).

39.

Thompson, S. L., Bakhoum, S. F. & Compton, D. A. Mechanisms of chromosomal instability. Curr. Biol. 20, R285–R295 (2010).

40.

Burrell, R. A. et al. Replication stress links structural and numerical cancer chromosomal instability. Nature 494, 492–496 (2013).

41.

Umbreit, N. T. et al. Mechanisms generating cancer genome complexity from a single cell division error. Science 368, eaba0712 (2020).

42.

Tang, Y. C. & Amon, A. Gene copy-number alterations: a cost–benefit analysis. Cell 152, 394–405 (2013).

43.

Zhu, J., Tsai, H.-J., Gordon, M. R. & Li, R. Cellular stress associated with aneuploidy. Dev. Cell 44, 420–431 (2018).

44.

Sansregret, L., Vanhaesebroeck, B. & Swanton, C. Determinants and clinical implications of chromosomal instability in cancer. Nat. Rev. Clin. Oncol. 15, 139–150 (2018).

45.

Santaguida, S., Tighe, A., D'Alise, A. M., Taylor, S. S. & Musacchio, A. Dissecting the role of MPS1 in chromosome biorientation and the spindle checkpoint through the small molecule inhibitor reversine. J. Cell Biol. 190, 73–87 (2010).

46.

Al-Hajj, M., Wicha, M. S., Benito-Hernandez, A., Morrison, S. J. & Clarke, M. F. Prospective identification of tumorigenic breast cancer cells. Proc. Natl Acad. Sci. USA 100, 3983–3988 (2003).

47.

Janssen, A., Kops, G. J. & Medema, R. H. Elevating the frequency of chromosome mis-segregation as a strategy to kill tumor cells. Proc. Natl Acad. Sci. USA 106, 19108–19113 (2009).

48.

Tardif, K. D. et al. Characterization of the cellular and antitumor effects of MPI-0479605, a small-molecule inhibitor of the mitotic kinase Mps1. Mol. Cancer Ther. 10, 2267–2275 (2011).

49.

Martinez, R. et al. Mitotic checkpoint kinase Mps1 has a role in normal physiology which impacts clinical utility. PLoS ONE 10, e0138616 (2015).

50.

Wang, Q. et al. BUBR1 deficiency results in abnormal megakaryopoiesis. Blood 103, 1278–1285 (2004).

51.

Kusakabe, K. et al. Discovery of imidazo[1,2-b]pyridazine derivatives: selective and orally available Mps1 (TTK) kinase inhibitors exhibiting remarkable antiproliferative activity. J. Med. Chem. 58, 1760–1775 (2015).

52.

Kim, D. et al. Corecognition of DNA and a methylated histone tail by the MSL3 chromodomain. Nat. Struct. Mol. Biol. 17, 1027–1029 (2010).

53.

Kadlec, J. et al. Structural basis for MOF and MSL3 recruitment into the dosage compensation complex by MSL1. Nat. Struct. Mol. Biol. 18, 142–149 (2011).

54.

Baell, J. B. et al. Inhibitors of histone acetyltransferases KAT6A/B induce senescence and arrest tumour growth. Nature 560, 253–257 (2018).

55.

MacPherson, L. et al. HBO1 is required for the maintenance of leukaemia stem cells. Nature 577, 266–270 (2020).

56.

Talevich, E., Shain, A. H., Botton, T. & Bastian, B. C. CNVkit: genome-Wide copy number detection and visualization from targeted DNA sequencing. PLoS Comput. Biol. 12, e1004873 (2016).

57.

Henser-Brownhill, T., Monserrat, J. & Scaffidi, P. Generation of an arrayed CRISPR–Cas9 library targeting epigenetic regulators: from high-content screens to in vivo assays. Epigenetics 12, 1065–1075 (2017).

58.

Li, H. & Durbin, R. Fast and accurate short read alignment with Burrows–Wheeler transform. Bioinformatics 25, 1754–1760 (2009).

59.

Brinkman, E. K., Chen, T., Amendola, M. & van Steensel, B. Easy quantitative assessment of genome editing by sequence trace decomposition. Nucleic Acids Res. 42, e168 (2014).

60.

Martin, M. Cutadapt removes adapter sequences from high-throughput sequencing reads. EMBnet.J 17, 10–12 (2011).

61.

Li, B. & Dewey, C. N. RSEM: accurate transcript quantification from RNA-Seq data with or without a reference genome. BMC Bioinformatics 12, 323 (2011).

62.

Dobin, A. et al. STAR: ultrafast universal RNA-seq aligner. Bioinformatics 29, 15–21 (2013).

63.

Karolchik, D. et al. The UCSC table browser data retrieval tool. Nucleic Acids Res. 32, D493–D496 (2004).

64.

Love, M. I., Huber, W. & Anders, S. Moderated estimation of fold change and dispersion for RNA-seq data with DESeq2. Genome Biol. 15, 550 (2014).

65.

Li, H. et al. The sequence alignment/map format and SAMtools. Bioinformatics 25, 2078–2079 (2009).

66.

Scheinin, I. et al. DNA copy number analysis of fresh and formalin-fixed specimens by shallow whole-genome sequencing with identification and exclusion of problematic regions in the genome assembly. Genome Res. 24, 2022–2032 (2014).

67.

Kyriacou, E. & Heun, P. High-resolution mapping of centromeric protein association using APEX-chromatin fibers. Epigenetics Chromatin 11, 68 (2018).

68.

Bui, M. et al. Cell-cycle-dependent structural transitions in the human CENP-A nucleosome in vivo. Cell 150, 317–326 (2012).
Acknowledgements
We thank the Crick Biological Research Facility for help with the animal work, the Crick Advanced Sequencing for preparing and sequencing NGS libraries, the Crick Light Microscopy group for help with fluorescence microscopy, and the Flow Cytometry group for help with cell sorting. We thank T. Metz and Oncotest–Charles River for sharing PDX lines and P. Zalmas, A. Tedeschi and E. Gronroos for useful discussions and sharing reagents. This work was supported by The Francis Crick Institute, which receives its core funding from Cancer Research UK (FC001152), the UK Medical Research Council (FC001152), and the Wellcome Trust (FC001152), and by the CRUK Drug Discovery Award (C50796/A19448) provided by Cancer Research UK and Bayer Healthcare. Y.D. and M.B. were funded by the Intramural Research Program of the National Institutes of Health, USA.
Ethics declarations
Competing interests
The authors declare no competing interests.
Additional information
Peer review information Nature Cell Biology thanks Mark Dawson, Marcel van Vugt and the other, anonymous, reviewer for their contribution to the peer review of this work. Peer reviewer reports are available.
Publisher's note Springer Nature remains neutral with regard to jurisdictional claims in published maps and institutional affiliations.
Supplementary information
About this article
Cite this article
Monserrat, J., Morales Torres, C., Richardson, L. et al. Disruption of the MSL complex inhibits tumour maintenance by exacerbating chromosomal instability. Nat Cell Biol 23, 401–412 (2021). https://doi.org/10.1038/s41556-021-00657-2
Received:

Accepted:

Published:

Issue Date:
Further reading
Ali Motazedian

&

Mark A. Dawson

Nature Cell Biology (2021)