Abstract
Dysregulated translation is a common feature of cancer. Uncovering its governing factors and underlying mechanism are important for cancer therapy. Here, we report that enhancer of zeste homologue 2 (EZH2), previously known as a transcription repressor and lysine methyltransferase, can directly interact with fibrillarin (FBL) to exert its role in translational regulation. We demonstrate that EZH2 enhances rRNA 2′-O methylation via its direct interaction with FBL. Mechanistically, EZH2 strengthens the FBL–NOP56 interaction and facilitates the assembly of box C/D small nucleolar ribonucleoprotein. Strikingly, EZH2 deficiency impairs the translation process globally and reduces internal ribosome entry site (IRES)-dependent translation initiation in cancer cells. Our findings reveal a previously unrecognized role of EZH2 in cancer-related translational regulation.
Access options
Subscribe to Journal
Get full journal access for 1 year
$99.00
only $8.25 per issue
All prices are NET prices.
VAT will be added later in the checkout.
Tax calculation will be finalised during checkout.
Rent or Buy article
Get time limited or full article access on ReadCube.
from$8.99
All prices are NET prices.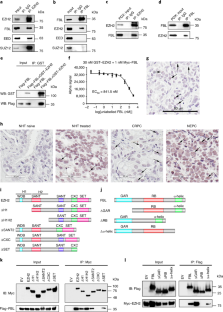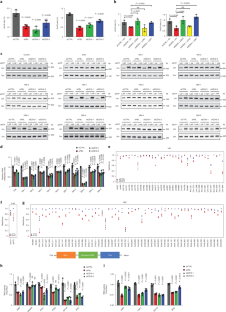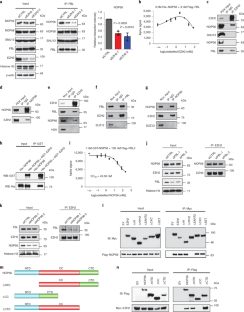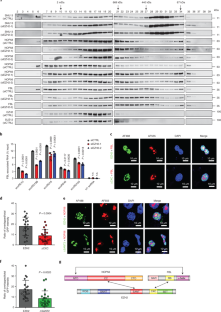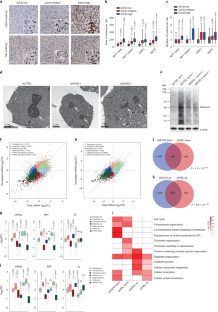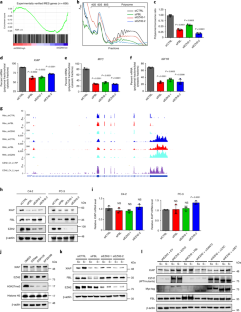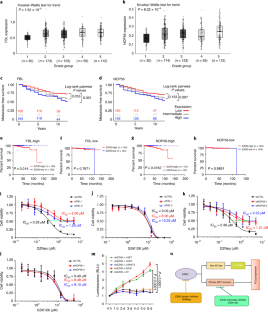 Data availability
The next-generation sequencing data that support the findings of this study have been deposited in the Gene Expression Omnibus (GEO) under accession codes GSE159004 (RiboMeth-seq) and GSE143975 (Ribo-seq/RNA-seq). Previously published EZH2 RIP-seq data that were re-analysed here are available under accession code GSE63230. Source data are provided with this paper. All other data supporting the findings of this study are available from the corresponding authors upon reasonable request.
References
1.

Pelletier, J., Thomas, G. & Volarevic, S. Ribosome biogenesis in cancer: new players and therapeutic avenues. Nat. Rev. Cancer 18, 51–63 (2018).

2.

Polikanov, Y. S., Melnikov, S. V., Soll, D. & Steitz, T. A. Structural insights into the role of rRNA modifications in protein synthesis and ribosome assembly. Nat. Struct. Mol. Biol. 22, 342–344 (2015).

3.

Sharma, S. & Lafontaine, D. L. J. 'View from a bridge': a new perspective on eukaryotic rRNA base modification. Trends Biochem. Sci. 40, 560–575 (2015).

4.

Monaco, P. L., Marcel, V., Diaz, J.-J. & Catez, F. 2′-O-Methylation of ribosomal RNA: towards an epitranscriptomic control of translation?. Biomolecules 8, 106 (2018).

5.

Massenet, S., Bertrand, E. & Verheggen, C. Assembly and trafficking of box C/D and H/ACA snoRNPs. RNA Biol. 14, 680–692 (2017).

6.

Falaleeva, M., Welden, J. R., Duncan, M. J. & Stamm, S. C/D‐box snoRNAs form methylating and non‐methylating ribonucleoprotein complexes: old dogs show new tricks. Bioessays 39, 1600264 (2017).

7.

Shubina, M. Y., Musinova, Y. R. & Sheval, E. V. Nucleolar methyltransferase fibrillarin: evolution of structure and functions. Biochem. Biokhimiia 81, 941–950 (2016).

8.

Rodriguez-Corona, U., Sobol, M., Rodriguez-Zapata, L. C., Hozak, P. & Castano, E. Fibrillarin from Archaea to human. Biol. Cell 107, 159–174 (2015).

9.

Erales, J. et al. Evidence for rRNA 2′-O-methylation plasticity: control of intrinsic translational capabilities of human ribosomes. Proc. Natl Acad. Sci. USA 114, 12934–12939 (2017).

10.

Kass, S., Tyc, K., Steitz, J. A. & Sollner-Webb, B. The U3 small nucleolar ribonucleoprotein functions in the first step of preribosomal RNA processing. Cell 60, 897–908 (1990).

11.

Tessarz, P. et al. Glutamine methylation in histone H2A is an RNA-polymerase-I-dedicated modification. Nature 505, 564–568 (2014).

12.

Li, D. et al. Activity dependent LoNA regulates translation by coordinating rRNA transcription and methylation. Nat. Commun. 9, 1726 (2018).

13.

Iyer-Bierhoff, A. et al. SIRT7-dependent deacetylation of fibrillarin controls histone H2A methylation and rRNA synthesis during the cell cycle. Cell Rep. 25, 2946–2954.e5 (2018).

14.

Ren, X. et al. Maintenance of nucleolar homeostasis by CBX4 alleviates senescence and osteoarthritis. Cell Rep. 26, 3643–3656.e7 (2019).

15.

Nachmani, D. et al. Germline NPM1 mutations lead to altered rRNA 2′-O-methylation and cause dyskeratosis congenita. Nat. Genet. 51, 1518–1529 (2019).

16.

Marcel, V. et al. p53 acts as a safeguard of translational control by regulating fibrillarin and rRNA methylation in cancer. Cancer Cell 24, 318–330 (2013).

17.

Koh, C. M. et al. Alterations in nucleolar structure and gene expression programs in prostatic neoplasia are driven by the MYC oncogene. Am. J. Pathol. 178, 1824–1834 (2011).

18.

Su, H. et al. Elevated snoRNA biogenesis is essential in breast cancer. Oncogene 33, 1348–1358 (2014).

19.

Cao, R. et al. Role of histone H3 lysine 27 methylation in Polycomb-group silencing. Science 298, 1039–1043 (2002).

20.

Margueron, R. & Reinberg, D. The Polycomb complex PRC2 and its mark in life. Nature 469, 343–349 (2011).

21.

Plath, K. et al. Role of histone H3 lysine 27 methylation in X inactivation. Science 300, 131–135 (2003).

22.

Boyer, L. A. et al. Core transcriptional regulatory circuitry in human embryonic stem cells. Cell 122, 947–956 (2005).

23.

Ezhkova, E. et al. Ezh2 orchestrates gene expression for the stepwise differentiation of tissue-specific stem cells. Cell 136, 1122–1135 (2009).

24.

Varambally, S. et al. The Polycomb group protein EZH2 is involved in progression of prostate cancer. Nature 419, 624–629 (2002).

25.

Kleer, C. G. et al. EZH2 is a marker of aggressive breast cancer and promotes neoplastic transformation of breast epithelial cells. Proc. Natl Acad. Sci. USA 100, 11606–11611 (2003).

26.

Lee, S. T. et al. Context-specific regulation of NF-κB target gene expression by EZH2 in breast cancers. Mol. Cell 43, 798–810 (2011).

27.

Xu, K. et al. EZH2 oncogenic activity in castration-resistant prostate cancer cells is Polycomb-independent. Science 338, 1465–1469 (2012).

28.

Zhao, Y. et al. EZH2 cooperates with gain-of-function p53 mutants to promote cancer growth and metastasis. EMBO J. 38, e99599 (2019).

29.

Cao, Q. et al. The central role of EED in the orchestration of Polycomb group complexes. Nat. Commun. 5, 3127 (2014).

30.

Han, Z. et al. Structural basis of EZH2 recognition by EED. Structure 15, 1306–1315 (2007).

31.

Qin, W. et al. Quantitative time-resolved chemoproteomics reveals that stable O-GlcNAc regulates box C/D snoRNP biogenesis. Proc. Natl Acad. Sci. USA 114, E6749–E6758 (2017).

32.

Dong, Z. W. et al. RTL-P: a sensitive approach for detecting sites of 2′-O-methylation in RNA molecules. Nucleic Acids Res. 40, e157 (2012).

33.

Marchand, V., Blanloeil-Oillo, F., Helm, M. & Motorin, Y. Illumina-based RiboMethSeq approach for mapping of 2′-O-Me residues in RNA. Nucleic Acids Res. 44, e135 (2016).

34.

Ruggero, D. Translational control in cancer etiology. Cold Spring Harbor Perspect. Biol. 5, a012336 (2013).

35.

Walters, B. & Thompson, S. R. Cap-independent translational control of carcinogenesis. Front. Oncol. 6, 128 (2016).

36.

Van Eden, M. E., Byrd, M. P., Sherrill, K. W. & Lloyd, R. E. Demonstrating internal ribosome entry sites in eukaryotic mRNAs using stringent RNA test procedures. RNA 10, 720–730 (2004).

37.

Gan, L. et al. Epigenetic regulation of cancer progression by EZH2: from biological insights to therapeutic potential. Biomark. Res. 6, 10 (2018).

38.

Lechertier, T., Grob, A., Hernandez-Verdun, D. & Roussel, P. Fibrillarin and Nop56 interact before being co-assembled in box C/D snoRNPs. Exp. Cell Res. 315, 928–942 (2009).

39.

Mattson, G. et al. A practical approach to crosslinking. Mol. Biol. Rep. 17, 167–183 (1993).

40.

David, A. et al. Nuclear translation visualized by ribosome-bound nascent chain puromycylation. J. Cell Biol. 197, 45–57 (2012).

41.

Oertlin, C. et al. Generally applicable transcriptome-wide analysis of translation using anota2seq. Nucleic Acids Res. 47, e70 (2019).

42.

Larsson, O., Sonenberg, N. & Nadon, R. Identification of differential translation in genome wide studies. Proc. Natl Acad. Sci. USA 107, 21487–21492 (2010).

43.

Zhao, J. et al. IRESbase: a comprehensive database of experimentally validated internal ribosome entry sites. Genomics Proteomics Bioinformatics 18, 129–139 (2020).

44.

Krajewska, M. et al. Elevated expression of inhibitor of apoptosis proteins in prostate cancer. Clin. Cancer Res. 9, 4914–4925 (2003).

45.

Lewis, S. M. & Holcik, M. IRES in distress: translational regulation of the inhibitor of apoptosis proteins XIAP and HIAP2 during cell stress. Cell Death Differ. 12, 547–553 (2005).

46.

Holcik, M., Lefebvre, C., Yeh, C., Chow, T. & Korneluk, R. G. A new internal-ribosome-entry-site motif potentiates XIAP-mediated cytoprotection. Nat. Cell Biol. 1, 190–192 (1999).

47.

Ross, A. E. et al. Tissue-based genomics augments post-prostatectomy risk stratification in a natural history cohort of intermediate- and high-risk men. Eur. Urol. 69, 157–165 (2016).

48.

Kaur, H. B. et al. Association of tumor-infiltrating T-cell density with molecular subtype, racial ancestry and clinical outcomes in prostate cancer. Mod. Pathol. 31, 1539–1552 (2018).

49.

Yang, Y. A. & Yu, J. EZH2, an epigenetic driver of prostate cancer. Protein Cell 4, 331–341 (2013).

50.

Rothe, B. et al. Implication of the box C/D snoRNP assembly factor Rsa1p in U3 snoRNP assembly. Nucleic Acids Res. 45, 7455–7473 (2017).

51.

Li, Q. et al. Antihistamine drug ebastine inhibits cancer growth by targeting Polycomb group protein EZH2. Mol. Cancer Ther. 19, 2023–2033 (2020).

52.

Kim, J. et al. Polycomb- and methylation-independent roles of EZH2 as a transcription activator. Cell Rep. 25, 2808–2820.e4 (2018).

53.

Yu, Y. et al. Progesterone receptor expression during prostate cancer progression suggests a role of this receptor in stromal cell differentiation. Prostate 75, 1043–1050 (2015).

54.

Xie, N. et al. The expression of glucocorticoid receptor is negatively regulated by active androgen receptor signaling in prostate tumors. Int. J. Cancer 136, E27–E38 (2015).

55.

Li, Z. F. & Lam, Y. W. A new rapid method for isolating nucleoli. Methods Mol. Biol. 1228, 35–42 (2015).

56.

Jia, G. et al. N6-methyladenosine in nuclear RNA is a major substrate of the obesity-associated FTO. Nat. Chem. Biol. 7, 885–887 (2011).

57.

Marchand, V. et al. Next-generation sequencing-based RiboMethSeq protocol for analysis of tRNA 2′-O-methylation. Biomolecules 7, 13 (2017).

58.

Pichot, F. et al. Holistic optimization of bioinformatic analysis pipeline for detection and quantification of 2′-O-methylations in RNA by RiboMethSeq. Front. Genet. 11, 38 (2020).

59.

Poulin, F., Gingras, A. C., Olsen, H., Chevalier, S. & Sonenberg, N. 4E-BP3, a new member of the eukaryotic initiation factor 4E-binding protein family. J. Biol. Chem. 273, 14002–14007 (1998).

60.

Holcik, M. & Korneluk, R. G. Functional characterization of the X-linked inhibitor of apoptosis (XIAP) internal ribosome entry site element: role of La autoantigen in XIAP translation. Mol. Cell Biol. 20, 4648–4657 (2000).

61.

Huez, I. et al. Two independent internal ribosome entry sites are involved in translation initiation of vascular endothelial growth factor mRNA. Mol. Cell Biol. 18, 6178–6190 (1998).

62.

Martineau, Y. et al. Internal ribosome entry site structural motifs conserved among mammalian fibroblast growth factor 1 alternatively spliced mRNAs. Mol. Cell Biol. 24, 7622–7635 (2004).

63.

Vagner, S. et al. Alternative translation of human fibroblast growth factor 2 mRNA occurs by internal entry of ribosomes. Mol. Cell Biol. 15, 35–44 (1995).

64.

Meng, Z., Jackson, N. L., Shcherbakov, O. D., Choi, H. & Blume, S. W. The human IGF1R IRES likely operates through a Shine–Dalgarno-like interaction with the G961 loop (E-site) of the 18S rRNA and is kinetically modulated by a naturally polymorphic polyU loop. J. Cell Biochem. 110, 531–544 (2010).

65.

Nanbru, C. et al. Alternative translation of the proto-oncogene c-Myc by an internal ribosome entry site. J. Biol. Chem. 272, 32061–32066 (1997).

66.

McGlincy, N. J. & Ingolia, N. T. Transcriptome-wide measurement of translation by ribosome profiling. Methods 126, 112–129 (2017).

67.

Zhang, J., Kobert, K., Flouri, T. & Stamatakis, A. PEAR: a fast and accurate Illumina paired-end read merger. Bioinformatics 30, 614–620 (2014).

68.

Shen, W., Le, S., Li, Y. & Hu, F. SeqKit: a cross-platform and ultrafast toolkit for FASTA/Q file manipulation. PLoS ONE 11, e0163962 (2016).

69.

Trapnell, C., Pachter, L. & Salzberg, S. L. TopHat: discovering splice junctions with RNA-Seq. Bioinformatics 25, 1105–1111 (2009).

70.

Anders, S., Pyl, P. T. & Huber, W. HTSeq—a Python framework to work with high-throughput sequencing data. Bioinformatics 31, 166–169 (2015).

71.

Yu, G., Wang, L. G., Han, Y. & He, Q. Y. clusterProfiler: an R package for comparing biological themes among gene clusters. Omics 16, 284–287 (2012).

72.

Chen, K. et al. DANPOS: dynamic analysis of nucleosome position and occupancy by sequencing. Genome Res. 23, 341–351 (2013).

73.

Li, D., Hsu, S., Purushotham, D., Sears, R. L. & Wang, T. WashU Epigenome browser update 2019. Nucleic Acids Res. 47, W158–W165 (2019).

74.

Ren, J. et al. DOG 1.0: illustrator of protein domain structures. Cell Res. 19, 271–273 (2009).
Acknowledgements
We thank the Center for Advanced Microscopy/Nikon Imaging Center of Northwestern University for assistance with confocal microscopy. We thank the Vancouver Prostate Centre for assistance with IHC and PLA assays. We appreciate the Metabolomics Core Facility at Robert H. Lurie Comprehensive Cancer Center of Northwestern University for assistance with LC–MS/MS to detect the 2′-O-Me status of RNA. We thank J. C. Trinidad and the Laboratory for Biological Mass Spectrometry Facility at Indiana University Bloomington for conducting the MS analysis of crosslinked samples. This work was supported by a start-up fund provided by the Northwestern University. Q.C. was supported by Northwestern University, the US Department of Defense (W81XWH-17-1-0357, W81XWH-19-1-0563 and W81XWH-20-1-0504), the American Cancer Society (RSG-15-192-01), the NIH/NCI (R01CA208257 and Prostate SPORE P50CA180995 Development Research Program) and the Polsky Urologic Cancer Institute of the Robert H. Lurie Comprehensive Cancer Center of Northwestern University at Northwestern Memorial Hospital. K.C. was supported by start-up funding provided by The Houston Methodist Research Institute and Boston Children's Hospital. W.Z. was supported by the National Natural Science Foundation of China (81972651, 31771630, 81802974 and 81702784), the Guangdong Innovative and Entrepreneurial Research Team Program (2016ZT06S029), the Natural Science Foundation of Guangdong Province (2017A030310228, 2017A030312009 and 2016A030313238), the Medical Scientific Research Foundation of Guangdong Province of China (A2017110), and the Special funds for Dapeng New District Industry Development (KY20160309). H.N. was supported by National Institutes of Health grant R35GM124765. Z.J. was supported by R00 CA 207865 from National Cancer Institute. E.M.S. was supported in part by the National Institutes of Health grant 5U01CA196390, the Prostate Cancer Foundation, Department of Defense grant W81XWH-15-1-0661 (E.M.S. and T.L.L.). A.B.W. was supported by the 2019 Urology Care Foundation Residency Research Award Program and the Russell Scott, Jr, MD Urology Research Fund.
Ethics declarations
Competing interests
The authors declare no competing interests.
Additional information
Peer review information Nature Cell Biology thanks Ivan Topisirovic and the other, anonymous, reviewers for their contribution to the peer review of this work.
Publisher's note Springer Nature remains neutral with regard to jurisdictional claims in published maps and institutional affiliations.
Supplementary information
Supplementary Table 1: Detailed information of RiboMeth-seq data. (a) MethScore information for each 2′-O-Me site in 18S rRNA; (b) MethScore information for each 2′-O-Me site in 5.8S rRNA; (c) MethScore information for each 2′-O-Me site in 28S rRNA. Supplementary Table 2: List of translation-affected genes after EZH2 or FBL inhibition. (a) Quantification of TE of the coding genes from the Ribo-seq combined with RNA-seq data after EZH2 inhibition; (b) quantification of TE of the coding genes from the Ribo-seq combined with RNA-seq data after FBL inhibition. Supplementary Table 3: Antibodies used in this study. Supplementary Table 4: Oligonucleotides used for this study. Supplementary Table 5: Recombinant proteins used for this study.
About this article
Cite this article
Yi, Y., Li, Y., Meng, Q. et al. A PRC2-independent function for EZH2 in regulating rRNA 2′-O methylation and IRES-dependent translation. Nat Cell Biol 23, 341–354 (2021). https://doi.org/10.1038/s41556-021-00653-6
Received:

Accepted:

Published:

Issue Date: