Abstract
MicroRNA (miRNA) production entails the step-wise processing of primary miRNAs (pri-miRNAs) into precursor miRNAs (pre-miRNAs) and miRNA/* duplexes by Dicing complexes containing DCL1, HYL1 and SE, which are localized in nuclear dicing bodies (D-bodies)1,2. Here, we show that D-bodies are phase-separated condensates. SE forms droplets and drives DCL1, HYL1 and pri/pre-miRNAs into the droplets in vitro, and mutation of SE abrogates the formation of D-bodies in vivo, which indicates that D-bodies arise through SE-mediated phase separation. Disruption of SE phase separation greatly reduces its activity in promoting miRNA processing both in vitro and in vivo. We further show that pre-miRNAs are processed into miRNA/* duplexes in the droplets and, after processing, miRNA/* duplexes are bound by HYL1 and released from the droplets. Our findings provide evidence that efficient miRNA processing depends on the SE-phase-separation-mediated formation of D-bodies and suggest a paradigm that the products made in phase-separated condensates can be shipped out for subsequent processes.
Relevant articles
Open Access articles citing this article.
Lucia Gonzalo

,

Ileana Tossolini

…

Pablo A. Manavella

Nature Plants Open Access 21 April 2022

Chao Liang

,

Qiang Cai

…

Xuemei Chen

Nature Communications Open Access 08 March 2022

Xiaojian Gui

,

Chang Liu

…

Xueping Zhou

Nature Communications Open Access 31 January 2022
Access options
Subscribe to Nature+
Get immediate online access to the entire Nature family of 50+ journals
Subscribe to Journal
Get full journal access for 1 year
$99.00
only $8.25 per issue
All prices are NET prices.
VAT will be added later in the checkout.
Tax calculation will be finalised during checkout.
Buy article
Get time limited or full article access on ReadCube.
$32.00
All prices are NET prices.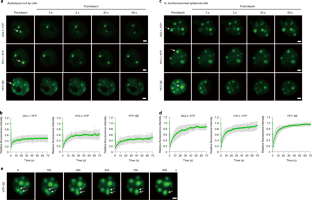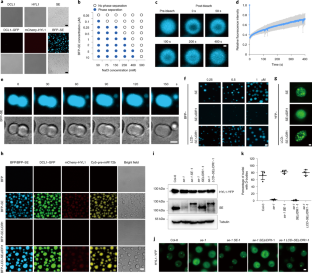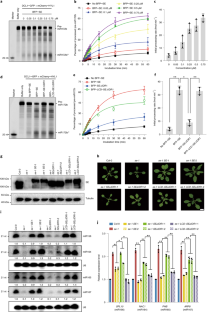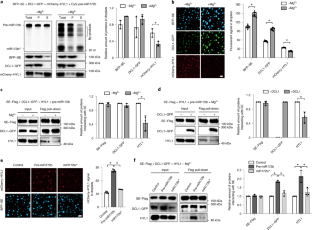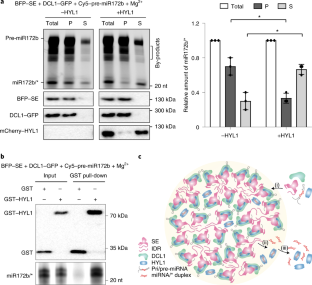 Data availability
All data supporting the findings of this study are available from the corresponding author upon reasonable request. Source data are provided with this paper.
References
Song, X., Li, Y., Cao, X. & Qi, Y. MicroRNAs and their regulatory roles in plant–environment interactions. Annu. Rev. Plant Biol. 70, 489–525 (2019).

Fang, Y. & Spector, D. L. Identification of nuclear dicing bodies containing proteins for microRNA biogenesis in living Arabidopsis plants. Curr. Biol. 17, 818–823 (2007).

Banani, S. F., Lee, H. O., Hyman, A. A. & Rosen, M. K. Biomolecular condensates: organizers of cellular biochemistry. Nat. Rev. Mol. Cell Biol. 18, 285–298 (2017).

Shin, Y. & Brangwynne, C. P. Liquid phase condensation in cell physiology and disease. Science 357, eaaf4382 (2017).

Wright, P. E. & Dyson, H. J. Intrinsically disordered proteins in cellular signalling and regulation. Nat. Rev. Mol. Cell Biol. 16, 18–29 (2015).

Jain, A. & Vale, R. D. RNA phase transitions in repeat expansion disorders. Nature 546, 243–247 (2017).

Molliex, A. et al. Phase separation by low complexity domains promotes stress granule assembly and drives pathological fibrillization. Cell 163, 123–133 (2015).

Tiwary, A. K. & Zheng, Y. Protein phase separation in mitosis. Curr. Opin. Cell Biol. 60, 92–98 (2019).

Chong, P. A. & Forman-Kay, J. D. Liquid–liquid phase separation in cellular signaling systems. Curr. Opin. Struct. Biol. 41, 180–186 (2016).

Hnisz, D., Shrinivas, K., Young, R. A., Chakraborty, A. K. & Sharp, P. A. A phase separation model for transcriptional control. Cell 169, 13–23 (2017).

Gibson, B. A. et al. Organization of chromatin by intrinsic and regulated phase separation. Cell 179, 470–484.e21 (2019).

Xu, L. et al. An expression atlas of miRNAs in Arabidopsis thaliana. Sci. China Life Sci. 61, 178–189 (2018).

Fang, X. & Qi, Y. RNAi in plants: an argonaute-centered view. Plant Cell 28, 272–285 (2016).

Dong, Z., Han, M. H. & Fedoroff, N. The RNA-binding proteins HYL1 and SE promote accurate in vitro processing of pri-miRNA by DCL1. Proc. Natl Acad. Sci. USA 105, 9970–9975 (2008).

Wang, Z. et al. SWI2/SNF2 ATPase CHR2 remodels pri-miRNAs via Serrate to impede miRNA production. Nature 557, 516–521 (2018).

Yu, Y., Jia, T. & Chen, X. The 'how' and 'where' of plant microRNAs. N. Phytol. 216, 1002–1017 (2017).

Song, L., Han, M. H., Lesicka, J. & Fedoroff, N. Arabidopsis primary microRNA processing proteins HYL1 and DCL1 define a nuclear body distinct from the Cajal body. Proc. Natl Acad. Sci. USA 104, 5437–5442 (2007).

Kroschwald, S., Maharana, S. & Simon, A. Hexanediol: a chemical probe to investigate the material properties of membrane-less compartments. Matters 3, e201702000010 (2017).

Laubinger, S. et al. Dual roles of the nuclear cap-binding complex and SERRATE in pre-mRNA splicing and microRNA processing in Arabidopsis thaliana. Proc. Natl Acad. Sci. USA 105, 8795–8800 (2008).

Ma, Z. et al. Arabidopsis Serrate coordinates histone methyltransferases ATXR5/6 and RNA processing factor RDR6 to regulate transposon expression. Dev. Cell 45, 769–784.e6 (2018).

Speth, C. et al. Arabidopsis RNA processing factor SERRATE regulates the transcription of intronless genes. eLife 7, e37078 (2018).

Raczynska, K. D. et al. The SERRATE protein is involved in alternative splicing in Arabidopsis thaliana. Nucleic Acids Res. 42, 1224–1244 (2014).

Brangwynne, C. P., Tompa, P. & Pappu, R. V. Polymer physics of intracellular phase transitions. Nat. Phys. 11, 899–904 (2015).

Xue, B., Dunbrack, R. L., Williams, R. W., Dunker, A. K. & Uversky, V. N. PONDR-FIT: a meta-predictor of intrinsically disordered amino acids. Biochim. Biophys. Acta 1804, 996–1010 (2010).

Burke, K. A., Janke, A. M., Rhine, C. L. & Fawzi, N. L. Residue-by-residue view of in vitro FUS granules that bind the C-terminal domain of RNA polymerase II. Mol. Cell 60, 231–241 (2015).

Lin, Y., Protter, D. S., Rosen, M. K. & Parker, R. Formation and maturation of phase-separated liquid droplets by RNA-binding proteins. Mol. Cell 60, 208–219 (2015).

Kato, M. et al. Cell-free formation of RNA granules: low complexity sequence domains form dynamic fibers within hydrogels. Cell 149, 753–767 (2012).

Han, T. W. et al. Cell-free formation of RNA granules: bound RNAs identify features and components of cellular assemblies. Cell 149, 768–779 (2012).

Patel, A. et al. A liquid-to-solid phase transition of the ALS protein FUS accelerated by disease mutation. Cell 162, 1066–1077 (2015).

Grigg, S. P., Canales, C., Hay, A. & Tsiantis, M. SERRATE coordinates shoot meristem function and leaf axial patterning in Arabidopsis. Nature 437, 1022–1026 (2005).

Liu, Q., Shi, L. & Fang, Y. Dicing bodies. Plant Physiol. 158, 61–66 (2012).

Provost, P. et al. Ribonuclease activity and RNA binding of recombinant human Dicer. EMBO J. 21, 5864–5874 (2002).

Qi, Y., Denli, A. M. & Hannon, G. J. Biochemical specialization within Arabidopsis RNA silencing pathways. Mol. Cell 19, 421–428 (2005).

Yang, S. W. et al. Structure of Arabidopsis HYPONASTIC LEAVES1 and its molecular implications for miRNA processing. Structure 18, 594–605 (2010).

Machida, S., Chen, H. Y. & Adam Yuan, Y. Molecular insights into miRNA processing by Arabidopsis thaliana SERRATE. Nucleic Acids Res. 39, 7828–7836 (2011).

Fang, X., Cui, Y., Li, Y. & Qi, Y. Transcription and processing of primary microRNAs are coupled by Elongator complex in Arabidopsis. Nat. Plants 1, 15075 (2015).

Wang, S. et al. The PROTEIN PHOSPHATASE4 complex promotes transcription and processing of primary microRNAs in Arabidopsis. Plant Cell 31, 486–501 (2019).

Eamens, A. L., Smith, N. A., Curtin, S. J., Wang, M. B. & Waterhouse, P. M. The Arabidopsis thaliana double-stranded RNA binding protein DRB1 directs guide strand selection from microRNA duplexes. RNA 15, 2219–2235 (2009).

Sheu-Gruttadauria, J. & MacRae, I. J. Phase transitions in the assembly and function of human miRISC. Cell 173, 946 (2018).

Re, D. A. et al. Alternative use of miRNA-biogenesis co-factors in plants at low temperatures. Development 146, dev172932 (2019).

Gruber, J. J. et al. Ars2 links the nuclear cap-binding complex to RNA interference and cell proliferation. Cell 138, 328–339 (2009).

Sabin, L. R. et al. Ars2 regulates both miRNA- and siRNA-dependent silencing and suppresses RNA virus infection in Drosophila. Cell 138, 340–351 (2009).

Sun, Z. F. et al. Coordinated regulation of Arabidopsis microRNA biogenesis and red light signaling through Dicer-like 1 and phytochrome-interacting factor 4. PLoS Genet. 14, e1007247 (2018).

Guo, Y. E. et al. Pol II phosphorylation regulates a switch between transcriptional and splicing condensates. Nature 572, 543–548 (2019).

Tomassi, A. H., Gagliardi, D., Cambiagno, D. A. & Manavella, P. A. Nonradioactive detection of small RNAs using digoxigenin-labeled probes. Methods Mol. Biol. 1640, 199–210 (2017).
Acknowledgements
This work was supported by grants from the National Natural Science Foundation of China (grant number 31788103) and the National Key R&D Program of China (grants 2016YFA0500800 to Y.Q. and 2019YFA0508403 to P.L.). Y.Q. is a visiting investigator of the CAS Center for Excellence in Molecular Plant Sciences.
Ethics declarations
Competing interests
The authors declare no competing interests.
Additional information
Peer review information Peer reviewer reports are available. Nature Cell Biology thanks Sascha Laubinger and the other, anonymous, reviewer(s) for their contribution to the peer review of this work.
Publisher's note Springer Nature remains neutral with regard to jurisdictional claims in published maps and institutional affiliations.
Supplementary information
About this article
Cite this article
Xie, D., Chen, M., Niu, J. et al. Phase separation of SERRATE drives dicing body assembly and promotes miRNA processing in Arabidopsis. Nat Cell Biol 23, 32–39 (2021). https://doi.org/10.1038/s41556-020-00606-5
Received:

Accepted:

Published:

Issue Date:

DOI: https://doi.org/10.1038/s41556-020-00606-5