Abstract
Pancreatic ductal adenocarcinoma (PDAC) shows great cellular heterogeneity, with pronounced epithelial and mesenchymal cancer cell populations. However, the cellular hierarchy underlying PDAC cell diversity is unknown. Here we identify the tetraspanin CD9 as a marker of PDAC tumour-initiating cells. CD9high cells had increased organoid formation capability, and generated tumour grafts in vivo at limiting dilutions. Tumours initiated from CD9high cells recapitulated the cellular heterogeneity of primary PDAC, whereas CD9low cells produced only duct-like epithelial progeny. CD9 knockdown decreased the growth of PDAC organoids, and heterozygous CD9 deletion in Pdx1-Cre; LSL-KRasG12D; p53F/F mice prolonged overall survival. Mechanistically, CD9 promoted the plasma membrane localization of the glutamine transporter ASCT2, enhancing glutamine uptake in PDAC cells. Thus, our study identifies a PDAC subpopulation capable of initiating PDAC and giving rise to PDAC heterogeneity, suggesting that the cellular diversity of PDAC is generated by PDAC stem cell differentiation.
Relevant articles
Open Access articles citing this article.
Bin Li

,

Junyi Wang

…

Minghua Jiang

Cancer Cell International Open Access 19 September 2022

Rens Peeters

,

Jorge Cuenca-Escalona

…

Annemiek B. van Spriel

Nature Communications Open Access 13 September 2022

Theodore Evan

,

Victoria Min-Yi Wang

&

Axel Behrens

Oncogene Open Access 10 September 2022
Access options
Subscribe to Nature+
Get immediate online access to the entire Nature family of 50+ journals
Subscribe to Journal
Get full journal access for 1 year
$99.00
only $8.25 per issue
All prices are NET prices.
VAT will be added later in the checkout.
Tax calculation will be finalised during checkout.
Buy article
Get time limited or full article access on ReadCube.
$32.00
All prices are NET prices.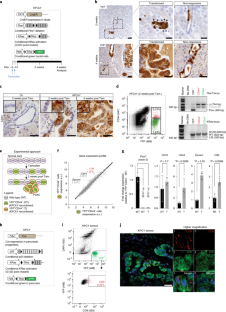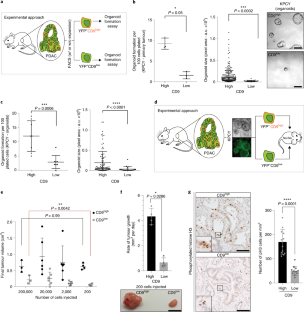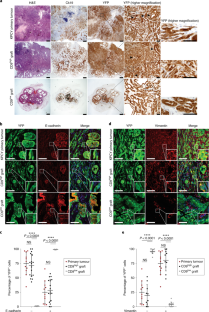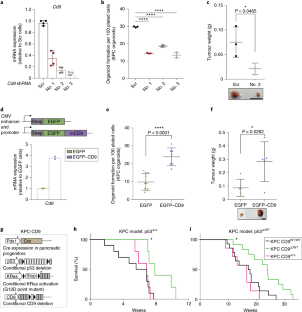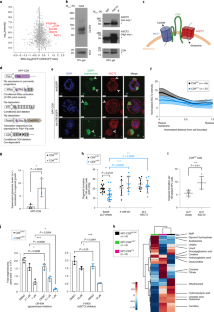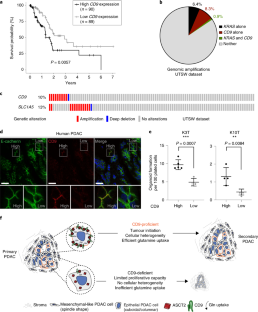 Data availability
Microarray data supporting the findings of this study have been deposited in the Gene Expression Omnibus under the accession code GSE121864. Mass spectrometry data have been deposited in ProteomeXchange with the primary accession code PXD015439. Clinical data and normalized RSEM read count tables for pancreatic adenocarcinoma were downloaded from the Broad firehose data repository (https://gdac.broadinstitute.org/). Source data for Figs. 1 and 5 and Extended Data Figs. 1 and 5–7 are available online. All other relevant data are available from the corresponding author. Ethical consent for use of human biological samples is currently restricted to the Adult Stem Cell Laboratory at the Francis Crick Institute.
References
Cronin, K. A. et al. Annual report to the nation on the status of cancer, part I: national cancer statistics. Cancer 124, 2785–2800 (2018).

Neoptolemos, J. P. et al. Therapeutic developments in pancreatic cancer: current and future perspectives. Nat. Rev. Gastroenterol. Hepatol. 15, 333–348 (2018).

Dagogo-Jack, I. & Shaw, A. T. Tumour heterogeneity and resistance to cancer therapies. Nat. Rev. Clin. Oncol. 15, 81–94 (2017).

Maddipati, R. & Stanger, B. Z. Pancreatic cancer metastases harbor evidence of polyclonality. Cancer Discov. 5, 1086–1097 (2015).

Kreso, A. & Dick, J. E. Evolution of the cancer stem cell model. Cell Stem Cell 14, 275–291 (2014).

Li, C. et al. Identification of pancreatic cancer stem cells. Cancer Res. 67, 1030–1037 (2007).

Li, C. et al. c-Met is a marker of pancreatic cancer stem cells and therapeutic target. Gastroenterology 141, 2218–2227 (2011).

Hermann, P. C. et al. Distinct populations of cancer stem cells determine tumor growth and metastatic activity in human pancreatic cancer. Cell Stem Cell 1, 313–323 (2007).

Fox, R. G. et al. Image-based detection and targeting of therapy resistance in pancreatic adenocarcinoma. Nature 534, 407–411 (2016).

Bailey, J. M. et al. DCLK1 marks a morphologically distinct subpopulation of cells with stem cell properties in preinvasive pancreatic cancer. Gastroenterology 146, 245–256 (2014).

Abel, E. V. et al. HNF1A is a novel oncogene that regulates human pancreatic cancer stem cell properties. eLife 7, e33947 (2018).

Barker, N. et al. Crypt stem cells as the cells-of-origin of intestinal cancer. Nature 457, 608–611 (2009).

Ferreira, R. M. M. et al. Duct- and acinar-derived pancreatic ductal adenocarcinomas show distinct tumor progression and marker expression. Cell Rep. 21, 966–978 (2017).

Went, P. T. et al. Frequent EpCam protein expression in human carcinomas. Hum. Pathol. 35, 122–128 (2004).

Cruz-Monserrate, Z. et al. Detection of pancreatic cancer tumours and precursor lesions by cathepsin E activity in mouse models. Gut 61, 1315–1322 (2012).

Uhlen, M. et al. Tissue-based map of the human proteome. Science 347, 1260419 (2015).

Bardeesy, N. et al. Both p16-Ink4a and the p19-Arf-p53-pathway constrain progression of pancreatic adenocarcinoma in the mouse. Proc. Natl Acad. Sci. USA 103, 5947–5952 (2006).

Hemler, M. E. Tetraspanin proteins promote multiple cancer stages. Nat. Rev. Cancer 14, 49–60 (2014).

Huch, M. et al. Unlimited in vitro expansion of adult bi‐potent pancreas progenitors through the Lgr5/R‐spondin axis. EMBO J. 32, 2708–2721 (2013).

Malanchi, I. et al. Interactions between cancer stem cells and their niche govern metastatic colonization. Nature 481, 85–89 (2012).

Reya, T., Morrison, S. J., Clarke, M. F. & Weissman, I. L. Stem cells, cancer, and cancer stem cells. Nature 414, 105–111 (2001).

Hotz, B. et al. Epithelial to mesenchymal transition: expression of the regulators snail, slug, and twist in pancreatic cancer. Clin. Cancer Res. 13, 4769–4776 (2007).

Zheng, X. et al. Epithelial-to-mesenchymal transition is dispensable for metastasis but induces chemoresistance in pancreatic cancer. Nature 527, 525–530 (2015).

Rhim, A. D. et al. EMT and dissemination precede pancreatic tumor formation. Cell 148, 349–361 (2012).

Miyado, K. et al. The fusing ability of sperm is bestowed by CD9-containing vesicles released from eggs in mice. Proc. Nal Acad. Sci. USA 105, 12921–12926 (2008).

Skarnes, W. C. et al. A conditional knockout resource for the genome-wide study of mouse gene function. Nature 474, 337–342 (2011).

Charrin, S. et al. The major CD9 and CD81 molecular partner: identification and characterization of the complexes. J. Biol. Chem. 276, 14329–14337 (2001).

Le Naour, F. et al. Profiling of the tetraspanin web of human colon cancer cells. Mol. Cell. Proteom. 5, 845–857 (2006).

Kovalenko, O. V., Yang, X., Kolesnikova, T. V. & Hemler, M. E. Evidence for specific tetraspanin homodimers: inhibition of palmitoylation makes cysteine residues available for cross-linking. Biochem. J. 377, 407–417 (2004).

Xu, D. & Hemler, M. E. Metabolic activation-related CD147–CD98 complex. Mol. Cell. Proteom. 4, 1061–1071 (2005).

Son, J. et al. Glutamine supports pancreatic cancer growth through a KRAS-regulated metabolic pathway. Nature 496, 101–105 (2013).

Schonhuber, N. et al. A next-generation dual-recombinase system for time- and host-specific targeting of pancreatic cancer. Nat. Med. 20, 1340–1347 (2014).

Kaira, K. et al. Clinicopathological significance of ASC amino acid transporter-2 expression in pancreatic ductal carcinoma. Histopathology 66, 234–243 (2015).

Biancur, D. E. et al. Compensatory metabolic networks in pancreatic cancers upon perturbation of glutamine metabolism. Nat. Commun. 8, 15965 (2017).

Schulte, M. L. et al. Pharmacological blockade of ASCT2-dependent glutamine transport leads to antitumor efficacy in preclinical models. Nat. Med. 24, 194–202 (2018).

Cerami, E. et al. The cBio Cancer Genomics Portal: an open platform for exploring multidimensional cancer genomics data. Cancer Discov. 2, 401–404 (2012).

Witkiewicz, A. K. et al. Whole-exome sequencing of pancreatic cancer defines genetic diversity and therapeutic targets. Nat. Commun. 6, 6744 (2015).

Mueller, S. et al. Evolutionary routes and KRAS dosage define pancreatic cancer phenotypes. Nature 554, 62–68 (2018).

Kim, M. P. et al. ALDH activity selectively defines an enhanced tumor-initiating cell population relative to CD133 expression in human pancreatic adenocarcinoma. PLoS ONE 6, e20636 (2011).

Miranda-Lorenzo, I. et al. Intracellular autofluorescence: a biomarker for epithelial cancer stem cells. Nat. Methods 11, 1161–1169 (2014).

Dosch, J. S., Ziemke, E. K., Shettigar, A., Rehemtulla, A. & Sebolt-Leopold, J. S. Cancer stem cell marker phenotypes are reversible and functionally homogeneous in a preclinical model of pancreatic cancer. Cancer Res. 75, 4582–4592 (2015).

Zeng, A. et al. Prospectively isolated tetraspanin-positive neoblasts are adult pluripotent stem cells underlying planaria regeneration. Cell 173, 1593–1608 (2018).

Kwon, H. Y. et al. Tetraspanin 3 is required for the development and propagation of acute myelogenous leukemia. Cell Stem Cell 17, 152–164 (2015).

Wang, G. P. & Han, X. F. CD9 modulates proliferation of human glioblastoma cells via epidermal growth factor receptor signaling. Mol. Med. Rep. 12, 1381–1386 (2015).

Copeland, B. T., Bowman, M. J., Boucheix, C. & Ashman, L. K. Knockout of the tetraspanin Cd9 in the TRAMP model of de novo prostate cancer increases spontaneous metastases in an organ-specific manner. Int. J. Cancer 133, 1803–1812 (2013).

Tang, M. et al. Downregulation of CD9 promotes pancreatic cancer growth and metastasis through upregulation of epidermal growth factor on the cell surface. Oncology Rep. 34, 350–358 (2015).

Grønborg, M. et al. Biomarker discovery from pancreatic cancer secretome using a differential proteomic approach. Mol. Cell. Proteom. 5, 157–171 (2006).

Shi, Y. et al. Tetraspanin CD9 stabilizes gp130 by preventing its ubiquitin-dependent lysosomal degradation to promote STAT3 activation in glioma stem cells. Cell Death Differ. 24, 167–180 (2017).

Podergajs, N. et al. Transmembrane protein CD9 is glioblastoma biomarker, relevant for maintenance of glioblastoma stem cells. Oncotarget 7, 593–609 (2016).

Yamazaki, H. et al. Regulation of cancer stem cell properties by CD9 in human B-acute lymphoblastic leukemia. Biochem. Biophys. Res. Commun. 409, 14–21 (2011).

Kamphorst, J. J. et al. Human pancreatic cancer tumors are nutrient poor and tumor cells actively scavenge extracellular protein. Cancer Res. 75, 544–553 (2015).

Roux, C. et al. Endogenous glutamine decrease is associated with pancreatic cancer progression. Oncotarget 8, 95361–95376 (2017).

Seo, J.-W. et al. Autophagy is required for PDAC glutamine metabolism. Sci. Rep. 6, 37594 (2016).

Commisso, C. et al. Macropinocytosis of protein is an amino acid supply route in Ras-transformed cells. Nature 497, 633–637 (2013).

Boj, S. F. et al. Organoid models of human and mouse ductal pancreatic cancer. Cell 160, 324–338 (2015).

Means, A. L., Xu, Y., Zhao, A., Ray, K. C. & Gu, G. A. CK19(CreERT) knockin mouse line allows for conditional DNA recombination in epithelial cells in multiple endodermal organs. Genesis 46, 318–323 (2008).

Jandke, A. et al. The F-box protein Fbw7 is required for cerebellar development. Devel. Biol. 358, 201–212 (2011).

Jackson, E. L. et al. Analysis of lung tumor initiation and progression using conditional expression of oncogenic K-ras. Genes Devel. 15, 3243–3248 (2001).

Marino, S., Vooijs, M., van Der Gulden, H., Jonkers, J. & Berns, A. Induction of medulloblastomas in p53-null mutant mice by somatic inactivation of Rb in the external granular layer cells of the cerebellum. Genes Devel. 14, 994–1004 (2000).

Hingorani, S. R. et al. Preinvasive and invasive ductal pancreatic cancer and its early detection in the mouse. Cancer Cell 4, 437–450 (2003).

Srinivas, S. et al. Cre reporter strains produced by targeted insertion of EYFP and ECFP into the ROSA26 locus. BMC Devel. Biol. 1, 4 (2001).

Flanagan, S. P. 'Nude', a new hairless gene with pleiotropic effects in the mouse. Genet. Res. 8, 295–309 (1966).

Hayer, A. et al. Engulfed cadherin fingers are polarized junctional structures between collectively migrating endothelial cells. Nat. Cell Biol. 18, 1311–1323 (2016).

Tyanova, S., Temu, T. & Cox, J. The MaxQuant computational platform for mass spectrometry-based shotgun proteomics. Nat. Protoc. 11, 2301–2319 (2016).

MacRae, J. I. et al. Mitochondrial metabolism of sexual and asexual blood stages of the malaria parasite Plasmodium falciparum. BMC Biol. 11, 67 (2013).

Behrends, V., Tredwell, G. D. & Bundy, J. G. A software complement to AMDIS for processing GC-MS metabolomic data. Anal. Biochem. 415, 206–208 (2011).

Zhang, T., Creek, D. J., Barrett, M. P., Blackburn, G. & Watson, D. G. Evaluation of coupling reversed phase, aqueous normal phase, and hydrophilic interaction liquid chromatography with Orbitrap mass spectrometry for metabolomic studies of human urine. Anal. Chem. 84, 1994–2001 (2012).

Rey, G. et al. Metabolic oscillations on the circadian time scale in Drosophila cells lacking clock genes. Mol. Syst. Biol. 14, e8376 (2018).

Chong, J., Yamamoto, M. & Xia, J. MetaboAnalystR 2.0: from raw spectra to biological insights. Metabolites 9, e57 (2019).

Barry, D. J., Durkin, C. H., Abella, J. V. & Way, M. Open source software for quantification of cell migration, protrusions, and fluorescence intensities. J. Cell Biol. 209, 163–180 (2015).
Acknowledgements
We thank D. Saur for providing the Pdx1-Flp, Trp53 FRT and FSF-KRasG12D mice, I. Malanchi and M. Yuneva for comments on the manuscript, C. Cremona for help in preparing the manuscript, the Yuneva laboratory for advice on organoid metabolomics and the V-9302 inhibitor, R. Mitter and S. Boeing from the Bioinformatics and Statistics Service at the Francis Crick Institute, K. Miyado for the EGFP−mCD9 fusion construct, D. Sarker, A. Prachalias, C. Cotoi, Y. Zen and A. Zamalloa for coordinating and providing the human samples used in this study, technicians from the Biological Research Facility at the Francis Crick Institute, and all other Behrens laboratory members for their feedback. T.E. was supported by a doctoral clinical fellowship from a CRUK Accelerator Award (C422/A23614). This work was supported by the Francis Crick Institute, which receives its core funding from Cancer Research UK (FC001039), the UK Medical Research Council (FC001039) and the Wellcome Trust (FC001039).
Ethics declarations
Competing interests
The authors declare no competing interests.
Additional information
Publisher's note Springer Nature remains neutral with regard to jurisdictional claims in published maps and institutional affiliations.
Supplementary information
About this article
Cite this article
Wang, V.MY., Ferreira, R.M.M., Almagro, J. et al. CD9 identifies pancreatic cancer stem cells and modulates glutamine metabolism to fuel tumour growth. Nat Cell Biol 21, 1425–1435 (2019). https://doi.org/10.1038/s41556-019-0407-1
Received:

Accepted:

Published:

Issue Date:

DOI: https://doi.org/10.1038/s41556-019-0407-1