Abstract
Growth plate cartilage contributes to the generation of a large variety of shapes and sizes of skeletal elements in the mammalian system. The removal of cartilage and how this process regulates bone shape are not well understood. Here we identify a non-bone-resorbing osteoclast subtype termed vessel-associated osteoclast (VAO). Endothelial cells at the bone/cartilage interface support VAOs through a RANKL–RANK signalling mechanism. In contrast to classical bone-associated osteoclasts, VAOs are dispensable for cartilage resorption and regulate anastomoses of type H vessels. Remarkably, proteinases including matrix metalloproteinase-9 (Mmp9) released from endothelial cells, not osteoclasts, are essential for resorbing cartilage to lead directional bone growth. Importantly, disrupting the orientation of angiogenic blood vessels by misdirecting them results in contorted bone shape. This study identifies proteolytic functions of endothelial cells in cartilage and provides a framework to explore tissue-lytic features of blood vessels in fracture healing, arthritis and cancer.
Access options
Subscribe to Journal
Get full journal access for 1 year
$209.00
only $17.42 per issue
All prices are NET prices.
VAT will be added later in the checkout.
Rent or Buy article
Get time limited or full article access on ReadCube.
from$8.99
All prices are NET prices.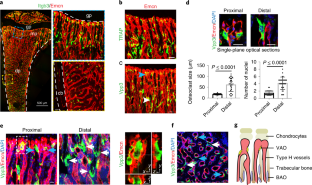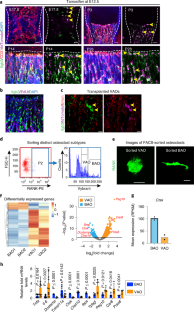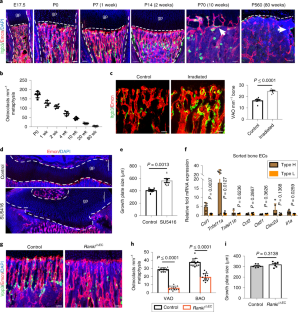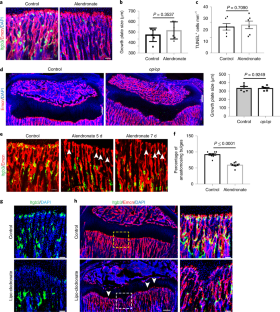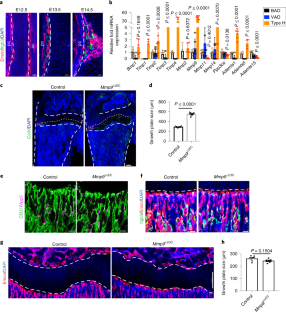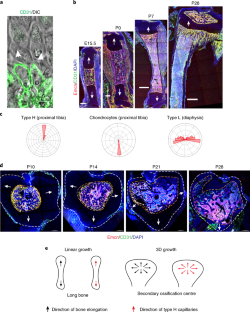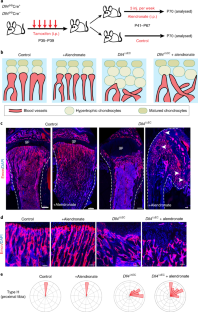 Data availability
RNA-seq data that support the findings of this study have been deposited in the Array Express database under accession code E-MTAB-6857. Numerical source data giving rise to graphical representations and statistical descriptions have been provided as Supplementary Table 2. All other data supporting the findings of this study are available from the corresponding author on reasonable request.
References
1.

Kronenberg, H. M. Developmental regulation of the growth plate. Nature 423, 332–336 (2003).

2.

Mackie, E. J., Ahmed, Y. A., Tatarczuch, L., Chen, K. S. & Mirams, M. Endochondral ossification: how cartilage is converted into bone in the developing skeleton. Int. J. Biochem. Cell Biol. 40, 46–62 (2008).

3.

Bolander, M. E. Regulation of fracture repair by growth factors. Proc. Soc. Exp. Biol. Med. 200, 165–170 (1992).

4.

Einhorn, T. A. The cell and molecular biology of fracture healing. Clin. Orthop. Relat. Res. 355, S7–S21 (1998).

5.

Chan, C. K. et al. Endochondral ossification is required for haematopoietic stem-cell niche formation. Nature 457, 490–494 (2009).

6.

Reddi, A. H. & Anderson, W. A. Collagenous bone matrix-induced endochondral ossification hemopoiesis. J. Cell Biol. 69, 557–572 (1976).

7.

Lewinson, D. & Silbermann, M. Chondroclasts and endothelial cells collaborate in the process of cartilage resorption. Anat. Rec. 233, 504–514 (1992).

8.

Boyle, W. J., Simonet, W. S. & Lacey, D. L. Osteoclast differentiation and activation. Nature 423, 337–342 (2003).

9.

Henriksen, K., Bollerslev, J., Everts, V. & Karsdal, M. A. Osteoclast activity and subtypes as a function of physiology and pathology–implications for future treatments of osteoporosis. Endocr. Rev. 32, 31–63 (2011).

10.

Hunziker, E. B. & Schenk, R. K. Physiological mechanisms adopted by chondrocytes in regulating longitudinal bone growth in rats. J. Physiol. 414, 55–71 (1989).

11.

Gerber, H. P. et al. VEGF couples hypertrophic cartilage remodeling, ossification and angiogenesis during endochondral bone formation. Nat. Med. 5, 623–628 (1999).

12.

Kanczler, J. M. & Oreffo, R. O. Osteogenesis and angiogenesis: the potential for engineering bone. Eur. Cells Mater. 15, 100–114 (2008).

13.

Schipani, E., Maes, C., Carmeliet, G. & Semenza, G. L. Regulation of osteogenesis–angiogenesis coupling by HIFs and VEGF. J. Bone Miner. Res. 24, 1347–1353 (2009).

14.

Kusumbe, A. P., Ramasamy, S. K. & Adams, R. H. Coupling of angiogenesis and osteogenesis by a specific vessel subtype in bone. Nature 507, 323–328 (2014).

15.

Ramasamy, S. K., Kusumbe, A. P., Wang, L. & Adams, R. H. Endothelial Notch activity promotes angiogenesis and osteogenesis in bone. Nature 507, 376–380 (2014).

16.

Ramasamy, S. K. et al. Blood flow controls bone vascular function and osteogenesis. Nat. Commun. 7, 13601 (2016).

17.

Qian, B. Z. et al. CCL2 recruits inflammatory monocytes to facilitate breast-tumour metastasis. Nature 475, 222–225 (2011).

18.

Madisen, L. et al. A robust and high-throughput Cre reporting and characterization system for the whole mouse brain. Nat. Neurosci. 13, 133–140 (2010).

19.

Fantin, A. et al. Tissue macrophages act as cellular chaperones for vascular anastomosis downstream of VEGF-mediated endothelial tip cell induction. Blood 116, 829–840 (2010).

20.

Davies, L. C., Jenkins, S. J., Allen, J. E. & Taylor, P. R. Tissue-resident macrophages. Nat. Immunol. 14, 986–995 (2013).

21.

Fong, T. A. et al. SU5416 is a potent and selective inhibitor of the vascular endothelial growth factor receptor (Flk-1/KDR) that inhibits tyrosine kinase catalysis, tumor vascularization, and growth of multiple tumor types. Cancer Res. 59, 99–106 (1999).

22.

Itkin, T. et al. Distinct bone marrow blood vessels differentially regulate haematopoiesis. Nature 532, 323–328 (2016).

23.

Kusumbe, A. P. et al. Age-dependent modulation of vascular niches for haematopoietic stem cells. Nature 532, 380–384 (2016).

24.

Wang, Y. et al. Ephrin-B2 controls VEGF-induced angiogenesis and lymphangiogenesis. Nature 465, 483–486 (2010).

25.

Lacey, D. L. et al. Osteoprotegerin ligand is a cytokine that regulates osteoclast differentiation and activation. Cell 93, 165–176 (1998).

26.

Yasuda, H. et al. Osteoclast differentiation factor is a ligand for osteoprotegerin/osteoclastogenesis-inhibitory factor and is identical to TRANCE/RANKL. Proc. Natl Acad. Sci. USA 95, 3597–3602 (1998).

27.

Xiong, J. et al. Matrix-embedded cells control osteoclast formation. Nat. Med. 17, 1235–1241 (2011).

28.

Fleisch, H. Bisphosphonates: mechanisms of action. Endocr. Rev. 19, 80–100 (1998).

29.

Hughes, D. E. et al. Bisphosphonates promote apoptosis in murine osteoclasts in vitro and in vivo. J. Bone Miner. Res. 10, 1478–1487 (1995).

30.

Kodama, H. et al. Congenital osteoclast deficiency in osteopetrotic (op/op) mice is cured by injections of macrophage colony-stimulating factor. J. Exp. Med. 173, 269–272 (1991).

31.

Marks, S. C. Jr. Morphological evidence of reduced bone resorption in osteopetrotic (op) mice. Am. J. Anat. 163, 157–167 (1982).

32.

Vu, T. H. et al. MMP-9/gelatinase B is a key regulator of growth plate angiogenesis and apoptosis of hypertrophic chondrocytes. Cell 93, 411–422 (1998).

33.

Breur, G. J., VanEnkevort, B. A., Farnum, C. E. & Wilsman, N. J. Linear relationship between the volume of hypertrophic chondrocytes and the rate of longitudinal bone growth in growth plates. J. Orthop. Res. 9, 348–359 (1991).

34.

Cooper, K. L. et al. Multiple phases of chondrocyte enlargement underlie differences in skeletal proportions. Nature 495, 375–378 (2013).

35.

Farnum, C. E., Tinsley, M. & Hermanson, J. W. Forelimb versus hindlimb skeletal development in the big brown bat, Eptesicus fuscus: functional divergence is reflected in chondrocytic performance in autopodial growth plates. Cells Tissues Organs 187, 35–47 (2008).

36.

Wilsman, N. J., Bernardini, E. S., Leiferman, E., Noonan, K. & Farnum, C. E. Age and pattern of the onset of differential growth among growth plates in rats. J. Orthop. Res. 26, 1457–1465 (2008).

37.

Wilsman, N. J., Farnum, C. E., Leiferman, E. M., Fry, M. & Barreto, C. Differential growth by growth plates as a function of multiple parameters of chondrocytic kinetics. J. Orthop. Res. 14, 927–936 (1996).

38.

Marenzana, M. & Arnett, T. R. The key role of the blood supply to bone. Bone Res. 1, 203–215 (2013).

39.

Lee, S. et al. Intermittent PTH 1-34 administration improves the marrow microenvironment and endothelium-dependent vasodilation in bone arteries of aged rats. J. Appl. Physiol. 124, 1426–1437 (2018).

40.

Kroll, M. H. Parathyroid hormone temporal effects on bone formation and resorption. Bull. Math. Biol. 62, 163–188 (2000).

41.

Ferguson, C., Alpern, E., Miclau, T. & Helms, J. A. Does adult fracture repair recapitulate embryonic skeletal formation? Mech. Dev. 87, 57–66 (1999).

42.

Gerstenfeld, L. C. et al. Impaired fracture healing in the absence of TNF-alpha signaling: the role of TNF-alpha in endochondral cartilage resorption. J. Bone Miner. Res. 18, 1584–1592 (2003).

43.

Goldring, M. B. Osteoarthritis and cartilage: the role of cytokines. Curr. Rheumatol. Rep. 2, 459–465 (2000).

44.

Goldring, S. R. Pathogenesis of bone and cartilage destruction in rheumatoid arthritis. Rheumatology 42, ii11–ii16 (2003).

45.

Carter, R. L. & Tanner, N. S. Local invasion by laryngeal carcinoma–the importance of focal (metaplastic) ossification within laryngeal cartilage. Clin. Otolaryngol. Allied Sci. 4, 283–290 (1979).

46.

Castelijns, J. A. et al. Invasion of laryngeal cartilage by cancer: comparison of CT and MR imaging. Radiology 167, 199–206 (1988).

47.

Lubberts, E. et al. Treatment with a neutralizing anti-murine interleukin-17 antibody after the onset of collagen-induced arthritis reduces joint inflammation, cartilage destruction, and bone erosion. Arthritis Rheum. 50, 650–659 (2004).

48.

Zwerina, J. et al. Single and combined inhibition of tumor necrosis factor, interleukin-1, and RANKL pathways in tumor necrosis factor-induced arthritis: effects on synovial inflammation, bone erosion, and cartilage destruction. Arthritis Rheum. 50, 277–290 (2004).

49.

Takeshita, S., Kaji, K. & Kudo, A. Identification and characterization of the new osteoclast progenitor with macrophage phenotypes being able to differentiate into mature osteoclasts. J. Bone Miner. Res. 15, 1477–1488 (2000).

50.

Xie, H. et al. PDGF-BB secreted by preosteoclasts induces angiogenesis during coupling with osteogenesis. Nat. Med. 20, 1270–1278 (2014).

51.

Maes, C. et al. Impaired angiogenesis and endochondral bone formation in mice lacking the vascular endothelial growth factor isoforms VEGF164 and VEGF188. Mech. Dev. 111, 61–73 (2002).

52.

Koch, U. et al. Delta-like 4 is the essential, nonredundant ligand for Notch1 during thymic T cell lineage commitment. J. Exp. Med. 205, 2515–2523 (2008).

53.

Hoeck, J. D. et al. Fbw7 controls neural stem cell differentiation and progenitor apoptosis via Notch and c-Jun. Nat. Neurosci. 13, 1365–1372 (2010).

54.

Haase, V. H., Glickman, J. N., Socolovsky, M. & Jaenisch, R. Vascular tumors in livers with targeted inactivation of the von Hippel-Lindau tumor suppressor. Proc. Natl Acad. Sci. USA 98, 1583–1588 (2001).

55.

Kusumbe, A. P., Ramasamy, S. K., Starsichova, A. & Adams, R. H. Sample preparation for high-resolution 3D confocal imaging of mouse skeletal tissue. Nat. Protoc. 10, 1904–1914 (2015).

56.

Liao, Y., Smyth, G. K. & Shi, W. The Subread aligner: fast, accurate and scalable read mapping by seed-and-vote. Nucleic Acids Res. 41, e108 (2013).

57.

Anders, S., Pyl, P. T. & Huber, W. HTSeq–a Python framework to work with high-throughput sequencing data. Bioinformatics 31, 166–169 (2015).

58.

Love, M. I., Huber, W. & Anders, S. Moderated estimation of fold change and dispersion for RNA-seq data with DESeq2. Genome Biol. 15, 550 (2014).
Acknowledgements
We thank A. Duarte, F. Radtke and A. Behrens for floxed Dll4 and Fbxw7 mutant mice. We thank L. Game and I. Andrew from the LMS Genomics Facility. We thank G. Dharmalingam from LMS Bioinformatics for helping with R analysis. We also thank the LMS/NIHR Flow Facility and CBS at Imperial College London for technical support. We thank P. Xi for mice injections. S.K.R. is a Sir Henry Dale Fellow of the Wellcome Trust and the Royal Society (202300/Z/16/Z). Funding to S.K.R. was provided by the Wellcome Trust, the Royal Society, the Medical Research Council and the American Bone and Mineral Research Society. A.P.K. is supported by the Medical Research Council (CDA- MR/P02209X/1), the Kennedy Trust for Rheumatology Research (AZR00700) and Leuka.
Ethics declarations
Competing interests
The authors declare no competing interests.
Additional information
Publisher's note: Springer Nature remains neutral with regard to jurisdictional claims in published maps and institutional affiliations.
Integrated supplementary information
Supplementary information
About this article
Cite this article
Romeo, S.G., Alawi, K.M., Rodrigues, J. et al. Endothelial proteolytic activity and interaction with non-resorbing osteoclasts mediate bone elongation. Nat Cell Biol 21, 430–441 (2019). https://doi.org/10.1038/s41556-019-0304-7
Received:

Accepted:

Published:

Issue Date: