Abstract
Despite advances in the differentiation of insulin-producing cells from human embryonic stem cells, the generation of mature functional β cells in vitro has remained elusive. To accomplish this goal, we have developed cell culture conditions to closely mimic events occurring during pancreatic islet organogenesis and β cell maturation. In particular, we have focused on recapitulating endocrine cell clustering by isolating and reaggregating immature β-like cells to form islet-sized enriched β-clusters (eBCs). eBCs display physiological properties analogous to primary human β cells, including robust dynamic insulin secretion, increased calcium signalling in response to secretagogues, and improved mitochondrial energization. Notably, endocrine cell clustering induces metabolic maturation by driving mitochondrial oxidative respiration, a process central to stimulus–secretion coupling in mature β cells. eBCs display glucose-stimulated insulin secretion as early as three days after transplantation in mice. In summary, replicating aspects of endocrine cell clustering permits the generation of stem-cell-derived β cells that resemble their endogenous counterparts.
Relevant articles
Open Access articles citing this article.
Marta Fontcuberta-PiSunyer

,

Ainhoa García-Alamán

…

Rosa Gasa

Communications Biology Open Access 24 March 2023

Kensuke Sakuma

,

Noriko Tsubooka-Yamazoe

…

Taro Toyoda

Stem Cell Research & Therapy Open Access 05 January 2023

Cell Regeneration Open Access 01 August 2022
Access options
Access Nature and 54 other Nature Portfolio journals
Get Nature+, our best-value online-access subscription
$29.99 per month
cancel any time
Subscribe to this journal
Receive 12 print issues and online access
$209.00 per year
only $17.42 per issue
Rent or buy this article
Get just this article for as long as you need it
$39.95
Prices may be subject to local taxes which are calculated during checkout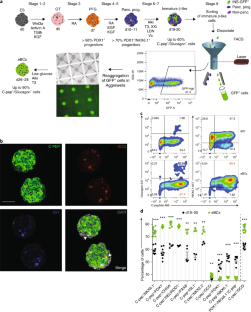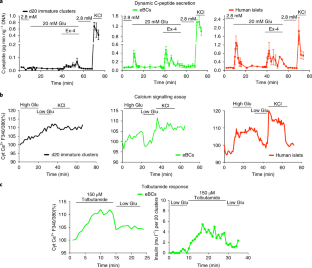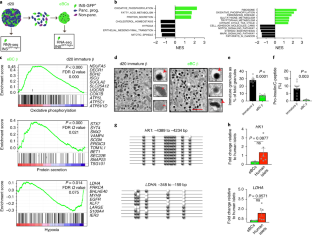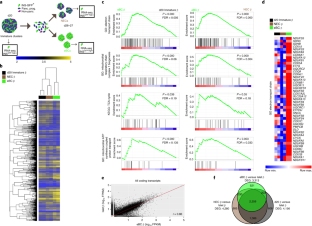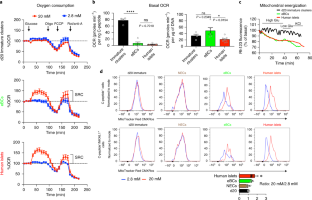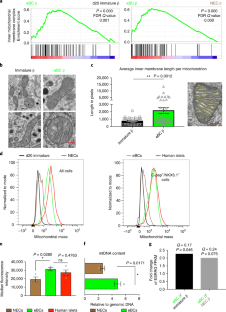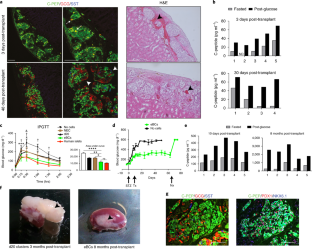 Data availability
Materials and protocols that were used in this study are available from the corresponding author upon request. RNA-seq data that support the findings of this study have been deposited in the Gene Expression Omnibus (GEO) under accession code GSE109795. Source data for Figs. 1–3 and 5–7 and Supplementary Figs. 1, 3, 4 and 6 have been provided in Supplementary Table 6. All other data supporting the findings of this study are available from the corresponding author on reasonable request.
References
Barton, F. B. et al. Improvement in outcomes of clinical islet transplantation: 1999–2010. Diabetes Care 35, 1436–1445 (2012).

Pagliuca, F. W. et al. Generation of functional human pancreatic β cells in vitro. Cell. 159, 428–439 (2014).

Rezania, A. et al. Reversal of diabetes with insulin-producing cells derived in vitro from human pluripotent stem cells. Nat. Biotech. 32, 1121–1133 (2014).

Russ, H. A. et al. Controlled induction of human pancreatic progenitors produces functional β-like cells in vitro. EMBO J. 34, 1759–1772 (2015).

Yoshihara, E. et al. ERRɣ is required for the metabolic maturation of therapeutically functional glucose-responsive β cells. Cell. Metab. 23, 622–634 (2016).

Blum, B. et al. Functional β-cell maturation is marked by an increased glucose threshold and by expression of urocortin 3. Nat. Biotech. 30, 261–264 (2012).

Aguayo-Mazzucato, C. et al. Mafa expression enhances glucose-responsive insulin secretion in neonatal rat β cells. Diabetologia 54, 583–593 (2011).

Jermendy, A. et al. Rat neonatal β cells lack the specialised metabolic phenotype of mature β cells. Diabetologia 54, 594–604 (2011).

Dhawan, S. et al. DNA methylation directs functional maturation of pancreatic β cells. J. Clin. Invest. 125, 2851–2860 (2015).

Arda, H. E. et al. Age-dependent pancreatic gene regulation reveals mechanisms governing human β cell function. Cell. Metab. 23, 909–920 (2016).

Gregg, B. E. et al. Formation of a human β-cell population within pancreatic islets is set early in life. J. Clin. Endocrinol. Metab. 97, 3197–3206 (2012).

Gu, C. et al. Pancreatic β cells require neurod to achieve and maintain functional maturity. Cell. Metab. 11, 298–310 (2010).

Gosmain, Y. et al. Pax6 is crucial for β-cell function, insulin biosynthesis, and glucose-induced insulin secretion. Mol. Endocrinol. 26, 696–709 (2012).

Dai, C. et al. Islet-enriched gene expression and glucose-induced insulin secretion in human and mouse islets. Diabetologia 55, 707–718 (2012).

Scoville, D. W. et al. MLL3 and MLL4 methyltransferases bind to the mafa and mafb transcription factors to regulate islet β-cell function. Diabetes 64, 3772–3783 (2015).

Lemaire, K., Thorrez, L. & Schuit, F. Disallowed and allowed gene expression: two faces of mature islet beta cells. Annu. Rev. Nutr. 36, 45–71 (2016).

Nair, G. & Hebrok, M. Islet formation in mice and men: lessons for the generation of functional insulin-producing β-cells from human pluripotent stem cells. Curr. Op. Genet. Dev. 32, 171–180 (2015).

Jeon, J. et al. Endocrine cell clustering during human pancreas development. J. Histochem. Cytochem. 57, 811–824 (2009).

Rahier, J., Wallon, J. & Henquin, J. C. Cell populations in the endocrine pancreas of human neonates and infants. Diabetologia 20, 540–546 (1981).

Borden, P. et al. Sympathetic innervation during development is necessary for pancreatic islet architecture and functional maturation. Cell Rep. 4, 287–301 (2013).

Pisania, A. et al. Quantitative analysis of cell composition and purity of human pancreatic islet preparations. Lab. Invest. 90, 1661–1675 (2010).

Taylor, B. L., Liu, F.-F. & Sander, M. Nkx6.1 is essential for maintaining the functional state of pancreatic β cells. Cell Rep. 4, 1262–1275 (2013).

Du, A. et al. Islet-1 is required for the maturation, proliferation, and survival of the endocrine pancreas. Diabetes 58, 2059–2069 (2009).

Portela-Gomes, G. M. et al. The importance of chromogranin A in the development and function of endocrine pancreas. Regul. Pept. 151, 19–25 (2008).

Jacovetti, C. et al. Postnatal β-cell maturation is associated with islet-specific microRNA changes induced by nutrient shifts at weaning. Nat. Commun. 6, 8084 (2015).

Stolovich-Rain, M. et al. Weaning triggers a maturation step of pancreatic β cells. Dev. Cell. 32, 535–545 (2015).

Huang, C. et al. Synaptotagmin 4 regulates pancreatic β cell maturation by modulating the Ca2+sensitivity of insulin secretion vesicles. Dev. Cell. 45, 347–361.e5 (2018).

Qiu, W.-L. et al. Deciphering pancreatic islet β cell and ɑ cell maturation pathways and characteristic features at the single-cell level. Cell. Metab. 25, 1194–1205 (2017).

Hrvatin, S. et al. Differentiated human stem cells resemble fetal, not adult, β cells. Proc. Natl Acad. Sci. USA 111, 3038–3043 (2014).

Dorrell, C. et al. Transcriptomes of the major human pancreatic cell types. Diabetologia 54, 2832 (2011).

Cogliati, S., Enriquez, J. A. & Scorrano, L. Mitochondrial cristae: where beauty meets functionality. Trends. Biochem. Sci. 41, 261–2273 (2016).

Lehmann, R. et al. Superiority of small islets in human islet transplantation. Diabetes 56, 594–603 (2007).

Riedel, M. J. et al. Immunohistochemical characterisation of cells co-producing insulin and glucagon in the developing human pancreas. Diabetologia 55, 372–381 (2012).

Sosa-Pineda, B. et al. The Pax4 gene is essential for differentiation of insulin-producing β cells in the mammalian pancreas. Nature 386, 399 (1997).

Hauge-Evans, A. C. et al. Pancreatic beta-cell-to-beta-cell interactions are required for integrated responses to nutrient stimuli: enhanced Ca2+and insulin secretory responses of MIN6 pseudoislets. Diabetes 48, 1402 (1999).

Luther, M. J. et al. MIN6 β-cell–β-cell interactions influence insulin secretory responses to nutrients and non-nutrients. Biochem. Biophys. Res. Commun. 343, 99–104 (2006).

Persaud, S. et al. Pseudoislets as primary islet replacements for research: report on a symposium at King's College London. Islets 2, 236–239 (2010).

Henquin, J.-C. & Nenquin, M. Dynamics and regulation of insulin secretion in pancreatic islets from normal young children. PLoS ONE 11, e0165961 (2016).

Hawdon, J. M. et al. The role of pancreatic insulin secretion in neonatal glucoregulation. I. Healthy term and preterm infants. Arch. Dis. Child 68, 274–279 (1993).

Kaye, R. et al. The response of blood glucose, ketones, and plasma nonesterified fatty acids to fasting and epinephrine injection in infants and children. J. Pediatr. 59, 836–847 (1961).

Trapnell, C. et al. Differential gene and transcript expression analysis of RNA-seq experiments with TopHat and Cufflinks. Nat. Protoc. 7, 562–578 (2012).

Nair, G. G., Holger, R. & Hebrok, M. Rapid generation of mature functional pancreatic islet-beta cells from human pluripotent stem cells. Prot. Exchange https://doi.org/10.1038/protex.2018.140 (2019).

Subramanian, A. et al. Gene set enrichment analysis: A knowledge-based approach for interpreting genome-wide expression profiles. Proceedings of the National Academy of Sciences 102, 15545–15550 (2005).

Adewola, A. F. et al. Microfluidic perifusion and imaging device for multi-parametric islet function assessment. Biomed. Microdevices. 12, 409–417 (2010).
Acknowledgements
We would like to thank the members of the Hebrok laboratory for advice and insightful comments during the preparation of the manuscript. G.G.N. was supported by a Kraft Family Fellowship and a JDRF postdoctoral fellowship (1-PNF-2016-320-S-B). Work in the laboratory of M.H. was supported by grants from the NIH (DK105831, DK108666). Imaging and flow cytometry experiments were supported by resources from the UCSF Diabetes and Endocrinology Research Center (DRC) and UCSF Flow Cytometry Core. Image acquisition was supported by the University of California, San Francisco Diabetes and Endocrinology Research Center (DRC) microscopy core P30 DK63720.
Ethics declarations
Competing interests
M.H. is affiliated with Semma Therapeutics (consultant, SAB member and stock holder) and Encellin Inc. (SAB member and stock holder). He holds stocks from Viacyte Inc.
Additional information
Publisher's note: Springer Nature remains neutral with regard to jurisdictional claims in published maps and institutional affiliations.
Integrated supplementary information
Supplementary information
About this article
Cite this article
Nair, G.G., Liu, J.S., Russ, H.A. et al. Recapitulating endocrine cell clustering in culture promotes maturation of human stem-cell-derived β cells. Nat Cell Biol 21, 263–274 (2019). https://doi.org/10.1038/s41556-018-0271-4
Received:

Accepted:

Published:

Issue Date:

DOI: https://doi.org/10.1038/s41556-018-0271-4