Abstract
A robust nanopillar platform with increased spatial resolution reveals that perinuclear forces, originating from stress fibres spanning the nucleus of fibroblasts, are significantly higher on these nanostructured substrates than the forces acting on peripheral adhesions. Many perinuclear adhesions embrace several nanopillars at once, pulling them into β1-integrin- and zyxin-rich clusters, which are able to translocate in the direction of cell motion without losing their tensile strength. The high perinuclear forces are greatly reduced upon inhibition of cell contractility or actin polymerization and disruption of the actin cap by KASH dominant-negative mutant expression. LMNA null fibroblasts have higher peripheral versus perinuclear forces, impaired perinuclear β1-integrin recruitment, as well as YAP nuclear translocation, functional alterations that can be rescued by lamin A expression. These highly tensed actin-cap fibres are required for YAP nuclear signalling and thus play far more important roles in sensing nanotopographies and mechanochemical signal conversion than previously thought.
Relevant articles
Open Access articles citing this article.
Yaping Chen

,

Hao Zhe Yoh

…

Roey Elnathan

Journal of Nanobiotechnology Open Access 08 September 2022

Jimyung Seo

,

HyunSeok Kim

…

Joon Kim

Nature Communications Open Access 25 April 2022

Zhidong Zhao

,

Yuxing Wang

…

Zhongli Li

Stem Cell Research & Therapy Open Access 07 January 2021
Access options
Subscribe to Nature+
Get immediate online access to the entire Nature family of 50+ journals
Subscribe to Journal
Get full journal access for 1 year
$99.00
only $8.25 per issue
All prices are NET prices.
VAT will be added later in the checkout.
Tax calculation will be finalised during checkout.
Buy article
Get time limited or full article access on ReadCube.
$32.00
All prices are NET prices.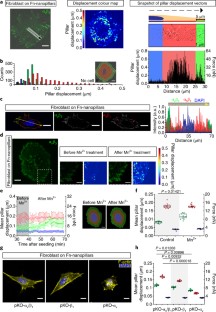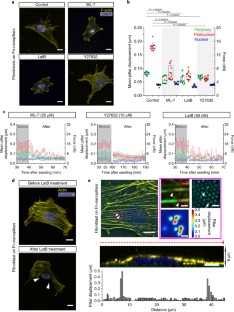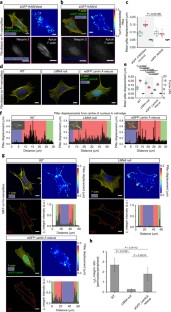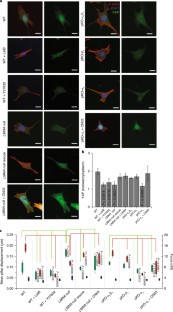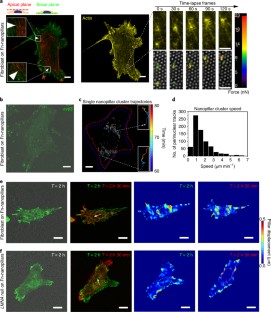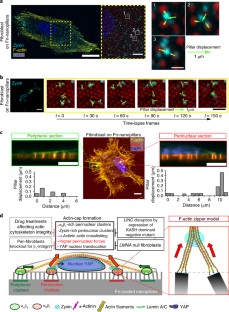 References
Vogel, V. & Sheetz, M. Local force and geometry sensing regulate cell functions. Nat. Rev. Mol. Cell Biol. 7, 265–275 (2006).

Fu, J. et al. Mechanical regulation of cell function with geometrically modulated elastomeric substrates. Nat. Methods 7, 733–736 (2010).

Dahl, K. N., Booth-Gauthier, E. A. & Ladoux, B. In the middle of it all: mutual mechanical regulation between the nucleus and the cytoskeleton. J. Biomech. 43, 2–8 (2010).

Dupont, S. et al. Role of YAP/TAZ in mechanotransduction. Nature 474, 179–183 (2011).

Trappmann, B. et al. Extracellular-matrix tethering regulates stem-cell fate. Nat. Mater. 11, 642–649 (2012).

Kim, D. H., Chambliss, A. B. & Wirtz, D. The multi-faceted role of the actin cap in cellular mechanosensation and mechanotransduction. Soft Matter 9, 5516–5523 (2013).

Piccolo, S. Role of the Hippo transducers YAP and TAZ in mechanotransduction and cancer stem cells. Eur. J. Cancer 50, S15–S15 (2014).

Iskratsch, T., Wolfenson, H. & Sheetz, M. P. Appreciating force and shape—the rise of mechanotransduction in cell biology. Nat. Rev. Mol. Cell Biol. 15, 825–833 (2014).

Humphrey, J. D., Dufresne, E. R. & Schwartz, M. A. Mechanotransduction and extracellular matrix homeostasis. Nat. Rev. Mol. Cell Biol. 15, 802–812 (2014).

Ihalainen, T. O. et al. Differential basal-to-apical accessibility of lamin A/C epitopes in the nuclear lamina regulated by changes in cytoskeletal tension. Nat. Mater. 14, 1252–1261 (2015).

Das, A., Fischer, R. S., Pan, D. & Waterman, C. M. YAP nuclear localization in the absence of cell–cell contact is mediated by a filamentous actin-dependent, myosin II- and phospho-YAP-independent pathway during extracellular matrix mechanosensing. J. Biol. Chem. 291, 6096–6110 (2016).

Elosegui-Artola, A. et al. Mechanical regulation of a molecular clutch defines force transmission and transduction in response to matrix rigidity. Nat. Cell Biol. 18, 540–548 (2016).

Discher, D. E. et al. Matrix mechanosensing: from scaling concepts in 'omics data to mechanisms in the nucleus, regeneration, and cancer. Annu. Rev. Biophys. 46, 295–315 (2017).

Vogel, V. Unravelling the mechanobiology of extracellular matrix. Annu. Rev. Physiol. (in the press).

Roca-Cusachs, P., Gauthier, N. C., del Rio, A. & Sheetz, M. P. Clustering of α5β1 integrins determines adhesion strength whereas αvβ3 and talin enable mechanotransduction. Proc. Natl Acad. Sci. USA 106, 16245–16250 (2009).

Saltel, F. et al. New PI(4,5)P2- and membrane proximal integrin-binding motifs in the talin head control β3-integrin clustering. J. Cell Biol. 187, 715–731 (2009).

Ross, T. D. et al. Integrins in mechanotransduction. Curr. Opin. Cell Biol. 25, 613–618 (2013).

Rossier, O. et al. Integrins β1 and β3 exhibit distinct dynamic nanoscale organizations inside focal adhesions. Nat. Cell Biol. 14, 1057–1067 (2012).

Schiller, H. B. et al. β1- and αv-class integrins cooperate to regulate myosin II during rigidity sensing of fibronectin-based microenvironments. Nat. Cell Biol. 15, 625–636 (2013).

Sun, Z., Guo, S. S. & Fassler, R. Integrin-mediated mechanotransduction. J. Cell Biol. 215, 445–456 (2016).

Ungricht, R. & Kutay, U. Mechanisms and functions of nuclear envelope remodelling. Nat. Rev. Mol. Cell Biol. 18, 229–245 (2017).

Khatau, S. B. et al. A perinuclear actin cap regulates nuclear shape. Proc. Natl Acad. Sci. USA 106, 19017–19022 (2009).

Chancellor, T. J., Lee, J., Thodeti, C. K. & Lele, T. Actomyosin tension exerted on the nucleus through nesprin-1 connections influences endothelial cell adhesion, migration, and cyclic strain-induced reorientation. Biophys. J. 99, 115–123 (2010).

Chambliss, A. B. et al. The LINC-anchored actin cap connects the extracellular milieu to the nucleus for ultrafast mechanotransduction. Sci. Rep. 3, 1087 (2013).

Kim, D. H. & Wirtz, D. Cytoskeletal tension induces the polarized architecture of the nucleus. Biomaterials 48, 161–172 (2015).

Ramdas, N. M. & Shivashankar, G. V. Cytoskeletal control of nuclear morphology and chromatin organization. J. Mol. Biol. 427, 695–706 (2015).

Makhija, E., Jokhun, D. S. & Shivashankar, G. V. Nuclear deformability and telomere dynamics are regulated by cell geometric constraints. Proc. Natl Acad. Sci. USA 113, 32–40 (2016).

Polacheck, W. J. & Chen, C. S. Measuring cell-generated forces: a guide to the available tools. Nat. Methods 13, 415–423 (2016).

Sarangi, B. R. et al. Coordination between intra- and extracellular forces regulates focal adhesion dynamics. Nano Lett. 17, 399–406 (2017).

Lammerding, J. et al. Lamins A and C but not lamin B1 regulate nuclear mechanics. J. Biol. Chem. 281, 25768–25780 (2006).

Gay, O. et al. RefilinB (FAM101B) targets FilaminA to organize perinuclear actin networks and regulates nuclear shape. Proc. Natl Acad. Sci. USA 108, 11464–11469 (2011).

Falzone, T. T., Lenz, M., Kovar, D. R. & Gardel, M. L. Assembly kinetics determine the architecture of α-actinin crosslinked F-actin networks. Nat. Commun. 3, 861 (2012).

Roca-Cusachs, P. et al. Integrin-dependent force transmission to the extracellular matrix by α-actinin triggers adhesion maturation. Proc. Natl Acad. Sci. USA 110, E1361–E1370 (2013).

Ribeiro Ede, A. Jr et al. The structure and regulation of human muscle α-actinin. Cell 159, 1447–1460 (2014).

Meacci, G. et al. α-Actinin links extracellular matrix rigidity-sensing contractile units with periodic cell-edge retractions. Mol. Biol. Cell 27, 3471–3479 (2016).

Ylanne, J., Scheffzek, K., Young, P. & Saraste, M. Crystal structure of the α-actinin rod reveals an extensive torsional twist. Structure 9, 597–604 (2001).

Hirata, H., Tatsumi, H. & Sokabe, M. Mechanical forces facilitate actin polymerization at focal adhesions in a zyxin-dependent manner. J. Cell Sci. 121, 2795–2804 (2008).

Smith, M. A. et al. A zyxin-mediated mechanism for actin stress fiber maintenance and repair. Dev. Cell 19, 365–376 (2010).

Ma, B. et al. Zyxin-Siah2-Lats2 axis mediates cooperation between Hippo and TGF-β signalling pathways. Nat. Commun. 7, 11123 (2016).

Lord, M. Cytoskeletal regulation: sorting out stress fibers with tropomyosin. Curr. Biol. 21, R255–R257 (2011).

Wolfenson, H. et al. Tropomyosin controls sarcomere-like contractions for rigidity sensing and suppressing growth on soft matrices. Nat. Cell Biol. 18, 33–42 (2016).

Aragona, M. et al. A mechanical checkpoint controls multicellular growth through YAP/TAZ regulation by actin-processing factors. Cell 154, 1047–1059 (2013).

Liu, M., Sun, J. R., Sun, Y., Bock, C. & Chen, Q. F. Thickness-dependent mechanical properties of polydimethylsiloxane membranes. J. Micromech. Microeng. 19, 035028 (2009).

Ghassemi, S. et al. Cells test substrate rigidity by local contractions on submicrometer pillars. Proc. Natl Acad. Sci. USA 109, 5328–5333 (2012).

Kuo, C. W. et al. Polymeric nanopillar arrays for cell traction force measurements. Electrophoresis 31, 3152–3158 (2010).

Zamir, E. et al. Dynamics and segregation of cell-matrix adhesions in cultured fibroblasts. Nat. Cell Biol. 2, 191–196 (2000).

Mould, A. P. et al. Integrin activation involves a conformational change in the α1 helix of the β subunit A-domain. J. Biol. Chem. 277, 19800–19805 (2002).

Kim, D. H., Cho, S. & Wirtz, D. Tight coupling between nucleus and cell migration through the perinuclear actin cap. J. Cell Sci. 127, 2528–2541 (2014).

Dalby, M. J., Gadegaard, N. & Oreffo, R. O. Harnessing nanotopography and integrin–matrix interactions to influence stem cell fate. Nat. Mater. 13, 558–569 (2014).

Liang, E. I., Mah, E. J., Yee, A. F. & Digman, M. A. Correlation of focal adhesion assembly and disassembly with cell migration on nanotopography. Integr. Biol. 9, 145–155 (2017).

Jiguet, S., Bertsch, A., Judelewicz, M., Hofmann, H. & Renaud, P. SU-8 nanocomposite photoresist with low stress properties for microfabrication applications. Microelectron. Eng. 83, 1966–1970 (2006).

Gere, J. M. & Timoshenko, S. P. Mechanics of Materials. (PWS, Boston, 1997).

Schoen, I., Hu, W., Klotzsch, E. & Vogel, V. Probing cellular traction forces by micropillar arrays: contribution of substrate warping to pillar deflection. Nano Lett. 10, 1823–1830 (2010).

Vallotton, P. et al. Diatrack particle tracking software: review of applications and performance evaluation. Traffic 18, 840–852 (2017).
Acknowledgements
The authors thank M. Vihinen-Ranta and D. Hodzic, who provided the eGFP-lamin A and KASH2/ext_eGFP constructs, R. Foisner and R. Fässler for the LMNA null and WT MEF cells, B. Wehrle-Haller (Geneva) for the REFs expressing β3-integrin-eGFP, and K. Maniura (EMPA, St. Gallen) for use of the Amaxa Nucleofector II system. This work was made possible by financial support from the Portuguese Foundation for Science and Technology, doctoral grant SFRH/BD/42019/2007 (to L.A.), an ERC Advanced Grant GA 233157 (to V.V.), the Swiss National Science Foundation (SNF 310030B_133122/1 to V.V.), as well as the SNF NCCR 'Molecular Systems Engineering' and the Nano-Tera.ch 'LiveSense' RTD: 20NAN1_123593. The authors acknowledge access to the ETH FIRST User Facility for micro- and nanofabrication.
Ethics declarations
Competing interests
The authors declare no competing financial interests.
Additional information
Publisher's note: Springer Nature remains neutral with regard to jurisdictional claims in published maps and institutional affiliations.
Integrated supplementary information
Supplementary information
Supplementary Figures 1–6, Supplementary Video legends.
About this article
Cite this article
Shiu, JY., Aires, L., Lin, Z. et al. Nanopillar force measurements reveal actin-cap-mediated YAP mechanotransduction. Nat Cell Biol 20, 262–271 (2018). https://doi.org/10.1038/s41556-017-0030-y
Received:

Accepted:

Published:

Issue Date:

DOI: https://doi.org/10.1038/s41556-017-0030-y