Abstract
Monitoring X-ray radiation in the gastrointestinal tract can enhance the precision of radiotherapy in patients with gastrointestinal cancer. Here we report the design and performance, in the gastrointestinal tract of rabbits, of a swallowable X-ray dosimeter for the simultaneous real-time monitoring of absolute absorbed radiation dose and of changes in pH and temperature. The dosimeter consists of a biocompatible optoelectronic capsule containing an optical fibre, lanthanide-doped persistent nanoscintillators, a pH-sensitive polyaniline film and a miniaturized system for the wireless readout of luminescence. The persistent luminescence of the nanoscintillators after irradiation can be used to continuously monitor pH without the need for external excitation. By using a neural-network-based regression model, we estimated the radiation dose from radioluminescence and afterglow intensity and temperature, and show that the dosimeter was approximately five times more accurate than standard methods for dose determination. Swallowable dosimeters may help to improve radiotherapy and to understand how radiotherapy affects tumour pH and temperature.
Access options
Access Nature and 54 other Nature Portfolio journals
Get Nature+, our best-value online-access subscription
$29.99 / 30 days
cancel any time
Subscribe to this journal
Receive 12 digital issues and online access to articles
$79.00 per year
only $6.58 per issue
Rent or buy this article
Get just this article for as long as you need it
$39.95
Prices may be subject to local taxes which are calculated during checkout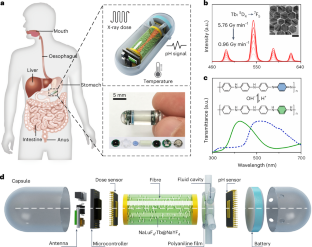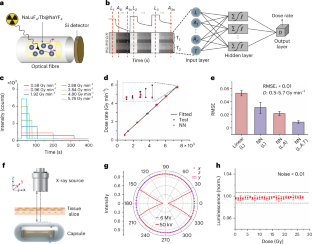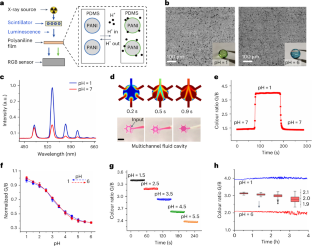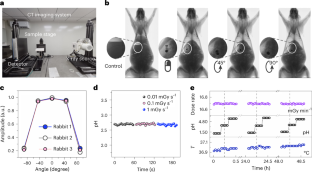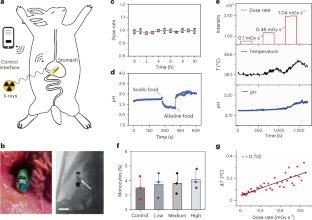 Data availability
The main data supporting the results in this study are available within the paper and its Supplementary Information. All data generated in this study, including source data and the data used to make the figures, are available for research purposes from the corresponding author on reasonable request.
References
Steiger, C. et al. Ingestible electronics for diagnostics and therapy. Nat. Rev. Mater. 4, 83–98 (2018).

Huynh, E. et al. Artificial intelligence in radiation oncology. Nat. Rev. Clin. Oncol. 17, 771–781 (2020).

Mijnheer, B., Beddar, S., Izewska, J. & Reft, C. In vivo dosimetry in external beam radiotherapy. Med. Phys. 40, 070903 (2013).

Patel, R. B. et al. Low-dose targeted radionuclide therapy renders immunologically cold tumors responsive to immune checkpoint blockade. Sci. Transl. Med. 13, eabb3631 (2021).

Soliman, Y. S., El Gohary, M. I., Abdel Gawad, M. H., Amin, E. A. & Desouky, O. S. Fricke gel dosimeter as a tool in quality assurance of the radiotherapy treatment plans. Appl. Radiat. Isot. 120, 126–132 (2017).

Chaikh, A., Beuve, M. & Balosso, J. Nanotechnology in radiation oncology: the need for implantable nano dosimeters for in-vivo real time measurements. Int. J. Cancer Ther. Oncol. 3, 3217 (2015).

O'Keeffe, S. et al. A review of recent advances in optical fibre sensors for in vivo dosimetry during radiotherapy. Br. J. Radiol. 88, 20140702 (2015).

Dai, Y. H. et al. Radiosensitivity index emerges as a potential biomarker for combined radiotherapy and immunotherapy. NPJ Genom. Med. 6, 40 (2021).

Yang, Y. et al. A laser-engraved wearable sensor for sensitive detection of uric acid and tyrosine in sweat. Nat. Biotechnol. 38, 217–224 (2020).

Wang, C. et al. Monitoring of the central blood pressure waveform via a conformal ultrasonic device. Nat. Biomed. Eng. 2, 687–695 (2018).

Tang, B. et al. A near-infrared neutral pH fluorescent probe for monitoring minor pH changes: imaging in living HepG2 and HL-7702 cells. J. Am. Chem. Soc. 131, 3016–3023 (2009).

Zhuang, Q. et al. Embedded structure fiber-optic radiation dosimeter for radiotherapy applications. Opt. Express 24, 5172–5185 (2016).

Piermattei, A. et al. A National project for in vivo dosimetry procedures in radiotherapy: first results. Nucl. Instrum. Methods Phys. Res. B 274, 42–50 (2012).

Yu, G. et al. A discrete organoplatinum(II) metallacage as a multimodality theranostic platform for cancer photochemotherapy. Nat. Commun. 9, 4335 (2018).

Klein, D. et al. In-phantom dose verification of prostate IMRT and VMAT deliveries using plastic scintillation detectors. Radiat. Meas. 47, 921–929 (2012).

Tanderup, K., Beddar, S., Andersen, C. E., Kertzscher, G. & Cygler, J. E. In vivo dosimetry in brachytherapy. Med. Phys. 40, 070902 (2013).

Scarantino, C. W. et al. An implantable radiation dosimeter for use in external beam radiation therapy. Med. Phys. 31, 2658–2671 (2004).

Beyer, G. P. et al. An implantable MOSFET dosimeter for the measurement of radiation dose in tissue during cancer therapy. IEEE Sens. J. 8, 38–51 (2008).

Abramson, A. et al. Oral delivery of systemic monoclonal antibodies, peptides and small molecules using gastric auto-injectors. Nat. Biotechnol. 40, 103–109 (2022).

Canales, A. et al. Multifunctional fibers for simultaneous optical, electrical and chemical interrogation of neural circuits in vivo. Nat. Biotechnol. 33, 277–284 (2015).

Al-Rawhani, M. A., Beeley, J. & Cumming, D. R. Wireless fluorescence capsule for endoscopy using single photon-based detection. Sci. Rep. 5, 18591 (2015).

Nadeau, P. et al. Prolonged energy harvesting for ingestible devices. Nat. Biomed. Eng. 1, 0022 (2017).

Kalantar-Zadeh, K. et al. A human pilot trial of ingestible electronic capsules capable of sensing different gases in the gut. Nat. Electron. 1, 79–87 (2018).

Ou, J. Z. et al. Potential of in vivo real-time gastric gas profiling: a pilot evaluation of heat-stress and modulating dietary cinnamon effect in an animal model. Sci. Rep. 6, 33387 (2016).

Iacovacci, V. et al. A fully implantable device for intraperitoneal drug delivery refilled by ingestible capsules. Sci. Robot. 6, eabh3328 (2021).

Abramson, A. et al. An ingestible self-orienting system for oral delivery of macromolecules. Science 363, 611–615 (2019).

Mimee, M. et al. An ingestible bacterial-electronic system to monitor gastrointestinal health. Science 360, 915–918 (2018).

Kimchy, Y. et al. Radiographic capsule-based system for non-cathartic colorectal cancer screening. Abdom. Radiol. 42, 1291–1297 (2017).

Khutoryanskiy, V. V. Supramolecular materials: longer and safer gastric residence. Nat. Mater. 14, 963–964 (2015).

Gora, M. J. et al. Tethered capsule endomicroscopy enables less invasive imaging of gastrointestinal tract microstructure. Nat. Med. 19, 238–240 (2013).

Lee, H. et al. A graphene-based electrochemical device with thermoresponsive microneedles for diabetes monitoring and therapy. Nat. Nanotechnol. 11, 566–572 (2016).

Sonmezoglu, S., Fineman, J. R., Maltepe, E. & Maharbiz, M. M. Monitoring deep-tissue oxygenation with a millimeter-scale ultrasonic implant. Nat. Biotechnol. 39, 855–864 (2021).

Waltz, E. Drugs go wireless. Nat. Biotechnol. 34, 15–18 (2016).

Qureshi, W. A. Current and future applications of the capsule camera. Nat. Rev. Drug. Discov. 4, 447–450 (2004).

Smith, S., Oberholzer, A., Korvink, J. G., Mager, D. & Land, K. Wireless colorimetric readout to enable resource-limited point-of-care. Lab Chip 19, 3344–3353 (2019).

Kim, T., McCall, J. G. & Jung, Y. H. Injectable, cellular-scale optoelectronics with applications for wireless optogenetics. Science 340, 211–216 (2013).

Ou, X. et al. High-resolution X-ray luminescence extension imaging. Nature 590, 410–415 (2021).

Ma, G. et al. pH-responsive nanoprobe for in vivo photoacoustic imaging of gastric acid. Anal. Chem. 91, 13570–13575 (2019).

Nakata, S. et al. A wearable pH sensor with high sensitivity based on a flexible charge-coupled device. Nat. Electron. 1, 596–603 (2018).

Anemone, A., Consolino, L., Arena, F., Capozza, M. & Longo, D. L. Imaging tumor acidosis: a survey of the available techniques for mapping in vivo tumor pH. Cancer Metastasis Rev. 38, 25–49 (2019).

Berger, M. J. Xcom: Photon Cross Sections Database (NIST, 2013); https://www.nist.gov/pml/xcom-photon-cross-sections-database

Abu-Thabit, N., Umar, Y., Ratemi, E., Ahmad, A. & Ahmad Abuilaiwi, F. A flexible optical pH sensor based on polysulfone membranes coated with pH-responsive polyaniline nanofibers. Sensors 16, 986 (2016).

Li, J. et al. Functional photoacoustic imaging of gastric acid secretion using pH-responsive polyaniline nanoprobes. Small 12, 4690–4696 (2016).

Hartings, M. R., Castro, N. J., Gill, K. & Ahmed, Z. A photonic pH sensor based on photothermal spectroscopy. Sens. Actuators B 301, 127076 (2019).
Acknowledgements
This work was supported by the NUS NANONASH Program (NUHSRO/2020/002/413 NanoNash/LOA; R143000B43114), National Research Foundation, Prime Minister's Office, Singapore under its Competitive Research Program (CRP Award No. NRF-NRFI05-2019-0003), the Natural Science Foundation of China (92159304, 82171958, 81901812), Industrial Technology Innovation Project of Suzhou (SYG201919), Science and Technology Key Project of Shenzhen (JCYJ20190812163614809, JCYJ20200109114612308), Singapore National Medical Research Council (NMRC/OFYIRG/0081/2018) and NUS ODPRT Cross-Faculty Research Fund (CFGFY20P14). We thank Z. Liu and H. Tan for technical assistance.
Ethics declarations
Competing interests
The authors declare no competing interests.
Peer review
Peer review information
Nature Biomedical Engineering thanks Louis Archambault, Christopher Bettinger, David Gladstone and Kyoungtae Lee for their contribution to the peer review of this work.
Additional information
Publisher's note Springer Nature remains neutral with regard to jurisdictional claims in published maps and institutional affiliations.
Supplementary information
Rights and permissions
Springer Nature or its licensor (e.g. a society or other partner) holds exclusive rights to this article under a publishing agreement with the author(s) or other rightsholder(s); author self-archiving of the accepted manuscript version of this article is solely governed by the terms of such publishing agreement and applicable law.
About this article
Cite this article
Hou, B., Yi, L., Hu, D. et al. A swallowable X-ray dosimeter for the real-time monitoring of radiotherapy. Nat. Biomed. Eng (2023). https://doi.org/10.1038/s41551-023-01024-2
Received:

Accepted:

Published:

DOI: https://doi.org/10.1038/s41551-023-01024-2