Abstract
Intracavernosal injection therapy (ICI) was the first pharmacologic treatment in the management of erectile dysfunction. ICI allows for customization of medication composition and concentrations, making it a highly effective treatment with an acceptable side effect profile. The objective was to investigate the long-term results of ICI using validated and non-validated instruments. This is a retrospective, single-institution study of 105 patients (mean age 61.6 ± 11.1) patients using ICI. Mean duration of ICI was 8.4 ± 6.25 years. Pre- and post-treatment patient-reported penile rigidity were 41.1% ± 29.3 and 89.6% ± 13.6, respectively (p < 0.05). Statistical changes were also found in the pre and post International Index of Erectile Function (IIEF) scores (33.0 ± 14.4 and 60.0 ± 12.7, p < 0.05), erectile function (11.5 ± 1.3 and 27.3 ± 0.9, p < 0.05) and satisfaction domains (5.3 ± 1.5 and 8.1 ± 1.1, p < 0.05) of the IIEF. There were no statistical differences in questionnaire outcomes between difficult to treat patients (diabetes or radical prostatectomy) and the remainder of queried patients. Complications were rare and included priapism (7.1%), penile curvature (10%; <30°), bruising (7.6%), and mild penile pain (12.4%). Overall, ICI therapy is safe and effective, and compliance may be augmented by patient education, dosing customization, and cost reduction.
Access options
Subscribe to this journal
Receive 8 print issues and online access
$259.00 per year
only $32.38 per issue
Rent or buy this article
Get just this article for as long as you need it
$39.95
Prices may be subject to local taxes which are calculated during checkout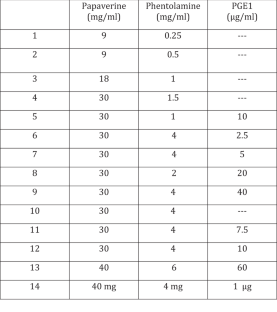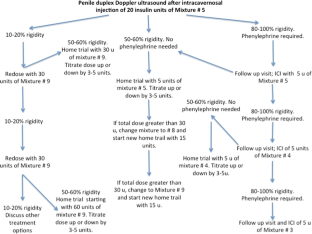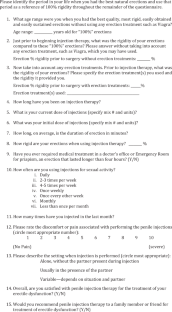 References
Virag R, Becher E, Carrier S, Jardin A, Wagner G. Local pharmacological treatment modalities. In: Jardin A, Wagner G, Khoury S, editors. Erectile dysfunction. Plymouth: Health Publication Ltd; 2000. p. 305–54.

Richter S, Vardi Y, Ringel A, Shalev M, Nissenkorn I. Intracavernous injections: still the gold standard for treatment of erectile dysfunction in elderly men. Int J Impot Res. 2001;13:172–5.

Goldstein I, Borges F, Fitch W, Kaufman J, Damron K, Moreno J. Rescuing the failed papaverine phentolamine erection: a proposed synergistic action of papaverine phentolamine and prostaglandin E1. J Urol. 1990;143:304A.

Mulhall JP, Jahoda AE, Cairney M, Goldstein B, Leitzes R, Woods J, et al. The causes of patient dropout from penile self-injection therapy for impotence. J Urol. 1999;162:1291–4.

Linet OI, Ogrinc FG. Efficacy and safety of intracavernosal alprostadil in men with erectile dysfunction. The Alprostadil Study Group. N Engl J Med. 1996;334:873–7.

Eardley I, Donatucci C, Corbin J, El-Meliegy A, Hatzimouratidis K, McVary K, et al. Pharmacotherapy for erectile dysfunction. J Sex Med. 2010;7:524–40.

Kim SC, Chang IH, Jeon HJ. Preference for oral sildenafil or intracavernosal injection in patients with erectile dysfunction already using intracavernosal injection for >1 year. BJU Int. 2003;92:277–80.

Mulhall JP, Simmons J. Assessment of comparative treatment satisfaction with sildenafil citrate and penile injection therapy in patients responding to both. BJU Int. 2007;100:1313–6.

Kucuk EV, Tahra A, Bindayi A, Onol FF. Erectile dysfunction patients are more satisfied with penile prosthesis implantation compared with tadalafil and intracavernosal injection treatments. Andrology. 2016;4:952–6.

Alexandre B, Lemaire A, Desvaux P, Amar E. Intracavernous injections of prostaglandin E1 for erectile dysfunction: patient satisfaction and quality of sex life on long-term treatment. J Sex Med. 2007;4:426–31.

Coombs PG, Heck M, Guhring P, Narus J, Mulhall JP. A review of outcomes of an intracavernosal injection therapy programme. BJU Int. 2012;110:1787–91.

Nelson C, Hsiao W, Balk E, Narus J, Tal R, Bennett N, et al. Injection anxiety and pain in men using intracavernosal injection therapy after radical pelvic surgery. J Sex Med. 2013;10:2559–65.

Weiss JN, Badlani GH, Ravalli R, Brettschneider N. Reasons for high drop-out rate with self-injection therapy for impotence. Int J Impot Res. 1994;6:171–4.

Althof SE, Turner LA, Levine SB, Risen C, Kursh E, Bodner D, et al. Why do so many people drop out from auto-injection therapy for impotence? J Sex Marital Ther. 1989;15:121–9.

Sundaram CP, Thomas W, Pryor LE, Ami Sidi A, Billups K, Pryor JL. Long-term follow-up of patients receiving injection therapy for erectile dysfunction. Urology. 1997;49:932–5.

Sung HH, Ahn JS, Kim JJ, Choo SH, Han DH, Lee SW. The role of intracavernosal injection therapy and the reasons of withdrawal from therapy in patients with erectile dysfunction in the era of PDE5 inhibitors. Andrology. 2014;2:45–50.

Mulhall JP, Abdel-Moneim A, Abobakr R, Goldstein I. Improving the accuracy of vascular testing in impotent men: correcting hemodynamic alterations using a vasoactive medication re-dosing schedule. J Urol. 2001;166:923–6.

Albaugh J, Ferrans CE. Patient-reported pain with initial intracavernosal injection. J Sex Med. 2009;6:513–9.

Hsiao W, Bennett N, Guhring P, Narus J, Mulhall JP. Satisfaction profiles in men using intracavernosal injection therapy. J Sex Med. 2011;8:512–7.

Pryor JP, Ralph DJ. Clinical presentations of Peyronie' s disease. Int J Impot Res. 2002;14:414–7.

LaRochelle JC, Levine LA. A survey of primary-care physicians and urologists regarding Peyronie's disease. J Sex Med. 2007;4:1167–73.

Kadioglu A, Sanli O, Akman T, Canguven O, Aydin M, Akbulut F, et al. Factors affecting the degree of penile deformity in peyronie disease: an analysis of 1001 patients. J Androl. 2011;32:502–8.
Ethics declarations
Conflict of interest
Dr Ricardo Munarriz is a consultant for Coloplast. Kevin O'Brien plans to attend an internship with Pfizer.
Additional information
Publisher's note: Springer Nature remains neutral with regard to jurisdictional claims in published maps and institutional affiliations.
About this article
Cite this article
Bearelly, P., Phillips, E.A., Pan, S. et al. Long-term intracavernosal injection therapy: treatment efficacy and patient satisfaction. Int J Impot Res 32, 345–351 (2020). https://doi.org/10.1038/s41443-019-0186-z
Received:

Revised:

Accepted:

Published:

Issue Date:

DOI: https://doi.org/10.1038/s41443-019-0186-z
This article is cited by
Manuel Alonso-Isa
Borja García-Gómez
Javier Romero-Otero

Current Urology Reports (2023)