Abstract
Recent empirical studies have demonstrated that speciation with gene flow is more common than previously thought. From a conservation perspective, the potential negative effects of hybridization raise concerns on the genetic integrity of endangered species. However, introgressive hybridization has also been growingly recognized as a source of diversity and new advantageous alleles. Carbonell's wall lizard (Podarcis carbonelli) is an endangered species whose distribution overlaps with four other congeneric species. Our goal here was to determine whether P. carbonelli is completely reproductively isolated from its congeners and to evaluate the relevance of hybridization and interspecific gene flow for developing a conservation plan. We used restriction site associated DNA (RAD) sequencing to discover SNPs in samples from four contact zones between P. carbonelli and four other species. Principal component analysis, multilocus genotype assignment and interspecific heterozygosity suggest incomplete reproductive isolation and ongoing gene flow between species. However, hybridization dynamics vary across all pairs, suggesting complex interactions between multiple intrinsic and extrinsic barriers. Despite seemingly ubiquitous interspecific gene flow, we found evidence of strong reproductive isolation across most contact zones. Instead, indirect effects of hybridization like waste of reproductive effort in small isolated populations may be more problematic. Our results highlight the need to further evaluate the consequences of introgression for P. carbonelli, both on a geographic and genomic level and included in a comprehensive and urgently needed conservation plan. Besides, those findings will add important insights on the potential effects of hybridization and introgression for endangered species.
Access options
Subscribe to Journal
Get full journal access for 1 year
$399.00
only $33.25 per issue
All prices are NET prices.
VAT will be added later in the checkout.
Tax calculation will be finalised during checkout.
Rent or Buy article
Get time limited or full article access on ReadCube.
from$8.99
All prices are NET prices.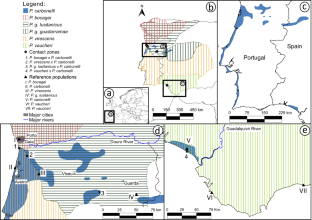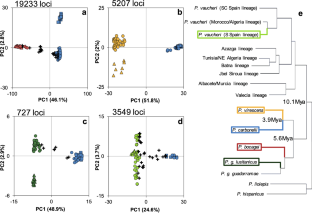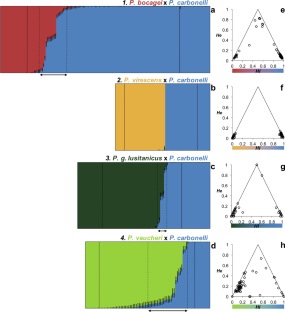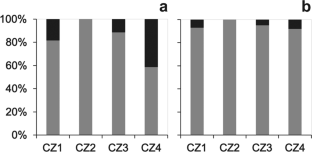 Data availability
Raw sequence reads from ddRAD-seq are deposited in the NCBI Sequence Read Archive (SRA). The BioProject accession number is PRJNA665746. VCF files with the complete datasets for each contact zone have been deposited on DRYAD (https://doi.org/10.5061/dryad.k0p2ngf51).
References
Allendorf FW, Leary RF, Spruell P, Wenburg JK (2001) The problems with hybrids: setting conservation guidelines. Trends Ecol Evol 16:613–622

Anderson TM, Candille SI, Musiani M, Greco C, Stahler DR, Smith DW et al. (2009) Molecular and evolutionary history of melanism in North American gray wolves. Science 323:1339–1343

Arnold ML, Bulger MR, Burke JM, Hempel AL, Williams JH (1999) Natural hybridization: how low can you go and still be important? Ecology 80:371–381

Ayres DR, Grotkopp E, Zaremba K, Sloop CM, Blum MJ, Bailey JP et al. (2008) Hybridization between invasive Spartina densiflora (Poaceae) and native S. foliosa in San Francisco Bay, California, USA. Am J Bot 95:713–719

Barbosa D, Desfilis E, Carretero MA, Font E (2005) Chemical stimuli mediate species recognition in Podarcis wall lizards. Amphib-reptil 26:257–263

Barbosa D, Font E, Desfilis E, Carretero MA (2006) Chemically mediated species recognition in closely related Podarcis wall lizards. J Chem Ecol 32:1587–1598

Beatty GE, Philipp M, Provan J (2010) Unidirectional hybridization at a species' range boundary: implications for habitat tracking. Divers Distrib 16:1–9

Becker M, Gruenheit N, Steel M, Voelckel C, Deusch O, Heenan PB et al. (2013) Hybridization may facilitate in situ survival of endemic species through periods of climate change. Nat Clim Chang 3:1039

Bímová BV, MacHolán M, Baird SJE, Munclinger P, Dufková P, Laukaitis CM et al. (2011) Reinforcement selection acting on the European house mouse hybrid zone. Mol Ecol 20:2403–2424

Bourret V, O'reilly PT, Carr JW, Berg PR, Bernatchez L (2011) Temporal change in genetic integrity suggests loss of local adaptation in a wild Atlantic salmon (Salmo salar) population following introgression by farmed escapees. Heredity 106:500

Brelsford A, Dufresnes C, Perrin N (2016) High-density sex-specific linkage maps of a European tree frog (Hyla arborea) identify the sex chromosome without information on offspring sex. Heredity 116:177

Burgess KS, Morgan M, Deverno L, Husband BC (2005) Asymmetrical introgression between two Morus species (M. alba, M. rubra) that differ in abundance. Mol Ecol 14:3471–3483

Butlin RK, Ritchie MG (2013) Pulling together or pulling apart: hybridization in theory and practice. J Evol Biol 26:294–298

Caeiro-Dias G, Luís C, Pinho C, Crochet PA, Sillero N, Kaliontzopoulou A (2018) Lack of congruence of genetic and niche divergence in Podarcis hispanicus complex. J Zool Syst Evol Res 56:479–492

Capula M (1993) Natural hybridization in Podarcis sicula and P. wagleriana (Reptilia: Lacertidae). Biochem Syst Ecol 21:373–380

Capula M (2002) Genetic evidence of natural hybridization between Podarcis sicula and Podarcis tiliguerta (Reptilia: Lacertidae). Amphib-reptil 23:313–321

Carretero MA, Sá-Sousa P, Barbosa D, Harris DJ, Pinho C (2002) Sintopía estricta entre Podarcis bocagei y P. carbonelli. Bol Asoc Herpetol Esp 13:20–24

Catchen JM (2013) Stacks: an analysis tool set for population genomics. Mol Ecol 22:3124–3140

Coyne JA, Orr HA (2004) Speciation. Sinauer Associates, Sunderland

Danecek P, Auton A, Abecasis G et al. (2011) The variant call format and VCFtools. Bioinformatics 27:2156–2158

Earl DA, VonHoldt BM (2012) Structure Harvester: a website and program for visualizing Structure output and implementing the Evanno method. Conserv Genet Resour 4:359–361

Fitzpatrick BM (2012) Estimating ancestry and heterozygosity of hybrids using molecular markers. BMC Evol Biol 12:131

Funk DJ, Nosil P, Etges WJ (2006) Ecological divergence exhibits consistently positive associations with reproductive isolation across disparate taxa. Proc Natl Acad Sci USA 103:3209–3213

Gabirot M, Castilla AM, López P, Martín J (2010) Differences in chemical signals may explain species recognition between an island lizard, Podarcis atrata, and related mainland lizards, P. hispanica. Biochem Syst Ecol 38:521–528

Gabirot M, Lopez P, Martín J (2012) Differences in chemical sexual signals may promote reproductive isolation and cryptic speciation between Iberian wall lizard populations. Int J Evol Biol 2012:698520

Geniez P, Sá-Sousa P, Guillaume CP, Cluchier A, Crochet PA (2014) Systematics of the Podarcis hispanicus complex (Sauria, Lacertidae) III: valid nomina of the western and central Iberian forms. Zootaxa 3794:1–51

Gomes V, Carretero MA, Kaliontzopoulou A (2016) The relevance of morphology for habitat use and locomotion in two species of wall lizards. Acta Oecol 70:87–95

Gompert Z, Alex Buerkle C (2010) INTROGRESS: a software package for mapping components of isolation in hybrids. Mol Ecol Resour 10:378–384

Grossen C, Seneviratne SS, Croll D, Irwin DE (2016) Strong reproductive isolation and narrow genomic tracts of differentiation among three woodpecker species in secondary contact. Mol Ecol 25:4247–4266

Harris DJ, Sá-Sousa P (2002) Molecular phylogenetics of Iberian wall lizards (Podarcis): is Podarcis hispanica a species complex? Mol Phylogenet Evol 23:75–81

Harvey MG, Seeholzer GF, Smith BT et al. (2017) Positive association between population genetic differentiation and speciation rates in New World birds. Proc Natl Acad Sci USA 114:6328–6333

Hochkirch A, Lemke I (2011) Asymmetric mate choice, hybridization, and hybrid fitness in two sympatric grasshopper species. Behav Ecol Sociobiol 65:1637–1645

Hudson EJ, Price TD (2014) Pervasive reinforcement and the role of sexual selection in biological speciation. J Hered 105:821–833

IECA (2014) El tiempo vuela… Matalascañas 1956-2011. Instituto de Estadística y Cartografía de la Junta de Andalucía. (https://www.juntadeandalucia.es/institutodeestadisticaycartografia/blog/2014/04/matalascanas-1956-2011/; acceded at 03-08-2019)

Irwin DE, Brelsford A, Toews DPL, MacDonald C, Phinney M (2009) Extensive hybridization in a contact zone between MacGillivray's warblers Oporornis tolmiei and mourning warblers O. philadelphia detected using molecular and morphological analyses. J Avian Biol 40:539–552

Johnson WE, Onorato DP, Roelke ME, Land ED, Cunningham M, Belden, et al. (2010) Genetic restoration of the Florida panther. Science 329:1641–1645

Jombart T (2008) adegenet: a R package for the multivariate analysis of genetic markers. Bioinformatics 24:1403–1405

Jombart T, Ahmed I (2011) adegenet 1.3-1: new tools for the analysis of genome-wide SNP data. Bioinformatics 27:3070–3071

Kaliontzopoulou A, Adams DC, van der Meijden A, Perera A, Carretero MA (2012a) Relationships between head morphology, bite performance and ecology in two species of Podarcis wall lizards. Evol Ecol 26:825–845

Kaliontzopoulou A, Carretero MA, Llorente GA (2012b) Morphology of the Podarcis wall lizards (Squamata: Lacertidae) from the Iberian Peninsula and North Africa: patterns of variation in a putative cryptic species complex. Zool J Linn Soc 164:173–193

Kaliontzopoulou A, Pinho C, Harris DJ, Carretero MA (2011) When cryptic diversity blurs the picture: a cautionary tale from Iberian and North African Podarcis wall lizards. Biol J Linn Soc 103:779–800

Lamichhaney S, Han F, Berglund J, Wang C, Almén MS, Webster MT, Grant BR et al. (2016) A beak size locus in Darwin's finches facilitated character displacement during a drought. Science 352:470–474

Lepais O, Petit RJ, Guichoux E, Lavabre JE, Alberto F, Kremer A et al. (2009) Species relative abundance and direction of introgression in oaks. Mol Ecol 18:2228–2242

Levin DA, Francisco‐Ortega J, Jansen RK (1996) Hybridization and the extinction of rare plant species. Conserv Biol 10:10–16

Leroy T, Louvet J-M, Lalanne C, Le Provost G, Labadie K, Aury JM et al. (2019) Adaptive introgression as a driver of local adaptation to climate in European white oaks. N. Phytol 226:1171–1182

Martin SH, Dasmahapatra KK, Nadeau NJ, Salazar C, Walters JR, Simpson F, Blaxter M, Manica A, Mallet J, Jiggins CD (2013) Genome-wide evidence for speciation with gene flow in Heliconius butterflies. Genome Res 23:1817–1828

Mallet J (2008) Hybridization, ecological races and the nature of species: empirical evidence for the ease of speciation. Philos Trans R Soc Lond B Biol Sci 363:2971–2986

Mayr E (1942) Systematics and the origin of species, from the viewpoint of a zoologist. Columbia University Press, New York

Mayr E (1940) Speciation phenomena in birds. Am Nat 74:249–278

McIntosh EJ, Rossetto M, Weston PH, Wardle GM (2014) Maintenance of strong morphological differentiation despite ongoing natural hybridization between sympatric species of Lomatia (Proteaceae). Ann Bot 113:861–872

Milián-García Y, Ramos-Targarona R, Pérez-Fleitas E et al. (2015) Genetic evidence of hybridization between the critically endangered Cuban crocodile and the American crocodile: implications for population history and in situ/ex situ conservation. Heredity 114:272

Milne RI, Abbott RJ, Wolff K, Chamberlain DF (1999) Hybridization among sympatric species of Rhododendron (Ericaceae) in Turkey: morphological and molecular evidence. Am J Bot 86:1776–1785

Neaves LE, Zenger KR, Cooper DW, Eldridge MDB (2010) Molecular detection of hybridization between sympatric kangaroo species in south-eastern Australia. Heredity 104:502

Niemiller ML, Fitzpatrick BM, Miller BT (2008) Recent divergence with gene flow in Tennessee cave salamanders (Plethodontidae: Gyrinophilus) inferred from gene genealogies. Mol Ecol 17:2258–2275

Owens GL, Samuk K (2020) Adaptive introgression during environmental change can weaken reproductive isolation. Nat Clim Change 10:58–62

Palma‐Silva C, Wendt T, Pinheiro F, Barbará T, Fay MF, Cozzolino S et al. (2011) Sympatric bromeliad species (Pitcairnia spp.) facilitate tests of mechanisms involved in species cohesion and reproductive isolation in Neotropical inselbergs. Mol Ecol 20:3185–3201

Parchman TL, Gompert Z, Mudge J, Schilkey FD, Benkman CW, Buerkle CA (2012) Genome‐wide association genetics of an adaptive trait in lodgepole pine. Mol Ecol 21:2991–3005

Pereira RJ, Monahan WB, Wake DB (2011) Predictors for reproductive isolation in a ring species complex following genetic and ecological divergence. BMC Evol Bio 11:194

Peterson BK, Weber JN, Kay EH, Fisher HS, Hoekstra HE (2012) Double digest RADseq: an inexpensive method for de novo SNP discovery and genotyping in model and non-model species. PLoS ONE 7:e37135

Pinho C, Harris DJ, Ferrand N (2007) Comparing patterns of nuclear and mitochondrial divergence in a cryptic species complex the case of Iberian and North African wall lizards (Podarcis, Lacertidae) Biol. J Linn Soc Lond 91:121–133

Pinho C, Harris DJ, Ferrand N (2008) Non-equilibrium estimates of gene flow inferred from nuclear genealogies suggest that Iberian and North African wall lizards (Podarcis spp.) are an assemblage of incipient species. BMC Evol Biol 8:63

Pinho C, Hey J (2010) Divergence with gene flow: models and data. Annu Rev Ecol Evol Syst 41:215–230

Pinho C, Kaliontzopoulou A, Carretero MA, Harris DJ, Ferrand N (2009) Genetic admixture between the Iberian endemic lizards Podarcis bocagei and Podarcis carbonelli: evidence for limited natural hybridization and a bimodal hybrid zone. J Zool Syst Evol Res 47:368–377

Pinho C, Kaliontzopoulou A, Harris DJ, Ferrand N (2011) Recent evolutionary history of the Iberian endemic lizards Podarcis bocagei (Seoane, 1884) and Podarcis carbonelli Pérez-Mellado, 1981 (Squamata: Lacertidae) revealed by allozyme and microsatellite markers. Zool J Linn Soc 162:184–200

Pritchard JK, Stephens M, Donnelly P (2000) Inference of population structure using multilocus genotype data. Genetics 155:945–959

Purcell J, Brelsford A, Wurm Y, Perrin N, Chapuisat M (2014) Convergent genetic architecture underlies social organization in ants. Curr Biol 24:2728–2732

R Core Team (2017) R: A language and environment for statistical computing. R Foundation for Statistical Computing, Vienna,Austria. https://www.R-project.org/

Renoult JP, Geniez P, Bacquet P, Benoit L, Crochet PA (2009) Morphology and nuclear markers reveal extensive mitochondrial introgressions in the Iberian Wall Lizard species complex. Mol Ecol 18:4298–4315

Rhymer JM, Simberloff D (1996) Extinction by hybridization and introgression. Annu Rev Ecol Syst 27:83–109

Rhymer JM, Williams MJ, Braun MJ (1994) Mitochondrial analysis of gene flow between New Zealand mallards (Anas platyrhynchos) and grey ducks (A. superciliosa). Auk 111:970–978

Roberts DG, Gray CA, West RJ, Ayre DJ (2010) Marine genetic swamping: hybrids replace an obligately estuarine fish. Mol Ecol 19:508–520

Rochette NC, Catchen JM (2017) Deriving genotypes from RAD-seq short-read data using Stacks. Nat Protoc 12:2640

Rubidge EM, Taylor EB (2005) An analysis of spatial and environmental factors influencing hybridization between native westslope cutthroat trout (Oncorhynchus clarki lewisi) and introduced rainbow trout (O. mykiss) in the upper Kootenay River drainage, British Columbia. Conserv Genet 6:369–384

Sá-Sousa P (2001) Comparative chorology between Podarcis bocagei and P. carbonellae (Sauria: Lacertidae) in Portugal. Rev Esp Herpetol 15:85–97

Sá-Sousa P (2008) Podarcis carbonelli. In: Loureiro A, Ferrand de Almeida N, Carretero MA, Paulo OS (eds.), Atlas dos Anfíbios e Répteis de Portugal. Instituto da Conservação da Natureza e da Biodiversidade, Lisboa. pp. 152–153

Sá-Sousa P, Pérez-Mellado V and Martínez-Solano I (2009) Podarcis carbonelli. The IUCN Red List of Threatened Species 2009: e.T61545A12512496. https://doi.org/10.2305/IUCN.UK.2009.RLTS.T61545A12512496.en. Acceded 29 May 2019

Sá-Sousa P, Harris DJ (2002) Podarcis carbonelli Perez-Mellado, 1981 is a distinct species. Amphib-reptil 23:459–468

Sætre G (2013) Hybridization is important in evolution, but is speciation? J Evol Biol 26:256–258

Sánchez‐Guillén RA, Córdoba‐Aguilar A, Cordero‐Rivera A, Wellenreuther M (2014) Genetic divergence predicts reproductive isolation in damselflies. J Evol Biol 27:76–87

Seehausen OLE, Takimoto G, Roy D, Jokela J (2008) Speciation reversal and biodiversity dynamics with hybridization in changing environments. Mol Ecol 17:30–44

Senn HV, Pemberton JM (2009) Variable extent of hybridization between invasive sika (Cervus nippon) and native red deer (C. elaphus) in a small geographical area. Mol Ecol 18:862–876

Sillero N, Argaña E, Matos C et al. (2012) Unexpected low population levels of Podarcis carbonelli in southern Salamanca (Spain). Bol Asoc Herpetol Esp 23:69–73

Sillero N, Carretero MA (2013) Modelling the past and future distribution of contracting species. The Iberian lizard Podarcis carbonelli (Squamata: Lacertidae) as a case study. Zool Anz 252:289–298

Sillero N, Leerschool T, Hollanders M, Beukema W (2014) No more Podarcis carbonelli in its type locality? Herpetol Notes 7:751–754

Simpson GG (1961) Principles of animal taxonomy. Columbia University Press, New York

Steeves TE, Maloney RF, Hale ML, Tylianakis JM, Gemmell NJ (2010) Genetic analyses reveal hybridization but no hybrid swarm in one of the world's rarest birds. Mol Ecol 19:5090–5100

Stelkens RB, Seehausen O (2009) Phenotypic divergence but not genetic distance predicts assortative mating among species of a cichlid fish radiation. J Evol Biol 22:1679–1694

Szymura JM, Barton NH (1986) Genetic analysis of a hybrid zone between the fire‐bellied toads, Bombina bombina and B. variegata, near Cracow in southern Poland. Evolution 40:1141–1159

Tarroso P, Pereira RJ, Martínez-Freiría F, Godinho R, Brito JC (2014) Hybridization at an ecotone: ecological and genetic barriers between three Iberian vipers. Mol Ecol 23:1108–1123

Todesco M, Pascual MA, Owens GL, Ostevik KL, Moyers BT, Hübner S, et al. (2016) Hybridization and extinction. Evol Appl 9: 892–908

Tompkins DM, Mitchell RA, Bryant DM (2006) Hybridization increases measures of innate and cell‐mediated immunity in an endangered bird species. J Anim Ecol 75:559–564

VonHoldt BM, Brzeski KE, Wilcove DS, Rutledge LY (2018) Redefining the role of admixture and genomics in species conservation. Conserv Lett 11:e12371

Vuillaume B, Valette V, Lepais O, Grandjean F, Breuil M (2015) Genetic evidence of hybridization between the endangered native species Iguana delicatissima and the invasive Iguana iguana (Reptilia, Iguanidae) in the Lesser Antilles: management implications. PloS One 10:e0127575

Wang J (2017) The computer program Structure for assigning individuals to populations: easy to use but easier to misuse. Mol Ecol Resour 17:981–990

Wayne RK, Shaffer HB (2016) Hybridization and endangered species protection in the molecular era. Mol Ecol 25:2680–2689

Whitney KD, Randell RA, Rieseberg LH (2010) Adaptive introgression of abiotic tolerance traits in the sunflower Helianthus annuus. N. Phytol 187:230–239

Whittemore AT, Schaal BA (1991) Interspecific gene flow in sympatric oaks. Proc Natl Acad Sci USA 88:2540–2544

Wolf DE, Takebayashi N, Rieseberg LH (2001) Predicting the risk of extinction through hybridization. Conserv Biol 15:1039–1053

Wu CI (2001) The genic view of the process of speciation. J Evol Biol 14:851–865

Yukilevich R (2012) Asymmetrical patterns of speciation uniquely support reinforcement in. Drosoph Evol 66:1430–1446
Acknowledgements
We thank E. Pérez, M. A. Carretero, C. Rato, A. Perera, V. Gomes, N. Sillero, A. Crotini and A. Žagar for helping with sample collection. We also thank B. Gernster for the manuscript revision. This study benefited from the Montpellier Bioinformatics Biodiversity platform supported by the LabEx CeMEB, an ANR "Investissements d'avenir" program (ANR-10-LABX-04-01). GCD was supported by a PhD grant (SFRH/BD/89750/2012), and AK and CP by IF contracts (IF/00641/2014/CP1256/CT0008 and IF/01597/2014/CP1256/CT0009, respectively) under the Programa Operacional Potencial Humano—Quadro de Referência Estratégico Nacional funds from the European Social Fund and Portuguese Ministério da Educação e Ciência and PAC by the ANR grant ANR-19-CE02-0011 – IntroSpec. Support was also provided by national funds through FCT projects: PTDC/BIA-BEC/102179/2008 – FCOMP-01-0124-FEDER-007062, under FEDER COMPETE funds; PTDC/BIA-EVL/28090/2017 – POCI-01-0145-FEDER-028090 and PTDC/BIA-EVL/30288/2017 – NORTE-01-0145-FEDER-30288 co-funded by NORTE2020 through Portugal 2020 and FEDER Funds. Specimens for this study were captured and handled under permit numbers 119 to 124/2013/CAPT and 486 to 490/2014/CAPT by Instituto da Conservação da Natureza e das Florestas (ICNF, Portugal) and permit 201318800014253 by Junta de Andalucía, Consejería de Agricultura, Pesca y Medio Ambiente (Spain).
Ethics declarations
Conflict of interest
The authors declare that they have no conflict of interest.
Additional information
Publisher's note Springer Nature remains neutral with regard to jurisdictional claims in published maps and institutional affiliations.
Associate editor: Lounès Chikhi
Supplementary information
About this article
Cite this article
Caeiro-Dias, G., Brelsford, A., Kaliontzopoulou, A. et al. Variable levels of introgression between the endangered Podarcis carbonelli and highly divergent congeneric species. Heredity 126, 463–476 (2021). https://doi.org/10.1038/s41437-020-00386-6
Received:

Revised:

Accepted:

Published:

Issue Date: