Abstract
Following human occupation, the house mouse has colonised numerous islands, exposing the species to a wide variety of environments. Such a colonisation process, involving successive founder events and bottlenecks, may either promote random evolution or facilitate adaptation, making the relative importance of adaptive and stochastic processes in insular evolution difficult to assess. Here, we jointly analyse genetic and morphometric variation in the house mice (Mus musculus domesticus) from the Orkney archipelago. Genetic analyses, based on mitochondrial DNA and microsatellites, revealed considerable genetic structure within the archipelago, suggestive of a high degree of isolation and long-lasting stability of the insular populations. Morphometric analyses, based on a quantification of the shape of the first upper molar, revealed considerable differentiation compared to Western European populations, and significant geographic structure in Orkney, largely congruent with the pattern of genetic divergence. Morphological diversification in Orkney followed a Brownian motion model of evolution, suggesting a primary role for random drift over adaptation to local environments. Substantial structuring of human populations in Orkney has recently been demonstrated, mirroring the situation found here in house mice. This synanthropic species may thus constitute a bioproxy of human structure and practices even at a very local scale.
Access options
Subscribe to Journal
Get full journal access for 1 year
$499.00
only $41.58 per issue
All prices are NET prices.
VAT will be added later in the checkout.
Rent or Buy article
Get time limited or full article access on ReadCube.
from$8.99
All prices are NET prices.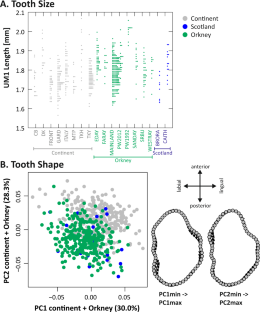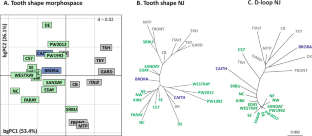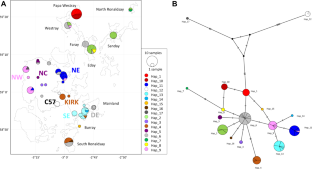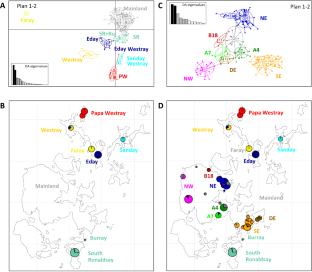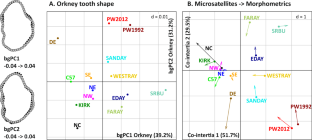 Data availability
The DNA sequences are deposited in EMBL, accessions LR862585–LR862663. Sampling locations are indicated in Table S1. Morphological data and microsatellite genotypes are deposited in Dryad: https://doi.org/10.5061/dryad.nvx0k6dqm.
References
Adams DC (2014) A generalized K statistic for estimating phylogenetic signal from shape and other high-dimensional multivariate data. Syst Biol 63(5):685–697.

Adams DC, Otarola-Castillo E (2013) geomorph: an R package for the collection and analysis of geometric morphometric shape data. Methods Ecol Evol 4:393–399.

Berry RJ (1996) Small mammal differentiation on islands. Philos Trans R Soc Lond B 351(1341):753–764.

Berry RJ, Tricker BJK (1969) Competition and extinction: the mice of Foula, with notes on those of Fair Isle and St Kilda. J Zool Lond 158:247–265.

Bonhomme F, Orth A, Cucchi T, Rajabi-Maham H, Catalan J, Boursot P et al. (2011) Genetic differentiation of the house mouse around the Mediterranean basin: matrilineal footprints of early and late colonization. Proc R Soc Lond Biol Sci 278:1034–1043.

Britton-Davidian J, Caminade P, Davidian E, Pagès M (2017) Does chromosomal change restrict gene flow between house mouse populations (Mus musculus domesticus)? Evidence from microsatellite polymorphisms. Biol J Linn Soc 122(1):224–240.

Cucchi T (2008) Uluburun shipwreck stowaway house mouse: molar shape analysis and indirect clues about the vessel's last journey. J Archaeol Sci 35:2953–2959.

Cucchi T, Barnett R, Martinkova N, Renaud S, Renvoisé E, Evin A et al. (2014) The changing pace of insular life: 5000 years of microevolution in the Orkney vole (Microtus arvalis orcadensis). Evolution 68(10):2804–2820.

Cucchi T, Kovács ZE, Berthon R, Orth A, Bonhomme F, Evin A et al. (2013) On the trail of Neolithic mice and men towards Transcaucasia: zooarchaeological clues from Nakhchivan (Azerbaijan). Biol J Linn Soc 108:917–928.

Cucchi T, Papayianni K, Cersoy S, Aznar-Cormano L, Zazzo A, Debruyne R et al. (2020) Tracking the Near Eastern origins and European dispersal of the western house mouse. Sci Rep 10:8276.

Cucchi T, Vigne J-D, Auffray J-C (2005) First occurrence of the house mouse (Mus musculus domesticus Schwarz & Schwarz, 1943) in the Western Mediterranean: a zooarchaeological revision of subfossil occurrences. Biol J Linn Soc 84:429–445.

Dolédec S, Chessel D (1994) Co-inertia analysis: an alternative method for studying species-environment relationships. Freshw Biol 31(3):277–294.

Dray S, Dufour A-B (2007) The ade4 package: implementing the duality diagram for ecologists. J Stat Softw 22:1–20.

Escoufier Y (1973) Le traitement des variables vectorielles. Biometrics 29(4):751–760.

Excoffier L, Lischer HEL (2010) Arlequin suite ver 3. 5: a new series of programs to perform population genetics analyses under Linux and Windows. Mol Ecol Resour 10:564–567.

Fairley JS, Smal CM (1987) Feral house mice in Ireland. Ir Naturalists' J 22(7):284–290.

Gabriel SI, Mathias MDL, Searle JB (2013) Genetic structure of house mouse (Mus musculus Linnaeus 1758) populations in the Atlantic archipelago of the Azores: colonization and dispersal. Biol J Linn Soc 108(4):929–940.

Gabriel SI, Mathias ML, Searle JB (2015) Of mice and the 'Age of Discovery': the complex history of colonization of the Azorean archipelago by the house mouse (Mus musculus) as revealed by mitochondrial DNA variation. J Evolut Biol 28(1):130–114.

Ganem G (1998) Behavioural and physiological characteristics of standard and chromosomally divergent populations of house mice from the Orkney archipelago (Scotland). Acta Theriol 43(1):23–38.

García-Rodríguez O, Andreou D, Herman JS, Mitsainas GP, Searle JB, Bonhomme F et al. (2018) Cyprus as an ancient hub for house mice and humans. J Biogeogr 45:2618–2630.

Gilbert E, O'Reilly S, Merrigan M, McGettigan D, Vitart V, Joshi PK et al. (2019) The genetic landscape of Scotland and the Isles. Proc Natl Acad Sci USA 116(38):201904761.

Gingerich PD, Smith BH, Rosenberg K (1982) Allometric scaling in the dentition of primates and prediction of body weight from tooth size in fossils. Am J Phys Anthropol 58:81–100.

Günduz İ, Auffray J-C, Britton-Davidian J, Catalan J, Ganem G, Ramalhinho MG et al. (2001) Molecular studies on the colonization of the Madeiran archipelago by house mice. Mol Ecol 10:2023–2029.

Hardouin E, Chapuis J-L, Stevens MI, van Vuuren JB, Quillfeldt P, Scavetta RJ et al. (2010) House mouse colonization patterns on the sub-Antarctic Kerguelen Archipelago suggest singular primary invasions and resilience against re-invasion. BMC Evolut Biol 10:325.

Hayden L, Lochovska L, Sémon M, Renaud S, Delignette-Muller M-L, Vicot M et al. (2020) Developmental variability channels mouse molar evolution. eLife 9:e50103.

Jombart T, Devillard S, Balloux F (2010) Discriminant analysis of principal components: a new method for the analysis of genetically structured populations. BMC Genet 11(1):94.

Jones EP, Eager HM, Gabriel SI, Jóhannesdóttir F, Searle JB (2013) Genetic tracking of mice and other bioproxies to infer human history. Trends Genet 29(5):298–308.

Jones EP, Jensen J-K, Magnussen E, Gregersen N, Hansen HS, Searle JB (2011a) A molecular characterization of the charismatic Faroe house mouse. Biol J Linn Soc 102:471–482.

Jones EP, Jóhannesdóttir F, Gündüz İ, Richards MB, Searle JB (2011b) The expansion of the house mouse into north-western Europe. J Zool Lond 283(4):257–268.

Jones EP, Skirnisson K, McGovern T, Gilbert M, Willerslev E, Searle JB (2012) Fellow travellers: a concordance of colonization patterns between mice and men in the North Atlantic region. BMC Evolut Biol 12(1):35.

Kumar S, Stecher G, Tamura K (2016) MEGA7: molecular evolutionary genetics analysis version 7.0 for bigger datasets. Mol Biol Evol 33:1870–1874.

Ledevin R, Chevret P, Ganem G, Britton-Davidian J, Hardouin EA, Chapuis J-L et al. (2016) Phylogeny and adaptation shape the teeth of insular mice. Proc R Soc Lond Biol Sci 283:20152820.

Leigh JW, Bryant D (2015) POPART: full-feature software for haplotype network construction. Methods Ecol Evol 6(9):1110–1116.

Leslie S, Winney B, Hellenthal G, Davison D, Boumertit A, Day T et al. (2015) The fine-scale genetic structure of the British population. Nature 519(7543):309–314.

Lomolino MV (1985) Body size of mammals on islands: the island rule reexamined. Am Naturalist 125:310–316.

Lomolino MV (2005) Body size evolution in insular vertebrates: generality of the island rule. J Biogeogr 32:1683–1699.

Lomolino MV, Sax DF, Palombo MR, van der Geer AA (2012) Of mice and mammoths: evaluations of causal explanations for body size evolution in insular mammals. J Biogeogr 39:842–854.

Losos JB, Ricklefs RE (2009) Adaptation and diversification on islands. Nature 457(7231):830–836.

Martínková N, Barnett R, Cucchi T, Struchen R, Pascal M, Pascal M et al. (2013) Divergent evolutionary processes associated with colonization of offshore islands. Mol Ecol 22:5205–5220.

Millien V (2006) Morphological evolution is accelerated among island mammals. PLoS Biol 4(10):e321.

Oksanen J, Blanchet FG, Kindt R, Legendre P, Minchin PR, O'Hara RB et al. (2013) Vegan: Community Ecology Package. R Package Version. 2.0-10. CRAN.

Peres-Neto PR, Jackson DA (2001) How well do multivariate data sets match? The advantages of a Procrustean superimposition approach over the Mantel test. Oecologia 129(2):169–178.

Pocock MJO, Searle JB, White PCL (2004) Adaptations of animals to commensal habitats: population dynamics of house mice Mus musculus domesticus on farms. J Anim Ecol 73:878–888.

Polly PD (2004) On the simulation of the evolution of morphological shape: multivariate shape under selection and drift. Palaeontol Electron 7(2):7A:28.

Pritchard JK, Stephens M, Donnelly P (2000) Inference of population structure using multilocus genotype data. Genetics 155(2):945–959.

Renaud S, Chevret P, Michaux J (2007) Morphological vs. molecular evolution: ecology and phylogeny both shape the mandible of rodents. Zool Scr 36:525–535.

Renaud S, Hardouin EA, Quéré J-P, Chevret P (2017) Morphometric variations at an ecological scale: seasonal and local variations in feral and commensal house mice. Mamm Biol 87:1–12.

Renaud S, Ledevin R, Souquet L, Gomes Rodrigues H, Ginot S, Agret S et al. (2018) Evolving teeth within a stable masticatory apparatus in Orkney mice. Evolut Biol 45(4):405–424.

Renaud S, Pantalacci S, Auffray J-C (2011) Differential evolvability along lines of least resistance of upper and lower molars in island house mice. PLoS One 6(5):e18951.

Romaniuk AA, Shepherd AN, Clarke DV, Sheridan AJ, Fraser S, Bartosiewicz L et al. (2016) Rodents: food or pests in Neolithic Orkney. R Soc Open Sci 3(10):160514.

Ronquist F, Teslenko M, Pvd Mark, Ayres D, Darling A, Höhna S et al. (2012) MrBayes 3.2: efficient Bayesian phylogenetic inference and model choice across a large model space. Syst Biol 61(3):539–542.

Rozas J, Ferrer-Mata A, Sánchez-DelBarrio JC, Guirao-Rico S, Librado P, Ramos-Onsins SE et al. (2017) DnaSP 6: DNA sequence polymorphism analysis of large data sets. Mol Biol Evol 34:3299–3302.

Searle JB, Jones CS, Gündüz İ, Scascitelli M, Jones EP, Herman JS et al. (2009) Of mice and (Viking?) men: phylogeography of British and Irish house mice. Proc R Soc Lond Biol Sci 276:201–207.

Sendell-Price AT, Ruegg KC, Clegg SM (2020) Rapid morphological divergence following a human-mediated introduction: the role of drift and directional selection. Heredity 124:535–549.

Solano E, Franchini P, Colangelo P, Capanna E, Castiglia R (2013) Multiple origins of the western European house mouse in the Aeolian Archipelago: clues from mtDNA and chromosomes. Biol Invasions 15(4):729–739.

Souquet L, Chevret P, Ganem G, Auffray J-C, Ledevin R, Agret S et al. (2019) Back to the wild: does feralization affect the mandible of non-commensal house mice (Mus musculus domesticus)? Biol J Linn Soc 126:471–486.

van der Geer AA, Lyras GA, Lomolino MV, Palombo MR, Sax DF (2013) Body size evolution of palaeo-insular mammals: temporal variations and interspecific interactions. J Biogeogr 40:1440–1450.
Acknowledgements
We warmly thank Josette Catalan and Annie Orth for their participation to the 2012 field trip to Orkney, Jeremy Searle for original collection of specimens from northern Scotland and all the people from Orkney who kindly made possible the extensive trapping campaigns. The paper benefited from the constructive remarks of three anonymous reviewers and Stuart J.E. Baird. This work was performed using the computing facilities of the CC LBBE/PRABI. It was supported by the ANR Bigtooth (ANR-11-BSV7-008). This is a publication ISEM 2020-216.
Ethics declarations
Conflict of interest
The authors declare that they have no conflict of interest.
Additional information
Publisher's note Springer Nature remains neutral with regard to jurisdictional claims in published maps and institutional affiliations.
Associate editor: Bastiaan Star
Supplementary information
About this article
Cite this article
Chevret, P., Hautier, L., Ganem, G. et al. Genetic structure in Orkney island mice: isolation promotes morphological diversification. Heredity (2020). https://doi.org/10.1038/s41437-020-00368-8
Received:

Revised:

Accepted:

Published: