Abstract
Different mating systems can strongly affect the extent of genetic diversity and population structure among species. Given the increased effects of genetic drift on reduced population size, theory predicts that species undergoing self-fertilisation should have greater population structure than outcrossed species; however, demographic dynamics may affect this scenario. The mangrove killifish clade is composed of the two only known examples of self-fertilising species among vertebrates (Kryptolebias marmoratus and Kryptolebias hermaphroditus). A third species in this clade, Kryptolebias ocellatus, inhabits mangrove forests in southeast Brazil; however, its mating system and patterns of genetic structure have been rarely explored. Here, we examined the genetic structure and phylogeographic patterns of K. ocellatus along its distribution, using mitochondrial DNA and microsatellites to compare its patterns of genetic structure with the predominantly selfing and often-syntopic, K. hermaphroditus. Our results indicate that K. ocellatus reproduces mainly by outcrossing, with no current evidence of selfing, despite being an androdioecious species. Our results also reveal a stronger population subdivision in K. ocellatus compared to K. hermaphroditus, contrary to the theoretical predictions based on reproductive biology of the two species. Our findings indicate that, although morphologically similar, K. ocellatus and K. hermaphroditus had remarkably different evolutionary histories when colonising the same mangrove areas in southeastern Brazil, with other factors (e.g., time of colonisation, dispersal/establishment capacity) having more profound effects on the current population structuring of those species than differences in mating systems.
Access options
Subscribe to Journal
Get full journal access for 1 year
$399.00
only $33.25 per issue
All prices are NET prices.
VAT will be added later in the checkout.
Tax calculation will be finalised during checkout.
Rent or Buy article
Get time limited or full article access on ReadCube.
from$8.99
All prices are NET prices.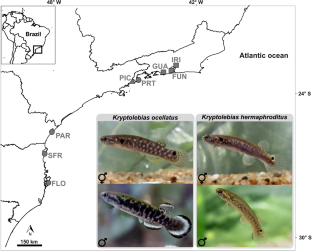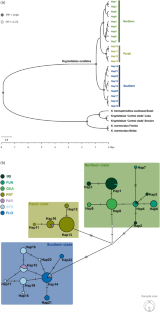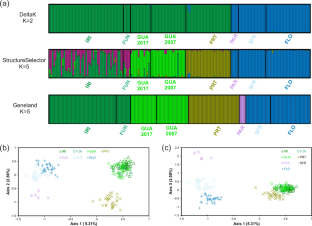 Data availability
cox1 mtDNA sequences are deposited in GenBank (accession numbers: K. ocellatus: MN400774–MN400902; K. hermaphroditus: MN400903–MN400963). Microsatellite genotypes are available at Dryad Digital Repository: https://doi.org/10.5061/dryad.m0cfxpp1n.
References
Avise JC, Tatarenkov A (2015) Population genetics and evolution of the mangrove rivulus Kryptolebias marmoratus, the world's only self-fertilizing hermaphroditic vertebrate. J Fish Biol 87:519–538

Ball MC (1988) Ecophysiology of mangroves. Trees 2:129–142

Barletta M, Lima ARA (2019) Systematic review of fish ecology and anthropogenic impacts in South American estuaries: setting priorities for ecosystem conservation. Front Mar Sci 6:237

Belkhir K (2004) GENETIX 4.05, logiciel sous Windows TM pour la génétique des populations. http://www.genetixuniv-montp2fr/genetix/genetixhtm.

Berbel-Filho WM, de Leaniz CG, Morán P, Cable J, Lima SM, Consuegra S (2019) Local parasite pressures and host genotype modulate epigenetic diversity in a mixed-mating fish. Ecol Evol 9:8736–8748

Berbel-Filho WM, Espirito-Santo HMV, Lima SMQ (2016) First record of a male of Kryptolebias hermaphroditus Costa, 2011 (Cyprinodontiformes: Cynolebiidae). Neotrop Ichthyol 14:e160024

Bohonak A (2002) IBD (isolation by distance): a program for analyses of isolation by distance. J Heredity 93:153–154

Bouckaert R, Heled J, Kuhnert D, Vaughan T, Wu CH, Xie D et al. (2014) BEAST 2: a software platform for Bayesian evolutionary analysis. PLoS Comput Biol 10:e1003537

Branoff BL (2017) Quantifying the influence of urban land use on mangrove biology and ecology: a meta‐analysis. Glob Ecol Biogeogr 26:1339–1356

Britto FB, Schmidt AJ, Carvalho AM, Vasconcelos CC, Farias AM, Bentzen P et al. (2018) Population connectivity and larval dispersal of the exploited mangrove crab Ucides cordatus along the Brazilian coast. PeerJ 6:e4702

Charlesworth D (2003) Effects of inbreeding on the genetic diversity of populations. Philos Trans R Soc B 358:1051–1070

Charlesworth D, Wright SI (2001) Breeding systems and genome evolution. Curr Opin Gen Dev 11:685–690

Costa WJEM (2006) Redescription of Kryptolebias ocellatus (Hensel) and K. caudomarginatus (Seegers) (Teleostei: Cyprinodontiformes: Rivulidae), two killifishes from mangroves of south-eastern Brazil. Aqua 11:5–13

Costa WJEM (2011) Identity of Rivulus ocellatus and a new name for a hermaphroditic species of Kryptolebias from south-eastern Brazil (Cyprinodontiformes: Rivulidae). Ichthyol Explor Freshw 22:185–192

Costa WJEM (2016) Colouration, taxonomy and geographical distribution of mangrove killifishes, the Kryptolebias marmoratus species group, in southern Atlantic coastal plains of Brazil (Cyprinodontiformes: Rivulidae). Ichthyol Explor Freshw 27:183–192

Costa WJEM, Lima SMQ, Bartolette R (2010) Androdioecy in Kryptolebias killifish and the evolution of self-fertilizing hermaphroditism. Biol J Linn Soc 99:344–349

Darriba D, Taboada GL, Doallo R, Posada D (2012) jModelTest 2: more models, new heuristics and parallel computing. Nat Methods 9:772

de Oliveira-Neto JF, Pie MR, Chammas MA, Ostrensky A, Boeger WA (2008) Phylogeography of the blue land crab, Cardisoma guanhumi (Decapoda: Gecarcinidae) along the Brazilian coast. J Mar Biol Assoc 88:1417–1423

de Waal C, Rodger JG, Anderson B, Ellis AG (2014) Selfing ability and dispersal are positively related, but not affected by range position: a multispecies study on southern African Asteraceae. J Evol Biol 27:950–959

Dieringer D, Schlötterer C (2003) Microsatellite analyser (MSA): a platform independent analysis tool for large microsatellite data sets. Mol Ecol Notes 3:167–169

Earl DA (2012) STRUCTURE HARVESTER: a website and program for visualizing STRUCTURE output and implementing the Evanno method. Conserv Genet Resour 4:359–361

Ellison A, Wright P, Taylor DS, Cooper C, Regan K, Currie S et al. (2012) Environmental diel variation, parasite loads, and local population structuring of a mixed-mating mangrove fish. Ecol Evol 2:682–1695

Evanno G, Regnaut S, Goudet J (2005) Detecting the number of clusters of individuals using the software STRUCTURE: a simulation study. Mol Ecol 14:2611–2620

Excoffier L, Lischer HE (2010) Arlequin suite ver 3.5: a new series of programs to perform population genetics analyses under Linux and Windows. Mol Ecol Res 10:564–567

Ferreira AC, Lacerda LD (2016) Degradation and conservation of Brazilian mangroves, status and perspectives. Ocean Coast Manag 125:38–46

Francisco PM, Mori GM, Alves FM, Tambarussi EV, de Souza AP (2018) Population genetic structure, introgression, and hybridization in the genus Rhizophora along the Brazilian coast. Ecol Evol 8:3491–3504

Goudet J (1995) FSTAT (version 1.2): a computer program to calculate F-statistics. J Heredity 86:485–486

Guillot G, Estoup A, Mortier F, Cosson JF (2005) A spatial statistical model for landscape genetics. Genetics 170:1261–1280

Guillot G, Santos F, Estoup A (2008) Analysing georeferenced population genetics data with Geneland: a new algorithm to deal with null alleles and a friendly graphical user interface. Bioinformatics 24:1406–1407

Hamilton SE, Casey D (2016) Creation of a high spatio‐temporal resolution global database of continuous mangrove forest cover for the 21st century (CGMFC‐21). Glob Ecol Biogeogr 25:729–738

Huber J (2017) Reanalysis of single type of Rivulus ocellatus Hensel, 1880 in Berlin museum pending its putative molecular analysis, with the proposal of revalidation of Rivulus caudomarginatus. Kill-Data Ser 2016–2017:4–12

Jarne P, Auld JR (2006) Animals mix it up too: the distribution of self‐fertilization among hermaphroditic animals. Evolution 60:1816–1824

Kanamori A, Sugita Y, Yuasa Y, Suzuki T, Kawamura K, Uno Y et al.(2016) A genet map only self-fertilizing vertebrate. G3 6:1095–1106

Kopelman NM, Mayzel J, Jakobsson M, Rosenberg NA, Mayrose I (2015) CLUMPAK: a program for identifying clustering modes and packaging population structure inferences across K. Mol Ecol Res 15:1179–1191

Kumar S, Stecher G, Tamura K (2016) MEGA7: molecular evolutionary genetics analysis version 7.0 for bigger datasets. Mol Biol Evol 33:1870–1874

Leigh JW, Bryant D (2015) popart: full‐feature software for haplotype network construction. Methods Ecol Evol 6:1110–1116

Li YL, Liu JX (2018) StructureSelector: a web‐based software to select and visualize the optimal number of clusters using multiple methods. Mol Ecol Res 18:176–177

Mackiewicz M, Tatarenkov A, Perry A, Martin JR, Elder JF, Bechler DL et al. (2006) Microsatellite documentation of male-mediated outcrossing between inbred laboratory strains of the self-fertilizing mangrove killifish (Kryptolebias marmoratus). J Heredity 97:508–513

Meunier C, Hurtrez‐Bousses S, Durand P, Rondelaud D, Renaud F (2004) Small effective population sizes in a widespread selfing species, Lymnaea truncatula (Gastropoda:Pulmonata). Mol Ecol 13:2535–2543

Mori GM, Zucchi MI, Souza AP (2015) Multiple-geographic-scale genetic structure of two mangrove tree species: the roles of mating system, hybridization, limited dispersal and extrinsic factors. PLoS ONE 10:e0118710

Oliveira-Neto JF, Boeger WA, Pie MR, Ostrensky A, Hungria DB (2007) Genetic structure of populations of the mangrove crab Ucides cordatus (Decapoda: Ocypodidae) at local and regional scales. Hydrobiologia 583:69–76

Pil MW, Boeger MR, Muschner VC, Pie MR, Ostrensky A, Boeger WA (2011) Postglacial north–south expansion of populations of Rhizophora mangle (Rhizophoraceae) along the Brazilian coast revealed by microsatellite analysis. Am J Bot 98:1031–1039

Pritchard JK, Stephens M, Donnelly P (2000) Inference of population structure using multilocus genotype data. Genetics 155:945–959

Puechmaille SJ (2016) The program structure does not reliably recover the correct population structure when sampling is uneven: subsampling and new estimators alleviate the problem. Mol Ecol Res 16:608–627

Rambaut A, Drummond AJ, Xie D, Baele G, Suchard MA (2018) Posterior summarization in Bayesian phylogenetics using Tracer 1.7. Syst Biol 67:901–904

Rozas J, Ferrer-Mata A, Sánchez-DelBarrio JC, Guirao-Rico S, Librado P, Ramos-Onsins SE et al. (2017) DnaSP 6: DNA sequence polymorphism analysis of large data sets. Mol Biol Evol 34:3299–3302

Scarsella G, Gresham J, Earley R (2018) Relationships between external sexually dimorphic characteristics and internal gonadal morphology in a sex‐changing fish. J Zool 305:133–140

Seegers L (1984) Zur revision der Rivulus-arten sudost-Brasiliens, mit einer Neubeschreibung von Rivulus luelingi n. spp. und. Rivulus caudomarginatus n. spp.(Pisces: Cyprinodontidae: Rivulinae). Bonn Zool Beitr 28:271–320

Siol M, Bonnin I, Olivieri I, Prosperi J, Ronfort J (2007) Effective population size associated with self‐fertilization: lessons from temporal changes in allele frequencies in the selfing annual Medicago truncatula. J Evol Biol 20:2349–2360

Takezaki N, Nei M, Tamura K (2010) POPTREE2: software for constructing population trees from allele frequency data and computing other population statistics with Windows interface. Mol Biol Evol 27:747–752

Tatarenkov A, Earley RL, Perlman BM, Taylor DS, Turner BJ, Avise JC (2015) Genetic subdivision and variation in selfing rates among Central American populations of the mangrove rivulus, Kryptolebias marmoratus. J Heredity 106:276–284

Tatarenkov A, Earley RL, Taylor DS, Avise JC (2012) Microevolutionary distribution of isogenicity in a self-fertilizing fish (Kryptolebias marmoratus) in the Florida keys. Integr Comp Biol 52:743–752

Tatarenkov A, Earley RL, Taylor DS, Davis WP, Avise JC (2020) Extensive hybridization and past introgression between divergent lineages in a quasi‐clonal hermaphroditic fish: ramifications for species concepts and taxonomy. J Evol Biol. https://doi.org/10.1111/jeb.13624

Tatarenkov A, Gao H, Mackiewicz M, Taylor DS, Turner BJ, Avise JC (2007) Strong population structure despite evidence of recent migration in a selfing hermaphroditic vertebrate, the mangrove killifish (Kryptolebias marmoratus). Mol Ecol 16:2701–2711

Tatarenkov A, Lima SM, Earley RL, Berbel-Filho WM, Vermeulen FB, Taylor DS et al. (2017) Deep and concordant subdivisions in the self-fertilizing mangrove killifishes (Kryptolebias) revealed by nuclear and mtDNA markers. Biol J Linn Soc 122:558–578

Tatarenkov A, Lima SMQ, Avise JC (2011) Extreme homogeneity and low genetic diversity in Kryptolebias ocellatus from south-eastern Brazil suggest a recent foundation for this androdioecious fish population. J Fish Biol 79:2095–2105

Tatarenkov A, Lima SMQ, Taylor DS, Avise JC (2009) Long-term retention of self-fertilization in a fish clade. Proc Natl Acad Sci USA 106:14456–14459

Tatarenkov A, Ring BC, Elder JF, Bechler DL, Avise JC (2010) Genetic composition of laboratory stocks of the self-fertilizing fish Kryptolebias marmoratus: a valuable resource for experimental research. PLoS ONE 5:e12863

Taylor DS (2012) Twenty-four years in the mud: what have we learned about the natural history and ecology of the mangrove rivulus, Kryptolebias marmoratus? Integr Comp Biol 52:724–736

Turko AJ, Tatarenkov A, Currie S, Earley RL, Platek A, Taylor DS et al. (2018) Emersion behaviour underlies variation in gill morphology and aquatic respiratory function in the amphibious fish Kryptolebias marmoratus. J Exp Biol 221:8

Turko AJ, Wright PA (2015) Evolution, ecology and physiology of amphibious killifishes (Cyprinodontiformes). J Fish Biol 87:815–835

van Oosterhout C, Hutchinson WF, Wills DP, Shipley P (2004) MICRO‐CHECKER: software for identifying and correcting genotyping errors in microsatellite data. Mol Ecol Notes 4:535–538

Vermeulen FB, Hrbek T (2005) Kryptolebias sepia n. sp.(Actinopterygii: Cyprinodontiformes: Rivulidae), a new killifish from the Tapanahony River drainage in southeast Surinam. Zootaxa 928:1–20

Webb SA, Graves JA, Macias-Garcia C, Magurran AE, Foighil DO, Ritchie MG (2004) Molecular phylogeny of the livebearing Goodeidae (Cyprinodontiformes). Mol Phylogenet Evol 30:527–544

Willi Y, Määttänen K (2011) The relative importance of factors determining genetic drift: mating system, spatial genetic structure, habitat and census size in Arabidopsis lyrata. New Phytol 189:1200–1209
Acknowledgements
We are grateful to ICMbio for providing help with accommodation and facilities, especially the teams working at Parque Estadual Serra do Mar: Núcleo Picinguaba and Parque Estadual Serra do Mar: Estação Ecológica Juréia-Itatins. We are thankful to Dr. Ingo Schlupp from Oklahoma University for his friendly review. We also thank Dr. Joana Robalo and two other anonymous reviewers whose comments and suggestions substantially improved the paper.
Funding
This work was supported by the National Geographic/Waitt program [W461-16] and by the Conselho Nacional de Desenvolvimento Científico e Tecnológico (CNPq) [233161/2014-7]. SMQL receives research productivity grant issued by CNPq [313644/2018-7]. AT is grateful for support from the funds provided by the University of California at Irvine to Prof. John C. Avise. HMVE-S received a postdoctoral fellowship from Coordenação de Aperfeiçoamento de Pessoal de Nível Superior-Brasil (CAPES).
Ethics declarations
Conflict of interest
The authors declare that they have no conflict of interest.
Ethical approval
This work followed the Swansea ethics committee guidelines (SU-Ethics-Student-250717/245). Sampling work was carried out under license ICMBio/SISBIO 57145-1/2017.
Additional information
Publisher's note Springer Nature remains neutral with regard to jurisdictional claims in published maps and institutional affiliations.
Supplementary information
About this article
Cite this article
Berbel-Filho, W.M., Tatarenkov, A., Espírito-Santo, H.M.V. et al. More than meets the eye: syntopic and morphologically similar mangrove killifish species show different mating systems and patterns of genetic structure along the Brazilian coast. Heredity 125, 340–352 (2020). https://doi.org/10.1038/s41437-020-00356-y
Received:

Revised:

Accepted:

Published:

Issue Date: