Abstract
Lysine-specific demethylase 5C (KDM5C) has been identified as an important chromatin remodeling gene, contributing to X-linked neurodevelopmental disorders (NDDs). The KDM5C gene, located in the Xp22 chromosomal region, encodes the H3K4me3-me2 eraser involved in neuronal plasticity and dendritic growth. Here we report 30 individuals carrying 13 novel and one previously identified KDM5C variants. Our cohort includes the first reported case of somatic mosaicism in a male carrying a KDM5C nucleotide substitution, and a dual molecular finding in a female carrying a homozygous truncating FUCA1 alteration together with a de novo KDM5C variant. With the use of next generation sequencing strategies, we detected 1 frameshift, 1 stop codon, 2 splice-site and 10 missense variants, which pathogenic role was carefully investigated by a thorough bioinformatic analysis. The pattern of X-chromosome inactivation was found to have an impact on KDM5C phenotypic expression in females of our cohort. The affected individuals of our case series manifested a neurodevelopmental condition characterized by psychomotor delay, intellectual disability with speech disorders, and behavioral features with particular disturbed sleep pattern; other observed clinical manifestations were short stature, obesity and hypertrichosis. Collectively, these findings expand the current knowledge about the pathogenic mechanisms leading to dysfunction of this important chromatin remodeling gene and contribute to a refinement of the KDM5C phenotypic spectrum.
Access options
Subscribe to Journal
Get full journal access for 1 year
$119.00
only $9.92 per issue
All prices are NET prices.
VAT will be added later in the checkout.
Tax calculation will be finalised during checkout.
Buy article
Get time limited or full article access on ReadCube.
$32.00
All prices are NET prices.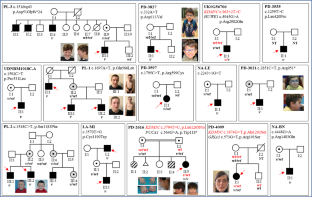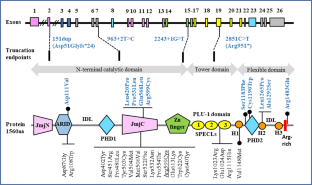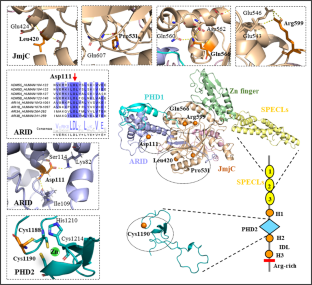 Data availability
All data generated or analysed during this study are included in this published article and its Supplementary Information files. Genetic variants reported in this study have been submitted to the "Global Variome shared LOVD" and they can be accessed using the url databases.lovd.nl/shared/genes/KDM5C. (Individual IDs: 405782, 405784, 405804, 405805, 405807, 408280, 408281, 408282, 408285, 408297, 408298, 408300, 408317, 408318, 408319, 408320).
References
Iwase S, Lan F, Bayliss P, de la Torre-Ubieta L, Huarte M, Qi HH, et al. The X-Linked Mental Retardation Gene SMCX/JARID1C Defines a Family of Histone H3 Lysine 4 Demethylases. Cell. 2007;128:1077–88.

Claes S, Devriendt K, Van Goethem G, Roelen L, Meireleire J, Raeymaekers P, et al. Novel syndromic form of X-linked complicated spastic paraplegia. Am J Med Genet. 2000;94:1–4.

Jensen LR, Amende M, Gurok U, Moser B, Gimmel V, Tzschach A, et al. Mutations in the JARID1C Gene, Which Is Involved in Transcriptional Regulation and Chromatin Remodeling, Cause X-Linked Mental Retardation. Am J Hum Genet. 2005;76:227–36.

Hatch HAM, Secombe J. Molecular and cellular events linking variants in the histone demethylase KDM5C to the intellectual disability disorder Claes-Jensen syndrome. FEBS J. 2021 https://doi.org/10.1111/febs.16204. Epub ahead of print.

Adegbola A, Gao H, Sommer S, Browning M. A novel mutation in JARID1C/SMCX in a patient with autism spectrum disorder (ASD). Am J Med Genet Part A. 2008;146A:505–11.

Tzschach A, Lenzner S, Moser B, Reinhardt R, Chelly J, Fryns JP, et al. Novel JARID1C/SMCX mutations in patients with X-linked mental retardation. Hum Mutat. 2006;27:389.

Abidi FE, Holloway L, Moore CA, Weaver DD, Simensen RJ, Stevenson RE, et al. Mutations in JARID1C are associated with X-linked mental retardation, short stature and hyperreflexia. J Med Genet. 2008;45:787–93.

Rujirabanjerd S, Nelson J, Tarpey PS, Hackett A, Edkins S, Raymond FL, et al. Identification and characterization of two novel JARID1C mutations: suggestion of an emerging genotype–phenotype correlation. Eur J Hum Genet. 2010;18:330–5.

Ounap K, Puusepp-Benazzouz H, Peters M, Vaher U, Rein R, Proos A, et al. A novel c.2T > C mutation of the KDM5C/JARID1C gene in one large family with X-linked intellectual disability. Eur J Med Genet. 2012;55:178–84.

Brookes E, Laurent B, Õunap K, Carroll R, Moeschler JB, Field M, et al. Mutations in the intellectual disability gene KDM5C reduce protein stability and demethylase activity. Hum Mol Genet. 2015;24:2861–72.

Carmignac V, Nambot S, Lehalle D, Callier P, Moortgat S, Benoit V, et al. Further delineation of the female phenotype with KDM5C disease causing variants: 19 new individuals and review of the literature. Clin Genet. 2020;98:43–55.

Vallianatos CN, Farrehi C, Friez MJ, Burmeister M, Keegan CE, Iwase S. Altered Gene-Regulatory Function of KDM5C by a Novel Mutation Associated With Autism and Intellectual Disability. Front Mol Neurosci. 2018;11:104.

Li N, Carrel L. Escape from X chromosome inactivation is an intrinsic property of the Jarid1c locus. Proc Natl Acad Sci USA. 2008;105:17055–60.

Xu J, Deng X, Disteche CM. Sex-Specific Expression of the X-Linked Histone Demethylase Gene Jarid1c in Brain. PLoS ONE. 2008;3:e2553.

Grafodatskaya D, Chung BH, Butcher DT, Turinsky AL, Goodman SJ, Choufani S, et al. Multilocus loss of DNA methylation in individuals with mutations in the histone H3 Lysine 4 Demethylase KDM5C. BMC Med Genomics. 2013;6:1.

Bonthuis PJ, Rissman EF. Neural growth hormone implicated in body weight sex differences. Endocrinology. 2013;154:3826–35.

Link JC, Wiese CB, Chen X, Avetisyan R, Ronquillo E, Ma F, et al. X chromosome dosage of histone demethylase KDM5C determines sex differences in adiposity. J Clin Investig. 2020;130:5688–702.

Wang Z, Liu D, Xu B, Tian R, Zuo Y. Modular arrangements of sequence motifs determine the functional diversity of KDM proteins. Brief Bioinform. 2021;22:bbaa215.

Tahiliani M, Mei P, Fang R, Leonor T, Rutenberg M, Shimizu F, et al. The histone H3K4 demethylase SMCX links REST target genes to X-linked mental retardation. Nature. 2007;447:601–5.

Iossifov I, O'Roak BJ, Sanders SJ, Ronemus M, Krumm N, Levy D, et al. The contribution of de novo coding mutations to autism spectrum disorder. Nature. 2014;515:216–21.

Ahmed Alfares. A multicenter clinical exome study in unselected cohorts from a consanguineous population of Saudi Arabia demonstrated a high diagnostic yield | Elsevier Enhanced Reader. 2017. https://reader.elsevier.com/reader/sd/pii/S1096719217300276?token=A2A12F7BD123C04F06ACBE994EA1544D30DA155603B4A72FFD4E1FE9E982856995CC8667C923167AF41C8BDEC4306890&originRegion=eu-west-1&originCreation=20211021131846.

Faundes V, Newman WG, Bernardini L, Canham N, Clayton-Smith J, Dallapiccola B, et al. Histone Lysine Methylases and Demethylases in the Landscape of Human Developmental Disorders. Am J Hum Genet. 2018;102:175–87.

Satterstrom FK, Kosmicki JA, Wang J, Breen MS, De Rubeis S, An JY, et al. Large-Scale Exome Sequencing Study Implicates Both Developmental and Functional Changes in the Neurobiology of Autism. Cell 2020;180:568–84.

Wu PM, Yu WH, Chiang CW, Wu CY, Chen JS, Tu YF. Novel Variations in the KDM5C Gene Causing X-Linked Intellectual Disability. Neurol Genet. 2021;8:e646.

Aspromonte MC, Bellini M, Gasparini A, Carraro M, Bettella E, Polli R, et al. Characterization of intellectual disability and autism comorbidity through gene panel sequencing. Hum Mutat. 2019;40:1346–63.

Hu H, Haas SA, Chelly J, Van Esch H, Raynaud M, de Brouwer APM, et al. X-exome sequencing of 405 unresolved families identifies seven novel intellectual disability genes. Mol Psychiatry. 2016;21:133–48.

Musacchia F, Ciolfi A, Mutarelli M, Bruselles A, Castello R, Pinelli M, et al. VarGenius executes cohort-level DNA-seq variant calling and annotation and allows to manage the resulting data through a PostgreSQL database. BMC Bioinform. 2018;19:477.

Piard J, Hu JH, Campeau PM, Rzońca S, Van Esch H, Vincent E, et al. FRMPD4 mutations cause X-linked intellectual disability and disrupt dendritic spine morphogenesis. Hum Mol Genet. 2018;27:589–600.

Pippucci T, Licchetta L, Baldassari S, Marconi C, De Luise M, Myers C, et al. Contribution of ultrarare variants in mTOR pathway genes to sporadic focal epilepsies. Ann Clin Transl Neurol. 2019;6:475–85.

Richards S, Aziz N, Bale S, Bick D, Das S, Gastier-Foster J, et al. Standards and Guidelines for the Interpretation of Sequence Variants: A Joint Consensus Recommendation of the American College of Medical Genetics and Genomics and the Association for Molecular Pathology. Genet Med: Off J Am Coll Med Genet. 2015;17:405–24.

Li Q, Wang K. InterVar: Clinical Interpretation of Genetic Variants by the 2015 ACMG-AMP Guidelines. Am J Hum Genet. 2017;100:267–80.

Kopanos C, Tsiolkas V, Kouris A, Chapple CE, Albarca Aguilera M, Meyer R, et al. VarSome: the human genomic variant search engine. Bioinformatics. 2019;35:1978–80.

Bertelsen B, Tümer Z, Ravn K. Three New Loci for Determining X Chromosome Inactivation Patterns. J Mol Diagn. 2011;13:537–40.

Deciphering Developmental Disorders Study. Large-scale discovery of novel genetic causes of developmental disorders. Nature. 2015;519:223–8.

Dorosz J, Kristensen LH, Aduri NG, Mirza O, Lousen R, Bucciarelli S, et al. Molecular architecture of the Jumonji C family histone demethylase KDM5B. Sci Rep. 2019;9:4019.

Horton JR, Engstrom A, Zoeller EL, Liu X, Shanks JR, Zhang X, et al. Characterization of a Linked Jumonji Domain of the KDM5/JARID1 Family of Histone H3 Lysine 4 Demethylases. J Biol Chem. 2016;291:2631–46.

Wu Y, Arai AC, Rumbaugh G, Srivastava AK, Turner G, Hayashi T, et al. Mutations in ionotropic AMPA receptor 3 alter channel properties and are associated with moderate cognitive impairment in humans. Proc Natl Acad Sci USA. 2007;104:18163–8.

Philips AK, Sirén A, Avela K, Somer M, Peippo M, Ahvenainen M, et al. X-exome sequencing in Finnish families with Intellectual Disability—four novel mutations and two novel syndromic phenotypes. Orphanet J Rare Dis. 2014;9:49.

Cerminara M, Spirito G, Pisciotta L, Squillario M, Servetti M, Divizia MT, et al. Case Report: Whole Exome Sequencing Revealed Disease-Causing Variants in Two Genes in a Patient With Autism Spectrum Disorder, Intellectual Disability, Hyperactivity, Sleep and Gastrointestinal Disturbances. Front Genet. 2021;12:625564.

Horesh EJ, Chéret J, Paus R. Growth Hormone and the Human Hair Follicle. Int J Mol Sci. 2021;22:13205.

Hatch HAM, O'Neil MH, Marion RW, Secombe J, Shulman LH. Caregiver-reported characteristics of children diagnosed with pathogenic variants in KDM5C. Am J Med Genet Part A. 2021;185:2951–8.

DiTacchio L, Le HD, Vollmers C, Hatori M, Witcher M, Secombe J, et al. Histone Lysine Demethylase JARID1a Activates CLOCK-BMAL1 and Influences the Circadian Clock. Science 2011;333:1881–5.

Talebizadeh Z, Shah A, DiTacchio L. The potential role of a retrotransposed gene and a long noncoding RNA in regulating an X-linked chromatin gene (KDM5C): Novel epigenetic mechanism in autism. Autism Res. 2019;12:1007–21.

McMichael G, Bainbridge MN, Haan E, Corbett M, Gardner A, Thompson S, et al. Whole-exome sequencing points to considerable genetic heterogeneity of cerebral palsy. Mol Psychiatry. 2015;20:176–82.

Fieremans N, Van Esch H, Holvoet M, Van Goethem G, Devriendt K, Rosello M, et al. Identification of Intellectual Disability Genes in Female Patients with a Skewed X-Inactivation Pattern. Hum Mutat. 2016;37:804–11.

Brand BA, Blesson AE, Smith-Hicks CL. The Impact of X-Chromosome Inactivation on Phenotypic Expression of X-Linked Neurodevelopmental Disorders. Brain Sci. 2021;11:904.

Coursimault J, Goldenberg A, Nicolas G, Saugier-Veber P, Coutant S, Vincent A, et al. Contribution of DNA methylation profiling to the reclassification of a variant of uncertain significance in the KDM5C gene. Eur J Med Genet. 2022;65:104556.

Vallianatos CN, Iwase S. Disrupted intricacy of histone H3K4 methylation in neurodevelopmental disorders. Epigenomics. 2015;7:503–19.

Poeta L, Padula A, Attianese B, Valentino M, Verrillo L, Filosa S, et al. Histone demethylase KDM5C is a SAHA-sensitive central hub at the crossroads of transcriptional axes involved in multiple neurodevelopmental disorders. Hum Mol Genet. 2019;28:4089–102.

Vallianatos CN, Raines B, Porter RS, Bonefas KM, Wu MC, Garay PM, et al. Mutually suppressive roles of KMT2A and KDM5C in behaviour, neuronal structure, and histone H3K4 methylation. Commun Biol. 2020;3:278.
Acknowledgements
We would like to thank all the families involved in this study for their generous participation. We are grateful to "SPECIALmente Noi Onlus Foundation" for promoting research in epilepsy and autism spectrum disorder (ASD). We also thank Francesco Benedicenti (Department of Pediatrics, Regional Hospital of Bolzano, Bolzano, Italy), Vincenzo Nigro (Department of Precision Medicine, University "Luigi Vanvitelli", Naples, Italy; Telethon Institute of Genetics and Medicine TIGEM, Pozzuoli, Italy) and Tommaso Pippucci (University of Bologna, Bologna, Italy) for their generous collaboration in recruiting KDM5C cases. This study makes use of DECIPHER (http://www.deciphergenomics.org), which is funded by Wellcome. AM, AT, CC, SD and EK are members of the European Reference Network for Rare malformation syndromes, intellectual and other neurodevelopmental disorders (ERN-ITHACA; https://ern-ithaca.eu/); LL is member of the European Reference Network for Rare and Complex Epilepsies (ERN-EPICARE; https://epi-care.eu/).
Funding
This work was supported by Italian Ministry of Economic Development (Grant F/050011/02/X32 to MGM); Italian Ministry of Health Young Investigator (Grant GR-2011-02347754 to EL); Fondazione Pierfranco e Luisa Mariani (Grant CM22 to CC); Polish National Science Center (Grant 2012/07/B/NZ4/01764); Telethon Foundation, Telethon Undiagnosed Diseases Program (Grant GSP15001) and Maria Rosaria Maglione Onlus Foundation (Grant MRM#2020 to DD).
Ethics declarations
Competing interests
The authors declare no competing interests.
Ethics approval and consent to participate
According to approved protocols of each referring clinical center, written informed consent was obtained from the probands or their legal representatives for specimen collection and genetic analysis. All individuals recruited provided informed consent for their participation in the study and publication of relevant findings.
Additional information
Publisher's note Springer Nature remains neutral with regard to jurisdictional claims in published maps and institutional affiliations.
Supplementary information
About this article
Cite this article
Leonardi, E., Aspromonte, M.C., Drongitis, D. et al. Expanding the genetics and phenotypic spectrum of Lysine-specific demethylase 5C (KDM5C): a report of 13 novel variants. Eur J Hum Genet 31, 202–215 (2023). https://doi.org/10.1038/s41431-022-01233-4
Received:

Revised:

Accepted:

Published:

Issue Date:

DOI: https://doi.org/10.1038/s41431-022-01233-4