Abstract
Background/objectives
High plain water intake (PWI) lowered body weight, reduced total energy intake, and increased fat oxidation and energy consumption. Because such factors are closely linked to metabolic disorders, which are the main risk factors for nonalcoholic fatty liver disease (NAFLD) onset, it was speculated that higher PWI was associated with a lower risk of NAFLD. However, no prior human studies have examined such relationship. Therefore, the purpose of this study was to evaluate the relationship between PWI and newly diagnosed NAFLD in a large-scale adult population.
Subjects/methods
A total of 16,434 participants from 2010 to 2019 in Tianjin, China, were included in this cross-sectional study. PWI was assessed by using a validated self-administered food frequency questionnaire, and it was categorized into three subgroups for analysis: ≤3 cups/day, 4–7 cups/day, and >7 cups/day. NAFLD was diagnosed by abdominal ultrasound. Logistic regression analysis was used to calculate odds ratios (ORs) and 95% confidence intervals (CIs) for the relationship between PWI and NAFLD.
Results
Among 16,434 participants, 20.5% (3,364) had newly diagnosed NAFLD. After controlling for demographic characteristics, lifestyle risk factors, and dietary intake, the adjusted ORs (95% CIs) for having NAFLD across PWI categories were 1.00 (reference) for ≤3 cups/day, 0.84 (0.72, 0.97) for 4–7 cups/day, and 0.77 (0.63, 0.94) for >7 cups/day in males and 1.00 (reference) for ≤3 cups/day, 1.02 (0.81, 1.27) for 4–7 cups/day, and 1.08 (0.78, 1.49) for >7 cups/day in females, respectively.
Conclusions
This study is the first to show that higher PWI is independently related to lower newly diagnosed NAFLD among males, but not females. Further studies are needed to explore the causal relationship.
Access options
Subscribe to Journal
Get full journal access for 1 year
$119.00
only $9.92 per issue
All prices are NET prices.
VAT will be added later in the checkout.
Tax calculation will be finalised during checkout.
Buy article
Get time limited or full article access on ReadCube.
$32.00
All prices are NET prices.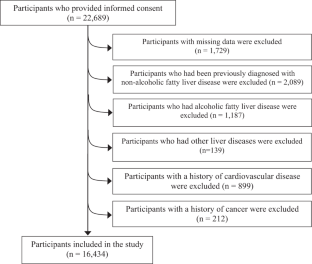 References
Anstee QM, McPherson S, Day CP. How big a problem is non-alcoholic fatty liver disease? BMJ. 2011;343:d3897.

Sapp V, Gaffney L, EauClaire SF, Matthews RP. Fructose leads to hepatic steatosis in zebrafish that is reversed by mechanistic target of rapamycin (mTOR) inhibition. Hepatology. 2014;60:1581–92.

Gorden DL, Ivanova PT, Myers DS, McIntyre JO, VanSaun MN, Wright JK, et al. Increased diacylglycerols characterize hepatic lipid changes in progression of human nonalcoholic fatty liver disease; comparison to a murine model. PLoS ONE. 2011;6:e22775.

Lonardo A, Ballestri S, Marchesini G, Angulo P, Loria P. Nonalcoholic fatty liver disease: a precursor of the metabolic syndrome. Dig Liver Dis. 2015;47:181–90.

Angulo P. Nonalcoholic fatty liver disease. N Engl J Med. 2002;346:1221–31.

Younossi ZM, Koenig AB, Abdelatif D, Fazel Y, Henry L, Wymer M. Global epidemiology of nonalcoholic fatty liver disease-Meta-analytic assessment of prevalence, incidence, and outcomes. Hepatology. 2016;64:73–84.

Amarapurkar DN, Hashimoto E, Lesmana LA, Sollano JD, Chen PJ, Goh KL, et al. How common is non-alcoholic fatty liver disease in the Asia-Pacific region and are there local differences? J Gastroenterol Hepatol. 2007;22:788–93.

Hallsworth K, Avery L, Trenell MI. Targeting lifestyle behavior change in adults with NAFLD during a 20-min consultation: summary of the dietary and exercise literature. Curr Gastroenterol Rep. 2016;18:11.

Guo Y, Xiong Y, Sheng Q, Zhao S, Wattacheril J, Flynn CR. A micro-RNA expression signature for human NAFLD progression. J Gastroenterol. 2016;51:1022–30.

Sawka MN, Cheuvront SN, Carter R 3rd. Human water needs. Nutr Rev. 2005;63:S30–9.

Popkin BM, D'Anci KE, Rosenberg IH. Water, hydration, and health. Nutr Rev. 2010;68:439–58.

Stookey JJ. Negative, null and beneficial effects of drinking water on energy intake, energy expenditure, fat oxidation and weight change in randomized trials: a qualitative review. Nutrients. 2016;8:19.

Charriere N, Miles-Chan JL, Montani JP, Dulloo AG. Water-induced thermogenesis and fat oxidation: a reassessment. Nutr Diabetes. 2015;5:e190.

Boschmann M, Steiniger J, Hille U, Tank J, Adams F, Sharma AM, et al. Water-induced thermogenesis. J Clin Endocrinol Metab. 2003;88:6015–9.

Kocelak P, Zak-Golab A, Rzemieniuk A, Smetek J, Sordyl R, Tyrka A, et al. The influence of oral water load on energy expenditure and sympatho-vagal balance in obese and normal weight women. Arch Med Sci. 2012;8:1003–8.

Rochlani Y, Pothineni NV, Kovelamudi S, Mehta JL. Metabolic syndrome: pathophysiology, management, and modulation by natural compounds. Ther Adv Cardiovasc Dis. 2017;11:215–25.

Ballestri S, Zona S, Targher G, Romagnoli D, Baldelli E, Nascimbeni F, et al. Nonalcoholic fatty liver disease is associated with an almost twofold increased risk of incident type 2 diabetes and metabolic syndrome. Evidence from a systematic review and meta-analysis. J Gastroenterol Hepatol. 2016;31:936–44.

Meng G, Liu F, Fang L, Li C, Zhang Q, Liu L, et al. The overall computer/mobile devices usage time is related to newly diagnosed non-alcoholic fatty liver disease: a population-based study. Ann Med. 2016;48:568–76.

Su Q, Yu B, He H, Zhang Q, Meng G, Wu H, et al. Nut consumption is associated with depressive symptoms among Chinese adults. Depress Anxiety. 2016;33:1065–72.

Yu B, Yu F, Su Q, Zhang Q, Liu L, Meng G, et al. A J-shaped association between soy food intake and depressive symptoms in Chinese adults. Clin Nutr. 2018;37:1013–8.

Gao X, Fan JG, Study Group of L, Metabolism CSoE. Diagnosis and management of non-alcoholic fatty liver disease and related metabolic disorders: consensus statement from the Study Group of Liver and Metabolism, Chinese Society of Endocrinology. J Diabetes. 2013;5:406–15.

Chitturi S, Farrell GC, Hashimoto E, Saibara T, Lau GK, Sollano JD, et al. Non-alcoholic fatty liver disease in the Asia-Pacific region: definitions and overview of proposed guidelines. J Gastroenterol Hepatol. 2007;22:778–87.

Zeng MD, Fan JG, Lu LG, Li YM, Chen CW, Wang BY, et al. Guidelines for the diagnosis and treatment of nonalcoholic fatty liver diseases. J Dig Dis. 2008;9:108–12.

Craig CL, Marshall AL, Sjostrom M, Bauman AE, Booth ML, Ainsworth BE, et al. International physical activity questionnaire: 12-country reliability and validity. Med Sci Sports Exerc. 2003;35:1381–95.

Qu NN, Li KJ. Study on the reliability and validity of international physical activity questionnaire (Chinese Vision, IPAQ). Zhonghua Liu Xing Bing Xue Za Zhi. 2004;25:265–8.

Alberti KG, Eckel RH, Grundy SM, Zimmet PZ, Cleeman JI, Donato KA, et al. Harmonizing the metabolic syndrome: a joint interim statement of the International Diabetes Federation Task Force on Epidemiology and Prevention; National Heart, Lung, and Blood Institute; American Heart Association; World Heart Federation; International Atherosclerosis Society; and International Association for the Study of Obesity. Circulation. 2009;120:1640–5.

Pan A, Malik VS, Schulze MB, Manson JE, Willett WC, Hu FB. Plain-water intake and risk of type 2 diabetes in young and middle-aged women. Am J Clin Nutr. 2012;95:1454–60.

Carroll HA, Davis MG, Papadaki A. Higher plain water intake is associated with lower type 2 diabetes risk: a cross-sectional study in humans. Nutr Res. 2015;35:865–72.

Milla-Tobarra M, Garcia-Hermoso A, Lahoz-Garcia N, Notario-Pacheco B, Lucas-de la CruzL, Pozuelo-Carrascosa DP, et al. The association between water intake, body composition and cardiometabolic factors among children—the Cuenca study. Nutr Hosp. 2016;33:312.

Tate DF, Turner-McGrievy G, Lyons E, Stevens J, Erickson K, Polzien K, et al. Replacing caloric beverages with water or diet beverages for weight loss in adults: main results of the Choose Healthy Options Consciously Everyday (CHOICE) randomized clinical trial. Am J Clin Nutr. 2012;95:555–63.

Meng G, Zhang B, Yu F, Li C, Zhang Q, Liu L, et al. Soft drinks consumption is associated with nonalcoholic fatty liver disease independent of metabolic syndrome in Chinese population. Eur J Nutr. 2018;57:2113–21.

Siddiqi Z, Karoli R, Fatima J, Khanduri S, Varshneya S, Ahmad SS. Soft drinks consumption and the risk of nonalcoholic fatty liver disease. J Assoc Physicians India. 2017;65:28–32.

Illescas-Zarate D, Espinosa-Montero J, Flores M, Barquera S. Plain water consumption is associated with lower intake of caloric beverage: cross-sectional study in Mexican adults with low socioeconomic status. BMC Public Health. 2015;15:405.

Campbell SM. Hydration needs throughout the lifespan. J Am Coll Nutr. 2007;26:585S–7S.

Ranjbar R, Khamesipour F, Jonaidi-Jafari N, Rahimi E. Helicobacter pylori isolated from Iranian drinking water: vacA, cagA, iceA, oipA and babA2 genotype status and antimicrobial resistance properties. FEBS Open Bio. 2016;6:433–41.

Dulloo AG. The search for compounds that stimulate thermogenesis in obesity management: from pharmaceuticals to functional food ingredients. Obes Rev. 2011;12:866–83.

Hursel R, Westerterp-Plantenga MS. Catechin- and caffeine-rich teas for control of body weight in humans. Am J Clin Nutr. 2013;98:1682S–93S.

Jordan J, Shannon JR, Black BK, Ali Y, Farley M, Costa F, et al. The pressor response to water drinking in humans: a sympathetic reflex? Circulation. 2000;101:504–9.

Scott EM, Greenwood JP, Gilbey SG, Stoker JB, Mary DA. Water ingestion increases sympathetic vasoconstrictor discharge in normal human subjects. Clin Sci. 2001;100:335–42.

Bruno S, Maisonneuve P, Castellana P, Rotmensz N, Rossi S, Maggioni M, et al. Incidence and risk factors for non-alcoholic steatohepatitis: prospective study of 5408 women enrolled in Italian tamoxifen chemoprevention trial. BMJ. 2005;330:932.

McKenzie J, Fisher BM, Jaap AJ, Stanley A, Paterson K, Sattar N. Effects of HRT on liver enzyme levels in women with type 2 diabetes: a randomized placebo-controlled trial. Clin Endocrinol. 2006;65:40–4.

Tchernof A, Belanger C, Morisset AS, Richard C, Mailloux J, Laberge P, et al. Regional differences in adipose tissue metabolism in women: minor effect of obesity and body fat distribution. Diabetes. 2006;55:1353–60.

Jensen MD, Cardin S, Edgerton D, Cherrington A. Splanchnic free fatty acid kinetics. Am J Physiol Endocrinol Metab. 2003;284:E1140–8.

Milic S, Lulic D, Stimac D. Non-alcoholic fatty liver disease and obesity: biochemical, metabolic and clinical presentations. World J Gastroenterol. 2014;20:9330–7.
Acknowledgements
This study was supported by grants from the National Natural Science Foundation of China (nos 81941024, 81872611, 91746205, and 81673166).
Ethics declarations
Conflict of interest
The authors declare no competing interests.
Additional information
Publisher's note Springer Nature remains neutral with regard to jurisdictional claims in published maps and institutional affiliations.
About this article
Cite this article
Wang, X., Lin, S., Gan, S. et al. Higher plain water intake is related to lower newly diagnosed nonalcoholic fatty liver disease risk: a population-based study. Eur J Clin Nutr 75, 1801–1808 (2021). https://doi.org/10.1038/s41430-021-00891-9
Received:

Revised:

Accepted:

Published:

Issue Date:

DOI: https://doi.org/10.1038/s41430-021-00891-9