Abstract
Apoptotic cell (AC) clearance is a complex process in which phagocytes recognize, engulf, and digest ACs during organismal development and tissue homeostasis. Impaired efferocytosis results in developmental defects and autoimmune diseases. In the current study, we performed RNA-sequencing to systematically identify regulators involved in the phagocytosis of ACs by Drosophila melanogaster macrophage-like S2 cells, followed by targeted RNA interference screening. Wunen2 (Wun2), a homolog of mammalian lipid phosphate phosphatase (LPP), was deemed as required for efferocytosis both in vitro and in vivo. However, efferocytosis was independent of Wun2 phosphatase activity. Proteomic analysis further revealed that Rab11 and its effector Rip11 are interaction partners of Wun2. Therefore, Wun2 collaborates with Rip11 and Rab11 to mediate efficient recycling of the phagocytic receptor βν integrin subunit to the plasma membrane. The loss of Wun2 results in the routing of βv integrin subunit (Itgbn) into lysosomes, leading to its degradation. The deficiency of βv integrin subunit on the cell surface leads to aberrant and disorganized actin cytoskeleton, thereby influencing the formation of macrophage pseudopodia toward ACs and thus failure to engulf them. The findings of this study provide insights that clarify how phagocytes coordinate AC signals and adopt a precise mechanism for the maintenance of engulfment receptors at their cell membrane surface to regulate efferocytosis.
Access options
Subscribe to Journal
Get full journal access for 1 year
$119.00
only $9.92 per issue
All prices are NET prices.
VAT will be added later in the checkout.
Tax calculation will be finalised during checkout.
Buy article
Get time limited or full article access on ReadCube.
$32.00
All prices are NET prices.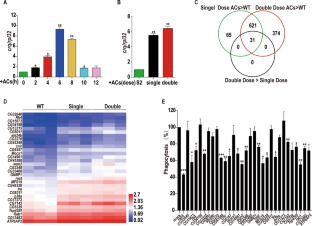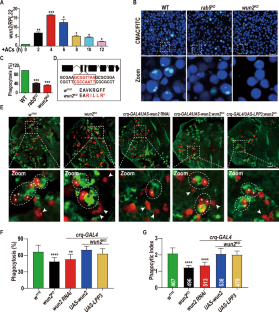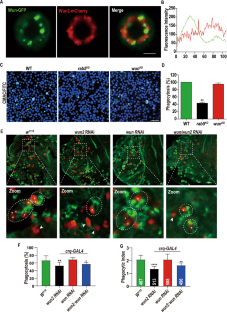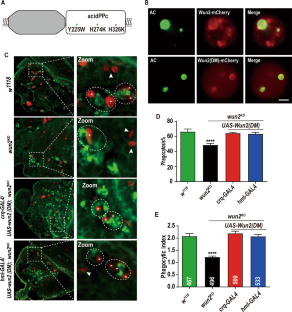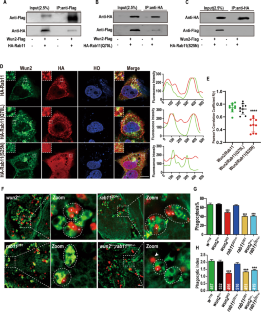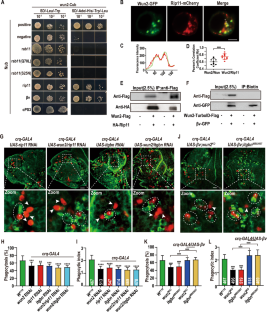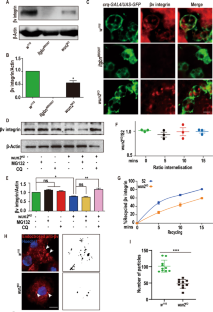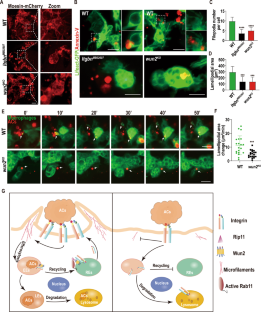 Data availability
All data are provided in the manuscript and Supplementary files or are available from the corresponding authors upon reasonable request.
References
Kumar S, Birge RB. Efferocytosis. Curr Biol. 2016;26:R558–R559.

Cheng X, Ferrell JE Jr. Apoptosis propagates through the cytoplasm as trigger waves. Science. 2018;361:607–12.

Liu Z, Davidson A. Taming lupus-a new understanding of pathogenesis is leading to clinical advances. Nat Med. 2012;18:871–82.

Poon IK, Lucas CD, Rossi AG, Ravichandran KS. Apoptotic cell clearance: basic biology and therapeutic potential. Nat Rev Immunol. 2014;14:166–80.

Ley K, Miller YI, Hedrick CC. Monocyte and macrophage dynamics during atherogenesis. Arterioscler Thromb Vasc Biol. 2011;31:1506–16.

Mattson MP. Apoptosis in neurodegenerative disorders. Nat Rev Mol Cell Biol. 2000;1:120–9.

Wood W, Martin P. Macrophage functions in tissue patterning and disease: New insights from the fly. Dev Cell. 2017;40:221–33.

Manaka J, Kuraishi T, Shiratsuchi A, Nakai Y, Higashida H, Henson P, et al. Draper-mediated and phosphatidylserine-independent phagocytosis of apoptotic cells by Drosophila hemocytes/macrophages. J Biol Chem. 2004;279:48466–76.

Zhou Z, Hartwieg E, Horvitz HR. CED-1 is a transmembrane receptor that mediates cell corpse engulfment in C. elegans. Cell. 2001;104:43–56.

Franc NC, Dimarcq JL, Lagueux M, Hoffmann J, Ezekowitz RA. Croquemort, a novel Drosophila hemocyte/macrophage receptor that recognizes apoptotic cells. Immunity. 1996;4:431–43.

Franc NC, Heitzler P, Ezekowitz RA, White K. Requirement for croquemort in phagocytosis of apoptotic cells in Drosophila. Science. 1999;284:1991–4.

Nagaosa K, Okada R, Nonaka S, Takeuchi K, Fujita Y, Miyasaka T, et al. Integrin betanu-mediated phagocytosis of apoptotic cells in Drosophila embryos. J Biol Chem. 2011;286:25770–7.

Nonaka S, Nagaosa K, Mori T, Shiratsuchi A, Nakanishi Y. Integrin alphaPS3/betanu-mediated phagocytosis of apoptotic cells and bacteria in Drosophila. J Biol Chem. 2013;288:10374–80.

Kok BP, Venkatraman G, Capatos D, Brindley DN. Unlike two peas in a pod: lipid phosphate phosphatases and phosphatidate phosphatases. Chem Rev. 2012;112:5121–46.

Burnett C, Howard K. Fly and mammalian lipid phosphate phosphatase isoforms differ in activity both in vitro and in vivo. EMBO Rep. 2003;4:793–9.

Waggoner DW, Gómez-Muñoz A, Dewald J, Brindley DN. Phosphatidate phosphohydrolase catalyzes the hydrolysis of ceramide 1-phosphate, lysophosphatidate, and sphingosine 1-phosphate. J Biol Chem. 1996;271:16506–9.

Hanyu-Nakamura K, Kobayashi S, Nakamura A. Germ cell-autonomous Wunen2 is required for germline development in Drosophila embryos. Development. 2004;131:4545–53.

Starz-Gaiano M, Cho NK, Forbes A, Lehmann R. Spatially restricted activity of a Drosophila lipid phosphatase guides migrating germ cells. Development. 2001;128:983–91.

Ile KE, Tripathy R, Goldfinger V, Renault AD. Wunen, a Drosophila lipid phosphate phosphatase, is required for septate junction-mediated barrier function. Development. 2012;139:2535–46.

Nema R, Kumar A. Sphingosine-1-phosphate catabolizing enzymes predict better prognosis in triple-negative breast cancer patients and correlates with tumor-infiltrating immune cells. Front Mol Biosci. 2021;8:697922.

De Franceschi N, Hamidi H, Alanko J, Sahgal P, Ivaska J. Integrin traffic - the update. J Cell Sci. 2015;128:839–52.

Sayedyahossein S, Dagnino L. Integrins and small GTPases as modulators of phagocytosis. Int Rev Cell Mol Biol. 2013;302:321–54.

Moreno-Layseca P, Icha J, Hamidi H, Ivaska J. Integrin trafficking in cells and tissues. Nat Cell Biol. 2019;21:122–32.

Högnäs G, Tuomi S, Veltel S, Mattila E, Murumägi A, Edgren H, et al. Cytokinesis failure due to derailed integrin traffic induces aneuploidy and oncogenic transformation in vitro and in vivo. Oncogene. 2012;31:3597–606.

Dozynkiewicz MA, Jamieson NB, Macpherson I, Grindlay J, van den Berghe PV, von Thun A, et al. Rab25 and CLIC3 collaborate to promote integrin recycling from late endosomes/lysosomes and drive cancer progression. Dev Cell. 2012;22:131–45.

Muller PA, Caswell PT, Doyle B, Iwanicki MP, Tan EH, Karim S, et al. Mutant p53 drives invasion by promoting integrin recycling. Cell. 2009;139:1327–41.

Goto A, Kadowaki T, Kitagawa Y. Drosophila hemolectin gene is expressed in embryonic and larval hemocytes and its knock down causes bleeding defects. Dev Biol. 2003;264:582–91.

Stramer B, Moreira S, Millard T, Evans I, Huang CY, Sabet O, et al. Clasp-mediated microtubule bundling regulates persistent motility and contact repulsion in Drosophila macrophages in vivo. J Cell Biol. 2010;189:681–9.

Zhang N, Zhang J, Purcell K, Cheng Y, Howard K. The Drosophila protein Wunen repels migrating germ cells. Nature. 1997;385:64–67.

Renault AD, Sigal YJ, Morris AJ, Lehmann R. Soma-germ line competition for lipid phosphate uptake regulates germ cell migration and survival. Science. 2004;305:1963–6.

Starz-Gaiano M, Cho N, Forbes A, Lehmann R. Spatially restricted activity of a Drosophila lipid phosphatase guides migrating germ cells. Development. 2001;128:983–91.

Naslavsky N, Caplan S. The enigmatic endosome - sorting the ins and outs of endocytic trafficking. J Cell Sci. 2018;131:jcs216499.

Homma Y, Hiragi S, Fukuda M. Rab family of small GTPases: an updated view on their regulation and functions. FEBS J. 2021;288:36–55.

Vetter M, Wang J, Lorentzen E, Deretic D. Novel topography of the Rab11-effector interaction network within a ciliary membrane targeting complex. Small GTPases. 2015;6:165–73.

Humtsoe JO, Bowling RA Jr, Feng S, Wary KK. Murine lipid phosphate phosphohydrolase-3 acts as a cell-associated integrin ligand. Biochem Biophys Res Commun. 2005;335:906–19.

Humtsoe JO, Feng S, Thakker GD, Yang J, Hong J, Wary KK. Regulation of cell-cell interactions by phosphatidic acid phosphatase 2b/VCIP. EMBO J. 2003;22:1539–54.

Shiratsuchi A, Mori T, Sakurai K, Nagaosa K, Sekimizu K, Lee BL, et al. Independent recognition of Staphylococcus aureus by two receptors for phagocytosis in Drosophila. J Biol Chem. 2012;287:21663–72.

Bottcher RT, Stremmel C, Meves A, Meyer H, Widmaier M, Tseng HY, et al. Sorting nexin 17 prevents lysosomal degradation of beta1 integrins by binding to the beta1-integrin tail. Nat Cell Biol. 2012;14:584–92.

Roberts M, Barry S, Woods A, van der Sluijs P, Norman J. PDGF-regulated rab4-dependent recycling of alphavbeta3 integrin from early endosomes is necessary for cell adhesion and spreading. Curr Biol. 2001;11:1392–402.

Raymond MH, Davidson AJ, Shen Y, Tudor DR, Lucas CD, Morioka S, et al. Live cell tracking of macrophage efferocytosis during Drosophila embryo development in vivo. Science. 2022;375:1182–7.

Davidson AJ, Wood W. Macrophages use distinct actin regulators to switch engulfment strategies and ensure phagocytic plasticity in vivo. Cell Rep. 2020;31:107692.

Rotty JD, Brighton HE, Craig SL, Asokan SB, Cheng N, Ting JP, et al. Arp2/3 complex is required for macrophage integrin functions but is dispensable for FcR phagocytosis and in vivo motility. Dev Cell. 2017;42:498–513.e496.

Baumann I, Kolowos W, Voll RE, Manger B, Gaipl U, Neuhuber WL, et al. Impaired uptake of apoptotic cells into tingible body macrophages in germinal centers of patients with systemic lupus erythematosus. Arthritis Rheum. 2002;46:191–201.

Heckmann BL, Tummers B, Green DR. Crashing the computer: apoptosis vs. necroptosis in neuroinflammation. Cell Death Differ. 2019;26:41–52.

Fricker M, Neher JJ, Zhao JW, Théry C, Tolkovsky AM, Brown GC. MFG-E8 mediates primary phagocytosis of viable neurons during neuroinflammation. J Neurosci. 2012;32:2657–66.

Sano H, Renault AD, Lehmann R. Control of lateral migration and germ cell elimination by the Drosophila melanogaster lipid phosphate phosphatases Wunen and Wunen 2. J Cell Biol. 2005;171:675–83.

Tattikota SG, Cho B, Liu Y, Hu Y, Barrera V, Steinbaugh MJ, et al. A single-cell survey of Drosophila blood. Elife. 2020;9:e54818.

Bréart B, Ramos-Perez WD, Mendoza A, Salous AK, Gobert M, Huang Y, et al. Lipid phosphate phosphatase 3 enables efficient thymic egress. J Exp Med. 2011;208:1267–78.

Renault AD, Kunwar PS, Lehmann R. Lipid phosphate phosphatase activity regulates dispersal and bilateral sorting of embryonic germ cells in Drosophila. Development. 2010;137:1815–23.

Ren H, Panchatcharam M, Mueller P, Escalante-Alcalde D, Morris AJ, Smyth SS. Lipid phosphate phosphatase (LPP3) and vascular development. Biochim Biophys Acta. 2013;1831:126–32.

Gutierrez-Martinez E, Fernandez-Ulibarri I, Lazaro-Dieguez F, Johannes L, Pyne S, Sarri E, et al. Lipid phosphate phosphatase 3 participates in transport carrier formation and protein trafficking in the early secretory pathway. J Cell Sci. 2013;126:2641–55.

Ullrich O, Reinsch S, Urbé S, Zerial M, Parton RG. Rab11 regulates recycling through the pericentriolar recycling endosome. J Cell Biol. 1996;135:913–24.

Cox D, Lee DJ, Dale BM, Calafat J, Greenberg S. A Rab11-containing rapidly recycling compartment in macrophages that promotes phagocytosis. Proc Natl Acad Sci USA. 2000;97:680–5.

Jiang C, Liu Z, Hu R, Bo L, Minshall RD, Malik AB, et al. Inactivation of Rab11a GTPase in macrophages facilitates phagocytosis of apoptotic neutrophils. J Immunol. 2017;198:1660–72.

Nader GP, Ezratty EJ, Gundersen GG. FAK, talin and PIPKIγ regulate endocytosed integrin activation to polarize focal adhesion assembly. Nat Cell Biol. 2016;18:491–503.

Jonker CTH, Galmes R, Veenendaal T, Ten Brink C, van der Welle REN, Liv N, et al. Vps3 and Vps8 control integrin trafficking from early to recycling endosomes and regulate integrin-dependent functions. Nat Commun. 2018;9:792.

Steinberg F, Heesom KJ, Bass MD, Cullen PJ. SNX17 protects integrins from degradation by sorting between lysosomal and recycling pathways. J Cell Biol. 2012;197:219–30.

Böttcher RT, Stremmel C, Meves A, Meyer H, Widmaier M, Tseng HY, et al. Sorting nexin 17 prevents lysosomal degradation of β1 integrins by binding to the β1-integrin tail. Nat Cell Biol. 2012;14:584–92.

Prekeris R, Klumperman J, Scheller RH. A Rab11/Rip11 protein complex regulates apical membrane trafficking via recycling endosomes. Mol Cell. 2000;6:1437–48.

Cho W. Membrane targeting by C1 and C2 domains. J Biol Chem. 2001;276:32407–10.

Oancea E, Meyer T. Protein kinase C as a molecular machine for decoding calcium and diacylglycerol signals. Cell. 1998;95:307–18.

Gijón MA, Spencer DM, Kaiser AL, Leslie CC. Role of phosphorylation sites and the C2 domain in regulation of cytosolic phospholipase A2. J Cell Biol. 1999;145:1219–32.

Lindsay AJ, McCaffrey MW. The C2 domains of the class I Rab11 family of interacting proteins target recycling vesicles to the plasma membrane. J Cell Sci. 2004;117:4365–75.

Svitkina TM. Ultrastructure of protrusive actin filament arrays. Curr Opin Cell Biol. 2013;25:574–81.

Trapnell C, Pachter L, Salzberg SL. TopHat: discovering splice junctions with RNA-Seq. Bioinformatics. 2009;25:1105–11.

Trapnell C, Williams BA, Pertea G, Mortazavi A, Kwan G, van Baren MJ, et al. Transcript assembly and quantification by RNA-Seq reveals unannotated transcripts and isoform switching during cell differentiation. Nat Biotechnol. 2010;28:511–5.

Cuttell L, Vaughan A, Silva E, Escaron CJ, Lavine M, Van Goethem E, et al. Undertaker, a Drosophila Junctophilin, links Draper-mediated phagocytosis and calcium homeostasis. Cell. 2008;135:524–34.

Silva EA, Burden J, Franc NC. In vivo and in vitro methods for studying apoptotic cell engulfment in Drosophila. Methods Enzymol. 2008;446:39–59.

Obrdlik P, El-Bakkoury M, Hamacher T, Cappellaro C, Vilarino C, Fleischer C, et al. K+ channel interactions detected by a genetic system optimized for systematic studies of membrane protein interactions. Proc Natl Acad Sci USA. 2004;101:12242–7.

Shlyakhover E, Shklyar B, Hakim-Mishnaevski K, Levy-Adam F, Kurant E. Drosophila GATA factor serpent establishes phagocytic ability of embryonic macrophages. Front Immunol. 2018;9:266.

Silva E, Au-Yeung HW, Van Goethem E, Burden J, Franc NC. Requirement for a Drosophila E3-ubiquitin ligase in phagocytosis of apoptotic cells. Immunity. 2007;27:585–96.

Petrignani B, Rommelaere S, Hakim-Mishnaevski K, Masson F, Ramond E, Hilu-Dadia R, et al. A secreted factor NimrodB4 promotes the elimination of apoptotic corpses by phagocytes in Drosophila. EMBO Rep. 2021;22:e52262.

Nagel BM, Bechtold M, Rodriguez LG, Bogdan S. Drosophila WASH is required for integrin-mediated cell adhesion, cell motility and lysosomal neutralization. J Cell Sci. 2017;130:344–59.

Sander M, Squarr AJ, Risse B, Jiang X, Bogdan S. Drosophila pupal macrophages-a versatile tool for combined ex vivo and in vivo imaging of actin dynamics at high resolution. Eur J Cell Biol. 2013;92:349–54.

Takeuchi M, Harigai M, Momohara S, Ball E, Abe J, Furuichi K, et al. Cloning and characterization of DPPL1 and DPPL2, representatives of a novel type of mammalian phosphatidate phosphatase. Gene. 2007;399:174–80.

Yang Z, Zhang Y, Shen T, Xie Y, Mao Y, Ji C. Cloning, expression and biochemical characterization of a novel, moderately thermostable GDSL family esterase from Geobacillus thermodenitrificans T2. J Biosci Bioeng. 2013;115:133–7.

Zhang B, Zhang Y, Liu JL. Highly effective proximate labeling in Drosophila. G3. 2021;11:jkab077.

Branon TC, Bosch JA, Sanchez AD, Udeshi ND, Svinkina T, Carr SA, et al. Efficient proximity labeling in living cells and organisms with TurboID. Nat Biotechnol. 2018;36:880–7.

Evans IR, Zanet J, Wood W, Stramer BM. Live imaging of Drosophila melanogaster embryonic hemocyte migrations. J Vis Exp. 2010;36:1696.

Shklyar B, Shklover J, Kurant E. Live imaging of apoptotic cell clearance during Drosophila embryogenesis. J Vis Exp. 2013;78:50151.
Acknowledgements
We thank the Bloomington Drosophila Stock Center for the Drosophila melanogaster strains. Additionally, we thank Editage (www.editage.cn) for English language editing.
Funding
This study was partially supported by the National Natural Science Foundation Key Project (breeding program) of China (Grant no. 91954114 to HX), National Natural Science Foundation of China (Grant no. 31871387 to HX), National Natural Science Foundation of China Youth Program (Grant no. 31801164 to QZ), the program of Innovative Research Team for the Central Universities (Grant no. GK202001004 to HX), and the Fundamental Research Key Project Funds for the Central Universities (Grant no. GK202007009 to HX).
Ethics declarations
Competing interests
The authors declare no competing interests.
Ethics approval and consent to participate
All animal care and experiments were performed according to the "Guide for the Care and Use of Laboratory Animals," which were approved by the Institutional Animal Care and Use Committee at Shaanxi Normal University, and all manipulations were conducted in accordance with established guidelines.
Additional information
Publisher's note Springer Nature remains neutral with regard to jurisdictional claims in published maps and institutional affiliations.
Edited by E. Baehrecke
Supplementary information
About this article
Cite this article
Gao, N., Zheng, Q., Wang, Y. et al. Wun2-mediated integrin recycling promotes apoptotic cell clearance in Drosophila melanogaster. Cell Death Differ (2022). https://doi.org/10.1038/s41418-022-01039-3
Received:

Revised:

Accepted:

Published:

DOI: https://doi.org/10.1038/s41418-022-01039-3