Abstract
Hepatocellular carcinoma (HCC) is recognized as the most common malignancy of the liver in adults. Many human cancers have been associated with the oncogenic activation of the Wnt/β-catenin signaling pathway. The secreted frizzled-related proteins (sFRPs) function as negative regulators of the Wnt signaling and have important implications in carcinogenesis. This study aims to investigate the possible regulatory effects of sFRP3 on the Wnt/β-catenin signaling pathway and their interactions in HCC occurrence. Firstly, sFRP3 expression was quantified in the collected cancer and adjacent normal tissue samples from HCC patients. The lowly expressed sFRP3 in HCC tissues was found to be correlated with HCC development. The expression of sFRP3 was regulated by a lentivirus-based packaging system, and the Wnt/β-catenin signaling pathway was inactivated by DDK-1 in HepG2 cells. The expressions of Wnt1, β-catenin and the nuclear translocation of β-catenin were determined, both of which were down-regulated by sFRP3 overexpression. CCK8 assay, EdU staining, Colony formation assay, flow cytometry, scratch test and Transwell assay were employed to test cell viability, proliferation, cell cycle, apoptosis, migration and invasion, respectively. Overexpressed levels of sFRP3 were found to produce a reduction in MMP-2, MMP-7, MMP-9, PCNA, Ki67, and Bcl-2 expressions but an increase in the expressions of caspase-3 and Bax. In addition, overexpression of sFRP3 inhibited cell proliferation, migration, invasion, and colony formation, but promoted cell cycle arrest and cell apoptosis in HCC cells. The addition of the Wnt/β-catenin signaling pathway inhibitor, DKK-1, reversed the contributory effect of sFRP3 silencing on HCC development. Lastly, in vivo tumor formation was inhibited by enforced sFRP3 expressions. The obtained results suggested that sFRP3 acts as an anti-oncogene in HCC by inhibiting the activation of the Wnt/β-catenin signaling pathway.
Access options
Subscribe to Journal
Get full journal access for 1 year
$119.00
only $9.92 per issue
All prices are NET prices.
VAT will be added later in the checkout.
Tax calculation will be finalised during checkout.
Rent or Buy article
Get time limited or full article access on ReadCube.
from$8.99
All prices are NET prices.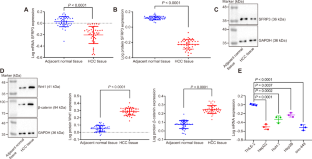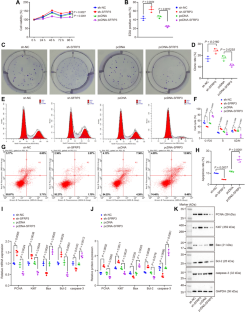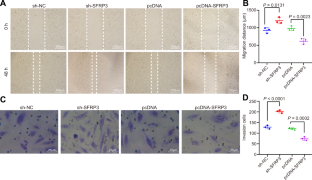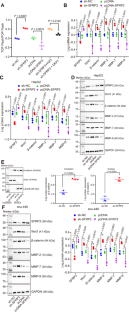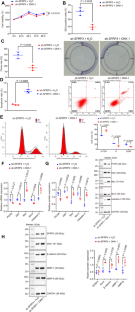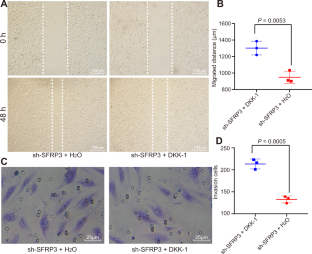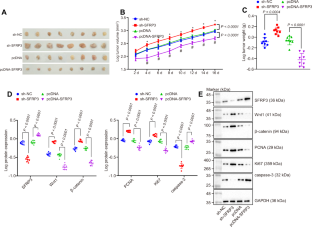 References
1.

Zhao YJ, Ju Q, Li GC. Tumor markers for hepatocellular carcinoma. Mol Clin Oncol. 2013;1:593–8.

2.

Forner A, Llovet JM, Bruix J. Hepatocellular carcinoma. Lancet. 2012;379:1245–55.

3.

Walsh R, Locarnini S. Hepatitis B precore protein: pathogenic potential and therapeutic promise. Yonsei Med J. 2012;53:875–85.

4.

Gao J, Xie L, Yang WS, Zhang W, Gao S, Wang J, et al. Risk factors of hepatocellular carcinoma-current status and perspectives. Asian Pac J Cancer Prev. 2012;13:743–52.

5.

Sadamori H, Yagi T, Shinoura S, Umeda Y, Yoshida R, Satoh D, et al. Risk factors for major morbidity after liver resection for hepatocellular carcinoma. Br J Surg. 2013;100:122–9.

6.

Rasool M, Rashid S, Arooj M, Ansari SA, Khan KM, Malik A, et al. New possibilities in hepatocellular carcinoma treatment. Anticancer Res. 2014;34:1563–71.

7.

Marquardt JU, Galle PR, Teufel A. Molecular diagnosis and therapy of hepatocellular carcinoma (HCC): an emerging field for advanced technologies. J Hepatol. 2012;56:267–75.

8.

Zhao X, Huang H, Chen Y, Liu Y, Zhang Z, Ma Q, et al. Dynamic expression of secreted Frizzled-related protein 3 (sFRP3) in the developing mouse spinal cord and dorsal root ganglia. Neuroscience. 2013;248:594–601.

9.

Zi X, Guo Y, Simoneau AR, Hope C, Xie J, Holcombe RF, et al. Expression of Frzb/secreted Frizzled-related protein 3, a secreted Wnt antagonist, in human androgen-independent prostate cancer PC-3 cells suppresses tumor growth and cellular invasiveness. Cancer Res. 2005;65:9762–70.

10.

Qu Y, Li JF, Cai Q, Wang YW, Gu QL, Zhu ZG, et al. Over-expression of FRZB in gastric cancer cell suppresses proliferation and induces differentiation. J Cancer Res Clin Oncol. 2008;134:353–64.

11.

Lin YW, Shih YL, Lien GS, Suk FM, Hsieh CB, Yan MD. Promoter methylation of SFRP3 is frequent in hepatocellular carcinoma. Dis Markers. 2014;2014:351863.

12.

Schlensog M, Magnus L, Heide T, Eschenbruch J, Steib F, Tator M, et al. Epigenetic loss of putative tumor suppressor SFRP3 correlates with poor prognosis of lung adenocarcinoma patients. Epigenetics. 2018;13:214–27.

13.

Shyam R, Shen X, Yue BY, Wentz-Hunter KK. Wnt gene expression in human trabecular meshwork cells. Mol Vis. 2010;16:122–9.

14.

Katoh M. WNT/PCP signaling pathway and human cancer (review). Oncol Rep. 2005;14:1583–8.

15.

Veeman MT, Axelrod JD, Moon RT. A second canon. Functions and mechanisms of beta-catenin-independent Wnt signaling. Dev Cell. 2003;5:367–77.

16.

White BD, Chien AJ, Dawson DW. Dysregulation of Wnt/beta-catenin signaling in gastrointestinal cancers. Gastroenterology. 2012;142:219–32.

17.

Thompson MD, Monga SP. WNT/beta-catenin signaling in liver health and disease. Hepatology. 2007;45:1298–305.

18.

Lo RC, Leung CO, Chan KK, Ho DW, Wong CM, Lee TK, et al. Cripto-1 contributes to stemness in hepatocellular carcinoma by stabilizing Dishevelled-3 and activating Wnt/beta-catenin pathway. Cell Death Differ. 2018;25:1426–41.

19.

Ueland T, Rollag H, Hartmann A, Jardine AG, Humar A, Michelsen AE, et al. Secreted Wnt antagonists during eradication of cytomegalovirus infection in solid organ transplant recipients. Am J Transpl. 2014;14:210–5.

20.

Zhou L, Rui JA, Zhou WX, Wang SB, Chen SG, Qu Q. Edmondson-Steiner grade: A crucial predictor of recurrence and survival in hepatocellular carcinoma without microvascular invasio. Pathol Res Pr. 2017;213:824–30.

21.

Liu YB, Gao SL, Chen XP, Peng SY, Fang HQ, Wu YL, et al. Expression and significance of heparanase and nm23-H1 in hepatocellular carcinoma. World J Gastroenterol. 2005;11:1378–81.

22.

May M, Surcel C, Capitanio U, Dell'Oglio P, Klatte T, Shariat S, et al. Prognostic and discriminative power of the 7th TNM classification for patients with surgically treated papillary renal cell carcinoma: results of a multi-institutional validation study (CORONA subtype project). Scand J Urol. 2017;51:269–76.

23.

Lee J, Park KS, Kang MH, Kim Y, Son SM, Choi H, et al. Primary hepatic peripheral T-cell lymphoma mimicking hepatocellular carcinoma: a case report. Ann Surg Treat Res. 2017;93:110–4.

24.

Montasser MF, Abdelkader NA, Abdelhakam SM, Dabbous H, Montasser IF, Massoud YM, et al. Bacterial infections post-living-donor liver transplantation in Egyptian hepatitis C virus-cirrhotic patients: A single-center study. World J Hepatol. 2017;9:896–904.

25.

Ding NH, Zhang L, Xiao Z, Rong ZX, Li Z, He J, et al. NEK4 kinase regulates EMT to promote lung cancer metastasis. J Cell Mol Med. 2018;22:5877–87.

26.

Ye Y, Long X, Zhang L, Chen J, Liu P, Li H, et al. NTS/NTR1 co-expression enhances epithelial-to-mesenchymal transition and promotes tumor metastasis by activating the Wnt/beta-catenin signaling pathway in hepatocellular carcinoma. Oncotarget. 2016;7:70303–22.

27.

Momenteau M. The physical chemistry of hemes and hemopeptides. I. Physiochemical properties and reduction of chlorodeuterohemin in organic solvent. Biochim Biophys Acta. 1973;304:814–27.

28.

Delgado ER, Yang J, So J, Leimgruber S, Kahn M, Ishitani T, et al. Identification and characterization of a novel small-molecule inhibitor of beta-catenin signaling. Am J Pathol. 2014;184:2111–22.

29.

Hagiwara S, Kudo M, Nagai T, Inoue T, Ueshima K, Nishida N, et al. Activation of JNK and high expression level of CD133 predict a poor response to sorafenib in hepatocellular carcinoma. Br J Cancer. 2012;106:1997–2003.

30.

Abitbol S, Dahmani R, Coulouarn C, Ragazzon B, Mlecnik B, Senni N, et al. AXIN deficiency in human and mouse hepatocytes induces hepatocellular carcinoma in the absence of beta-catenin activation. J Hepatol. 2018;68:1203–13.

31.

Zucman-Rossi J, Villanueva A, Nault JC, Llovet JM. Genetic landscape and biomarkers of hepatocellular carcinoma. Gastroenterology. 2015;149:1226–39 e4.

32.

Satoh W, Matsuyama M, Takemura H, Aizawa S, Shimono A. Sfrp1, Sfrp2, and Sfrp5 regulate the Wnt/beta-catenin and the planar cell polarity pathways during early trunk formation in mouse. Genesis. 2008;46:92–103.

33.

Mukherjee N, Bhattacharya N, Alam N, Roy A, Roychoudhury S, Panda CK. Subtype-specific alterations of the Wnt signaling pathway in breast cancer: clinical and prognostic significance. Cancer Sci. 2012;103:210–20.

34.

Bernascone I, Gonzalez T, Barea MD, Carabana C, Hachimi M, Bosch-Fortea M, et al. Sfrp3 modulates stromal-epithelial crosstalk during mammary gland development by regulating Wnt levels. Nat Commun. 2019;10:2481.

35.

Ekstrom EJ, Sherwood V, Andersson T. Methylation and loss of Secreted Frizzled-Related Protein 3 enhances melanoma cell migration and invasion. PLoS ONE. 2011;6:e18674.

36.

Hari Babu L, Perumal S, Balasubramanian MP. Myrtenal attenuates diethylnitrosamine-induced hepatocellular carcinoma in rats by stabilizing intrinsic antioxidants and modulating apoptotic and anti-apoptotic cascades. Cell Oncol (Dordr). 2012;35:269–83.

37.

Zhang ZL, Liu GC, Peng L, Zhang C, Jia YM, Yang WH, et al. Effect of PAK1 gene silencing on proliferation and apoptosis in hepatocellular carcinoma cell lines MHCC97-H and HepG2 and cells in xenograft tumor. Gene Ther. 2018;25:284–96.

38.

Kephart JJ, Tiller RG, Crose LE, Slemmons KK, Chen PH, Hinson AR, et al. Secreted Frizzled-related protein 3 (SFRP3) is required for tumorigenesis of PAX3-FOXO1-positive alveolar rhabdomyosarcoma. Clin Cancer Res. 2015;21:4868–80.

39.

Ahsani Z, Mohammadi-Yeganeh S, Kia V, Karimkhanloo H, Zarghami N, Paryan M. WNT1 Gene from WNT signaling pathway is a direct target of miR-122 in hepatocellular carcinoma. Appl Biochem Biotechnol. 2017;181:884–97.

40.

Liu J, Wang ZC, Tang J, Tang R, Shan X, Zhang W. Hepatitis C virus core protein activates Wnt/beta-catenin signaling through multiple regulation of upstream molecules in the SMMC-7721 cell line. Arch Virol. 2011;156:1013–23.

41.

Gedaly R, Galuppo R, Daily MF, Shah M, Maynard E, Chen C, et al. Targeting the Wnt/beta-catenin signaling pathway in liver cancer stem cells and hepatocellular carcinoma cell lines with FH535. PLoS ONE. 2014;9:e99272.

42.

Wang BM, Li N. Effect of the Wnt/beta-catenin signaling pathway on apoptosis, migration, and invasion of transplanted hepatocellular carcinoma cells after transcatheter arterial chemoembolization in rats. J Cell Biochem. 2018;119:4050–60.
Acknowledgements
This study was supported by Beijing Natural Science Foundation (No. 7202181), China-Japan Friendship Hospital Youth Science and Technology Excellence Project (No. 2014-QNYC-B-01), the Research Fund of the China-Japan Friendship Hospital (No. 2014-2-MS-9) and the National Natural Science Foundation (No. 91729301; No. 81630103).
Ethics declarations
Conflict of interest
The authors declare that they have no conflict of interest.
Additional information
Publisher's note Springer Nature remains neutral with regard to jurisdictional claims in published maps and institutional affiliations.
Supplementary information
About this article
Cite this article
Fang, L., Gao, C., Bai, RX. et al. Overexpressed sFRP3 exerts an inhibitory effect on hepatocellular carcinoma via inactivation of the Wnt/β-catenin signaling pathway. Cancer Gene Ther 28, 875–891 (2021). https://doi.org/10.1038/s41417-020-0201-z
Received:

Revised:

Accepted:

Published:

Issue Date: