Abstract
Racial discrimination (RD) has been consistently linked to adverse brain health outcomes. These may be due in part to RD effects on neural networks involved with threat appraisal and regulation; RD has been linked to altered activity in the rostral anterior cingulate cortex (rACC) and structural decrements in the anterior cingulum bundle and hippocampus. In the present study, we examined associations of RD with cingulate, hippocampus and amygdala gray matter morphology in a sample of trauma-exposed Black women. Eighty-one Black women aged 19–62 years were recruited as part of an ongoing study of trauma. Participants completed assessments of RD, trauma exposure, and posttraumatic stress disorder (PTSD), and underwent T1-weighted anatomical imaging. Cortical thickness, surface area and gray matter volume were extracted from subregions of cingulate cortex, and gray matter volume was extracted from amygdala and hippocampus, and entered into partial correlation analyses that included RD and other socio-environmental variables. After correction for multiple comparisons and accounting for variance associated with other stressors and socio-environmental factors, participants with more RD exposure showed proportionally lower cortical thickness in the left rACC, caudal ACC, and posterior cingulate cortex (ps < = 0.01). These findings suggest that greater experiences of RD are linked to compromised cingulate gray matter thickness. In the context of earlier findings indicating that RD produces increased response in threat neurocircuitry, our data suggest that RD may increase vulnerability for brain health problems via cingulate cortex alterations. Further research is needed to elucidate biological mechanisms for these changes.
Access options
Subscribe to Journal
Get full journal access for 1 year
$119.00
only $9.15 per issue
All prices are NET prices.
VAT will be added later in the checkout.
Tax calculation will be finalised during checkout.
Buy article
Get time limited or full article access on ReadCube.
$32.00
All prices are NET prices.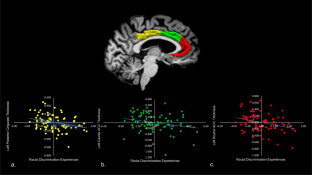 References
Kessler RC, Mickelson KD, Williams DR. The prevalence, distribution, and mental health correlates of perceived discrimination in the United States. J Health Soc Behav. 1999;40:208–30.

Lee RT, Perez AD, Boykin CM, Mendoza-Denton R. On the prevalence of racial discrimination in the United States. PloS One. 2019;14:e0210698.

Paradies Y, Ben J, Denson N, Elias A, Priest N, Pieterse A, et al. Racism as a determinant of health: a systematic review and meta-analysis. PloS One. 2015;10:e0138511.

Bird CM, Webb EK, Schramm AT, Torres L, Larson C, deRoon-Cassini TA. Racial discrimination is associated with acute posttraumatic stress symptoms and predicts future posttraumatic stress disorder symptom severity in trauma-exposed black adults in the United States. J Trauma Stress. 2021;34:995–1004. https://doi.org/10.1002/jts.22670.

Everson-Rose SA, Lutsey PL, Roetker NS, Lewis TT, Kershaw KN, Alonso A, et al. Perceived discrimination and incident cardiovascular events: the multi-ethnic study of atherosclerosis. Am J Epidemiol. 2015;182:225–34.

Zahodne LB, Kraal AZ, Sharifian N, Zaheed AB, Sol K. Inflammatory mechanisms underlying the effects of everyday discrimination on age-related memory decline. Brain, Behav, Immun. 2019;75:149–54.

Zahodne LB, Morris EP, Sharifian N, Zaheed AB, Kraal AZ, Sol K. Everyday discrimination and subsequent cognitive abilities across five domains. Neuropsychology. 2020;34:783–90. https://doi.org/10.1037/neu0000693.

Brosschot JF. Markers of chronic stress: prolonged physiological activation and (un)conscious perseverative cognition. Neurosci Biobehav Rev. 2010;35:46–50.

Ong AD, Williams DR, Nwizu U, Gruenewald TL. Everyday unfair treatment and multisystem biological dysregulation in African American adults. Cult Divers Ethn Minor Psychol. 2017;23:27–35.

Cuevas AG, Ong AD, Carvalho K, Ho T, Chan SWC, Allen JD, et al. Discrimination and systemic inflammation: A critical review and synthesis. Brain, Behav, Immun. 2020;89:465–79.

Kirkinis K, Pieterse AL, Martin C, Agiliga A, Brownell A. Racism, racial discrimination, and trauma: a systematic review of the social science literature. Ethn Health. 2021;26:392–412.

Causadias JM, Korous KM. Racial discrimination in the United States: a national health crisis that demands a national health solution. J Adolesc Health. 2019;64:147–8.

Williams DR, Lawrence JA, Davis BA. Racism and health: evidence and needed research. Annu Rev Public Health. 2019;40:105–25.

Hill LK, Hu DD, Koenig J, Sollers JJ 3rd, Kapuku G, Wang X, et al. Ethnic differences in resting heart rate variability: a systematic review and meta-analysis. Psychosom Med. 2015;77:16–25.

Clark US, Miller ER, Hegde RR. Experiences of discrimination are associated with greater resting amygdala activity and functional connectivity. Biol Psychiatry Cogn Neurosci Neuroimaging. 2018;3:367–78.

Fani N, Carter SE, Harnett NG, Ressler KJ, Bradley B. Association of racial discrimination with neural response to threat in black women in the US exposed to trauma. JAMA Psychiatry. 2021;78:1005–12.

Masten CL, Telzer EH, Eisenberger NI. An fMRI investigation of attributing negative social treatment to racial discrimination. J Cogn Neurosci. 2011;23:1042–51.

McEwen BS, Nasca C, Gray JD. Stress effects on neuronal structure: hippocampus, amygdala, and prefrontal cortex. Neuropsychopharmacol: Off Publ Am Coll Neuropsychopharmacol. 2016;41:3–23.

Stevens FL, Hurley RA, Taber KH. Anterior cingulate cortex: unique role in cognition and emotion. J Neuropsychiatry Clin Neurosci. 2011;23:121–5.

Leech R, Sharp DJ. The role of the posterior cingulate cortex in cognition and disease. Brain J Neurol. 2014;137:12–32.

Leech R, Smallwood J. The posterior cingulate cortex: Insights from structure and function. Handb Clin Neurol. 2019;166:73–85.

Nejad AB, Fossati P, Lemogne C. Self-referential processing, rumination, and cortical midline structures in major depression. Front Hum Neurosci. 2013;7:666.

Harrell CJ, Burford TI, Cage BN, Nelson TM, Shearon S, Thompson A, et al. Multiple pathways linking racism to health outcomes. Du Bois Rev. 2011;8:143–57.

Nagata JM, Ganson KT, Sajjad OM, Benabou SE, Bibbins-Domingo K. Prevalence of perceived racism and discrimination among US children aged 10 and 11 years: the Adolescent Brain Cognitive Development (ABCD) study. JAMA Pediatr. 2021;175:861–3.

Hinojosa CA, Kaur N, VanElzakker MB, Shin LM. Cingulate subregions in posttraumatic stress disorder, chronic stress, and treatment. Handb Clin Neurol. 2019;166:355–70.

Tottenham N, Sheridan MA. A review of adversity, the amygdala and the hippocampus: a consideration of developmental timing. Front Hum Neurosci. 2009;3:68.

Yamasue H, Kasai K, Iwanami A, Ohtani T, Yamada H, Abe O, et al. Voxel-based analysis of MRI reveals anterior cingulate gray-matter volume reduction in posttraumatic stress disorder due to terrorism. Proc Natl Acad Sci USA 2003;100:9039–43.

Shin LM, Liberzon I. The neurocircuitry of fear, stress, and anxiety disorders. Neuropsychopharmacol: Off Publ Am Coll Neuropsychopharmacol. 2010;35:169–91.

Logue MW, van Rooij SJH, Dennis EL, Davis SL, Hayes JP, Stevens JS, et al. Smaller hippocampal volume in posttraumatic stress disorder: a multisite ENIGMA-PGC study: subcortical volumetry results from posttraumatic stress disorder consortia. Biol psychiatry. 2018;83:244–53.

Fani N, Harnett NG, Bradley B, Mekawi Y, Powers A, Stevens JS, et al. Racial discrimination and white matter microstructure in trauma-exposed Black women. Biological Psychiatry. In press.

Zahodne LB, Sharifian N, Kraal AZ, Morris EP, Sol K, Zaheed AB, et al. Longitudinal associations between racial discrimination and hippocampal and white matter hyperintensity volumes among older Black adults. Soc Sci Med. 2022:114789. https://doi.org/10.1016/j.socscimed.2022.114789.

Meyer CS, Schreiner PJ, Lim K, Battapady H, Launer LJ. Depressive symptomatology, racial discrimination experience, and brain tissue volumes observed on magnetic resonance imaging. Am J Epidemiol. 2019;188:656–63.

Webb EK, Bird CM, deRoon-Cassini TA, Weis CN, Huggins AA, Fitzgerald JM, et al. Racial discrimination and resting-state functional connectivity of salience network nodes in trauma-exposed black adults in the United States. JAMA Netw Open. 2022;5:e2144759.

Sheehan DV, Lecrubier Y, Sheehan KH, Amorim P, Janavs J, Weiller E, et al. The Mini-International Neuropsychiatric Interview (M.I.N.I.): the development and validation of a structured diagnostic psychiatric interview for DSM-IV and ICD-10. J Clin Psychiatry. 1998;59:22–33.

Dale AM, Fischl B, Sereno MI. Cortical surface-based analysis. I. Segmentation and surface reconstruction. NeuroImage. 1999;9:179–94.

Fischl B, Sereno MI, Dale AM. Cortical surface-based analysis. II: Inflation, flattening, and a surface-based coordinate system. NeuroImage. 1999;9:195–207.

Fischl B, van der Kouwe A, Destrieux C, Halgren E, Segonne F, Salat DH, et al. Automatically parcellating the human cerebral cortex. Cereb Cortex. 2004;14:11–22.

Gunning-Dixon FM, Brickman AM, Cheng JC, Alexopoulos GS. Aging of cerebral white matter: a review of MRI findings. Int J Geriatr Psychiatry. 2009;24:109–17.

Lebel C, Treit S, Beaulieu C. A review of diffusion MRI of typical white matter development from early childhood to young adulthood. NMR Biomed. 2019;32:e3778.

Fani N, Harnett NG, Bradley B, Mekawi Y, Powers A, Stevens JS, et al. Racial discrimination and white matter microstructure in trauma-exposed black women. Biol Psychiatry. 2022;91:254–61.

Okeke O, Elbasheir A, Carter S, Powers A, Mekawi Y, Gillespie CF, et al. Indirect effects of racial discrimination on health outcomes through prefrontal cortical white matter integrity. Biol Psychiatry Cogn Neurosci Neuroimaging. 2022. https://doi.org/10.1016/j.bpsc.2022.05.004.

Fani N, Harnett NG, Bradley B, Mekawi Y, Powers A, Stevens JS, et al. Racial discrimination and white matter microstructure in trauma-exposed Black women. Biol Psychiatry. in press.

Isamah N, Faison W, Payne ME, MacFall J, Steffens DC, Beyer JL, et al. Variability in frontotemporal brain structure: the importance of recruitment of African Americans in neuroscience research. PloS One. 2010;5:e13642.

Mekawi Y, Carter S, Brown B, Martinez de Andino A, Fani N, Michopoulos V, et al. Interpersonal trauma and posttraumatic stress disorder among black women: does racial discrimination matter? J Trauma Dissociation: Off J Int Soc Study Dissociation. 2021;22:154–69.

Mekawi Y, Watson-Singleton NN, Kuzyk E, Dixon HD, Carter S, Bradley-Davino B, et al. Racial discrimination and posttraumatic stress: examining emotion dysregulation as a mediator in an African American community sample. Eur J Psychotraumatology. 2020;11:1824398.

Smith WA, Allen WR, Danley LL. "Assume the position… You fit the description" - Psychosocial experiences and racial battle fatigue among African American male college students. Am Behav Sci. 2007;51:551–78.

Comas-Diaz L, Hall GN, Neville HA. Racial trauma: theory, research, and healing: introduction to the special issue. Am Psychol. 2019;74:1–5.

Gehred MZ, Knodt AR, Ambler A, Bourassa KJ, Danese A, Elliott ML, et al. Long-term neural embedding of childhood adversity in a population-representative birth cohort followed for five decades. Biol Psychiatry. 2021;74:1–5. https://doi.org/10.1037/amp0000442.

Gur RE, Moore TM, Rosen AFG, Barzilay R, Roalf DR, Calkins ME, et al. Burden of environmental adversity associated with psychopathology, maturation, and brain behavior parameters in youths. JAMA Psychiatry. 2019;90:182–193. https://doi.org/10.1016/j.biopsych.2021.02.971.

Hart H, Rubia K. Neuroimaging of child abuse: a critical review. Front Hum Neurosci. 2012;6:52.

Meng L, Jiang J, Jin C, Liu J, Zhao Y, Wang W, et al. Trauma-specific grey matter alterations in PTSD. Sci Rep. 2016;6:33748.

Wang X, Xie H, Chen T, Cotton AS, Salminen LE, Logue MW, et al. Cortical volume abnormalities in posttraumatic stress disorder: an ENIGMA-psychiatric genomics consortium PTSD workgroup mega-analysis. Mol Psychiatry. 2021;26:4331–43.

Bromis K, Calem M, Reinders A, Williams SCR, Kempton MJ. Meta-analysis of 89 structural mri studies in posttraumatic stress disorder and comparison with major depressive disorder. Am J Psychiatry. 2018;175:989–98.

Thompson PM, Hayashi KM, de Zubicaray G, Janke AL, Rose SE, Semple J, et al. Dynamics of gray matter loss in Alzheimer's disease. J Neurosci Off J Soc Neurosci. 2003;23:994–1005.

Roe JM, Vidal-Pineiro D, Sorensen O, Brandmaier AM, Duzel S, Gonzalez HA, et al. Asymmetric thinning of the cerebral cortex across the adult lifespan is accelerated in Alzheimer's disease. Nat Commun. 2021;12:721.

Yau WY, Bischoff-Grethe A, Theilmann RJ, Torres L, Wagner A, Kaye WH, et al. Alterations in white matter microstructure in women recovered from anorexia nervosa. Int J Eat Disord. 2013;46:701–8.

Rakic P. Evolution of the neocortex: a perspective from developmental biology. Nat Rev Neurosci. 2009;10:724–35.

Schuz A, Palm G. Density of neurons and synapses in the cerebral cortex of the mouse. J Comp Neurol. 1989;286:442–55.

Panizzon MS, Fennema-Notestine C, Eyler LT, Jernigan TL, Prom-Wormley E, Neale M, et al. Distinct genetic influences on cortical surface area and cortical thickness. Cereb Cortex. 2009;19:2728–35.

Winkler AM, Kochunov P, Blangero J, Almasy L, Zilles K, Fox PT, et al. Cortical thickness or grey matter volume? The importance of selecting the phenotype for imaging genetics studies. NeuroImage. 2010;53:1135–46.

Posner MI, Rothbart MK, Sheese BE, Tang Y. The anterior cingulate gyrus and the mechanism of self-regulation. Cogn Affect Behav Neurosci. 2007;7:391–5.

Del Giudice M, Ellis BJ, Shirtcliff EA. The Adaptive Calibration Model of stress responsivity. Neurosci Biobehav Rev. 2011;35:1562–92.

Eisenberger NI. Social pain and the brain: controversies, questions, and where to go from here. Annu Rev Psychol. 2015;66:601–29.

Dufford AJ, Kim P. Family income, cumulative risk exposure, and white matter structure in middle childhood. Front Hum Neurosci. 2017;11:547.

Zsoldos E, Filippini N, Mahmood A, Mackay CE, Singh-Manoux A, Kivimaki M, et al. Allostatic load as a predictor of grey matter volume and white matter integrity in old age: The Whitehall II MRI study. Sci Rep. 2018;8:6411.

Peterson BS, Warner V, Bansal R, Zhu H, Hao X, Liu J, et al. Cortical thinning in persons at increased familial risk for major depression. Proc Natl Acad Sci USA 2009;106:6273–8.

Fani N, Jovanovic T, Ely TD, Bradley B, Gutman D, Tone EB, et al. Neural correlates of attention bias to threat in post-traumatic stress disorder. Biol Psychol. 2012;90:134–42.

Matsuda H. Role of neuroimaging in Alzheimer's disease, with emphasis on brain perfusion SPECT. J Nucl Med. 2007;48:1289–300.

Scheff SW, Price DA, Ansari MA, Roberts KN, Schmitt FA, Ikonomovic MD, et al. Synaptic change in the posterior cingulate gyrus in the progression of Alzheimer's disease. J Alzheimers Dis. 2015;43:1073–90.

Gefen T, Peterson M, Papastefan ST, Martersteck A, Whitney K, Rademaker A, et al. Morphometric and histologic substrates of cingulate integrity in elders with exceptional memory capacity. J Neurosci: Off J Soc Neurosci. 2015;35:1781–91.

Alzheimer's Disease Facts and Figures Report 2020 [Available from: https://www.alz.org/media/Documents/alzheimers-facts-and-figures.pdf.

Webb EK, Weis CN, Huggins AA, Fitzgerald JM, Bennett K, Bird CM, et al. Neural impact of neighborhood socioeconomic disadvantage in traumatically injured adults. Neurobiol Stress. 2021;15:100385.

Harnett NG, Wheelock MD, Wood KH, Goodman AM, Mrug S, Elliott MN, et al. Negative life experiences contribute to racial differences in the neural response to threat. NeuroImage. 2019;202:116086.

Kim EJ, Pellman B, Kim JJ. Stress effects on the hippocampus: a critical review. Learn Mem. 2015;22:411–6.

Hatzenbuehler ML, Weissman DG, McKetta S, Lattanner MR, Ford JV, Barch DM, et al. Smaller hippocampal volume among black and latinx youth living in high-stigma contexts. J Am Acad Child Adolesc Psychiatry. 2022;61:809-819.

Schriber RA, Anbari Z, Robins RW, Conger RD, Hastings PD, Guyer AE. Hippocampal volume as an amplifier of the effect of social context on adolescent depression. Clin Psychol Sci. 2017;5:632–49.

Callaghan BL, Tottenham N. The stress acceleration hypothesis: effects of early-life adversity on emotion circuits and behavior. Curr Opin Behav Sci. 2016;7:76–81.
Acknowledgements
We wish to thank Allen Graham, Rebecca Hinrichs, Angelo Brown and other members of the Grady Trauma Project, as well as members of the Fani Affective Neuroscience Lab, for their assistance with data collection. We thank Timothy Ely for his technical assistance. We thank participants of the Grady Trauma Project for their time and involvement in this study.
Funding
This work was primarily supported by National Institute of Mental Health (MH101380 to NF, MH119603 to NGH, MH-071537 and MH094757 to KJR, HD071982 to BB) and National Center for Complementary and Integrative Health (AT011267 to NF). Support was also received from the Emory Medical Care Foundation, Emory University Research Council, American Psychological Association, Society for Clinical Neuropsychology and the Frazier Foundation Grant for Mood and Anxiety Research at McLean Hospital, and the National Cancer Institute (CA220254-02S1).
Ethics declarations
Competing interests
KJR has received unrelated consulting income or sponsored research from Alkermes, Brainsway and Genomind, and is on scientific advisory boards for Janssen, Takeda, and Verily. The remaining authors have no financial conflicts of interest to disclose.
Additional information
Publisher's note Springer Nature remains neutral with regard to jurisdictional claims in published maps and institutional affiliations.
Supplementary information
Rights and permissions
Springer Nature or its licensor holds exclusive rights to this article under a publishing agreement with the author(s) or other rightsholder(s); author self-archiving of the accepted manuscript version of this article is solely governed by the terms of such publishing agreement and applicable law.
About this article
Cite this article
Fani, N., Eghbalzad, L., Harnett, N.G. et al. Racial discrimination associates with lower cingulate cortex thickness in trauma-exposed black women. Neuropsychopharmacol. 47, 2230–2237 (2022). https://doi.org/10.1038/s41386-022-01445-8
Received:

Revised:

Accepted:

Published:

Issue Date:

DOI: https://doi.org/10.1038/s41386-022-01445-8