Abstract
The formation and extinction of fear memories represent two forms of learning that each engage the hippocampus and amygdala. How cell populations in these areas contribute to fear relapse, however, remains unclear. Here, we demonstrate that, in male mice, cells active during fear conditioning in the dentate gyrus of hippocampus exhibit decreased activity during extinction and are re-engaged after contextual fear relapse. In vivo calcium imaging reveals that relapse drives population dynamics in the basolateral amygdala to revert to a network state similar to the state present during fear conditioning. Finally, we find that optogenetic inactivation of neuronal ensembles active during fear conditioning in either the hippocampus or amygdala is sufficient to disrupt fear expression after relapse, while optogenetic stimulation of these same ensembles after extinction is insufficient to artificially mimic fear relapse. These results suggest that fear relapse triggers a partial re-emergence of the original fear memory representation, providing new insight into the neural substrates of fear relapse.
Relevant articles
Open Access articles citing this article.
Stephanie L. Grella

,

Amanda H. Fortin

…

Steve Ramirez

Nature Communications Open Access 12 September 2022
Access options
Subscribe to Journal
Get full journal access for 1 year
$119.00
only $9.15 per issue
All prices are NET prices.
VAT will be added later in the checkout.
Tax calculation will be finalised during checkout.
Buy article
Get time limited or full article access on ReadCube.
$32.00
All prices are NET prices.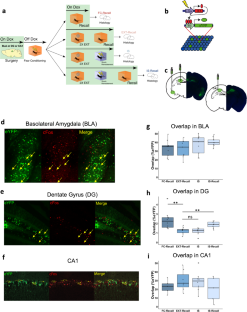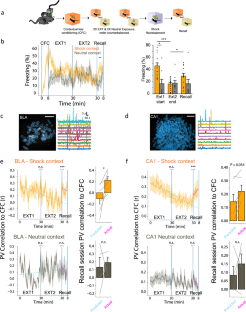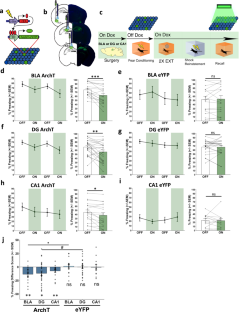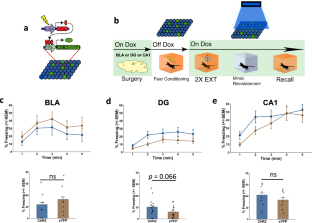 References
Goode, TD, et al. 10 - Neural Circuits for Fear Relapse. In Neurobiology of Abnormal Emotion and Motivated Behaviors (Sangha, S and Foti, D eds), 2018. pp. 182–202, Academic Press.

Bouton ME, Bolles RC. Role of conditioned contextual stimuli in reinstatement of extinguished fear. J Exp Psychol Anim Behav Process. 1979;5:368–78.

Rescorla RA, Heth CD. Reinstatement of fear to an extinguished conditioned stimulus. J Exp Psychol Anim Behav Process. 1975;1:88–96.

Halladay LR, et al. Reinstatement of extinguished fear by an unextinguished conditional stimulus. Front Behav Neurosci. 2012;6:18.

Goode TD, Maren S. Animal models of fear relapse. ILAR J. 2014;55:246–58.

Vervliet B, et al. Fear extinction and relapse: state of the art. Annu Rev Clin Psychol. 2013;9:215–48.

Kearns MC, et al. Early interventions for PTSD: a review. Depress Anxiety. 2012;29:833–42.

LaBar KS, Phelps EA. Reinstatement of conditioned fear in humans is context dependent and impaired in amnesia. Behav Neurosci. 2005;119:677–86.

Haaker J, et al. A review on human reinstatement studies: an overview and methodological challenges. Learn Mem. 2014;21:424–40.

Maren S. Neurobiology of Pavlovian fear conditioning. Annu Rev Neurosci. 2001;24:897–931.

Maren S, Holmes A. Stress and fear extinction. Neuropsychopharmacology. 2016;41:58–79.

Milad MR, Quirk GJ. Fear extinction as a model for translational neuroscience: ten years of progress. Annu Rev Psychol. 2012;63:129–51.

Quirk GJ, Mueller D. Neural mechanisms of extinction learning and retrieval. Neuropsychopharmacology. 2008;33:56–72.

Bocchio M, et al. Synaptic plasticity, engrams, and network oscillations in amygdala circuits for storage and retrieval of emotional memories. Neuron. 2017;94:731–43.

LeDoux JE. Emotion circuits in the brain. Annu Rev Neurosci. 2000;23:155–84.

Rescorla RA, Cunningham CL. Erasure of reinstated fear. Anim Learn Behav. 1977;5:386–94.

Bouton ME. Context, time, and memory retrieval in the interference paradigms of pavlovian learning. Psychological Bull. 1993;114:80–99.

Westbrook FR, et al. Reinstatement of fear to an extinguished conditioned stimulus: Two roles for context. J Exp Psychol-Anim Behav Process. 2002;28:97–110.

Giustino TF, et al. Locus coeruleus toggles reciprocal prefrontal firing to reinstate fear. Proc Natl Acad Sci USA. 2019;116:8570–5.

Hitora-Imamura N, et al. Prefrontal dopamine regulates fear reinstatement through the downregulation of extinction circuits. Elife. 2015;4:e08274.

Goode TD, et al. Reversible inactivation of the bed nucleus of the stria terminalis prevents reinstatement but not renewal of extinguished fear. eNeuro. 2015;2:ENEURO.0037-15.2015.

Fu J, et al. Region-specific roles of the prelimbic cortex, the dorsal CA1, the ventral DG and ventral CA1 of the hippocampus in the fear return evoked by a sub-conditioning procedure in rats. Neurobiol Learn Mem. 2016;128:80–91.

Cammarota M, et al. Inhibition of mRNA and protein synthesis in the CA1 region of the dorsal hippocampus blocks reinstallment of an extinguished conditioned fear response. J Neurosci. 2003;23:737–41.

Goode TD, Maren S. Common neurocircuitry mediating drug and fear relapse in preclinical models. Psychopharmacol (Berl). 2019;236:415–37.

Ramirez S, et al. Creating a false memory in the hippocampus. Science. 2013;341:387–91.

Reijmers LG, et al. Localization of a stable neural correlate of associative memory. Science. 2007;317:1230–3.

Nakazawa Y, et al. Memory retrieval along the proximodistal axis of CA1. Hippocampus. 2016;26:1140–8.

Ghandour K, et al. Orchestrated ensemble activities constitute a hippocampal memory engram. Nat Commun. 2019;10:2637.

Denny CA, et al. Hippocampal memory traces are differentially modulated by experience, time, and adult neurogenesis. Neuron. 2014;83:189–201.

Redondo RL, et al. Bidirectional switch of the valence associated with a hippocampal contextual memory engram. Nature. 2014;513:426–30.

Ohkawa N, et al. Artificial association of pre-stored information to generate a qualitatively new memory. Cell Rep. 2015;11:261–9.

Davis P, et al. Cellular and oscillatory substrates of fear extinction learning. Nat Neurosci. 2017;20:1624–33.

Tronson NC, et al. Segregated populations of hippocampal principal CA1 neurons mediating conditioning and extinction of contextual fear. J Neurosci. 2009;29:3387–94.

Lacagnina AF, et al. Distinct hippocampal engrams control extinction and relapse of fear memory. Nat Neurosci. 2019;22:753–61.

Khalaf O, et al. Reactivation of recall-induced neurons contributes to remote fear memory attenuation. Science. 2018;360:1239–42.

Herry C, et al. Switching on and off fear by distinct neuronal circuits. Nature. 2008;454:600–6.

Yoshii T, et al. Pharmacogenetic reactivation of the original engram evokes an extinguished fear memory. Neuropharmacology. 2017;113:1–9.

Ramirez S, et al. Activating positive memory engrams suppresses depression-like behaviour. Nature. 2015;522:335–9.

Resendez SL, et al. Visualization of cortical, subcortical and deep brain neural circuit dynamics during naturalistic mammalian behavior with head-mounted microscopes and chronically implanted lenses. Nat Protoc. 2016;11:566–97.

Mukamel EA, et al. Automated analysis of cellular signals from large-scale calcium imaging data. Neuron. 2009;63:747–60.

Sheintuch L, et al. Tracking the same neurons across multiple days in Ca(2+) imaging data. Cell Rep. 2017;21:1102–15.

Fanselow MS, Dong HW. Are the dorsal and ventral hippocampus functionally distinct structures? Neuron. 2010;65:7–19.

Grewe BF, et al. Neural ensemble dynamics underlying a long-term associative memory. Nature. 2017;543:670–5.

Hartley ND, et al. Dynamic remodeling of a basolateral-to-central amygdala glutamatergic circuit across fear states. Nat Neurosci. 2019;22:2000–12.

Thistlethwaite DL, Campbell DT. Regression-discontinuity analysis - an alternative to the ex-post-facto experiment. J Educ Psychol. 1960;51:309–17.

Lopes-dos-Santos V, et al. Detecting cell assemblies in large neuronal populations. J Neurosci Methods. 2013;220:149–66.

Clem RL, Schiller D. New learning and unlearning: strangers or accomplices in threat memory attenuation? Trends Neurosci. 2016;39:340–51.

Mau W, et al. The same hippocampal CA1 population simultaneously codes temporal information over multiple timescales. Curr Biol. 2018;28:1499–508 e4.

Rubin A, et al. Hippocampal ensemble dynamics timestamp events in long-term memory. Elife. 2015;4:e12247.

Mankin EA, et al. Neuronal code for extended time in the hippocampus. Proc Natl Acad Sci USA. 2012;109:19462–7.

Rule ME, et al. Causes and consequences of representational drift. Curr Opin Neurobiol. 2019;58:141–7.

Driscoll LN, et al. Dynamic reorganization of neuronal activity patterns in parietal cortex. Cell. 2017;170:986–99 e16.

Mau, W et al. The brain in motion: How ensemble fluidity drives memory-updating and flexibility. Elife. 2020;9.

Liu X, et al. Optogenetic stimulation of a hippocampal engram activates fear memory recall. Nature. 2012;484:381–5.

Maren S. Out with the old and in with the new: Synaptic mechanisms of extinction in the amygdala. Brain Res. 2015;1621:231–8.

Maren S. Seeking a spotless mind: extinction, deconsolidation, and erasure of fear memory. Neuron. 2011;70:830–45.

Trouche S, et al. Fear extinction causes target-specific remodeling of perisomatic inhibitory synapses. Neuron. 2013;80:1054–65.

Reitich-Stolero T, Paz R. Affective memory rehearsal with temporal sequences in amygdala neurons. Nat Neurosci. 2019;22:2050–9.

Ryan TJ, et al. Memory. Engram cells retain memory under retrograde amnesia. Science. 2015;348:1007–13.

Abdou K, et al. Synapse-specific representation of the identity of overlapping memory engrams. Science. 2018;360:1227–31.

Tonegawa S, et al. The role of engram cells in the systems consolidation of memory. Nat Rev Neurosci. 2018;19:485–98.

Yiu AP, et al. Neurons are recruited to a memory trace based on relative neuronal excitability immediately before training. Neuron. 2014;83:722–35.

Rashid AJ, et al. Competition between engrams influences fear memory formation and recall. Science. 2016;353:383–7.

Cai DJ, et al. A shared neural ensemble links distinct contextual memories encoded close in time. Nature. 2016;534:115–8.

Vetere G, et al. Memory formation in the absence of experience. Nat Neurosci. 2019;22:933–40.

Tanaka KZ, et al. The hippocampal engram maps experience but not place. Science. 2018;361:392–7.

Hainmueller T, Bartos M. Parallel emergence of stable and dynamic memory engrams in the hippocampus. Nature. 2018;558:292–6.

Matsuda S, et al. Sex differences in fear extinction and involvements of extracellular signal-regulated kinase (ERK). Neurobiol Learn Mem. 2015;123:117–24.

Fenton GE, et al. Sex differences in learned fear expression and extinction involve altered gamma oscillations in medial prefrontal cortex. Neurobiol Learn Mem. 2016;135:66–72.

Keiser AA, et al. Sex differences in context fear generalization and recruitment of hippocampus and amygdala during retrieval. Neuropsychopharmacology. 2017;42:397–407.
Acknowledgements
We thank Dr. Joshua Sanes and his lab at the Center for Brain Science, Harvard University, for providing laboratory space within which the initial experiments were conducted, the Center for Brain Science Neuroengineering core for providing technical support, and the Society of Fellows at Harvard University for their support. We also thank Dr. Susumu Tonegawa and his lab for providing the activity-dependent virus cocktail, Dr. Chris MacDonald for consultation on behavioral schedules, and Drs. Leon Reijmers and Patrick Davis, for their help with formulating this project and for their feedback throughout. We also thank Vardhan Dani and Inscopix for their technical assistance as well as Helen Fawcett and the NSF Neurophotonics Research Traineeship Program.
Funding
This work was supported by an NIH Early Independence Award (DP5 OD023106-01), an NIH Transformative R01 Award, a Young Investigator Grant from the Brain and Behavior Research Foundation, a Ludwig Family Foundation grant, and the McKnight Foundation Memory and Cognitive Disorders award.
Ethics declarations
Competing interests
The authors declare no competing interests.
Additional information
Publisher's note Springer Nature remains neutral with regard to jurisdictional claims in published maps and institutional affiliations.
Supplementary information
Rights and permissions
Springer Nature or its licensor holds exclusive rights to this article under a publishing agreement with the author(s) or other rightsholder(s); author self-archiving of the accepted manuscript version of this article is solely governed by the terms of such publishing agreement and applicable law.
About this article
Cite this article
Zaki, Y., Mau, W., Cincotta, C. et al. Hippocampus and amygdala fear memory engrams re-emerge after contextual fear relapse. Neuropsychopharmacol. 47, 1992–2001 (2022). https://doi.org/10.1038/s41386-022-01407-0
Received:

Revised:

Accepted:

Published:

Issue Date:

DOI: https://doi.org/10.1038/s41386-022-01407-0
Further reading
Stephanie L. Grella
Amanda H. Fortin
Steve Ramirez

Nature Communications (2022)