Abstract
Individuals with schizophrenia show impairments in associative learning. One well-studied, quantifiable form of associative learning is Pavlovian fear conditioning. However, to date, studies of fear conditioning in schizophrenia have been inconclusive, possibly because they lacked sufficient power. To address this issue, we pooled data from four independent fear conditioning studies that included a total of 77 individuals with schizophrenia and 74 control subjects. Skin conductance responses (SCRs) to stimuli that were paired (the CS + ) or not paired (CS−) with an aversive, unconditioned stimulus were measured, and the success of acquisition of differential conditioning (the magnitude of CS + vs. CS− SCRs) and responses to CS + and CS− separately were assessed. We found that acquisition of differential conditioned fear responses was significantly lower in individuals with schizophrenia than in healthy controls (Cohen's d = 0.53). This effect was primarily related to a significantly higher response to the CS− stimulus in the schizophrenia compared to the control group. Moreover, the magnitude of this response to the CS− in the schizophrenia group was correlated with the severity of delusional ideation (p = 0.006). Other symptoms or antipsychotic dose were not associated with fear conditioning measures. In conclusion, individuals with schizophrenia who endorse delusional beliefs may be over-responsive to neutral stimuli during fear conditioning. This finding is consistent with prior models of abnormal associative learning in psychosis.
This is a preview of subscription content
Access options
Subscribe to Journal
Get full journal access for 1 year
$119.00
only $9.15 per issue
All prices are NET prices.
VAT will be added later in the checkout.
Tax calculation will be finalised during checkout.
Buy article
Get time limited or full article access on ReadCube.
$32.00
All prices are NET prices.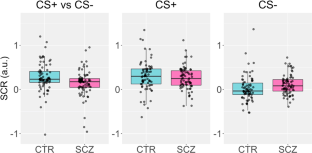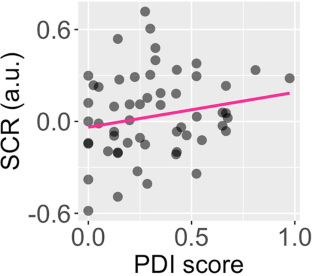 References
Hall J, Romaniuk L, McIntosh AM, Steele JD, Johnstone EC, Lawrie SM. Associative learning and the genetics of schizophrenia. Trends Neurosci. 2009;32:359–65.

Maher BA. Delusional thinking and perceptual disorder. J Individ Psychol. 1974;30:98.

Kapur S. Psychosis as a state of aberrant salience: a framework linking biology, phenomenology, and pharmacology in schizophrenia. Am J Psychiatry. 2003;160:13–23.

Gold JM, Waltz JA, Prentice KJ, Morris SE, Heerey EA. Reward Processing in Schizophrenia: a Deficit in the Representation of Value. Schizophrenia Bull. 2008;34:835–47.

Lonsdorf TB, Menz MM, Andreatta M, Fullana MA, Golkar A, Haaker J, et al. Don't fear 'fear conditioning': Methodological considerations for the design and analysis of studies on human fear acquisition, extinction, and return of fear. Neurosci Biobehav Rev. 2017;77:247–85.

Jensen J, Willeit M, Zipursky RB, Savina I, Smith AJ, Menon M, et al. The formation of abnormal associations in schizophrenia: neural and behavioral evidence. Neuropsychopharmacology. 2008;33:473–9.

Maia TV, Frank MJ. An integrative perspective on the role of dopamine in schizophrenia. Biol Psychiatry. 2017;81:52–66.

Romaniuk L, Honey GD, King JR, Whalley HC, McIntosh AM, Levita L, et al. Midbrain activation during Pavlovian conditioning and delusional symptoms in schizophrenia. Arch Gen Psychiatry. 2010;67:1246–54.

Roiser J, Stephan K, Den Ouden H, Barnes T, Friston K, Joyce E. Do patients with schizophrenia exhibit aberrant salience? Psychological Med. 2009;39:199–209.

Holt DJ, Coombs G, Zeidan MA, Goff DC, Milad MR. Failure of neural responses to safety cues in schizophrenia. Arch Gen Psychiatry. 2012;69:893–903.

Holt DJ, Lebron-Milad K, Milad MR, Rauch SL, Pitman RK, Orr SP, et al. Extinction memory is impaired in schizophrenia. Biol Psychiatry. 2009;65:455–63.

Hofer E, Doby D, Anderer P, Dantendorfer K. Impaired conditional discrimination learning in schizophrenia. Schizophrenia Res. 2001;51:127–36.

Tuominen L, DeCross SN, Boeke E, Cassidy CM, Freudenreich O, Shinn AK, et al. Neural abnormalities in fear generalization in schizophrenia and associations with negative symptoms. Biol Psychiatry: Cogn Neurosci Neuroimaging. 2021. https://doi.org/10.1016/j.bpsc.2021.01.006.

Peters H, Murphee O. The conditioned reflex in the chronic schizophrenic. J Clin Psychol. 1954;10:126–30.

Lynn R. Russian theory and research on schizophrenia. Psychological Bull. 1963;60:486.

Baer PE, Fuhrer MJ. Cognitive factors in differential conditioning of the GSR: use of a reaction time task as the UCS with normals and schizophrenics. J Abnorm Psychol. 1969;74:544.

O'Connor N, Rawnsley K. Two types of conditioning in psychotics and normals. J Abnorm Soc Psychol. 1959;58:157.

First MB, Gibbon M, Spitzer RL, Williams JBW. User's guide for the structured clinical interview for DSM–IV Axis I disorders. New York: Biometrics Research (SCID-I, Version 2.0, October 1995 Final Version) 1995.

Peters ER, Joseph SA, Garety PA. Measurement of delusional ideation in the normal population: introducing the PDI (Peters et al. Delusions Inventory). Schizophr Bull. 1999;25:553–76.

Peters E, Joseph S, Day S, Garety P. Measuring Delusional Ideation: the 21-Item Peters et al. Delusions Inventory (PDI). Schizophrenia Bull. 2004;30:1005–22.

Preti A, Rocchi MB, Sisti D, Mura T, Manca S, Siddi S, et al. The psychometric discriminative properties of the Peters et al Delusions Inventory: a receiver operating characteristic curve analysis. Compr Psychiatry. 2007;48:62–9.

Kao Y-C, Wang T-S, Lu C-W, Cheng T-H, Liu Y-P. The psychometric properties of the Peters et al. Delusions Inventory (PDI) in Taiwan: reliability, validity, and utility. Soc Psychiatry Psychiatr Epidemiol. 2012;47:1221–34.

Kay SR, Fiszbein A, Opler LA. The positive and negative syndrome scale (PANSS) for schizophrenia. Schizophr Bull. 1987;13:261–76.

Pernet CR, Wilcox RR, Rousselet GA. Robust correlation analyses: false positive and power validation using a new open source matlab toolbox. Front Psychol. 2013;3:606.

Pinheiro J, Bates D, DebRoy S, Sarkar D. R Core Team. nlme: Linear and Nonlinear Mixed Effects Models. 2013. available at: https://ftp.uni-bayreuth.de/math/statlib/R/CRAN/doc/packages/nlme.pdf. Accessed 27 September 2021.

Maechler M, Rousseeuw P, Croux C, Todorov V, Ruckstuhl A, Salibian-Barrera M, et al. Package 'robustbase'. Basic Robust Statistics. 2021. available at: http://robustbase.r-forge.r-project.org/. Accessed 27 September 2021.

Viechtbauer W. Conducting meta-analyses in R with the metafor package. J Stat Softw. 2010;36:1–48.

van Erp TG, Hibar DP, Rasmussen JM, Glahn DC, Pearlson GD, Andreassen OA, et al. Subcortical brain volume abnormalities in 2028 individuals with schizophrenia and 2540 healthy controls via the ENIGMA consortium. Mol Psychiatry. 2016;21:547–53.

Holt DJ, Kunkel L, Weiss AP, Goff DC, Wright CI, Shin LM, et al. Increased medial temporal lobe activation during the passive viewing of emotional and neutral facial expressions in schizophrenia. Schizophrenia Res. 2006;82:153–62.

Hall J, Whalley HC, McKirdy JW, Romaniuk L, McGonigle D, McIntosh AM, et al. Overactivation of fear systems to neutral faces in schizophrenia. Biol Psychiatry. 2008;64:70–3.

Holt DJ, Titone D, Long LS, Goff DC, Cather C, Rauch SL, et al. The misattribution of salience in delusional patients with schizophrenia. Schizophr Res. 2006;83:247–56.

Walker DL, Davis M. The role of amygdala glutamate receptors in fear learning, fear-potentiated startle, and extinction. Pharmacol Biochem Behav. 2002;71:379–92.

Batten SR, Pomerleau F, Quintero J, Gerhardt GA, Beckmann JS. The role of glutamate signaling in incentive salience: second‐by‐second glutamate recordings in awake Sprague‐Dawley rats. J Neurochemistry. 2018;145:276–86.

Acquas E, Wilson C, Fibiger HC. Conditioned and unconditioned stimuli increase frontal cortical and hippocampal acetylcholine release: effects of novelty, habituation, and fear. J Neurosci. 1996;16:3089–96.

Rajebhosale P, Ananth M, Crouse R, Jiang L, Hernández GL, Arty C, et al. Basal forebrain cholinergic neurons are part of the threat memory engram. BioRxiv. 2021:2021.05.02.442364.

Bauer EP. Serotonin in fear conditioning processes. Behavioural Brain Res. 2015;277:68–77.

Heinz A, Murray GK, Schlagenhauf F, Sterzer P, Grace AA, Waltz JA. Towards a unifying cognitive, neurophysiological, and computational neuroscience account of schizophrenia. Schizophrenia Bull. 2019;45:1092–100.

Collins AG, Brown JK, Gold JM, Waltz JA, Frank MJ. Working memory contributions to reinforcement learning impairments in schizophrenia. J Neurosci. 2014;34:13747–56.

Carter RM, Hofstötter C, Tsuchiya N, Koch C. Working memory and fear conditioning. Proc Natl Acad Sci. 2003;100:1399–404.

Quarmley M, Gur RC, Turetsky BI, Watters AJ, Bilker WB, Elliott MA, et al. Reduced safety processing during aversive social conditioning in psychosis and clinical risk. Neuropsychopharmacology. 2019;44:2247–53.

Armio R-L, Laurikainen H, Ilonen T, Walta M, Salokangas RKR, Koutsouleris N, et al. Amygdala subnucleus volumes in psychosis high-risk state and first-episode psychosis. Schizophrenia Res. 2020;215:284–92.

Barth C, Nerland S, de Lange A-MG, Wortinger LA, Hilland E, Andreassen O, et al. In vivo amygdala nuclei volumes in schizophrenia and bipolar disorders. Schizophrenia bulletin, 2021;47:1431–41.

Motzkin JC, Philippi CL, Wolf RC, Baskaya MK, Koenigs M. Ventromedial prefrontal cortex is critical for the regulation of amygdala activity in humans. Biol Psychiatry. 2015;77:276–84.

Anticevic A, Tang Y, Cho YT, Repovs G, Cole MW, Savic A, et al. Amygdala connectivity differs among chronic, early course, and individuals at risk for developing schizophrenia. Schizophrenia Bull. 2013;40:1105–16.

Tian L, Meng C, Yan H, Zhao Q, Liu Q, Yan J, et al. Convergent evidence from multimodal imaging reveals amygdala abnormalities in schizophrenic patients and their first-degree relatives. PloS ONE. 2011;6:e28794.

Hoptman MJ, D'Angelo D, Catalano D, Mauro CJ, Shehzad ZE, Kelly AC, et al. Amygdalofrontal functional disconnectivity and aggression in schizophrenia. Schizophrenia Bull. 2010;36:1020–8.

Duits P, Cath DC, Lissek S, Hox JJ, Hamm AO, Engelhard IM, et al. Updated meta‐analysis of classical fear conditioning in the anxiety disorders. Depression Anxiety. 2015;32:239–53.

Menon M, Jensen J, Vitcu I, Graff-Guerrero A, Crawley A, Smith MA, et al. Temporal difference modeling of the blood-oxygen level dependent response during aversive conditioning in humans: effects of dopaminergic modulation. Biol Psychiatry. 2007;62:765–72.
Funding
The collection of the original data was funded by the National Institute of Mental Health (K23 MH076054 (DJH), K24 MH002025 (DCG), R01 MH095904 (DJH)), EU_117 grant from the Translational Medicine Research Collaboration (JH), the National Alliance for Research on Depression and Schizophrenia with the Sidney R. Baer Jr Foundation (DJH). The funding agencies had no role in the design of the studies, in the data collection, analyses, interpretation, writing of the paper, nor in the decision to submit the paper for publication. All views expressed here are those of the authors.
Ethics declarations
The authors declare no competing interests.
Additional information
Publisher's note Springer Nature remains neutral with regard to jurisdictional claims in published maps and institutional affiliations.
Supplementary information
About this article
Cite this article
Tuominen, L., Romaniuk, L., Milad, M.R. et al. Impairment in acquisition of conditioned fear in schizophrenia. Neuropsychopharmacol. 47, 681–686 (2022). https://doi.org/10.1038/s41386-021-01193-1
Received:

Revised:

Accepted:

Published:

Issue Date:

DOI: https://doi.org/10.1038/s41386-021-01193-1