Access options
Subscribe to Journal
Get full journal access for 1 year
$499.00
only $38.38 per issue
All prices are NET prices.
VAT will be added later in the checkout.
Rent or Buy article
Get time limited or full article access on ReadCube.
from$8.99
All prices are NET prices.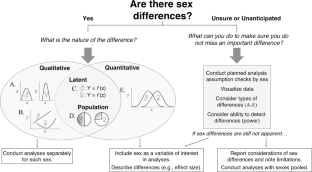 References
1.

Sugimoto CR, Ahn Y-Y, Smith E, Macaluso B, Larivière V. Factors affecting sex-related reporting in medical research: a cross-disciplinary bibliometric analysis. Lancet. 2019;393:550–9.

2.

Beery AK, Zucker I. Sex bias in neuroscience and biomedical research. Neurosci Biobehav Rev. 2011;35:565–72.

3.

Shansky RM. Are hormones a "female problem" for animal research? Science. 2019;364:825–6.

4.

Beery AK. Inclusion of females does not increase variability in rodent research studies. Curr Opin Behav Sci. 2018;23:143–9.

5.

Becker JB, Chartoff E. Sex differences in neural mechanisms mediating reward and addiction. Neuropsychopharmacology. 2019;44:166–83.

6.

Gruene, TM, Flick, K, Stefano, A, Shea, SD, Shansky, RM. Sexually divergent expression of active and passive conditioned fear responses in rats. eLife. 2015; 4.

7.

Mogil JS, Macleod MR. No publication without confirmation. Nature. 2017;542:409–11.

8.

Miller GA, Chapman JP. Misunderstanding analysis of covariance. J Abnorm Psychol. 2001;110:40–48.

9.

Perry AN, Westenbroek C, Becker JB. The development of a preference for cocaine over food identifies individual rats with addiction-like behaviors. Plos ONE. 2013;8:e79465.

10.

Beltz AM. Gendered mechanisms underlie the relation between pubertal timing and adult depressive symptoms. J Adolesc Health. 2018;62:722–8.

11.

Beltz AM, Wright AGC, Sprague BN, Molenaar PCM. Bridging the nomothetic and idiographic approaches to the analysis of clinical data. Assessment. 2016;23:447–58.

12.

Mendle J, Harden KP, Brooks-Gunn J, Graber JA. Development's tortoise and hare: pubertal timing, pubertal tempo, and depressive symptoms in boys and girls. Developmental Psychol. 2010;46:1341–53.

13.

Sorge RE, Martin LJ, Isbester KA, Sotocinal SG, Rosen S, Tuttle AH. et al. Olfactory exposure to males, including men, causes stress and related analgesia in rodents. Nature Methods. 2014;11, pp. 629–632.

14.

Becker JB, Arnold AP, Berkley KJ, Blaustein JD, Eckel LA, Hampson E. et al. Strategies and methods for research on sex differences in brain and behavior. Endocrinology. 2005;146, pp. 1650–1673.

15.

Becker JB, McClellan ML, Reed BG. Sex differences, gender and addiction. Journal of Neuroscience Research. 2017;95, pp. 136–147.
Additional information
Publisher's note Springer Nature remains neutral with regard to jurisdictional claims in published maps and institutional affiliations.
These authors contributed equally as co-first authors: Adriene M. Beltz, Annaliese K. Beery
About this article
Cite this article
Beltz, A.M., Beery, A.K. & Becker, J.B. Analysis of sex differences in pre-clinical and clinical data sets. Neuropsychopharmacol. 44, 2155–2158 (2019). https://doi.org/10.1038/s41386-019-0524-3
Received:

Revised:

Accepted:

Published:

Issue Date: