Abstract
Interest in research on neuroendocrine tumors (NETs) has grown in the past 10 years, coinciding with improvements in our understanding of the molecular pathogenesis of NETs. In addition, NETs have become one of the most exciting settings for drug development. Two targeted agents for the management of advanced pancreatic NETs have been approved, but the development of targeted agents for NETs is limited by problems with both patient selection and demonstration of activity. In this review, we analyze these limitations and discuss ways to increase the predictive value of preclinical models for target discovery and drug development. The role of translational research and 'omics' methodologies is emphasized, with the final aim of developing personalized medicine. Because NETs usually grow slowly and metastatic tumors are found at easily accessible locations, and owing to improvements in techniques for liquid biopsies, NETs provide a unique opportunity to obtain tumor samples at all stages of the evolution of the disease and to adapt treatment to changes in tumor biology. Combining clinical and translational research is essential to achieve progress in the NET field. Slow growth and genetic stability limit and challenge both the availability and further development of preclinical models of NETs, one of the most crucial unmet research needs in the field. Finally, we suggest some useful approaches for improving clinical drug development for NETs: moving from classical RECIST-based response end points to survival parameters; searching for different criteria to define response rates (for example, antiangiogenic effects and metabolic responses); implementing randomized phase II studies to avoid single-arm phase II studies that produce limited data on drug efficacy; and using predictive biomarkers for patient selection.
Relevant articles
Open Access articles citing this article.
Angela M. Carter

,

Nilesh Kumar

…

James A. Bibb

Oncogenesis Open Access 03 December 2021

Faidon-Marios Laskaratos

,

Man Liu

…

Christos Toumpanakis

Endocrine Open Access 14 April 2020
Access options
Subscribe to Journal
Get full journal access for 1 year
$119.00
only $2.38 per issue
All prices are NET prices.
VAT will be added later in the checkout.
Tax calculation will be finalised during checkout.
Buy article
Get time limited or full article access on ReadCube.
$32.00
All prices are NET prices.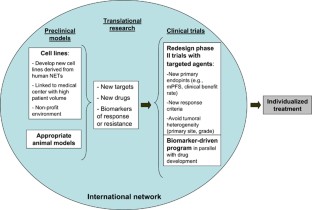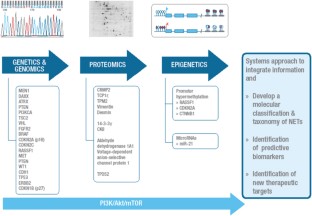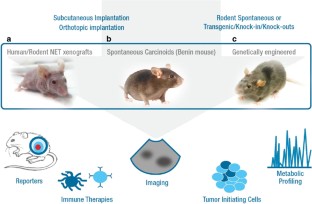 References
Yao JC, Hassan M, Phan A, Dagohoy C, Leary C, Mares JE et al. One hundred years after "carcinoid": epidemiology of and prognostic factors for neuroendocrine tumors in 35,825 cases in the United States. J Clin Oncol 2008; 26: 3063–3072.

Modlin IM, Lye KD, Kidd M . A 5-decade analysis of 13,715 carcinoid tumors. Cancer 2003; 97: 934–959.

Capdevila J, Tabernero J . A shining light in the darkness for the treatment of pancreatic neuroendocrine tumors. Cancer Discov 2011; 1: 213–221.

Doroshow JH, Kummar S . Translational research in oncology-10 years of progress and future prospects. Nat Rev Clin Oncol 2014; 11: 649–662.

Mendelsohn J, Baselga J . The EGF receptor family as targets for cancer therapy. Oncogene 2000; 19: 6550–6565.

Meeker A, Heaphy C . Gastroenteropancreatic endocrine tumors. Mol Cell Endocrinol 2014; 386: 101–120.

Zikusoka MN, Kidd M, Eick G, Latich I, Modlin IM . The molecular genetics of gastroenteropancreatic neuroendocrine tumors. Cancer 2005; 104: 2292–2309.

Asa SL . Pancreatic endocrine tumors. Mod Pathol 2011; 24: S66–S77.

Jiao Y, Shi C, Edil BH, de Wilde RF, Klimstra DS, Maitra A et al. DAXX/ATRX, MEN1, and mTOR pathway genes are frequently altered in pancreatic neuroendocrine tumors. Science 2011; 331: 1199–1203.

Heaphy CM, de Wilde RF, Jiao Y, Klein AP, Edil BH, Shi C et al. Altered telomeres in tumors with ATRX and DAXX mutations. Science 2011; 333: 425.

De Wilde RF, Edil BH, Hruban RH, Maitra A . Well-differentiated pancreatic neuroendocrine tumors: from genetics to therapy. Nat Rev Gastroenterol Hepatol 2012; 9: 199–208.

Elsässer SJ, Allis CD, Lewis PW . Cancer. New epigenetic drivers of cancers. Science 2011; 331: 1145–1146.

Oberg K, Casanovas O, Castaño JP, Chung D, Delle Fave G, Denèfle P et al. Molecular pathogenesis of neuroendocrine tumors: implications for current and future therapeutic approaches. Clin Cancer Res 2013; 19: 2842–2849.

Chan J, Kulke M . Targeting the mTOR signaling pathway in neuroendocrine tumors. Curr Treat Options Oncol 2014; 15: 365–379.

Yao J, Pavel M, Lombard-Bohas C, van Cutsem E, Lam D, Kunz T et al. Everolimus (EVE) for the treatment of advanced pancreatic neuroendocrine tumors (pNET): final overall survival (OS) results of a randomized, double-blind, placebo (PBO)-controlled, multicenter phase III trial (RADIANT-3). Ann Oncol 2014; 25: iv394–iv405.

Missiaglia E, Dalai I, Barbi S, Beghelli S, Falconi M, della Peruta M et al. Pancreatic endocrine tumors: expression profiling evidences a role for AKT-mTOR pathway. J Clin Oncol 2010; 28: 245–255.

Banck MS, Kanwar R, Kulkarni AA, Boora GK, Metge F, Kipp BR et al. The genomic landscape of small intestine neuroendocrine tumors. J Clin Invest 2013; 123: 2502–2508.

De Dosso S, Grande E, Barriuso J, Castellano D, Tabernero J, Capdevila J . The targeted therapy revolution in neuroendocrine tumors: in search of biomarkers for patient selection and response evaluation. Cancer Metastasis Rev 2013; 32: 465–477.

Capurso G, Festa S, Valente R, Piciucchi M, Panzuto F, Jensen RT et al. Molecular pathology and genetics of pancreatic endocrine tumours. J Mol Endocrinol 2012; 49: R37–R50.

Francis JM, Kiezun A, Ramos AH, Serra S, Pedamallu CS, Qian ZR et al. Somatic mutation of CDKN1B in small intestine neuroendocrine tumors. Nat Genet 2013; 45: 1483–1486.

Couderc C, Bollard J, Couté Y, Massoma P, Poncet G, Lepinasse F et al. Mechanisms of local invasion in enteroendocrine tumors: Identification of novel candidate cytoskeleton-associated proteins in an experimental mouse model by a proteomic approach and validation in human tumors. Mol Cell Endocrinol 2015; 399: 154–163.

Alkatout I, Friemel J, Sitek B, Anlauf M, Eisenach PA, Stühler K et al. Novel prognostic markers revealed by a proteomic approach separating benign from malignant insulinomas. Mod Pathol 2014; 28: 69–79.

Kidd M, Modlin IM, Drozdov I . Gene network-based analysis identifies two potential subtypes of small intestinal neuroendocrine tumors. BMC Genomics 2014; 15: 595.

Karpathakis A, Dibra H, Thirlwell C . Neuroendocrine tumours: cracking the epigenetic code. Endocr Relat Cancer 2013; 20: R65–R82.

House MG, Herman JG, Guo MZ, Hooker CM, Schulick RD, Lillemoe KD et al. Aberrant hypermethylation of tumor suppressor genes in pancreatic endocrine neoplasms. Ann Surg 2003; 238: 423–431; discussion 431–432.

Luco RF, Allo M, Schor IE, Kornblihtt AR, Misteli T . Epigenetics in alternative pre-mRNA splicing. Cell 2011; 144: 16–26.

Oltean S, Bates DO . Hallmarks of alternative splicing in cancer. Oncogene 2013; 33: 5311–5318.

Castaño JP, Sundin A, Maecke HR, Villabona C, Vazquez-Albertino R, Navarro E et al. Gastrointestinal neuroendocrine tumors (NETs): new diagnostic and therapeutic challenges. Cancer Metastasis Rev 2014; 33: 353–359.

Guedj M, Marisa L, de Reynies A, Orsetti B, Schiappa R, Bibeau F et al. A refined molecular taxonomy of breast cancer. Oncogene 2012; 31: 1196–1206.

DeVita VT, Schein PS . The use of drugs in combination for the treatment of cancer: rationale and results. N Engl J Med 1973; 288: 998–1006.

Durán-Prado M, Gahete MD, Hergueta-Redondo M, Martínez-Fuentes AJ, Córdoba-Chacón J, Palacios J et al. The new truncated somatostatin receptor variant sst5tmd4 is associated to poor prognosis in breast cancer and increases malignancy in MCF-7 cells. Oncogene 2012; 31: 2049–2061.

Sampedro-Nuñez M, Luque RM, Ramos-Levi A, Gahete MD, Serrrano-Somavilla A, Villa-Osaba A et al. Presence of sst5TMD4, a truncated splice variant of the somatostatin receptor subtype 5, is associated to features of increased aggressiveness in pancreatic neuroendocrine tumors. Oncotarget 2015; 7: 6593–6608 In press.

Musunuru S, Carpenter JE, Sippel RS, Kunnimalaiyaan M, Chen H . A mouse model of carcinoid syndrome and heart disease. J Surg Res 2005; 126: 102–105.

Parekh D, Ishizuka J, Townsend CM, Haber B, Beauchamp RD, Karp G et al. Characterization of a human pancreatic carcinoid in vitro: morphology, amine and peptide storage, and secretion. Pancreas 1994; 9: 83–90.

Kölby L, Bernhardt P, Johanson V, Schmitt A, Ahlman H, Forssell-Aronsson E et al. Successful receptor-mediated radiation therapy of xenografted human midgut carcinoid tumour. Br J Cancer 2005; 93: 1144–1151.

Kölby L, Bernhardt P, Ahlman H, Wängberg B, Johanson V, Wigander A et al. A transplantable human carcinoid as model for somatostatin receptor-mediated and amine transporter-mediated radionuclide uptake. Am J Pathol 2001; 158: 745–755.

Modlin IM, Kidd M, Pfragner R, Eick GN, Champaneria MC . The functional characterization of normal and neoplastic human enterochromaffin cells. J Clin Endocrinol Metab 2006; 91: 2340–2348.

Corbett TH, Roberts BJ, Leopold WR, Peckham JC, Wilkoff LJ, Griswold DP et al. Induction and chemotherapeutic response of two transplantable ductal adenocarcinomas of the pancreas in C57BL/6 mice. Cancer Res 1984; 44: 717–726.

Nilsson O, Wängberg B, Johansson L, Modlin IM, Ahlman H . Praomys (Mastomys) natalensis: a model for gastric carcinoid formation. Yale J Biol Med 1992; 65: 741–751; discussion 827–829.

Hanahan D . Heritable formation of pancreatic beta-cell tumours in transgenic mice expressing recombinant insulin/simian virus 40 oncogenes. Nature 1985; 315: 115–122.

Folkman J, Watson K, Ingber D, Hanahan D . Induction of angiogenesis during the transition from hyperplasia to neoplasia. Nature 1989; 339: 58–61.

Blasco MA, Rizen M, Greider CW, Hanahan D . Differential regulation of telomerase activity and telomerase RNA during multi-stage tumorigenesis. Nat Genet 1996; 12: 200–204.

Gocheva V, Zeng W, Ke D, Klimstra D, Reinheckel T, Peters C et al. Distinct roles for cysteine cathepsin genes in multistage tumorigenesis. Genes Dev 2006; 20: 543–556.

Inoue M, Hager JH, Ferrara N, Gerber H-P, Hanahan D . VEGF-A has a critical, nonredundant role in angiogenic switching and pancreatic beta cell carcinogenesis. Cancer Cell 2002; 1: 193–202.

Naik P, Karrim J, Hanahan D . The rise and fall of apoptosis during multistage tumorigenesis: down-modulation contributes to tumor progression from angiogenic progenitors. Genes Dev 1996; 10: 2105–2116.

Parangi S, Dietrich W, Christofori G, Lander ES, Hanahan D . Tumor suppressor loci on mouse chromosomes 9 and 16 are lost at distinct stages of tumorigenesis in a transgenic model of islet cell carcinoma. Cancer Res 1995; 55: 6071–6076.

Christofori G, Naik P, Hanahan D . A second signal supplied by insulin-like growth factor II in oncogene-induced tumorigenesis. Nature 1994; 369: 414–418.

Perl AK, Wilgenbus P, Dahl U, Semb H, Christofori G . A causal role for E-cadherin in the transition from adenoma to carcinoma. Nature 1998; 392: 190–193.

Crabtree JS, Scacheri PC, Ward JM, Garrett-Beal L, Emmert-Buck MR, Edgemon KA et al. A mouse model of multiple endocrine neoplasia, type 1, develops multiple endocrine tumors. Proc Natl Acad Sci USA 2001; 98: 1118–1123.

Crabtree JS, Scacheri PC, Ward JM, McNally SR, Swain GP, Montagna C et al. Of mice and MEN1: Insulinomas in a conditional mouse knockout. Mol Cell Biol 2003; 23: 6075–6085.

Bertolino P, Tong W-M, Galendo D, Wang Z-Q, Zhang C-X . Heterozygous Men1 mutant mice develop a range of endocrine tumors mimicking multiple endocrine neoplasia type 1. Mol Endocrinol 2003; 17: 1880–1892.

Bertolino P, Tong W-M, Herrera PL, Casse H, Zhang CX, Wang Z-Q . Pancreatic beta-cell-specific ablation of the multiple endocrine neoplasia type 1 (MEN1) gene causes full penetrance of insulinoma development in mice. Cancer Res 2003; 63: 4836–4841.

Biondi CA, Gartside MG, Waring P, Loffler KA, Stark MS, Magnuson MA et al. Conditional inactivation of the MEN1 gene leads to pancreatic and pituitary tumorigenesis but does not affect normal development of these tissues. Mol Cell Biol 2004; 24: 3125–3131.

Sotillo R, Dubus P, Martín J, de la Cueva E, Ortega S, Malumbres M et al. Wide spectrum of tumors in knock-in mice carrying a Cdk4 protein insensitive to INK4 inhibitors. EMBO J 2001; 20: 6637–6647.

Rane SG, Dubus P, Mettus R V, Galbreath EJ, Boden G, Reddy EP et al. Loss of Cdk4 expression causes insulin-deficient diabetes and Cdk4 activation results in beta-islet cell hyperplasia. Nat Genet 1999; 22: 44–52.

Franklin DS, Godfrey VL, O'Brien DA, Deng C, Xiong Y . Functional collaboration between different cyclin-dependent kinase inhibitors suppresses tumor growth with distinct tissue specificity. Mol Cell Biol 2000; 20: 6147–6158.

Duran I, Kortmansky J, Singh D, Hirte H, Kocha W, Goss G et al. A phase II clinical and pharmacodynamic study of temsirolimus in advanced neuroendocrine carcinomas. Br J Cancer 2006; 95: 1148–1154.

Yao JC, Phan AT, Chang DZ, Wolff RA, Hess K, Gupta S et al. Efficacy of RAD001 (everolimus) and octreotide LAR in advanced low- to intermediate-grade neuroendocrine tumors: results of a phase II study. J Clin Oncol 2008; 26: 4311–4318.

Yao JC, Lombard-Bohas C, Baudin E, Kvols LK, Rougier P, Ruszniewski P et al. Daily oral everolimus activity in patients with metastatic pancreatic neuroendocrine tumors after failure of cytotoxic chemotherapy: a phase II trial. J Clin Oncol 2010; 28: 69–76.

Kidd M, Drozdov I, Modlin I . Blood and tissue neuroendocrine tumor gene cluster analysis correlate, define hallmarks and predict disease status. Endocr Relat Cancer 2015; 22: 561–575.

Qian ZR, Ter-Minassian M, Chan JA, Imamura Y, Hooshmand SM, Kuchiba A et al. Prognostic significance of MTOR pathway component expression in neuroendocrine tumors. J Clin Oncol 2013; 31: 3418–3425.

Meric-Bernstam F, Akcakanat A, Chen H, Do K-A, Sangai T, Adkins F et al. PIK3CA/PTEN mutations and Akt activation as markers of sensitivity to allosteric mTOR inhibitors. Clin Cancer Res 2012; 18: 1777–1789.

Pavel ME, Hainsworth JD, Baudin E, Peeters M, Hörsch D, Winkler RE et al. Everolimus plus octreotide long-acting repeatable for the treatment of advanced neuroendocrine tumours associated with carcinoid syndrome (RADIANT-2): a randomised, placebo-controlled, phase 3 study. Lancet 2011; 378: 2005–2012.

Yao JC, Shah MH, Ito T, Lombard-Bohas C, Wolin EM, Van Cutsem E et al. Everolimus for advanced pancreatic neuroendocrine tumors. N Engl J Med 2011; 364: 514–523.

Yao JC, Fazio N, Singh S, Buzzoni R, Carnaghi C, Wolin E et al. Everolimus for the treatment of advanced, non-functional neuroendocrine tumours of the lung or gastrointestinal tract (RADIANT-4): a randomised, placebo-controlled, phase 3 study. Lancet 2015; 387: 968–977.

Zurita AJ, Khajavi M, Wu HK, Tye L, Huang X, Kulke MH et al. Circulating cytokines and monocyte subpopulations as biomarkers of outcome and biological activity in sunitinib-treated patients with advanced neuroendocrine tumours. Br J Cancer 2015; 112: 1199–1205.

Grande E, Casanovas O, Earl J, Castellano DE, Garcia-Carbonero R, Teule A et al. sVEGFR2 and circulating tumor cells to predict for the efficacy of pazopanib in neuroendocrine tumors (NETs): PAZONET subgroup analysis. ASCO Meet Abstr 2013; 31: 4140.

Oberg K, Knigge U, Kwekkeboom D, Perren A, Group EGW . Neuroendocrine gastro-entero-pancreatic tumors: ESMO Clinical Practice Guidelines for diagnosis, treatment and follow-up. Ann Oncol 2012; 23: vii124–vii130.

Strosberg JR, Fine RL, Choi J, Nasir A, Coppola D, Chen DT et al. First-line chemotherapy with capecitabine and temozolomide in patients with metastatic pancreatic endocrine carcinomas. Cancer 2011; 117: 268–275.

Kulke MH, Hornick JL, Frauenhoffer C, Hooshmand S, Ryan DP, Enzinger PC et al. O6-methylguanine DNA methyltransferase deficiency and response to temozolomide-based therapy in patients with neuroendocrine tumors. Clin Cancer Res 2009; 15: 338–345.

Raymond E, Dahan L, Raoul J-L, Bang Y-J, Borbath I, Lombard-Bohas C et al. Sunitinib malate for the treatment of pancreatic neuroendocrine tumors. N Engl J Med 2011; 364: 501–513.

Kulke MH . A Randomized Open-label Phase II Study of Everolimus Alone or in Combination with Pasireotide LAR in Advanced, Progressive Pancreatic Neuroendocrine Tumors (pNET): COOPERATE-2 Trial. ENETS Conference 2015. 2015, vol. 102, p 131.

Pavel ME, Wiedenmann B, Capdevila J, Reed N, Valle JW, Caglio S et al. RAMSETE: A single-arm, multicenter, single-stage phase II trial of RAD001 (everolimus) in advanced and metastatic silent neuro-endocrine tumours in Europe. ASCO Meet Abstr 2012; 30: 4122.

Kulke MH, Lenz H-J, Meropol NJ, Posey J, Ryan DP, Picus J et al. Activity of Sunitinib in Patients With Advanced Neuroendocrine Tumors. J Clin Oncol 2008; 26: 3403–3410.

Grande E, Capdevila J, Castellano D, Teule A, Duran I, Fuster J et al. Pazopanib in pretreated advanced neuroendocrine tumors: a phase II, open-label trial of the Spanish Task Force Group for Neuroendocrine Tumors (GETNE). Ann Oncol 2015; 26: 1987–1993.

Phan AT, Halperin DM, Chan JA, Fogelman DR, Hess KR, Malinowski P et al. Pazopanib and depot octreotide in advanced, well-differentiated neuroendocrine tumours: a multicentre, single-group, phase 2 study. Lancet Oncol 2015; 16: 695–703.

Reidy-Lagunes DL, Vakiani E, Segal MF, Hollywood EM, Tang LH, Solit DB et al. A phase 2 study of the insulin-like growth factor-1 receptor inhibitor MK-0646 in patients with metastatic, well-differentiated neuroendocrine tumors. Cancer 2012; 118: 4795–4800.

Castellano D, Capdevila J, Sastre J, Alonso V, Llanos M, García-Carbonero R et al. Sorafenib and bevacizumab combination targeted therapy in advanced neuroendocrine tumour: a phase II study of Spanish Neuroendocrine Tumour Group (GETNE0801). Eur J Cancer 2013; 49: 3780–3787.

Yao JC, Phan A, Hoff PM, Chen HX, Charnsangavej C, S-CJ Yeung et al. Targeting vascular endothelial growth factor in advanced carcinoid tumor: a random assignment phase II study of depot octreotide with bevacizumab and pegylated interferon alpha-2b. J Clin Oncol 2008; 26: 1316–1323.

Yao JC, Guthrie K, Moran C, Strosberg JR, Kulke MH, Chan JA et al. SWOG S0518: Phase III prospective randomized comparison of depot octreotide plus interferon alpha-2b versus depot octreotide plus bevacizumab (NSC #704865) in advanced, poor prognosis carcinoid patients (NCT00569127). J Clin Oncol 2015; 33 (suppl; abstr 4004).

Kulke MH, Niedzwiecki D, Foster NR, Fruth B, Kunz PL, Kennecke HF et al. Randomized phase II study of everolimus (E) versus everolimus plus bevacizumab (E+B) in patients (Pts) with locally advanced or metastatic pancreatic neuroendocrine tumors (pNET), CALGB 80701 (Alliance). J Clin Oncol 2015; 33 (suppl; abstr 4005).

Chan JA, Stuart K, Earle CC, Clark JW, Bhargava P, Miksad R et al. Prospective study of bevacizumab plus temozolomide in patients with advanced neuroendocrine tumors. J Clin Oncol 2012; 30: 2963–2968.
Acknowledgements
The authors are grateful to Novartis for the unrestricted grant that made this paper possible and to Javier Mas for editorial support. International networks focused in neuroendocrine tumor management are redesigning the strategies in translational research to optimize preclinical and patient-derived tumor models to better predict efficacy in clinical setting.
Ethics declarations
Competing interests
JC: advisory, speaker role and investigational grants from Pfizer, Novartis and Ipsen. JPC: advisory, speaker fees and investigational grants from Novartis and Ipsen. AS: speaker role and investigational grants from Pfizer, Novartis and Ipsen. RS: advisory, speaker role from Novartis and Ipsen.
Competing interests
The authors declare no conflict of interest.
About this article
Cite this article
Capdevila, J., Casanovas, O., Salazar, R. et al. Translational research in neuroendocrine tumors: pitfalls and opportunities. Oncogene 36, 1899–1907 (2017). https://doi.org/10.1038/onc.2016.316
Received:

Revised:

Accepted:

Published:

Issue Date:

DOI: https://doi.org/10.1038/onc.2016.316