Abstract
PUF proteins, a family of RNA-binding proteins, interact with the 3′ untranslated regions (UTRs) of specific mRNAs to control their translation and stability. PUF protein action is commonly correlated with removal of the poly(A) tail of target mRNAs. Here, we focus on how PUF proteins enhance deadenylation and mRNA decay. We show that a yeast PUF protein physically binds Pop2p, which is a component of the Ccr4p–Pop2p–Not deadenylase complex, and that Pop2p is required for PUF repression activity. By binding Pop2p, the PUF protein simultaneously recruits the Ccr4p deadenylase and two other enzymes involved in mRNA regulation, Dcp1p and Dhh1p. We reconstitute regulated deadenylation in vitro and demonstrate that the PUF-Pop2p interaction is conserved in yeast, worms and humans. We suggest that the PUF-Pop2p interaction underlies regulated deadenylation, mRNA decay and repression by PUF proteins.
Relevant articles
Open Access articles citing this article.
Aude Guénolé

,

Fabien Velilla

…

Bijan Sobhian

Scientific Reports Open Access 03 June 2022

Vladimíra Najdrová

,

Courtney W. Stairs

…

Pavel Doležal

BMC Biology Open Access 30 June 2020

Ao-Xiang Guo

,

Jia-Jia Cui

…

Ji-Ye Yin

Cell Communication and Signaling Open Access 27 January 2020
Access options
Subscribe to Journal
Get full journal access for 1 year
$99.00
only $8.25 per issue
All prices are NET prices.
VAT will be added later in the checkout.
Tax calculation will be finalised during checkout.
Buy article
Get time limited or full article access on ReadCube.
$32.00
All prices are NET prices.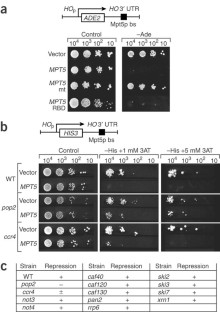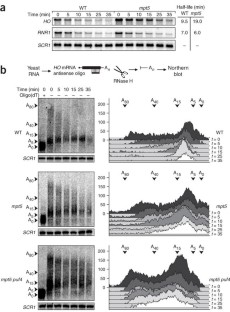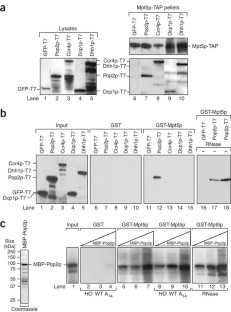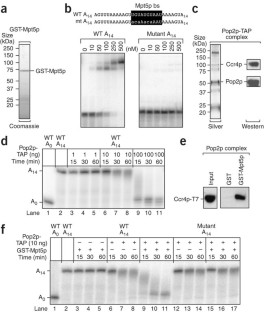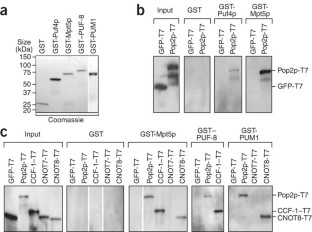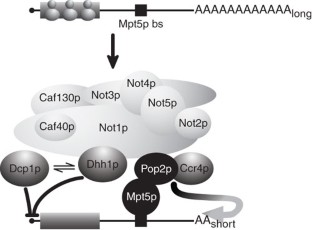 References
Wickens, M., Goodwin, E.B., Kimble, J., Strickland, S. & Hentze, M.W. Translational control in developemental decisions. in Translational Control (ed. Mathews, M.) 295–370 (Cold Spring Harbor Press, New York, 2000).

Gebauer, F. & Hentze, M.W. Molecular mechanisms of translational control. Nat. Rev. Mol. Cell Biol. 5, 827–835 (2004).

Wickens, M., Bernstein, D.S., Kimble, J. & Parker, R.A. PUF family portrait: 3′UTR regulation as a way of life. Trends Genet. 18, 150–157 (2002).

Wharton, R.P. & Struhl, G. RNA regulatory elements mediate control of Drosophila body pattern by the posterior morphogen nanos. Cell 67, 955–967 (1991).

Olivas, W. & Parker, R. The Puf3 protein is a transcript-specific regulator of mRNA degradation in yeast. EMBO J. 19, 6602–6611 (2000).

Wreden, C., Verrotti, A.C., Schisa, J.A., Lieberfarb, M.E. & Strickland, S. Nanos and pumilio establish embryonic polarity in Drosophila by promoting posterior deadenylation of hunchback mRNA. Development 124, 3015–3023 (1997).

Crittenden, S.L. et al. A conserved RNA-binding protein controls germline stem cells in Caenorhabditis elegans. Nature 417, 660–663 (2002).

Menon, K.P. et al. The translational repressor Pumilio regulates presynaptic morphology and controls postsynaptic accumulation of translation factor eIF-4E. Neuron 44, 663–676 (2004).

Schweers, B.A., Walters, K.J. & Stern, M. The Drosophila melanogaster translational repressor pumilio regulates neuronal excitability. Genetics 161, 1177–1185 (2002).

Bernstein, D., Hook, B., Hajarnavis, A., Opperman, L. & Wickens, M. Binding specificity and mRNA targets of a C. elegans PUF protein, FBF-1. RNA 11, 447–458 (2005).

Tadauchi, T., Matsumoto, K., Herskowitz, I. & Irie, K. Post-transcriptional regulation through the HO 3′-UTR by Mpt5, a yeast homolog of Pumilio and FBF. EMBO J. 20, 552–561 (2001).

Gerber, A.P., Herschlag, D. & Brown, P.O. Extensive association of functionally and cytotopically related mRNAs with Puf family RNA-binding proteins in yeast. PLoS Biol. 2, E79 (2004).

Thore, S., Mauxion, F., Seraphin, B. & Suck, D. X-ray structure and activity of the yeast Pop2 protein: a nuclease subunit of the mRNA deadenylase complex. EMBO Rep. 4, 1150–1155 (2003).

Denis, C.L. & Chen, J. The CCR4-NOT complex plays diverse roles in mRNA metabolism. Prog. Nucleic Acid Res. Mol. Biol. 73, 221–250 (2003).

Collart, M.A. Global control of gene expression in yeast by the Ccr4-Not complex. Gene 313, 1–16 (2003).

Viswanathan, P., Ohn, T., Chiang, Y.C., Chen, J. & Denis, C.L. Mouse CAF1 can function as a processive deadenylase/3′-5′-exonuclease in vitro but in yeast the deadenylase function of CAF1 is not required for mRNA poly(A) removal. J. Biol. Chem. 279, 23988–23995 (2004).

Bianchin, C., Mauxion, F., Sentis, S., Seraphin, B. & Corbo, L. Conservation of the deadenylase activity of proteins of the Caf1 family in human. RNA 11, 487–494 (2005).

Daugeron, M.C., Mauxion, F. & Seraphin, B. The yeast POP2 gene encodes a nuclease involved in mRNA deadenylation. Nucleic Acids Res. 29, 2448–2455 (2001).

Tucker, M. et al. The transcription factor associated Ccr4 and Caf1 proteins are components of the major cytoplasmic mRNA deadenylase in Saccharomyces cerevisiae. Cell 104, 377–386 (2001).

Duttagupta, R., Vasudevan, S., Wilusz, C.J. & Peltz, S.W. A yeast homologue of Hsp70, Ssa1p, regulates turnover of the MFA2 transcript through its AU-rich 3′ untranslated region. Mol. Cell. Biol. 23, 2623–2632 (2003).

Semotok, J.L. et al. Smaug recruits the CCR4/POP2/NOT deadenylase complex to trigger maternal transcript localization in the early Drosophila embryo. Curr. Biol. 15, 284–294 (2005).

Lykke-Andersen, J. & Wagner, E. Recruitment and activation of mRNA decay enzymes by two ARE-mediated decay activation domains in the proteins TTP and BRF-1. Genes Dev. 19, 351–361 (2005).

Morris, J.Z., Hong, A., Lilly, M.A. & Lehmann, R. twin, a CCR4 homolog, regulates cyclin poly(A) tail length to permit Drosophila oogenesis. Development 132, 1165–1174 (2005).

Berthet, C. et al. CCR4-associated factor CAF1 is an essential factor for spermatogenesis. Mol. Cell. Biol. 24, 5808–5820 (2004).

Nakamura, T. et al. Oligo-astheno-teratozoospermia in mice lacking Cnot7, a regulator of retinoid X receptor beta. Nat. Genet. 36, 528–533 (2004).

Molin, L. & Puisieux, A. C. elegans homologue of the Caf1 gene, which encodes a subunit of the CCR4-NOT complex, is essential for embryonic and larval development and for meiotic progression. Gene 358, 73–81 (2005).

Tucker, M., Staples, R.R., Valencia-Sanchez, M.A., Muhlrad, D. & Parker, R. Ccr4p is the catalytic subunit of a Ccr4p/Pop2p/Notp mRNA deadenylase complex in Saccharomyces cerevisiae. EMBO J. 21, 1427–1436 (2002).

Chen, J., Chiang, Y.C. & Denis, C.L. CCR4, a 3′-5′ poly(A) RNA and ssDNA exonuclease, is the catalytic component of the cytoplasmic deadenylase. EMBO J. 21, 1414–1426 (2002).

Sheth, U. & Parker, R. Decapping and decay of messenger RNA occur in cytoplasmic processing bodies. Science 300, 805–808 (2003).

Huh, W.K. et al. Global analysis of protein localization in budding yeast. Nature 425, 686–691 (2003).

Wickens, M. & Goldstrohm, A. Molecular biology. A place to die, a place to sleep. Science 300, 753–755 (2003).

Coller, J. & Parker, R. General translational repression by activators of mRNA decapping. Cell 122, 875–886 (2005).

Coller, J.M., Tucker, M., Sheth, U., Valencia-Sanchez, M.A. & Parker, R. The DEAD box helicase, Dhh1p, functions in mRNA decapping and interacts with both the decapping and deadenylase complexes. RNA 7, 1717–1727 (2001).

Chagnovich, D. & Lehmann, R. Poly(A)-independent regulation of maternal hunchback translation in the Drosophila embryo. Proc. Natl. Acad. Sci. USA 98, 11359–11364 (2001).
Acknowledgements
We thank A. Ansari and J. Kimble for helpful comments on the manuscript and all members of the Wickens lab for discussions and suggestions. We also thank T. Tadauchi (Nagoya University) for plasmid YEp195 MPT5 and yeast strain TTC59. We appreciate the work of L. Vanderploeg in preparing figures. This work was supported by the US National Institutes of Health (postdoctoral fellowship to A.C.G. and research grant to M.W.).
Ethics declarations
Competing interests
The authors declare no competing financial interests.
About this article
Cite this article
Goldstrohm, A., Hook, B., Seay, D. et al. PUF proteins bind Pop2p to regulate messenger RNAs. Nat Struct Mol Biol 13, 533–539 (2006). https://doi.org/10.1038/nsmb1100
Received:

Accepted:

Published:

Issue Date:

DOI: https://doi.org/10.1038/nsmb1100