Abstract
MicroRNA (miRNA) biogenesis is known to be modulated by a variety of RNA-binding proteins (RBPs), but in most cases, individual RBPs appear to influence the processing of a small subset of target miRNAs. Here, we report that the RNA-binding NONO–PSF heterodimer binds a large number of expressed pri-miRNAs in HeLa cells to globally enhance pri-miRNA processing by the Drosha–DGCR8 Microprocessor. NONO and PSF are key components of paraspeckles organized by the long noncoding RNA (lncRNA) NEAT1. We further demonstrate that NEAT1 also has a profound effect on global pri-miRNA processing. Mechanistic dissection reveals that NEAT1 broadly interacts with the NONO–PSF heterodimer as well as many other RBPs and that multiple RNA segments in NEAT1, including a 'pseudo pri-miRNA' near its 3′ end, help attract the Microprocessor. These findings suggest a 'bird nest' model in which an lncRNA orchestrates efficient processing of potentially an entire class of small noncoding RNAs in the nucleus.
Relevant articles
Open Access articles citing this article.
Yuanli Li

,

Junlan Nie

…

Hong Li

Journal of Orthopaedic Surgery and Research Open Access 13 March 2023

Yuma Horii

,

Shoichi Matsuda

…

Michio Nakaya

Nature Communications Open Access 08 February 2023

Hengguo Zhang

,

Rongyao Xu

…

Hongbing Jiang

Cell Death & Differentiation Open Access 08 September 2021
Access options
Access Nature and 54 other Nature Portfolio journals
Get Nature+, our best-value online-access subscription
$29.99 per month
cancel any time
Subscribe to this journal
Receive 12 print issues and online access
$209.00 per year
only $17.42 per issue
Rent or buy this article
Get just this article for as long as you need it
$39.95
Prices may be subject to local taxes which are calculated during checkout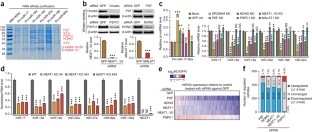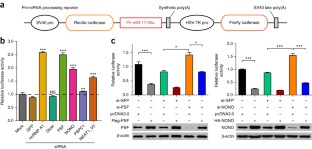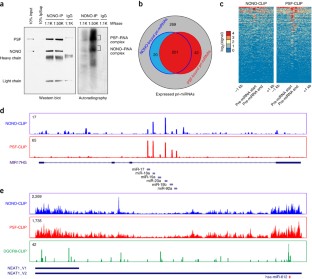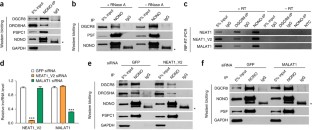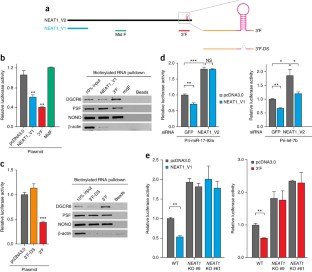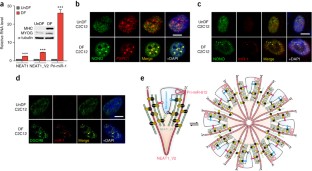 Accession codes
Primary accessions
Gene Expression Omnibus
References
Bartel, D.P. MicroRNAs: target recognition and regulatory functions. Cell 136, 215–233 (2009).

Voinnet, O. Origin, biogenesis, and activity of plant microRNAs. Cell 136, 669–687 (2009).

Pasquinelli, A.E. MicroRNAs and their targets: recognition, regulation and an emerging reciprocal relationship. Nat. Rev. Genet. 13, 271–282. http://dx.doi.org/10.1038/nrg3162 (2012).

Rodriguez, A., Griffiths-Jones, S., Ashurst, J.L. & Bradley, A. Identification of mammalian microRNA host genes and transcription units. Genome Res. 14, 10A, 1902–1910 (2004).

Ha, M. & Kim, V.N. Regulation of microRNA biogenesis. Nat. Rev. Mol. Cell Biol. 15, 509–524 (2014).

Liu, H. et al. HP1BP3, a chromatin retention factor for co-transcriptional microRNA processing. Mol. Cell 63, 420–432 (2016).

Pawlicki, J.M. & Steitz, J.A. Primary microRNA transcript retention at sites of transcription leads to enhanced microRNA production. J. Cell Biol. 182, 61–76 (2008).

Kim, Y.K. & Kim, V.N. Processing of intronic microRNAs. EMBO J. 26, 775–783 (2007).

Morlando, M. et al. Primary microRNA transcripts are processed co-transcriptionally. Nat. Struct. Mol. Biol. 15, 902–909 (2008).

Ballarino, M. et al. Coupled RNA processing and transcription of intergenic primary microRNAs. Mol. Cell. Biol. 29, 5632–5638 (2009).

Fox, A.H. et al. Paraspeckles: a novel nuclear domain. Curr. Biol. 12, 13–25 (2002).

Fox, A.H. & Lamond, A.I. Paraspeckles. Cold Spring Harb. Perspect. Biol. 2, a000687 (2010).

Huang, S. & Spector, D.L. Nascent pre-mRNA transcripts are associated with nuclear regions enriched in splicing factors. Genes Dev. 5, 12A, 2288–2302 (1991).

Hall, L.L., Smith, K.P., Byron, M. & Lawrence, J.B. Molecular anatomy of a speckle. Anat. Rec. A Discov. Mol. Cell. Evol. Biol. 288, 664–675 (2006).

Brown, J.M. et al. Association between active genes occurs at nuclear speckles and is modulated by chromatin environment. J. Cell Biol. 182, 1083–1097 (2008).

Yamazaki, T. & Hirose, T. The building process of the functional paraspeckle with long non-coding RNAs. Front. Biosci. (Elite Ed.) 7, 1–41 (2015).

Nakagawa, S. et al. Malat1 is not an essential component of nuclear speckles in mice. RNA 18, 1487–1499 (2012).

Nakagawa, S., Naganuma, T., Shioi, G. & Hirose, T. Paraspeckles are subpopulation-specific nuclear bodies that are not essential in mice. J. Cell Biol. 193, 31–39 (2011).

Hutchinson, J.N. et al. A screen for nuclear transcripts identifies two linked noncoding RNAs associated with SC35 splicing domains. BMC Genomics 8, 39 (2007).

Wilusz, J.E., Freier, S.M. & Spector, D.L. 3′ end processing of a long nuclear-retained noncoding RNA yields a tRNA-like cytoplasmic RNA. Cell 135, 919–932 (2008).

Clemson, C.M. et al. An architectural role for a nuclear noncoding RNA: NEAT1 RNA is essential for the structure of paraspeckles. Mol. Cell 33, 717–726 (2009).

Sasaki, Y.T., Ideue, T., Sano, M., Mituyama, T. & Hirose, T. MENepsilon/beta noncoding RNAs are essential for structural integrity of nuclear paraspeckles. Proc. Natl. Acad. Sci. USA 106, 2525–2530 (2009).

Prasanth, K.V. et al. Regulating gene expression through RNA nuclear retention. Cell 123, 249–263 (2005).

Chen, L.L. & Carmichael, G.G. Altered nuclear retention of mRNAs containing inverted repeats in human embryonic stem cells: functional role of a nuclear noncoding RNA. Mol. Cell 35, 467–478 (2009).

Hirose, T. et al. NEAT1 long noncoding RNA regulates transcription via protein sequestration within subnuclear bodies. Mol. Biol. Cell 25, 169–183 (2014).

Imamura, K. et al. Long noncoding RNA NEAT1-dependent SFPQ relocation from promoter region to paraspeckle mediates IL8 expression upon immune stimuli. Mol. Cell 53, 393–406 (2014).

West, J.A. et al. The long noncoding RNAs NEAT1 and MALAT1 bind active chromatin sites. Mol. Cell 55, 791–802 (2014).

Naganuma, T. et al. Alternative 3′-end processing of long noncoding RNA initiates construction of nuclear paraspeckles. EMBO J. 31, 4020–4034 (2012).

Urcuqui-Inchima, S., Castaño, M.E., Hernandez-Verdun, D., St-Laurent, G. III & Kumar, A. Nuclear Factor 90, a cellular dsRNA binding protein inhibits the HIV Rev-export function. Retrovirology 3, 83 (2006).

Guil, S. & Cáceres, J.F. The multifunctional RNA-binding protein hnRNP A1 is required for processing of miR-18a. Nat. Struct. Mol. Biol. 14, 591–596 (2007).

Chen, L.L. & Carmichael, G.G. Gene regulation by SINES and inosines: biological consequences of A-to-I editing of Alu element inverted repeats. Cell Cycle 7, 3294–3301 (2008).

Kaneko, S., Rozenblatt-Rosen, O., Meyerson, M. & Manley, J.L. The multifunctional protein p54nrb/PSF recruits the exonuclease XRN2 to facilitate pre-mRNA 3′ processing and transcription termination. Genes Dev. 21, 1779–1789 (2007).

Lowery, L.A., Rubin, J. & Sive, H. Whitesnake/sfpq is required for cell survival and neuronal development in the zebrafish. Dev. Dyn. 236, 1347–1357 (2007).

Liang, S. & Lutz, C.S. p54nrb is a component of the snRNP-free U1A (SF-A) complex that promotes pre-mRNA cleavage during polyadenylation. RNA 12, 111–121 (2006).

Sunwoo, H. et al. MEN epsilon/beta nuclear-retained non-coding RNAs are up-regulated upon muscle differentiation and are essential components of paraspeckles. Genome Res. 19, 347–359 (2009).

Tripathi, V. et al. The nuclear-retained noncoding RNA MALAT1 regulates alternative splicing by modulating SR splicing factor phosphorylation. Mol. Cell 39, 925–938 (2010).

Spector, D.L. & Lamond, A.I. Nuclear speckles. Cold Spring Harb. Perspect. Biol. 3, a000646 (2011).

Naganuma, T. & Hirose, T. Paraspeckle formation during the biogenesis of long non-coding RNAs. RNA Biol. 10, 456–461 (2013).

Babiarz, J.E., Ruby, J.G., Wang, Y., Bartel, D.P. & Blelloch, R. Mouse ES cells express endogenous shRNAs, siRNAs, and other Microprocessor-independent, Dicer-dependent small RNAs. Genes Dev. 22, 2773–2785 (2008).

Miyamoto, K., Sakurai, H. & Sugiura, T. Proteomic identification of a PSF/p54nrb heterodimer as RNF43 oncoprotein-interacting proteins. Proteomics 8, 2907–2910 (2008).

Passon, D.M. et al. Structure of the heterodimer of human NONO and paraspeckle protein component 1 and analysis of its role in subnuclear body formation. Proc. Natl. Acad. Sci. USA 109, 4846–4850 (2012).

Patton, J.G., Porro, E.B., Galceran, J., Tempst, P. & Nadal-Ginard, B. Cloning and characterization of PSF, a novel pre-mRNA splicing factor. Genes Dev. 7, 393–406 (1993).

Souquere, S., Beauclair, G., Harper, F., Fox, A. & Pierron, G. Highly ordered spatial organization of the structural long noncoding NEAT1 RNAs within paraspeckle nuclear bodies. Mol. Biol. Cell 21, 4020–4027 (2010).

Macias, S. et al. DGCR8 HITS-CLIP reveals novel functions for the Microprocessor. Nat. Struct. Mol. Biol. 19, 760–766 (2012).

Mao, Y.S., Sunwoo, H., Zhang, B. & Spector, D.L. Direct visualization of the co-transcriptional assembly of a nuclear body by noncoding RNAs. Nat. Cell Biol. 13, 95–101 (2011).

Li, R., Harvey, A.R., Hodgetts, S.I. & Fox, A.H. Functional dissection of NEAT1 using genome editing reveals substantial localization of the NEAT1_1 isoform outside paraspeckles. RNA 23, 872–881 (2017).

Pawlicki, J.M. & Steitz, J.A. Subnuclear compartmentalization of transiently expressed polyadenylated pri-microRNAs: processing at transcription sites or accumulation in SC35 foci. Cell Cycle 8, 345–356 (2009).

Shiohama, A., Sasaki, T., Noda, S., Minoshima, S. & Shimizu, N. Nucleolar localization of DGCR8 and identification of eleven DGCR8-associated proteins. Exp. Cell Res. 313, 4196–4207 (2007).

Zhang, X. et al. MicroRNA directly enhances mitochondrial translation during muscle differentiation. Cell 158, 607–619 (2014).

Zeng, C. et al. Inhibition of long non-coding RNA NEAT1 impairs myeloid differentiation in acute promyelocytic leukemia cells. BMC Cancer 14, 693 (2014).

Choudhry, H. & Mole, D.R. Hypoxic regulation of the noncoding genome and NEAT1. Brief. Funct. Genomics 15, 174–185 (2016).

Choudhry, H. et al. Tumor hypoxia induces nuclear paraspeckle formation through HIF-2α dependent transcriptional activation of NEAT1 leading to cancer cell survival. Oncogene 34, 4482–4490 (2015).

Nakagawa, S. et al. The lncRNA Neat1 is required for corpus luteum formation and the establishment of pregnancy in a subpopulation of mice. Development 141, 4618–4627 (2014).

Adriaens, C. et al. p53 induces formation of NEAT1 lncRNA-containing paraspeckles that modulate replication stress response and chemosensitivity. Nat. Med. 22, 861–868 (2016).

Katz, Y., Wang, E.T., Airoldi, E.M. & Burge, C.B. Analysis and design of RNA sequencing experiments for identifying isoform regulation. Nat. Methods 7, 1009–1015 (2010).

Kozomara, A. & Griffiths-Jones, S. miRBase: integrating microRNA annotation and deep-sequencing data. Nucleic Acids Res. 39, D152–D157 (2011).

Langmead, B., Trapnell, C., Pop, M. & Salzberg, S.L. Ultrafast and memory-efficient alignment of short DNA sequences to the human genome. Genome Biol. 10, R25 (2009).

Friedländer, M.R., Mackowiak, S.D., Li, N., Chen, W. & Rajewsky, N. miRDeep2 accurately identifies known and hundreds of novel microRNA genes in seven animal clades. Nucleic Acids Res. 40, 37–52 (2012).

Lovci, M.T. et al. Rbfox proteins regulate alternative mRNA splicing through evolutionarily conserved RNA bridges. Nat. Struct. Mol. Biol. 20, 1434–1442 (2013).

Shao, C. et al. Mechanisms for U2AF to define 3′ splice sites and regulate alternative splicing in the human genome. Nat. Struct. Mol. Biol. 21, 997–1005 (2014).

Ramírez, F. et al. deepTools2: a next generation web server for deep-sequencing data analysis. Nucleic Acids Res. 44, W1, W160–W165 (2016).
Acknowledgements
This work was supported by grants from the National Key R&D Program of China (2017YFA0504400), the 111 Program of China (B06018), NIH (HG004659, GM049369, GM052872), the National Natural Science Foundation of China (31000573), and the Postdoctoral Science Foundation of China (20090451074).
Ethics declarations
Competing interests
The authors declare no competing financial interests.
Integrated supplementary information
Supplementary information
About this article
Cite this article
Jiang, L., Shao, C., Wu, QJ. et al. NEAT1 scaffolds RNA-binding proteins and the Microprocessor to globally enhance pri-miRNA processing. Nat Struct Mol Biol 24, 816–824 (2017). https://doi.org/10.1038/nsmb.3455
Received:

Accepted:

Published:

Issue Date:

DOI: https://doi.org/10.1038/nsmb.3455