The weight of evidence indicates that bisphenol A (BPA), a widespread endocrine disruptor, might be an important risk factor for obesity and metabolic disorders. An epidemiological study shows an association between urinary BPA levels and increased body mass in children and adolescents.
Your institute does not have access to this article
Relevant articles
Open Access articles citing this article.
Ferdinand Brandl

,

Nicolas Bertrand

…

Robert Langer

Nature Communications Open Access 21 July 2015
Access options
Subscribe to Journal
Get full journal access for 1 year
$59.00
only $4.92 per issue
All prices are NET prices.
VAT will be added later in the checkout.
Tax calculation will be finalised during checkout.
Buy article
Get time limited or full article access on ReadCube.
$32.00
All prices are NET prices.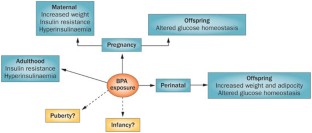 References
Speakman, R. J. & O'Rahilly, S. Fat: an evolving issue. Dis. Model. Mech. 5, 569–573 (2012).

Newbold, R. R., Padilla-Banks, E., Jefferson, W. N. & Heindel, J. J. Effects of endocrine disruptors on obesity. Int. J. Androl. 31, 201–208 (2008).

Trasande, L., Attina T. M. & Blustein J. Association between urinary bisphenol A concentration and obesity prevalence in children and adolescents. JAMA 308, 1113–1121 (2012).

Alonso-Magdalena, P., Quesada, I. & Nadal, A. Endocrine disruptors in the etiology of type 2 diabetes mellitus. Nat. Rev. Endocrinol. 7, 346–353 (2011).

Soriano, S. et al. Rapid insulinotropic action of low doses of bisphenol-A on mouse and human islets of Langerhans: role of estrogen receptor β. PLoS ONE 7, e31109 (2012).

vom Saal, F. S., Nagel, S. C., Coe, B. L., Angle, B. M. & Taylor J. A. The estrogenic endocrine disrupting chemical bisphenol A (BPA) and obesity. Mol. Cell. Endocrinol. 354, 74–84 (2012).

Carwile, J. L. and Michels, K. B. Urinary bisphenol A and obesity: NHANES 2003–2006. Environ. Res. 111, 825–830 (2011).

Shankar, A., Teppala, S. & Sabanayagam, C. Urinary bisphenol A levels and measures of obesity: results from the national health and nutrition examination survey 2003–2008. ISRN Endocrinol. 2012, 965243 (2012).

Wang, T. et al. Urinary bisphenol A (BPA) concentration associates with obesity and insulin resistance. J. Clin. Endocrinol. Metab. 97, E223–E227 (2012).

Klimentidis, Y. C. et al. Canaries in the coal mine: a cross-species analysis of plurality of obesity epidemics. Proc. Biol. Sci. 278, 1626–1632 (2011).
Ethics declarations
Competing interests
The author declares no competing financial interests.
About this article
Cite this article
Nadal, A. Fat from plastics? Linking bisphenol A exposure and obesity. Nat Rev Endocrinol 9, 9–10 (2013). https://doi.org/10.1038/nrendo.2012.205
Published:

Issue Date:

DOI: https://doi.org/10.1038/nrendo.2012.205