Abstract
Protein digestion using a dedicated protease represents a key element in a typical mass spectrometry (MS)-based shotgun proteomics experiment. Up to now, digestion has been predominantly performed with trypsin, mainly because of its high specificity, widespread availability and ease of use. Lately, it has become apparent that the sole use of trypsin in bottom-up proteomics may impose certain limits in our ability to grasp the full proteome, missing out particular sites of post-translational modifications, protein segments or even subsets of proteins. To overcome this problem, the proteomics community has begun to explore alternative proteases to complement trypsin. However, protocols, as well as expected results generated from these alternative proteases, have not been systematically documented. Therefore, here we provide an optimized protocol for six alternative proteases that have already shown promise in their applicability in proteomics, namely chymotrypsin, LysC, LysN, AspN, GluC and ArgC. This protocol is formulated to promote ease of use and robustness, which enable parallel digestion with each of the six tested proteases. We present data on protease availability and usage including recommendations for reagent preparation. We additionally describe the appropriate MS data analysis methods and the anticipated results in the case of the analysis of a single protein (BSA) and a more complex cellular lysate (Escherichia coli). The digestion protocol presented here is convenient and robust and can be completed in ∼2 d.
This is a preview of subscription content
Access options
Subscribe to Journal
Get full journal access for 1 year
$119.00
only $9.92 per issue
All prices are NET prices.
VAT will be added later in the checkout.
Tax calculation will be finalised during checkout.
Buy article
Get time limited or full article access on ReadCube.
$32.00
All prices are NET prices.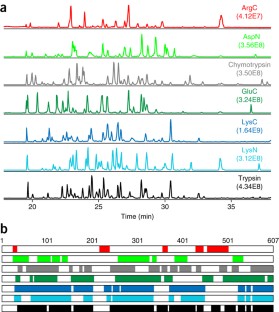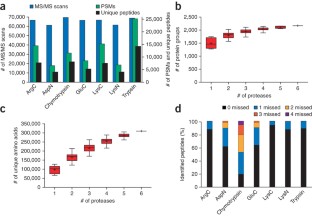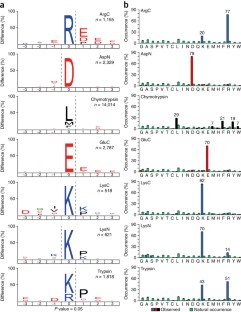 References
Ghaemmaghami, S. et al. Global analysis of protein expression in yeast. Nature 425, 737–741 (2003).

de Godoy, L.M.F. et al. Comprehensive mass-spectrometry-based proteome quantification of haploid versus diploid yeast. Nature 455, 1251–1254 (2008).

Kim, M.-S. et al. A draft map of the human proteome. Nature 509, 575–581 (2014).

Wilhelm, M. et al. Mass-spectrometry-based draft of the human proteome. Nature 509, 582–587 (2014).

Link, A.J. et al. Direct analysis of protein complexes using mass spectrometry. Nat. Biotechnol. 17, 676–682 (1999).

Wolters, D.A., Washburn, M.P. & Yates, J.R. An automated multidimensional protein identification technology for shotgun proteomics. Anal. Chem. 73, 5683–5690 (2001).

Altelaar, A.F.M., Munoz, J. & Heck, A.J.R. Next-generation proteomics: towards an integrative view of proteome dynamics. Nat. Rev. Genet. 14, 35–48 (2013).

Yates, J.R., Ruse, C.I. & Nakorchevsky, A. Proteomics by mass spectrometry: approaches, advances, and applications. Annu. Rev. Biomed. Eng. 11, 49–79 (2009).

Bensimon, A., Heck, A.J.R. & Aebersold, R. Mass spectrometry-based proteomics and network biology. Annu. Rev. Biochem. 81, 379–405 (2012).

Aebersold, R. & Mann, M. Mass spectrometry-based proteomics. Nature 422, 198–207 (2003).

Walther, T.C. & Mann, M. Mass spectrometry-based proteomics in cell biology. J. Cell Biol. 190, 491–500 (2010).

Tsiatsiani, L. & Heck, A.J.R. Proteomics beyond trypsin. FEBS J. 282, 2612–2626 (2015).

Guo, X., Trudgian, D.C., Lemoff, A., Yadavalli, S. & Mirzaei, H. Confetti: a multiprotease map of the HeLa proteome for comprehensive proteomics. Mol. Cell. Proteomics 13, 1573–1584 (2014).

Swaney, D.L., Wenger, C.D. & Coon, J.J. Value of using multiple proteases for large-scale mass spectrometry-based proteomics. J. Proteome Res. 9, 1323–1329 (2010).

Meyer, J.G. et al. Expanding proteome coverage with orthogonal-specificity α-lytic proteases. Mol. Cell. Proteomics 13, 823–835 (2014).

López-Ferrer, D. et al. Pressurized pepsin digestion in proteomics: an automatable alternative to trypsin for integrated top-down bottom-up proteomics. Mol. Cell. Proteomics 10, M110.001479 (2011).

Bian, Y. et al. Improve the coverage for the analysis of phosphoproteome of HeLa cells by a tandem digestion approach. J. Proteome Res. 11, 2828–2837 (2012).

Choudhary, G., Wu, S.-L., Shieh, P. & Hancock, W.S. Multiple enzymatic digestion for enhanced sequence coverage of proteins in complex proteomic mixtures using capillary LC with ion trap MS/MS. J. Proteome Res. 2, 59–67 (2003).

Huesgen, P.F. et al. LysargiNase mirrors trypsin for protein C-terminal and methylation-site identification. Nat. Methods 12, 55–58 (2015).

Peng, M. et al. Protease bias in absolute protein quantitation. Nat. Methods 9, 524–525 (2012).

Aye, T.T. et al. Proteome-wide protein concentrations in the human heart. Mol. Biosyst. 6, 1917–1927 (2010).

Benevento, M. et al. Adenovirus composition, proteolysis, and disassembly studied by in-depth qualitative and quantitative proteomics. J. Biol. Chem. 289, 11421–11430 (2014).

Low, T.Y. et al. Quantitative and qualitative proteome characteristics extracted from in-depth integrated genomics and proteomics analysis. Cell Rep. 5, 1469–1478 (2013).

Gauci, S. et al. Lys-N and trypsin cover complementary parts of the phosphoproteome in a refined SCX-based approach. Anal. Chem. 81, 4493–4501 (2009).

Mohammed, S. et al. Multiplexed proteomics mapping of yeast RNA polymerase II and III allows near-complete sequence coverage and reveals several novel phosphorylation sites. Anal. Chem. 80, 3584–3592 (2008).

Richards, A.L. et al. One-hour proteome analysis in yeast. Nat. Protoc. 10, 701–714 (2015).

Washburn, M.P., Wolters, D. & Yates, J.R. Large-scale analysis of the yeast proteome by multidimensional protein identification technology. Nat. Biotechnol. 19, 242–247 (2001).

Klammer, A.A. & MacCoss, M.J. Effects of modified digestion schemes on the identification of proteins from complex mixtures. J. Proteome Res. 5, 695–700 (2006).

Wu, X., Xiong, E., Wang, W., Scali, M. & Cresti, M. Universal sample preparation method integrating trichloroacetic acid/acetone precipitation with phenol extraction for crop proteomic analysis. Nat. Protoc. 9, 362–374 (2014).

Schuchard, M.D. et al. Artifactual isoform profile modification following treatment of human plasma or serum with protease inhibitor, monitored by 2-dimensional electrophoresis and mass spectrometry. Biotechniques 39, 239–247 (2005).

Rappsilber, J., Mann, M. & Ishihama, Y. Protocol for micro-purification, enrichment, pre-fractionation and storage of peptides for proteomics using StageTips. Nat. Protoc. 2, 1896–1906 (2007).

Keller, B.O., Sui, J., Young, A.B. & Whittal, R.M. Interferences and contaminants encountered in modern mass spectrometry. Anal. Chim. Acta 627, 71–81 (2008).

Good, D.M., Wirtala, M., McAlister, G.C. & Coon, J.J. Performance characteristics of electron transfer dissociation mass spectrometry. Mol. Cell. Proteomics 6, 1942–1951 (2007).

Molina, H., Horn, D.M., Tang, N., Mathivanan, S. & Pandey, A. Global proteomic profiling of phosphopeptides using electron transfer dissociation tandem mass spectrometry. Proc. Natl. Acad. Sci. USA 104, 2199–2204 (2007).

Gershon, P.D. Cleaved and missed sites for trypsin, lys-C, and lys-N can be predicted with high confidence on the basis of sequence context. J. Proteome Res. 13, 702–709 (2014).

Giansanti, P. et al. An augmented multiple-protease-based human phosphopeptide atlas. Cell Rep. 11, 1834–43 (2015).

Boja, E.S. & Fales, H.M. Overalkylation of a protein digest with iodoacetamide. Anal. Chem. 73, 3576–3582 (2001).

Meiring, H.D., van der Heeft, E., ten Hove, G.J. & de Jong, A.P.J.M. Nanoscale LC-MS(n): technical design and applications to peptide and protein analysis. J. Sep. Sci. 25, 557–568 (2002).

Udeshi, N.D., Mertins, P., Svinkina, T. & Carr, S.A. Large-scale identification of ubiquitination sites by mass spectrometry. Nat. Protoc. 8, 1950–1960 (2013).

Villén, J., Gygi, S.P. & Villen, J. The SCX/IMAC enrichment approach for global phosphorylation analysis by mass spectrometry. Nat. Protoc. 3, 1630–1638 (2008).

Hohmann, L. et al. Proteomic analyses using Grifola frondosa metalloendoprotease Lys-N. J. Proteome Res. 8, 1415–1422 (2009).

Taouatas, N., Heck, A.J.R. & Mohammed, S. Evaluation of metalloendopeptidase Lys-N protease performance under different sample handling conditions. J. Proteome Res. 9, 4282–4288 (2010).

Shevchenko, A., Tomas, H., Havlis, J., Olsen, J.V. & Mann, M. In-gel digestion for mass spectrometric characterization of proteins and proteomes. Nat. Protoc. 1, 2856–2860 (2006).

Wis´niewski, J.R. et al. Universal sample preparation method for proteome analysis. Nat. Methods 6, 359–352 (2009).

Mallick, P. et al. Computational prediction of proteotypic peptides for quantitative proteomics. Nat. Biotechnol. 25, 125–131 (2007).

Colaert, N., Helsens, K., Martens, L., Vandekerckhove, J. & Gevaert, K. Improved visualization of protein consensus sequences by iceLogo. Nat. Methods 6, 786–787 (2009).

Köcher, T., Pichler, P., Swart, R. & Mechtler, K. Quality control in LC-MS/MS. Proteomics 11, 1026–1030 (2011).

Köcher, T., Pichler, P., Swart, R. & Mechtler, K. Analysis of protein mixtures from whole-cell extracts by single-run nanoLC-MS/MS using ultralong gradients. Nat. Protoc. 7, 882–890 (2012).
Acknowledgements
This work has been supported by the Netherlands Proteomics Centre, the Netherlands Organization for Scientific Research (NWO) supporting the Roadmap embedded large-scale proteomics facility Proteins@Work (project 184.032.201) and by the PRIME-XS project grant agreement number 262067 supported by the European Community's Seventh Framework Programme (FP7/2007-2013) to AJRH. LT was supported by EMBO with a long-term fellowship (ALTF 776-2013).
Ethics declarations
Competing interests
The authors declare no competing financial interests.
Integrated supplementary information
Plots representing profiles of physicochemical characteristics of the peptides obtained by in-silico (left) and experimental (right) digestion of the E. Coli proteome. The properties shown are (a) number of acidic residues, (b) number of aliphatic residues, (c) number of aromatic residues, (d) number of basic residues, (e) hydrophobicity (GRAVY score), (f) peptide length, (g) pI, and (h) number of small residues. Analyses were performed using the R Statistical Programming Language (http://www.r-project.org) package 'Peptides'.
Supplementary information
About this article
Cite this article
Giansanti, P., Tsiatsiani, L., Low, T. et al. Six alternative proteases for mass spectrometry–based proteomics beyond trypsin. Nat Protoc 11, 993–1006 (2016). https://doi.org/10.1038/nprot.2016.057
Published:

Issue Date:

DOI: https://doi.org/10.1038/nprot.2016.057
Comments
By submitting a comment you agree to abide by our Terms and Community Guidelines. If you find something abusive or that does not comply with our terms or guidelines please flag it as inappropriate.