Abstract
Enumerating specific cell types from whole blood can be very useful for research and diagnostic purposes—e.g., for counting of CD4 and CD8 T cells in HIV/AIDS diagnostics. We have developed a biosensor based on a differential immunocapture technology to enumerate specific cells in 30 min using 10 μl of blood. This paper provides a comprehensive stepwise protocol to replicate our biosensor for CD4 and CD8 cell counts. The biochip can also be adapted to enumerate other specific cell types such as somatic cells or cells from tissue or liquid biopsies. Capture of other specific cells requires immobilization of their corresponding antibodies within the capture chamber. Therefore, this protocol is useful for research into areas surrounding immunocapture-based biosensor development. The biosensor production requires 24 h, a one-time cell capture optimization takes 6–9 h, and the final cell counting experiment in a laboratory environment requires 30 min to complete.
Access options
Subscribe to Journal
Get full journal access for 1 year
$495.00
only $41.25 per issue
All prices are NET prices.
VAT will be added later in the checkout.
Rent or Buy article
Get time limited or full article access on ReadCube.
from$8.99
All prices are NET prices.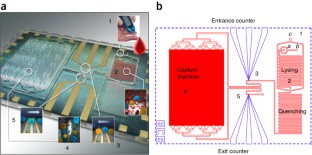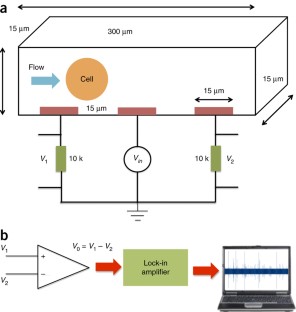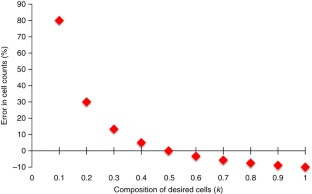 References
1

Global HIV/AIDS Response. Epidemic update and health sector progress towards Universal Access. World Health Organization (2011).

2

Damhorst, G., Watkins, N.N. & Bashir, R. Micro and nanotechnology for HIV/AIDS diagnostics in resource-limited settings. IEEE Trans. Biomed. Eng. 60, 715–726 (2013).

3

Damhorst, G., Murtagh, M., Rodriguez, W.R. & Bashir, R. Microfluidics and nanotechnology for detection of global infectious diseases. Proc. IEEE 103, 150–160 (2015).

4

Rowley, C.F. Developments in CD4 and viral load monitoring in resource-limited settings. Clin. Infect. Dis. 58, 407–412 (2014).

5

Pahwa, S. et al. CD4+/CD8+ T cell ratio for diagnosis of HIV-1 infection in infants: women and infants transmission study. Pediatrics 122, 331–339 (2008).

6

Taylor, J.M., Fahey, J.L., Detels, R. & Giorgi, J.V. CD4 percentage, CD4 number, and CD4:CD8 ratio in HIV infection: which to choose and how to choose. J. AIDS 2, 114–124 (1989).

7

Wang, J.H., Wang, C.H., Lin, C.C., Lei, H.Y. & Lee, G.B. An integrated microfluidic system for counting of CD4+/CD8+ T lymphocytes. Microfluid. Nanofluid. 10, 531–541 (2011).

8

Gohring, J.T. & Fan, X. Label free detection of CD4+ and CD8+ T lymphocytes with the optofluidic ring resonator biosensor. Sensors 10, 5798–5808 (2010).

9

Carey, J.L., McCoy, J.P. Jr. & Keren, D.F. Flow Cytometry in Clinical Diagnosis 4th edn. American Society for Clinical Pathology, 2007.

10

Srithanaviboonchai, K. et al. Novel low-cost assay for the monitoring of CD4 counts in HIV-infected individuals. J. Acquir. Immune Defic. Syndr. 47, 135–139 (2008).

11

Crowe, S., Turnbull, S., Oelrichs, R. & Dunne, A. Monitoring of human immunodeficiency virus infection in resource-constrained countries. Clin. Infect. Dis. 37, S25–S35 (2003).

12

Coulter, W.H. Means for counting particles suspended in a fluid. US Patent 2656508 (1953).

13

Koch, M., Evans, A. & Brunnschweiler, A. Design and fabrication of a micromachined Coulter counter. J. Micromech. Microeng. 9, 159–161 (1999).

14

Holmes, D. et al. Leukocyte analysis and differentiation using high speed microfluidic single cell impedance cytometry. Lab Chip 9, 2881–2889 (2009).

15

Hassan, U. Microfluidic sensor for white blood cell counting and flow metering. M.S. thesis, Electrical & Computer Engineering, University of Illinois at Urbana-Champaign (2013).

16

Ellappan, P. & Sundararaian, R. A simulation study of a electrical model of a biological cell. J. Electrostat. 63, 297–309 (2005).

17

Hughes, M.P. AC electrokinetics: applications for nanotechnology. Nanotechnology 11, 124–132 (2000).

18

Gawad, S., Schild, L. & Renaud, P. Micromachined impedance spectroscopy flow cytometer for cell analysis and particle sizing. Lab Chip 1, 76–82 (2001).

19

Pierzchalski, A., Hebeisen, M., Mittag, A., Berardino, M.D. & Tarnok, A. Label-free single cell analysis with a chip-based impedance flow cytometer. Proc. SPIE 75681B doi:10.1117/12.840865 (2010).

20

Cheung, K.C. et al. Microfluidic impedance-based flow cytometry. Cytometry A 77, 648–666 (2010).

21

Cheng, X. et al. Enhancing the performance of a point-of-care CD4+ T cell counting microchip through monocyte depletion for HIV/AIDS diagnostics. Lab Chip 9, 1357–1364 (2009).

22

Beck, M. et al. On-chip sample preparation by controlled release of antibodies for simple CD4 counting. Lab Chip 12, 167–173 (2012).

23

Smith, Z.J. et al. Single-step preparation and image based counting of minute volumes of human blood. Lab Chip 14, 3029 (2014).

24

Boyle, D.S., Hawkins, K.R., Steele, M.S., Singhal, M. & Cheng, X. Emerging technologies for point-of-care CD4 T-lymphocyte counting. Trends Biotechnol. 30, 1 (2012).

25

Schade-Kampmann, G., Huwiler, A., Hebeisen, M., Hessler, T. & Di Berardino, M. On-chip non-invasive and label-free cell discrimination by impedance spectroscopy. Cell Prolif. 41, 830–840 (2008).

26

Cheng, X. et al. Cell detection and counting through cell lysate impedance spectroscopy in microfluidic devices. Lab Chip 7, 746–755 (2007).

27

Watkins, N.N., Venkatesan, B.M., Toner, M., Rodriguez, W. & Bashir, R. A robust electrical microcytometer with 3-dimensional hydrofocusing. Lab Chip 9, 3177–3184 (2009).

28

Watkins, N.N. et al. microfabricated electrical differential counter for the selective enumeration of CD4+ T lymphocytes. Lab Chip 11, 437–447 (2011).

29

Watkins, N.N. et al. Microfluidic CD4+ and CD8+ T lymphocyte counters for point-of-care HIV diagnostics using whole blood. Sci. Transl. Med. 5, 214ra170 (2013).

30

Hassan, U., Watkins, N., Edwards, C. & Bashir, R. Flow metering characterization within an electrical cell counting microfluidic device. Lab Chip 14, 1469 (2014).

31

Hassan, U. & Bashir, R. Coincidence detection of heterogeneous cell populations from whole blood with coplanar electrodes in a microfluidic impedance cytometer. Lab Chip 14, 4370–4381 (2014).

32

Hassan, U. & Bashir, R. Electrical cell counting process characterization in a microfluidic impedance cytometer. Biomed. Microdevices 16, 697–704 (2014).
Acknowledgements
The authors thank A. Vaid at Champaign-Urbana Public Health District (CUPHD) for providing the HIV-infected blood samples; and C. Edwards, L. Orlandic and C. Yang for PDMS device fabrication. The authors acknowledge the support of Center for Integration of Medicine and Innovative Technology (CIMIT)'s Point-of-Care Technology Center in Primary Care (POCTRN) Grant and funding from University of Illinois at Urbana-Champaign.
Ethics declarations
Competing interests
The authors declare no competing financial interests.
Integrated supplementary information
Supplementary information
Supplementary Figures 1–7 and Supplementary Table 1 (PDF 1297 kb)
AutoCAD design file (BiochipDesign_NP.dwg); Lock-in amplifier settings file (lockin.zicfg); LabVIEW file for Data Acquisition (Counter_Differential_NP.vi) (ZIP 18372 kb)
About this article
Cite this article
Hassan, U., Watkins, N., Reddy, B. et al. Microfluidic differential immunocapture biochip for specific leukocyte counting. Nat Protoc 11, 714–726 (2016). https://doi.org/10.1038/nprot.2016.038
Comments
By submitting a comment you agree to abide by our Terms and Community Guidelines. If you find something abusive or that does not comply with our terms or guidelines please flag it as inappropriate.