Abstract
The effect of genetic mutation on phenotype is of significant interest in genetics. The type of genetic mutation that causes a single amino acid substitution (AAS) in a protein sequence is called a non-synonymous single nucleotide polymorphism (nsSNP). An nsSNP could potentially affect the function of the protein, subsequently altering the carrier's phenotype. This protocol describes the use of the 'Sorting Tolerant From Intolerant' (SIFT) algorithm in predicting whether an AAS affects protein function. To assess the effect of a substitution, SIFT assumes that important positions in a protein sequence have been conserved throughout evolution and therefore substitutions at these positions may affect protein function. Thus, by using sequence homology, SIFT predicts the effects of all possible substitutions at each position in the protein sequence. The protocol typically takes 5–20 min, depending on the input. SIFT is available as an online tool (http://sift-dna.org).
Access options
Subscribe to Journal
Get full journal access for 1 year
$119.00
only $9.92 per issue
All prices are NET prices.
VAT will be added later in the checkout.
Tax calculation will be finalised during checkout.
Rent or Buy article
Get time limited or full article access on ReadCube.
from$8.99
All prices are NET prices.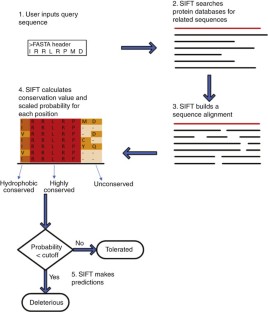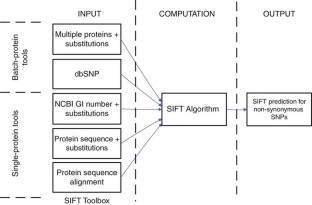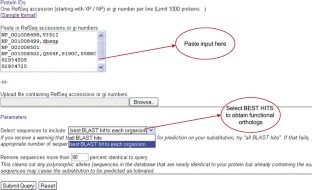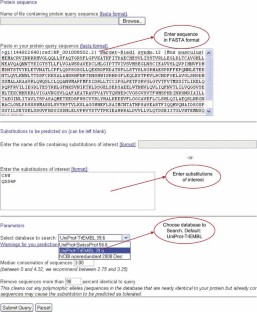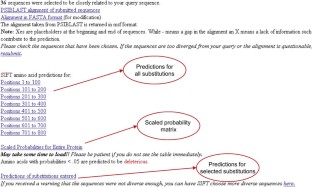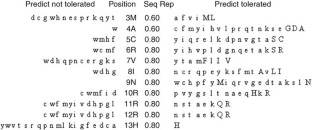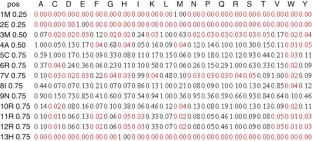 References
1

Krawczak, M. et al. Human gene mutation database-a biomedical information and research resource. Hum. Mutat. 15, 45–51 (2000).

2

Henikoff, S. & Comai, L. Single-nucleotide mutations for plant functional genomics. Annu. Rev. Plant. Biol. 54, 375–401 (2003).

3

Ng, P.C. & Henikoff, S. Predicting deleterious amino acid substitutions. Genome Res. 11, 863–874 (2001).

4

Tchernitchko, D., Goossens, M. & Wajcman, H. In silico prediction of the deleterious effect of a mutation: proceed with caution in clinical genetics. Clin. Chem. 50, 1974–8 (2004).

5

Ng, P.C. & Henikoff, S. Accounting for human polymorphisms predicted to affect protein function. Genome Res. 12, 436–446 (2002).

6

Altschul, S.F. et al. Gapped BLAST and PSI-BLAST: a new generation of protein database search programs. Nucleic Acids Res. 25, 3389–3402 (1997).

7

Ng, P.C. & Henikoff, S. SIFT: predicting amino acid changes that affect protein function. Nucleic Acids Res. 31, 3812–3814 (2003).

8

Saunders, C.T. & Baker, D. Evaluation of structural and evolutionary contributions to deleterious mutation prediction. J. Mol. Biol. 322, 891–901 (2002).

9

Cargill, M. et al. Characterization of single-nucleotide polymorphisms in coding regions of human genes. Nat. Genet. 22, 231–238 (1999).

10

Palmer, J.S. et al. Melanocortin-1 receptor polymorphisms and risk of melanoma: Is the association explained solely by pigmentation phenotype? Am. J. Hum. Genet. 66, 176–186 (2000).

11

Ng, P.C. & Henikoff, S. Predicting the effects of amino acid substitutions on protein function. Annu. Rev. Genom. 7, 61–80 (2006).

12

Ramensky, V., Bork, P. & Sunyaev, S. Human non-synonymous SNPs: server and survey. Nucleic Acids Res. 30, 3894–3900 (2002).

13

Ferrer-Costa, C. et al. PMUT: a web-based tool for the annotation of pathological mutations on proteins. Bioinformatics 21, 3176–3178 (2005).

14

Stone, E.A. & Sidow, A. Physicochemical constraint violation by missense substitutions mediates impairment of protein function and disease severity. Genome Res. 15, 978–986 (2005).

15

Mathe, E. Computational approaches for predicting the biological effect of p53 missense mutation: a comparison of three sequence analysis based methods. Nucleic Acids Res. 34, 1317–1325 (2006).

16

Healy, E. et al. Skin type, melanoma, and melanocortin 1 receptor variants. J. Invest. Dermatol. 112, 512–513 (1999).

17

Liu, W. et al. Denaturing HPLC-identified novel FBN1 mutations, polymorphisms, and sequence variants in Marfan syndrome and related connective tissue disorder. Genet. Test. 1, 237–242 (1997/1998).

18

Yue, P.E., Melamud, M. & Moult, J. SNPs3D: Candidate gene and SNP selection for association studies. BMC Bioinformatics 7, 166 (2006).

19

Thomas, P.D. et al. PANTHER: a library of protein families and subfamilies indexed by function. Genome Res. 13, 2129–41 (2003).
Acknowledgements
Development of the SIFT server at the J. Craig Venter Institute was funded by the National Human Genome Research Institute (R01 HG004701-01).
About this article
Cite this article
Kumar, P., Henikoff, S. & Ng, P. Predicting the effects of coding non-synonymous variants on protein function using the SIFT algorithm. Nat Protoc 4, 1073–1081 (2009). https://doi.org/10.1038/nprot.2009.86
Comments
By submitting a comment you agree to abide by our Terms and Community Guidelines. If you find something abusive or that does not comply with our terms or guidelines please flag it as inappropriate.