Abstract
PCR is an established technique providing rapid and highly productive amplification of specific DNA sequences. The demand for equally rapid, sensitive and objective methods to achieve detection of PCR products has led to the coupling of PCR with ELISA. PCR–ELISA involves direct incorporation of labeled nucleotides in amplicons during PCR-amplification, their hybridization to specific probes and hybrid capture-immunoassay in microtiter wells. PCR–ELISA is performed in 1 d and is very flexible, with the ability to process simultaneously up to 96 or 384 samples. This technique is potentially automatable and does not require expensive equipment, and thus can be fundamental in laboratories without access to a real-time PCR thermocycler. PCR–ELISA has mainly been used to detect infectious agents, including viruses, bacteria, protozoa and fungi. A PCR–ELISA protocol for the qualitative detection of papillomavirus genomes and simultaneous typing of different genotypes are detailed here as an example of the technique.
This is a preview of subscription content
Access options
Subscribe to Journal
Get full journal access for 1 year
$119.00
only $9.92 per issue
All prices are NET prices.
VAT will be added later in the checkout.
Tax calculation will be finalised during checkout.
Buy article
Get time limited or full article access on ReadCube.
$32.00
All prices are NET prices.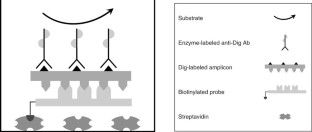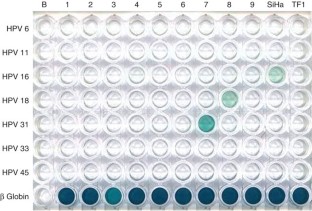 References
Landgraf, A., Reckmann, B. & Pingoud, A. Direct analysis of polymerase chain reaction products using enzyme-linked immunosorbent assay techniques. Anal. Biochem. 198, 86–91 (1991).

Gibellini, D. et al. Microplate capture hybridization of amplified parvovirus B19 DNA fragment labelled with digoxigenin. Mol. Cell. Probes 7, 453–458 (1993).

Zerbini, M. et al. Automated detection of digoxigenin-labelled B19 parvovirus amplicons by a capture hybridization assay. J. Virol. Methods 55, 1–9 (1995).

Venturoli, S. et al. Detection of adeno-associated virus DNA in female genital samples by PCR-ELISA. J. Med. Virol. 64, 577–582 (2001).

Venturoli, S. et al. Human papillomavirus DNA testing by PCR-ELISA and hybrid capture II from a single cytological specimen: concordance and correlation with cytological results. J. Clin. Virol. 25, 177–185 (2002).

Koskiniemi, M., Mannonen, L., Kallio, A. & Vaheri, A. Luminometric microplate hybridization for detection of varicella-zoster virus PCR product from cerebrospinal fluid. J. Virol. Methods 63, 71–79 (1997).

Roda, A. et al. Microtiter format for simultaneous multianalyte detection and development of a PCR-chemiluminescent enzyme immunoassay for typing human papillomavirus DNAs. Clin. Chem. 48, 1654–1660 (2002).

Ambretti, S. et al. High-throughput polymerase chain reaction chemiluminescent enzyme immunoassay for typing and quantifying human papillomavirus DNAs. Anal. Biochem. 332, 349–357 (2004).

Watzinger, F., Ebner, K. & Lion, T. Detection and monitoring of virus infections by real-time PCR. Mol. Aspects Med. 27, 254–298 (2006).

Kim, J.W. et al. Development of PCR-ELISA for the detection of hepatitis B virus x gene expression and clinical application. J. Clin. Lab. Anal. 19, 139–145 (2005).

Metzger-Boddien, C. & Kehle, J. Development and evaluation of a sensitive PCR-ELISA for detection of adenoviruses in feces. Intervirology 48, 297–300 (2005).

Adler, M., Schulz, S., Fischer, R. & Niemeyer, C.M. Detection of rotavirus from stool samples using a standardized immuno-PCR ("Imperacer") method with end-point and real-time detection. Biochem. Biophys. Res. Commun. 333, 1289–1294 (2005).

Metzger-Boddien, C. et al. Automated high-throughput immunomagnetic separation-PCR for detection of Mycobacterium avium subsp. paratuberculosis in bovine milk. Int. J. Food Microbiol. 110, 201–208 (2006).

Daeschlein, G., Assadian, O., Daxboeck, F. & Kramer, A. Multiplex PCR-ELISA for direct detection of MRSA in nasal swabs advantageous for rapid identification of non-MRSA carriers. Eur. J. Clin. Microbiol. Infect. Dis. 25, 328–330 (2006).

Perelle, S. et al. Comparison of PCR-ELISA and LightCycler real-time PCR assays for detecting Salmonella spp. in milk and meat samples. Mol. Cell. Probes. 18, 409–420 (2004).

Kurupati, P., Kumarasinghe, G. & Laa Poh, C. Direct identification of Pseudomonas aeruginosa from blood culture bottles by PCR-enzyme linked immunosorbent assay using oprI gene specific primers. Mol. Cell. Probes 19, 417–421 (2005).

Waters, S.M., Doyle, S., Murphy, R.A. & Power, R.F. Development of solution phase hybridisation PCR-ELISA for the detection and quantification of Enterococcus faecalis and Pediococcus pentosaceus in Nurmi-type cultures. J. Microbiol. Methods 63, 264–275 (2005).

Martín-Sánchez, J., Gállego, M., Barón, S., Castillejo, S. & Morillas-Marquez, F. Pool screen PCR for estimating the prevalence of Leishmania infantum infection in sandflies (Diptera: Nematocera, Phlebotomidae). Trans. R. Soc. Trop. Med. Hyg. 100, 527–532 (2006).

Heidari, A. et al. Genotypes and in vivo resistance of Plasmodium falciparum isolates in an endemic region of Iran. Parasitol. Res. 100, 589–592 (2007).

Sow, A., Sidibe, I., Desquesnes, M., Bengaly, Z. & Panqui, L.J. The application of PCR-ELISA to the detection of Trypanosoma congolense type savannah (TCS) in bovine blood samples. Trop. Biomed. 23, 123–129 (2006).

Hassan, M. et al. Detection of DNA of W. bancrofti in blood samples by QC-PCR-ELISA-based. J. Egypt Soc. Parasitol. 35, 963–970 (2005).

Florent, M. et al. Prospective evaluation of a polymerase chain reaction-ELISA targeted to Aspergillus fumigatus and Aspergillus flavus for the early diagnosis of invasive aspergillosis in patients with hematological malignancies. J. Infect. Dis. 193, 741–747 (2006).

de Villiers, E.M., Fauquet, C., Broker, T.R., Bernard, H.U. & zur Hausen, H. Classification of papillomaviruses. Virology 324, 17–27 (2004).

Clifford, G.M., Smith, J.S., Plummer, M., Muñoz, N. & Franceschi, S. Human papillomavirus types in invasive cervical cancer worldwide: a meta-analysis. Br. J. Cancer 88, 63–73 (2003).

Lungu, O., Wright, T.C. Jr. & Silverstein, S. Typing of human papillomaviruses by polymerase chain reaction amplification with L1 consensus primers and RFLP analysis. Mol. Cell. Probes 6, 145–152 (1992).

Kay, P., Meehan, K. & Williamson, A.L. The use of nested polymerase chain reaction and restriction fragment length polymorphism for the detection and typing of mucosal human papillomaviruses in samples containing low copy numbers of viral DNA. J. Virol. Methods 105, 159–170 (2002).

Feoli-Fonseca, J.C. et al. Human papillomavirus (HPV) study of 691 pathological specimens from Quebec by PCR-direct sequencing approach. J. Med. Virol. 63, 284–292 (2001).

Speich, N., Schmitt, C., Bollmann, R. & Bollmann, M. Human papillomavirus (HPV) study of 2916 cytological samples by PCR and DNA sequencing: genotype spectrum of patients from the west German area. J. Med. Microbiol. 53, 125–128 (2004).

van den Brule, A.J. et al. GP5+/6+ PCR followed by reverse line blot analysis enables rapid and high-throughput identification of human papillomavirus genotypes. J. Clin. Microbiol. 40, 779–787 (2002).

de Roda Husman, A.M., Walboomers, J.M., van den Brule, A.J., Meijer, C.J. & Snijders, P.J. The use of general primers GP5 and GP6 elongated at their 3 ends with adjacent highly conserved sequences improves human papillomavirus detection by PCR. J. Gen. Virol. 76, 1057–1062 (1995).

Manos, M.M. et al. Use of polymerase chain reaction amplification for the detection of genital human papillomaviruses. Cancer Cells 7, 209–214 (1989).

Gravitt, P.E. et al. Improved amplification of genital human papillomaviruses. J. Clin. Microbiol. 38, 357–361 (2000).

Kleter, B. et al. Development and clinical evaluation of a highly sensitive PCR-reverse hybridization line probe assay for detection and identification of anogenital human papillomavirus. J. Clin. Microbiol. 37, 2508–2517 (1999).

Resnick, R.M. et al. Detection and typing of human papillomavirus in archival cervical cancer specimens by DNA amplification with consensus primers. J. Natl. Cancer Inst. 82, 1477–1484 (1990).

Venturoli, S. et al. Evaluation of immunoassays for the detection and typing of PCR amplified human papillomavirus DNA. J. Clin. Pathol. 51, 143–148 (1998).

Zerbini, M. et al. Distribution and viral load of type specific HPVs in different cervical lesions as detected by PCR-ELISA. J. Clin. Pathol. 54, 377–380 (2001).

Schneede, P. et al. Evaluation of HPV testing by Hybrid Capture II for routine gynaecologic screening. Acta Obstet. Gynecol. Scand. 80, 750–752 (2001).

Söderlund-Strand, A., Rymark, P., Andersson, P., Dillner, J. & Dillner, L. Comparison between the Hybrid Capture II test and a PCR-based human papillomavirus detection method for diagnosis and posttreatment follow-up of cervical intraepithelial neoplasia. J. Clin. Microbiol. 43, 3260–3266 (2005).

Ehardt, A., Schaefer, S., Athanassiou, N., Kann, M. & Gerlich, W.H. Quantitative assay of PCR-amplified hepatitis B virus DNA using a peroxidase-labelled DNA probe and enhanced chemiluminescence. J. Clin. Microbiol. 34, 1885–1891 (1996).

Laitinen, R., Malinen, E. & Palva, A. PCR-ELISA I: Application to simultaneous analysis of mixed bacterial samples composed of intestinal species. Syst. Appl. Microbiol. 25, 241–248 (2002).

Swets, J.A. Measuring the accuracy of diagnostic systems. Science 240, 1285–1293 (1988).

Moret, H. et al. New commercially available PCR and microplate hybridization assay for detection and differentiation of human polyomaviruses JC and BK in cerebrospinal fluid, serum, and urine samples. J. Clin. Microbiol. 44, 1305–1309 (2006).

Bonvicini, F. et al. Presence and type of oncogenic human papillomavirus in classic and in differentiated vulvar intraepithelial neoplasia and keratinizing vulvar squamous cell carcinoma. J. Med. Virol. 77, 102–106 (2005).

La Placa, M. et al. Presence of high-risk mucosal human papillomavirus genotypes in primary melanoma and in acquired dysplastic melanocytic naevi. Br. J. Dermatol. 152, 909–914 (2005).
About this article
Cite this article
Musiani, M., Venturoli, S., Gallinella, G. et al. Qualitative PCR–ELISA protocol for the detection and typing of viral genomes. Nat Protoc 2, 2502–2510 (2007). https://doi.org/10.1038/nprot.2007.311
Published:

Issue Date:

DOI: https://doi.org/10.1038/nprot.2007.311
Further reading
Dong Joo Seo
Hongmin Tahk
Changsun Choi

Food and Environmental Virology (2012)

Monica Musiani
Giorgio Gallinella
Marialuisa Zerbini

Nature Protocols (2007)
Comments
By submitting a comment you agree to abide by our Terms and Community Guidelines. If you find something abusive or that does not comply with our terms or guidelines please flag it as inappropriate.