Abstract
Organic materials have revolutionized optoelectronics by their processability, flexibility and low cost, with application to light-emitting devices for full-colour screens1, solar cells2 and lasers3,4. Some low-dimensional organic semiconductor structures exhibit properties resembling those of inorganics, such as polarized emission5 and enhanced electroluminescence6. One-dimensional metallic, III–V and II–VI nanostructures have also been the subject of intense investigation7,8 as building blocks for nanoelectronics and photonics. Given that one-dimensional polymer nanostructures, such as polymer nanofibres, are compatible with sub-micrometre patterning capability9 and electromagnetic confinement within subwavelength volumes8, they can offer the benefits of organic light sources to nanoscale optics. Here we report on the optical properties of fully conjugated, electrospun polymer nanofibres. We assess their waveguiding performance and emission tuneability in the whole visible range. We demonstrate the enhancement of the fibre forward emission through imprinting periodic nanostructures using room-temperature nanoimprint lithography, and investigate the angular dispersion of differently polarized emitted light.
Relevant articles
Open Access articles citing this article.
R. Ranjineh Khojasteh

&

S. Ghelenji

Journal of Nanostructure in Chemistry Open Access 08 June 2018

M. Athanasiou

,

R. M. Smith

…

T. Wang

Scientific Reports Open Access 03 January 2017

Jongwon Yoon

,

Yunkyung Jeong

…

Heung Cho Ko

Nature Communications Open Access 01 June 2016
Access options
Subscribe to this journal
Receive 12 print issues and online access
$259.00 per year
only $21.58 per issue
Rent or buy this article
Get just this article for as long as you need it
$39.95
Prices may be subject to local taxes which are calculated during checkout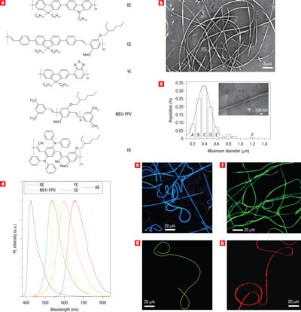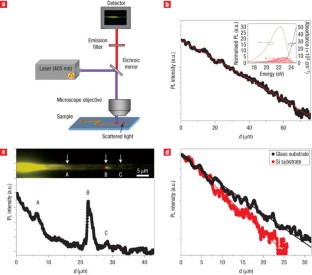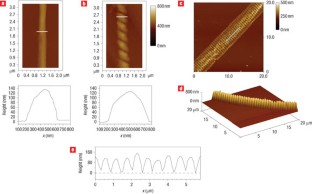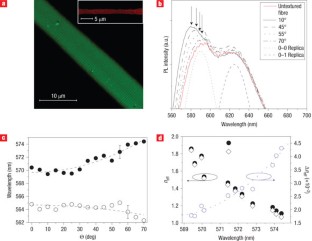 References
Friend, R. H. et al. Electroluminescence in conjugated polymers. Nature 397, 121–128 (1999).

Yu, G. et al. Polymer photovoltaic cells: enhanced efficiencies via a network of internal donor–acceptor heterojunctions. Science 270, 1789–1791 (1995).

Tessler, N., Denton, G. J. & Friend, R. H. Lasing from conjugated-polymer microcavities. Nature 382, 695–697 (1996).

McGehee, M. D. & Heeger, A. J. Semiconducting (conjugated) polymers as materials for solid-state lasers. Adv. Mater. 12, 1655–1668 (2000).

Nguyen, T. -Q. et al. Control of energy transfer in oriented conjugated polymer–mesoporous silica composites. Science 288, 652–656 (2000).

Zhang, X., Kale, D. M. & Jenekhe, S. A. Electroluminescence of multicomponent conjugated polymers. 2. photophysics and enhancement of electroluminescence from blends of polyquinolines. Macromolecules 35, 382–393 (2002).

Duan, X. et al. Indium phosphide nanowires as building blocks for nanoscale electronic and optoelectronic devices. Nature 409, 66–69 (2001).

Law, M. et al. Nanoribbon waveguides for subwavelength photonics integration. Science 305, 1269–1273 (2004).

Menard, E. et al. Micro and nanopatterning techniques for organic electronic and optoelectronic systems. Chem. Rev. 107, 1117–1160 (2007).

Liu, H. et al. Electrospun polymer nanofibres as subwavelength optical waveguides incorporating quantum dots. Small 2, 495–499 (2006).

Quochi, F. et al. Gain amplification and lasing properties of individual organic nanofibres. Appl.Phys. Lett. 88, 041106 (2006).

Liu, J., Sheina, E., Kowalewski, T. & McCullough, R. D. Tuning the electrical conductivity and self-assembly of regioregular polythiophene by block copolymerization: nanowire morphologies in new di- and tri-block copolymers. Angew. Chem. Int. Ed. 41, 329–332 (2002).

Noy, A. et al. Fabrication of luminescent nanostructures and polymer nanowires using dip-pen nanolithography. Nano Lett. 2, 109–112 (2002).

Reneker, D. H. & Chun, I. Nanometre diameter fibres of polymer, produced by electrospinning. Nanotechnology 7, 216–223 (1996).

MacDiarmid, A. G. et al. Electrostatically-generated nanofibres of electronic polymers. Synth. Met. 119, 27–30 (2001).

Dzenis, Y. Spinning continuous fibres for nanotechnology. Science 304, 1917–1919 (2004).

Moran-Mirabal, J. M. et al. Electrospun light-emitting nanofibres. Nano Lett. 7, 458–463 (2007).

Kakade, M. et al. Electric field induced orientation of polymer chains in macroscopically aligned electrospun polymer nanofibres. J. Am. Chem. Soc. 129, 2777–2782 (2007).

Madhugiri, S. et al. Electrospun MEH-PPV/SBA-15 composite nanofibres using a dual syringe method. J. Am. Chem. Soc. 125, 14531–14538 (2003).

Li, D., Babel, A., Jenekhe, S. A. & Xia, Y. Nanofibres of conjugated polymers prepared by electrospinning with a two-capillary spinneret. Adv. Mater. 16, 2062–2066 (2004).

Wei, M., Lee, J., Kang, B. & Mead, J. Preparation of core–sheath nanofibres from conducting polymer blends. Macromol. Rapid Commun. 26, 1127–1132 (2005).

Babel, A., Li, D., Xia, Y. & Jenekhe, S. A. Electrospun nanofibres of blends of conjugated polymers: morphology, optical properties and field-effect transistors. Macromolecules 38, 4705–4711 (2005).

Jang, S. -H. et al. Welded electrochromic conductive polymer nanofibres by electrostatic spinning. Adv. Mater. 17, 2177–2180 (2005).

Chronakis, S., Grapenson, S. & Jakob, A. Conductive polypyrrole nanofibres via electrospinning: Electrical and morphological properties. Polymer 47, 1597–1603 (2006).

Lee, K. H. et al. Characterization of nano-structured poly(e-caprolactone) nonwoven mats via electrospinning. Polymer 44, 1287–1294 (2003).

Caroll, O. D., Lieberwirth, I. & Redmond, G. Microcavity effects and optically pumped lasing in single conjugated polymer nanowires. Nature Nanotech. 2, 180–184 (2007).

Mele, E. et al. Multilevel, room-temperature nanoimprint lithography for conjugated polymer-based photonics. Nano Lett. 5, 1915–1919 (2005).

Hu, D., Yu, J. & Barbara, P. F. Single-molecule spectroscopy of the conjugated polymer MEH-PPV. J. Am. Chem. Soc. 121, 6936–6937 (1999).

Turnbull, G. A. et al. Relationship between photonic band structure and emission characteristics of a polymer distributed feedback laser. Phys. Rev. B 64, 125122 (2001).

Spehr, T. et al. Organic solid-state ultraviolet-laser based on spiro-terphenyl. Appl. Phys. Lett. 87, 161103 (2005).

Mele, E. et al. Polymeric distributed feedback lasers by room-temperature nanoimprint lithography. Appl. Phys. Lett. 89, 131109 (2006).
Acknowledgements
The authors thank A. Cometta and M. Brich (Zeiss) for the confocal microscopy measurements. F.D.B. acknowledges helpful discussions with F. Ko about the electrostatic spinning technique.
About this article
Cite this article
Di Benedetto, F., Camposeo, A., Pagliara, S. et al. Patterning of light-emitting conjugated polymer nanofibres. Nature Nanotech 3, 614–619 (2008). https://doi.org/10.1038/nnano.2008.232
Received:

Accepted:

Published:

Issue Date:

DOI: https://doi.org/10.1038/nnano.2008.232