Abstract
How neuronal computations in the sensory periphery contribute to computations in the cortex is not well understood. We examined this question in the context of visual-motion processing in the retina and primary visual cortex (V1) of mice. We disrupted retinal direction selectivity, either exclusively along the horizontal axis using FRMD7 mutants or along all directions by ablating starburst amacrine cells, and monitored neuronal activity in layer 2/3 of V1 during stimulation with visual motion. In control mice, we found an over-representation of cortical cells preferring posterior visual motion, the dominant motion direction an animal experiences when it moves forward. In mice with disrupted retinal direction selectivity, the over-representation of posterior-motion-preferring cortical cells disappeared, and their responses at higher stimulus speeds were reduced. This work reveals the existence of two functionally distinct, sensory-periphery-dependent and -independent computations of visual motion in the cortex.
Relevant articles
Open Access articles citing this article.
Carlos Alberto Ortiz-Cruz

,

Emiliano Jimenez Marquez

…

Yazmín Ramiro-Cortés

Scientific Reports Open Access 23 December 2022

Kadjita Asumbisa

,

Adrien Peyrache

&

Stuart Trenholm

Nature Communications Open Access 19 September 2022

Destinee A. Aponte

,

Gregory Handy

…

Hiroyuki K. Kato

Nature Communications Open Access 12 January 2021
Access options
Access Nature and 54 other Nature Portfolio journals
Get Nature+, our best-value online-access subscription
$29.99 / 30 days
cancel any time
Subscribe to this journal
Receive 12 print issues and online access
$189.00 per year
only $15.75 per issue
Rent or buy this article
Get just this article for as long as you need it
$39.95
Prices may be subject to local taxes which are calculated during checkout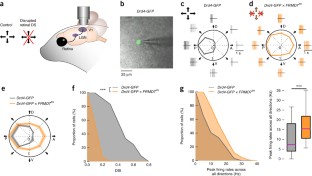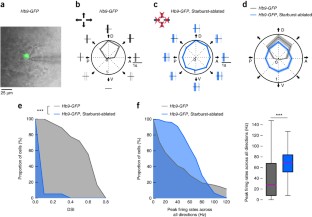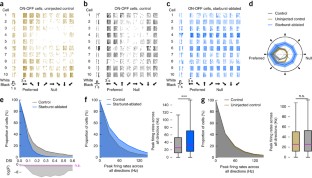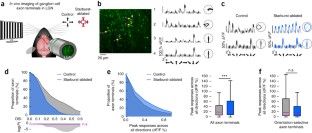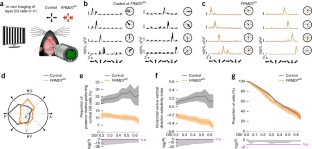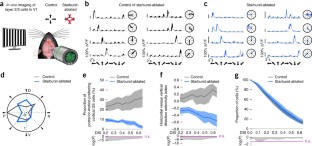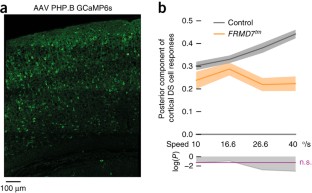 References
Hubel, D.H. & Wiesel, T.N. Receptive fields of single neurones in the cat's striate cortex. J. Physiol. (Lond.) 148, 574–591 (1959).

Hubel, D.H. & Wiesel, T.N. Receptive fields, binocular interaction and functional architecture in the cat's visual cortex. J. Physiol. (Lond.) 160, 106–154 (1962).

Priebe, N.J. & Ferster, D. Direction selectivity of excitation and inhibition in simple cells of the cat primary visual cortex. Neuron 45, 133–145 (2005).

Stanley, G.B. et al. Visual orientation and directional selectivity through thalamic synchrony. J. Neurosci. 32, 9073–9088 (2012).

Wei, W. & Feller, M.B. Organization and development of direction-selective circuits in the retina. Trends Neurosci. 34, 638–645 (2011).

Vaney, D.I., Sivyer, B. & Taylor, W.R. Direction selectivity in the retina: symmetry and asymmetry in structure and function. Nat. Rev. Neurosci. 13, 194–208 (2012).

Huberman, A.D. et al. Genetic identification of an On-Off direction-selective retinal ganglion cell subtype reveals a layer-specific subcortical map of posterior motion. Neuron 62, 327–334 (2009).

Kay, J.N. et al. Retinal ganglion cells with distinct directional preferences differ in molecular identity, structure, and central projections. J. Neurosci. 31, 7753–7762 (2011).

Rivlin-Etzion, M. et al. Transgenic mice reveal unexpected diversity of on-off direction-selective retinal ganglion cell subtypes and brain structures involved in motion processing. J. Neurosci. 31, 8760–8769 (2011).

Fiscella, M. et al. Recording from defined populations of retinal ganglion cells using a high-density CMOS-integrated microelectrode array with real-time switchable electrode selection. J. Neurosci. Methods 211, 103–113 (2012).

Weng, S., Sun, W. & He, S. Identification of ON-OFF direction-selective ganglion cells in the mouse retina. J. Physiol. (Lond.) 562, 915–923 (2005).

Marshel, J.H., Kaye, A.P., Nauhaus, I. & Callaway, E.M. Anterior-posterior direction opponency in the superficial mouse lateral geniculate nucleus. Neuron 76, 713–720 (2012).

Piscopo, D.M., El-Danaf, R.N., Huberman, A.D. & Niell, C.M. Diverse visual features encoded in mouse lateral geniculate nucleus. J. Neurosci. 33, 4642–4656 (2013).

Cruz-Martín, A. et al. A dedicated circuit links direction-selective retinal ganglion cells to the primary visual cortex. Nature 507, 358–361 (2014).

Sun, W., Tan, Z., Mensh, B.D. & Ji, N. Thalamus provides layer 4 of primary visual cortex with orientation- and direction-tuned inputs. Nat. Neurosci. 19, 308–315 (2016).

Yonehara, K. et al. Congenital nystagmus gene FRMD7 is necessary for establishing a neuronal circuit asymmetry for direction selectivity. Neuron 89, 177–193 (2016).

Yoshida, K. et al. A key role of starburst amacrine cells in originating retinal directional selectivity and optokinetic eye movement. Neuron 30, 771–780 (2001).

Ivanova, E., Hwang, G.-S. & Pan, Z.-H. Characterization of transgenic mouse lines expressing Cre recombinase in the retina. Neuroscience 165, 233–243 (2010).

Buch, T. et al. A Cre-inducible diphtheria toxin receptor mediates cell lineage ablation after toxin administration. Nat. Methods 2, 419–426 (2005).

Trenholm, S., Johnson, K., Li, X., Smith, R.G. & Awatramani, G.B. Parallel mechanisms encode direction in the retina. Neuron 71, 683–694 (2011).

Müller, J. et al. High-resolution CMOS MEA platform to study neurons at subcellular, cellular, and network levels. Lab Chip 15, 2767–2780 (2015).

Venkataramani, S. & Taylor, W.R. Orientation selectivity in rabbit retinal ganglion cells is mediated by presynaptic inhibition. J. Neurosci. 30, 15664–15676 (2010).

Nath, A. & Schwartz, G.W. Cardinal orientation selectivity is represented by two distinct ganglion cell types in mouse retina. J. Neurosci. 36, 3208–3221 (2016).

Güler, A.D. et al. Melanopsin cells are the principal conduits for rod-cone input to non-image-forming vision. Nature 453, 102–105 (2008).

Chen, T.-W. et al. Ultrasensitive fluorescent proteins for imaging neuronal activity. Nature 499, 295–300 (2013).

Deverman, B.E. et al. Cre-dependent selection yields AAV variants for widespread gene transfer to the adult brain. Nat. Biotechnol. 34, 204–209 (2016).

Hagihara, K.M., Murakami, T., Yoshida, T., Tagawa, Y. & Ohki, K. Neuronal activity is not required for the initial formation and maturation of visual selectivity. Nat. Neurosci. 18, 1780–1788 (2015).

Keck, T. et al. Synaptic scaling and homeostatic plasticity in the mouse visual cortex in vivo. Neuron 80, 327–334 (2013).

Hengen, K.B., Torrado Pacheco, A., McGregor, J.N., Van Hooser, S.D. & Turrigiano, G.G. Neuronal firing rate homeostasis is inhibited by sleep and promoted by wake. Cell 165, 180–191 (2016).

Hoggarth, A. et al. Specific wiring of distinct amacrine cells in the directionally selective retinal circuit permits independent coding of direction and size. Neuron 86, 276–291 (2015).

Farrow, K. et al. Ambient illumination toggles a neuronal circuit switch in the retina and visual perception at cone threshold. Neuron 78, 325–338 (2013).

Siegert, S. et al. Genetic address book for retinal cell types. Nat. Neurosci. 12, 1197–1204 (2009).

Frey, U., Egert, U., Heer, F., Hafizovic, S. & Hierlemann, A. Microelectronic system for high-resolution mapping of extracellular electric fields applied to brain slices. Biosens. Bioelectron. 24, 2191–2198 (2009).

Franke, F., Quian Quiroga, R., Hierlemann, A. & Obermayer, K. Bayes optimal template matching for spike sorting - combining fisher discriminant analysis with optimal filtering. J. Comput. Neurosci. 38, 439–459 (2015).

Mazurek, M., Kager, M. & Van Hooser, S.D. Robust quantification of orientation selectivity and direction selectivity. Front. Neural Circuits 8, 92 (2014).

Grieger, J.C., Choi, V.W. & Samulski, R.J. Production and characterization of adeno-associated viral vectors. Nat. Protoc. 1, 1412–1428 (2006).

Holtmaat, A. et al. Long-term, high-resolution imaging in the mouse neocortex through a chronic cranial window. Nat. Protoc. 4, 1128–1144 (2009).

Cahill, H. & Nathans, J. The optokinetic reflex as a tool for quantitative analyses of nervous system function in mice: application to genetic and drug-induced variation. PLoS One 3, e2055 (2008).

Yonehara, K. et al. Identification of retinal ganglion cells and their projections involved in central transmission of information about upward and downward image motion. PLoS One 4, e4320 (2009).

Remtulla, S. & Hallett, P.E. A schematic eye for the mouse, and comparisons with the rat. Vision Res. 25, 21–31 (1985).

Yardeni, T., Eckhaus, M., Morris, H.D., Huizing, M. & Hoogstraten-Miller, S. Retro-orbital injections in mice. Lab Anim. (NY) 40, 155–160 (2011).

Ohki, K., Chung, S., Ch'ng, Y.H., Kara, P. & Reid, R.C. Functional imaging with cellular resolution reveals precise micro-architecture in visual cortex. Nature 433, 597–603 (2005).
Acknowledgements
We thank J. Letzkus, M. Hübener, A. Kreile, G. Keller, J. Randall and A. Holtmaat for helping with two-photon imaging and surgery; N. Cesarovic for advice concerning anesthesia; F. Franke and U. Mueller for helping with spike sorting; C. Patino Alvarez for helping with virus production; P. Argast for technical assistance; and S. Oakeley, A. Wertz and A. Attinger for commenting on the manuscript. We acknowledge the following grants: Marie Curie IEF and EMBO LTF to D.H.; Boehringer Ingelheim Fonds PhD fellowship for A.D.; Human Frontier Science Program Postdoctoral Fellowship and Ambizione Fellowship to S.T.; Swiss National Science Foundation, European Research Council, National Centres of Competence in Research Molecular Systems Engineering, Swiss National Science Foundation Sinergia, Swiss-Hungarian, DARPA and European Union 3X3D Imaging grants to B.R. The ETH Zurich group, M.F. and A.H. acknowledge funding through the European Research Council Advanced Grant NeuroCMOS, contract number AdG 267351, and through the Swiss National Science Foundation Sinergia Project CRSII3_141801.
Ethics declarations
Competing interests
The authors declare no competing financial interests.
Integrated supplementary information
Supplementary information
Supplementary Figures 1–12 and Supplementary Table 1 (PDF 1840 kb)
About this article
Cite this article
Hillier, D., Fiscella, M., Drinnenberg, A. et al. Causal evidence for retina-dependent and -independent visual motion computations in mouse cortex. Nat Neurosci 20, 960–968 (2017). https://doi.org/10.1038/nn.4566
Received:

Accepted:

Published:

Issue Date:

DOI: https://doi.org/10.1038/nn.4566