Abstract
Mechanical hypersensitivity is a debilitating symptom for millions of chronic pain patients. It exists in distinct forms, including brush-evoked dynamic and filament-evoked punctate hypersensitivities. We reduced dynamic mechanical hypersensitivity induced by nerve injury or inflammation in mice by ablating a group of adult spinal neurons defined by developmental co-expression of VGLUT3 and Lbx1 (VT3Lbx1 neurons): the mice lost brush-evoked nocifensive responses and conditional place aversion. Electrophysiological recordings show that VT3Lbx1 neurons form morphine-resistant polysynaptic pathways relaying inputs from low-threshold Aβ mechanoreceptors to lamina I output neurons. The subset of somatostatin-lineage neurons preserved in VT3Lbx1-neuron-ablated mice is largely sufficient to mediate morphine-sensitive and morphine-resistant forms of von Frey filament-evoked punctate mechanical hypersensitivity. Furthermore, acute silencing of VT3Lbx1 neurons attenuated pre-established dynamic mechanical hypersensitivity induced by nerve injury, suggesting that these neurons may be a cellular target for treating this form of neuropathic pain.
Your institute does not have access to this article
Relevant articles
Open Access articles citing this article.
Vijayan Gangadharan

,

Hongwei Zheng

…

Rohini Kuner

Nature Open Access 25 May 2022

Fang Guo

,

Yu Du

…

Shi-Hong Zhang

Neuroscience Bulletin Open Access 05 March 2022

Daniel E. Russ

,

Ryan B. Patterson Cross

…

Ariel J. Levine

Nature Communications Open Access 29 September 2021
Access options
Subscribe to Nature+
Get immediate online access to the entire Nature family of 50+ journals
Subscribe to Journal
Get full journal access for 1 year
$59.00
only $4.92 per issue
All prices are NET prices.
VAT will be added later in the checkout.
Tax calculation will be finalised during checkout.
Buy article
Get time limited or full article access on ReadCube.
$32.00
All prices are NET prices.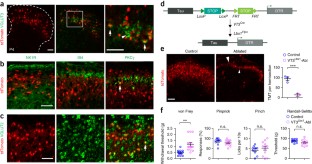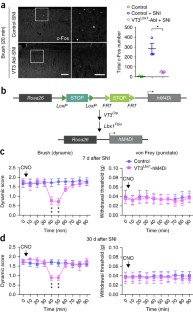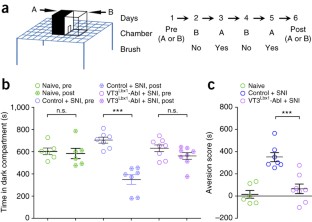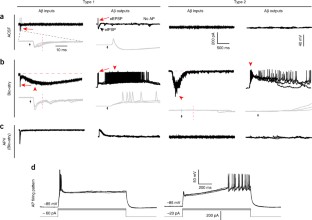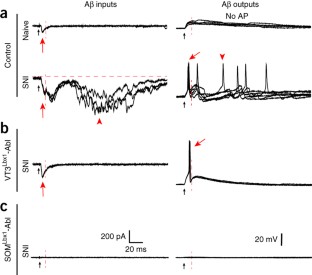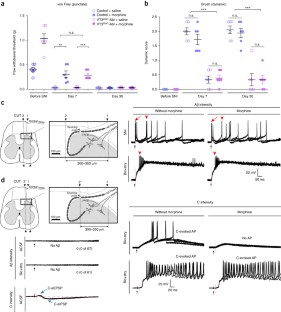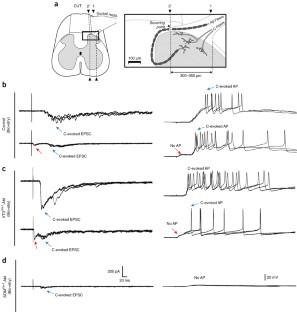 References
Melzack, R. & Wall, P.D. Pain mechanisms: a new theory. Science 150, 971–979 (1965).

Mendell, L.M. Constructing and deconstructing the gate theory of pain. Pain 155, 210–216 (2014).

Braz, J., Solorzano, C., Wang, X. & Basbaum, A.I. Transmitting pain and itch messages: a contemporary view of the spinal cord circuits that generate gate control. Neuron 82, 522–536 (2014).

Lu, Y. et al. A feed-forward spinal cord glycinergic neural circuit gates mechanical allodynia. J. Clin. Invest. 123, 4050–4062 (2013).

Duan, B. et al. Identification of spinal circuits transmitting and gating mechanical pain. Cell 159, 1417–1432 (2014).

Foster, E. et al. Targeted ablation, silencing, and activation establish glycinergic dorsal horn neurons as key components of a spinal gate for pain and itch. Neuron 85, 1289–1304 (2015).

Petitjean, H. et al. Dorsal horn parvalbumin neurons are gate-keepers of touch-evoked pain after nerve injury. Cell Rep. 13, 1246–1257 (2015).

Cui, L. et al. Identification of early RET+ deep dorsal spinal cord interneurons in gating pain. Neuron 91, 1137–1153 (2016).

Price, T.J., Cervero, F., Gold, M.S., Hammond, D.L. & Prescott, S.A. Chloride regulation in the pain pathway. Brain Res. Brain Res. Rev. 60, 149–170 (2009).

von Hehn, C.A., Baron, R. & Woolf, C.J. Deconstructing the neuropathic pain phenotype to reveal neural mechanisms. Neuron 73, 638–652 (2012).

Kuner, R. Spinal excitatory mechanisms of pathological pain. Pain 156 (Suppl. 1), S11–S17 (2015).

Treede, R.D. Gain control mechanisms in the nociceptive system. Pain 157, 1199–1204 (2016).

Truini, A., Garcia-Larrea, L. & Cruccu, G. Reappraising neuropathic pain in humans--how symptoms help disclose mechanisms. Nat. Rev. Neurol. 9, 572–582 (2013).

Koltzenburg, M., Lundberg, L.E. & Torebjörk, H.E. Dynamic and static components of mechanical hyperalgesia in human hairy skin. Pain 51, 207–219 (1992).

Ochoa, J.L. & Yarnitsky, D. Mechanical hyperalgesias in neuropathic pain patients: dynamic and static subtypes. Ann. Neurol. 33, 465–472 (1993).

Miraucourt, L.S., Moisset, X., Dallel, R. & Voisin, D.L. Glycine inhibitory dysfunction induces a selectively dynamic, morphine-resistant, and neurokinin 1 receptor- independent mechanical allodynia. J. Neurosci. 29, 2519–2527 (2009).

Field, M.J., Bramwell, S., Hughes, J. & Singh, L. Detection of static and dynamic components of mechanical allodynia in rat models of neuropathic pain: are they signalled by distinct primary sensory neurones? Pain 83, 303–311 (1999).

Samuelsson, M., Leffler, A.S. & Hansson, P. Dynamic mechanical allodynia: on the relationship between temporo-spatial stimulus parameters and evoked pain in patients with peripheral neuropathy. Pain 115, 264–272 (2005).

Torebjörk, H.E., Lundberg, L.E. & LaMotte, R.H. Central changes in processing of mechanoreceptive input in capsaicin-induced secondary hyperalgesia in humans. J. Physiol. (Lond.) 448, 765–780 (1992).

Campbell, J.N., Raja, S.N., Meyer, R.A. & Mackinnon, S.E. Myelinated afferents signal the hyperalgesia associated with nerve injury. Pain 32, 89–94 (1988).

Lindblom, U. & Verrillo, R.T. Sensory functions in chronic neuralgia. J. Neurol. Neurosurg. Psychiatry 42, 422–435 (1979).

Price, D.D., Bennett, G.J. & Rafii, A. Psychophysical observations on patients with neuropathic pain relieved by a sympathetic block. Pain 36, 273–288 (1989).

Cavanaugh, D.J. et al. Distinct subsets of unmyelinated primary sensory fibers mediate behavioral responses to noxious thermal and mechanical stimuli. Proc. Natl. Acad. Sci. USA 106, 9075–9080 (2009).

Boada, M.D. et al. Fast-conducting mechanoreceptors contribute to withdrawal behavior in normal and nerve injured rats. Pain 155, 2646–2655 (2014).

Xu, Z.Z. et al. Inhibition of mechanical allodynia in neuropathic pain by TLR5-mediated A-fiber blockade. Nat. Med. 21, 1326–1331 (2015).

Malmberg, A.B., Chen, C., Tonegawa, S. & Basbaum, A.I. Preserved acute pain and reduced neuropathic pain in mice lacking PKCgamma. Science 278, 279–283 (1997).

Peirs, C. et al. Dorsal horn circuits for persistent mechanical pain. Neuron 87, 797–812 (2015).

Madisen, L. et al. A robust and high-throughput Cre reporting and characterization system for the whole mouse brain. Nat. Neurosci. 13, 133–140 (2010).

Todd, A.J. Neuronal circuitry for pain processing in the dorsal horn. Nat. Rev. Neurosci. 11, 823–836 (2010).

Light, A.R., Trevino, D.L. & Perl, E.R. Morphological features of functionally defined neurons in the marginal zone and substantia gelatinosa of the spinal dorsal horn. J. Comp. Neurol. 186, 151–171 (1979).

Abraira, V.E. & Ginty, D.D. The sensory neurons of touch. Neuron 79, 618–639 (2013).

Bourane, S. et al. Identification of a spinal circuit for light touch and fine motor control. Cell 160, 503–515 (2015).

Ji, R.R., Berta, T. & Nedergaard, M. Glia and pain: is chronic pain a gliopathy? Pain 154 (Suppl. 1), S10–S28 (2013).

Ray, R.S. et al. Impaired respiratory and body temperature control upon acute serotonergic neuron inhibition. Science 333, 637–642 (2011).

Bourane, S. et al. Gate control of mechanical itch by a subpopulation of spinal cord interneurons. Science 350, 550–554 (2015).

Baba, H. et al. Removal of GABAergic inhibition facilitates polysynaptic A fiber-mediated excitatory transmission to the superficial spinal dorsal horn. Mol. Cell. Neurosci. 24, 818–830 (2003).

Torsney, C. & MacDermott, A.B. Disinhibition opens the gate to pathological pain signaling in superficial neurokinin 1 receptor-expressing neurons in rat spinal cord. J. Neurosci. 26, 1833–1843 (2006).

Edmonds, B., Gibb, A.J. & Colquhoun, D. Mechanisms of activation of glutamate receptors and the time course of excitatory synaptic currents. Annu. Rev. Physiol. 57, 495–519 (1995).

McNicol, E.D., Midbari, A. & Eisenberg, E. Opioids for neuropathic pain. Cochrane Database Syst. Rev. 8, CD006146 (2013).

Due, M.R. et al. Carbamazepine potentiates the effectiveness of morphine in a rodent model of neuropathic pain. PLoS One 9, e107399 (2014).

Yaksh, T.L. Behavioral and autonomic correlates of the tactile evoked allodynia produced by spinal glycine inhibition: effects of modulatory receptor systems and excitatory amino acid antagonists. Pain 37, 111–123 (1989).

Sherman, S.E. & Loomis, C.W. Morphine insensitive allodynia is produced by intrathecal strychnine in the lightly anesthetized rat. Pain 56, 17–29 (1994).

François, A. et al. The low-threshold calcium channel cav3.2 determines low-threshold mechanoreceptor function. Cell Rep. http://dx.doi.org/10.1016/j.celrep.2014.12.042 (2015).

Arcourt, A. et al. Touch receptor-derived sensory information alleviates acute pain signaling and fine-tunes nociceptive reflex coordination. Neuron 93, 179–193 (2017).

Prescott, S.A., Sejnowski, T.J. & De Koninck, Y. Reduction of anion reversal potential subverts the inhibitory control of firing rate in spinal lamina I neurons: towards a biophysical basis for neuropathic pain. Mol. Pain 2, 32 (2006).

Bushnell, M.C., Ceko, M. & Low, L.A. Cognitive and emotional control of pain and its disruption in chronic pain. Nat. Rev. Neurosci. 14, 502–511 (2013).

Bai, L. et al. Genetic identification of an expansive mechanoreceptor sensitive to skin stroking. Cell 163, 1783–1795 (2015).

Cobos, E.J. & Portillo-Salido, E. "Bedside-to-bench" behavioral outcomes in animal models of pain: beyond the evaluation of reflexes. Curr. Neuropharmacol. 11, 560–591 (2013).

Mogil, J.S. Animal models of pain: progress and challenges. Nat. Rev. Neurosci. 10, 283–294 (2009).

Reimer, M., Helfert, S.M. & Baron, R. Phenotyping neuropathic pain patients: implications for individual therapy and clinical trials. Curr. Opin. Support. Palliat. Care 8, 124–129 (2014).

Michael, S.K., Brennan, J. & Robertson, E.J. Efficient gene-specific expression of cre recombinase in the mouse embryo by targeted insertion of a novel IRES-Cre cassette into endogenous loci. Mech. Dev. 85, 35–47 (1999).

Lee, E.C. et al. A highly efficient Escherichia coli-based chromosome engineering system adapted for recombinogenic targeting and subcloning of BAC DNA. Genomics 73, 56–65 (2001).

Liu, P., Jenkins, N.A. & Copeland, N.G. A highly efficient recombineering-based method for generating conditional knockout mutations. Genome Res. 13, 476–484 (2003).

Rodríguez, C.I. et al. High-efficiency deleter mice show that FLPe is an alternative to Cre-loxP. Nat. Genet. 25, 139–140 (2000).

Taniguchi, H. et al. A resource of Cre driver lines for genetic targeting of GABAergic neurons in cerebral cortex. Neuron 71, 995–1013 (2011).

Liu, Y. et al. VGLUT2-dependent glutamate release from nociceptors is required to sense pain and suppress itch. Neuron 68, 543–556 (2010).

Lou, S., Duan, B., Vong, L., Lowell, B.B. & Ma, Q. Runx1 controls terminal morphology and mechanosensitivity of VGLUT3-expressing C-mechanoreceptors. J. Neurosci. 33, 870–882 (2013).

Decosterd, I. & Woolf, C.J. Spared nerve injury: an animal model of persistent peripheral neuropathic pain. Pain 87, 149–158 (2000).
Acknowledgements
We thank E.J. Cobos, who developed the protocol for measuring brush-evoked dynamic mechanical hypersensitivity. We thank S. Dymecki for the ROSA26-LSL-FSF-hM4Di and ROSA26-Flpe mice, Z.J. Huang and the Jackson laboratory for the SOM-IRES-Cre (SOMCre) mice, and the Allen Brain Institute and the Jackson Laboratory for the ROSA26-lsl-tdTomato mice. We thank W. Knowlton for her assistance with thermal pain measurement and D. Zhou (Shanghai Medviser Co. Ltd.) for his assistance with figure preparation. The work was supported by NIH grants to Q.M. and M.G. (R01 NS086372), to Q.M. (R01 DE018025 and R01 NS072031) and to B.B.L. (R01 DK111401, R01 DK075632, R01 DK096010, R01 DK089044, P30 DK046200-BNORC Transgenic core and P30 DK057521-BADERC Transgenic core). Y.W., L.C. and Y.Z. were supported by Grants from National Natural Science Fund of China (31471027, 31571085 and 81100815, 31300922) and by the 111 Project of China.
Ethics declarations
Competing interests
The authors declare no competing financial interests.
Integrated supplementary information
Supplementary information
Supplementary Figures 1–14. (PDF 3048 kb)
About this article
Cite this article
Cheng, L., Duan, B., Huang, T. et al. Identification of spinal circuits involved in touch-evoked dynamic mechanical pain. Nat Neurosci 20, 804–814 (2017). https://doi.org/10.1038/nn.4549
Received:

Accepted:

Published:

Issue Date:

DOI: https://doi.org/10.1038/nn.4549