Abstract
The protein α-synuclein has a central role in the pathogenesis of Parkinson's disease. Like that of other proteins that accumulate in neurodegenerative disease, however, the function of α-synuclein remains unknown. Localization to the nerve terminal suggests a role in neurotransmitter release, and overexpression inhibits regulated exocytosis, but previous work has failed to identify a clear physiological defect in mice lacking all three synuclein isoforms. Using adrenal chromaffin cells and neurons, we now find that both overexpressed and endogenous synuclein accelerate the kinetics of individual exocytotic events, promoting cargo discharge and reducing pore closure ('kiss-and-run'). Thus, synuclein exerts dose-dependent effects on dilation of the exocytotic fusion pore. Remarkably, mutations that cause Parkinson's disease abrogate this property of α-synuclein without impairing its ability to inhibit exocytosis when overexpressed, indicating a selective defect in normal function.
Access options
Subscribe to Journal
Get full journal access for 1 year
$225.00
only $18.75 per issue
All prices are NET prices.
VAT will be added later in the checkout.
Rent or Buy article
Get time limited or full article access on ReadCube.
from$8.99
All prices are NET prices.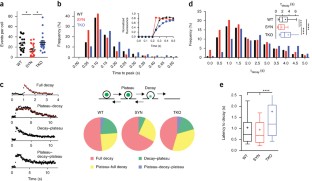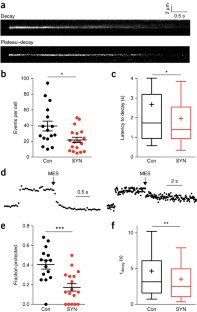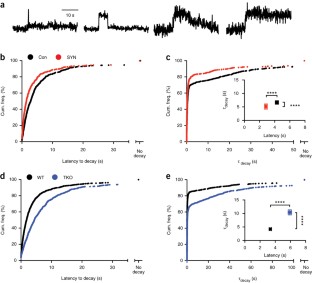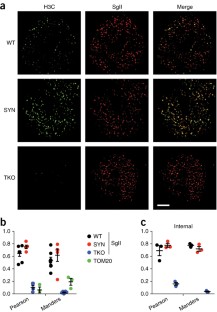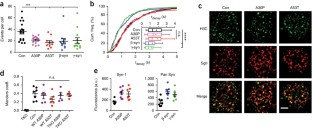 References
1

Goedert, M., Spillantini, M.G., Del Tredici, K. & Braak, H. 100 years of Lewy pathology. Nat. Rev. Neurol. 9, 13–24 (2013).

2

Polymeropoulos, M.H. et al. Mutation in the α-synuclein gene identified in families with Parkinson's disease. Science 276, 2045–2047 (1997).

3

Krüger, R. et al. Ala30Pro mutation in the gene encoding α-synuclein in Parkinson's disease. Nat. Genet. 18, 106–108 (1998).

4

Zarranz, J.J. et al. The new mutation, E46K, of α-synuclein causes Parkinson and Lewy body dementia. Ann. Neurol. 55, 164–173 (2004).

5

Appel-Cresswell, S. et al. Alpha-synuclein p.H50Q, a novel pathogenic mutation for Parkinson's disease. Mov. Disord. 28, 811–813 (2013).

6

Lesage, S. et al. G51D α-synuclein mutation causes a novel parkinsonian-pyramidal syndrome. Ann. Neurol. 73, 459–471 (2013).

7

Proukakis, C. et al. A novel α-synuclein missense mutation in Parkinson disease. Neurology 80, 1062–1064 (2013).

8

Singleton, A.B. et al. α-Synuclein locus triplication causes Parkinson's disease. Science 302, 841 (2003).

9

Bendor, J.T., Logan, T.P. & Edwards, R.H. The function of α-synuclein. Neuron 79, 1044–1066 (2013).

10

Larsen, K.E. et al. α-Synuclein overexpression in PC12 and chromaffin cells impairs catecholamine release by interfering with a late step in exocytosis. J. Neurosci. 26, 11915–11922 (2006).

11

Nemani, V.M. et al. Increased expression of α-synuclein reduces neurotransmitter release by inhibiting synaptic vesicle reclustering after endocytosis. Neuron 65, 66–79 (2010).

12

Scott, D.A. et al. A pathologic cascade leading to synaptic dysfunction in α-synuclein-induced neurodegeneration. J. Neurosci. 30, 8083–8095 (2010).

13

Greten-Harrison, B. et al. αβγ-Synuclein triple knockout mice reveal age-dependent neuronal dysfunction. Proc. Natl. Acad. Sci. USA 107, 19573–19578 (2010).

14

Burré, J. et al. α-Synuclein promotes SNARE-complex assembly in vivo and in vitro. Science 329, 1663–1667 (2010).

15

Senior, S.L. et al. Increased striatal dopamine release and hyperdopaminergic-like behaviour in mice lacking both alpha-synuclein and gamma-synuclein. Eur. J. Neurosci. 27, 947–957 (2008).

16

Davidson, W.S., Jonas, A., Clayton, D.F. & George, J.M. Stabilization of α-synuclein secondary structure upon binding to synthetic membranes. J. Biol. Chem. 273, 9443–9449 (1998).

17

Pranke, I.M. et al. α-Synuclein and ALPS motifs are membrane curvature sensors whose contrasting chemistry mediates selective vesicle binding. J. Cell Biol. 194, 89–103 (2011).

18

Jensen, M.B. et al. Membrane curvature sensing by amphipathic helices: a single liposome study using α-synuclein and annexin B12. J. Biol. Chem. 286, 42603–42614 (2011).

19

Cooper, A.A. et al. α-Synuclein blocks ER-Golgi traffic and Rab1 rescues neuron loss in Parkinson's models. Science 313, 324–328 (2006).

20

Soper, J.H. et al. α-Synuclein-induced aggregation of cytoplasmic vesicles in Saccharomyces cerevisiae. Mol. Biol. Cell 19, 1093–1103 (2008).

21

Varkey, J. et al. Membrane curvature induction and tubulation are common features of synucleins and apolipoproteins. J. Biol. Chem. 285, 32486–32493 (2010).

22

Kamp, F. et al. Inhibition of mitochondrial fusion by α-synuclein is rescued by PINK1, Parkin and DJ-1. EMBO J. 29, 3571–3589 (2010).

23

Nakamura, K. et al. Direct membrane association drives mitochondrial fission by the Parkinson disease-associated protein α-synuclein. J. Biol. Chem. 286, 20710–20726 (2011).

24

Alabi, A.A. & Tsien, R.W. Perspectives on kiss-and-run: role in exocytosis, endocytosis, and neurotransmission. Annu. Rev. Physiol. 75, 393–422 (2013).

25

Taraska, J.W., Perrais, D., Ohara-Imaizumi, M., Nagamatsu, S. & Almers, W. Secretory granules are recaptured largely intact after stimulated exocytosis in cultured endocrine cells. Proc. Natl. Acad. Sci. USA 100, 2070–2075 (2003).

26

Fumimura, Y. et al. Analysis of the adrenal gland is useful for evaluating pathology of the peripheral autonomic nervous system in Lewy body disease. J. Neuropathol. Exp. Neurol. 66, 354–362 (2007).

27

Turkka, J.T., Juujärvi, K.K., Lapinlampi, T.O. & Myllylä, V.V. Serum noradrenaline response to standing up in patients with Parkinson's disease. Eur. Neurol. 25, 355–361 (1986).

28

Miesenböck, G., De Angelis, D.A. & Rothman, J.E. Visualizing secretion and synaptic transmission with pH-sensitive green fluorescent proteins. Nature 394, 192–195 (1998).

29

Dean, C. et al. Synaptotagmin-IV modulates synaptic function and long-term potentiation by regulating BDNF release. Nat. Neurosci. 12, 767–776 (2009).

30

Alés, E. et al. High calcium concentrations shift the mode of exocytosis to the kiss-and-run mechanism. Nat. Cell Biol. 1, 40–44 (1999).

31

Matsuda, N. et al. Differential activity-dependent secretion of brain-derived neurotrophic factor from axon and dendrite. J. Neurosci. 29, 14185–14198 (2009).

32

Holz, R.W. Evidence that catecholamine transport into chromaffin vesicles is coupled to vesicle membrane potential. Proc. Natl. Acad. Sci. USA 75, 5190–5194 (1978).

33

Hu, G. et al. New fluorescent substrate enables quantitative and high-throughput examination of vesicular monoamine transporter 2 (VMAT2). ACS Chem. Biol. 8, 1947–1954 (2013).

34

Perrais, D., Kleppe, I.C., Taraska, J.W. & Almers, W. Recapture after exocytosis causes differential retention of protein in granules of bovine chromaffin cells. J. Physiol. (Lond.) 560, 413–428 (2004).

35

Fulop, T., Radabaugh, S. & Smith, C. Activity-dependent differential transmitter release in mouse adrenal chromaffin cells. J. Neurosci. 25, 7324–7332 (2005).

36

Onoa, B., Li, H., Gagnon-Bartsch, J.A., Elias, L.A. & Edwards, R.H. Vesicular monoamine and glutamate transporters select distinct synaptic vesicle recycling pathways. J. Neurosci. 30, 7917–7927 (2010).

37

Chiang, H.C. et al. Post-fusion structural changes and their roles in exocytosis and endocytosis of dense-core vesicles. Nat. Commun. 5, 3356 (2014).

38

van de Bospoort, R. et al. Munc13 controls the location and efficiency of dense-core vesicle release in neurons. J. Cell Biol. 199, 883–891 (2012).

39

Asensio, C.S. et al. Self-assembly of VPS41 promotes sorting required for biogenesis of the regulated secretory pathway. Dev. Cell 27, 425–437 (2013).

40

Fortin, D.L. et al. Neural activity controls the synaptic accumulation of α-synuclein. J. Neurosci. 25, 10913–10921 (2005).

41

Unni, V.K. et al. In vivo imaging of α-synuclein in mouse cortex demonstrates stable expression and differential subcellular compartment mobility. PLoS One 5, e10589 (2010).

42

George, J.M., Jin, H., Woods, W.S. & Clayton, D.F. Characterization of a novel protein regulated during the critical period for song learning in the zebra finch. Neuron 15, 361–372 (1995).

43

Bartels, T., Choi, J.G. & Selkoe, D.J. α-Synuclein occurs physiologically as a helically folded tetramer that resists aggregation. Nature 477, 107–110 (2011).

44

Burré, J., Sharma, M. & Südhof, T.C. α-Synuclein assembles into higher-order multimers upon membrane binding to promote SNARE complex formation. Proc. Natl. Acad. Sci. USA 111, E4274–E4283 (2014).

45

Wang, L. et al. α-synuclein multimers cluster synaptic vesicles and attenuate recycling. Curr. Biol. 24, 2319–2326 (2014).

46

Fortin, D.L. et al. Lipid rafts mediate the synaptic localization of α-synuclein. J. Neurosci. 24, 6715–6723 (2004).

47

Shi, L. et al. SNARE proteins: one to fuse and three to keep the nascent fusion pore open. Science 335, 1355–1359 (2012).

48

Braun, A.R. & Sachs, J.N. α-Synuclein reduces tension and increases undulations in simulations of small unilamellar vesicles. Biophys. J. 108, 1848–1851 (2015).

49

Nuscher, B. et al. α-Synuclein has a high affinity for packing defects in a bilayer membrane: a thermodynamics study. J. Biol. Chem. 279, 21966–21975 (2004).

50

DeWitt, D.C. & Rhoades, E. α-Synuclein can inhibit SNARE-mediated vesicle fusion through direct interactions with lipid bilayers. Biochemistry 52, 2385–2387 (2013).

51

Ninkina, N. et al. Neurons expressing the highest levels of gamma-synuclein are unaffected by targeted inactivation of the gene. Mol. Cell. Biol. 23, 8233–8245 (2003).

52

Fellner, L. et al. Toll-like receptor 4 is required for α-synuclein dependent activation of microglia and astroglia. Glia 61, 349–360 (2013).

53

Baksi, S., Tripathi, A.K. & Singh, N. Alpha-synuclein modulates retinal iron homeostasis by facilitating the uptake of transferrin-bound iron: implications for visual manifestations of Parkinson's disease. Free Radic. Biol. Med. 97, 292–306 (2016).

54

Langone, F. et al. Metformin protects skeletal muscle from cardiotoxin induced degeneration. PLoS One 9, e114018 (2014).

55

Turner, T.N. et al. Loss of δ-catenin function in severe autism. Nature 520, 51–56 (2015).

56

Hao, Z. et al. Impaired maturation of large dense-core vesicles in muted-deficient adrenal chromaffin cells. J. Cell Sci. 128, 1365–1374 (2015).

57

Zhang, S., Wang, P., Ren, L., Hu, C. & Bi, J. Protective effect of melatonin on soluble Aβ1–42-induced memory impairment, astrogliosis, and synaptic dysfunction via the Musashi1/Notch1/Hes1 signaling pathway in the rat hippocampus. Alzheimers Res. Ther. 8, 40 (2016).

58

Sirkis, D.W., Edwards, R.H. & Asensio, C.S. Widespread dysregulation of peptide hormone release in mice lacking adaptor protein AP-3. PLoS Genet. 9, e1003812 (2013).

59

Hua, Z. et al. v-SNARE composition distinguishes synaptic vesicle pools. Neuron 71, 474–487 (2011).

60

Jullié, D., Choquet, D. & Perrais, D. Recycling endosomes undergo rapid closure of a fusion pore on exocytosis in neuronal dendrites. J. Neurosci. 34, 11106–11118 (2014).
Acknowledgements
We thank members of the Edwards laboratory for discussion, D. Jullié for help with the pH oscillation experiment, A. Bertholet (UCSF) for the TOM20 antibody and B. Calagui and S. Batarni for technical assistance. We also thank K. Bohannon, M. Bittner and R. Holz for sharing data and providing suggestions. This work was supported by grants from NINDS (NS062715), NIDA (DA10154) and the Weill Institute for Neurosciences (to R.H.E.), the John and Helen Cahill Family Endowment for Research on Parkinson's Disease (to R.H.E.), a fellowship from NINDS (to T.L.) and a fellowship from the A.P. Giannini Foundation (to J.B.).
Ethics declarations
Competing interests
The authors declare no competing financial interests.
Integrated supplementary information
Supplementary information
Supplementary Figures 1–15 (PDF 1844 kb)
About this article
Cite this article
Logan, T., Bendor, J., Toupin, C. et al. α-Synuclein promotes dilation of the exocytotic fusion pore. Nat Neurosci 20, 681–689 (2017) doi:10.1038/nn.4529
Received

Accepted

Published

Issue Date