Abstract
Learning ultimately relies on changes in the flow of activity in neural microcircuits. The plasticity of neural dynamics is particularly relevant for the processing of temporal information. Chronic stimulation of cultured rat cortical networks revealed experience-dependent plasticity in neural dynamics. We observed changes in the temporal structure of activity that reflected the intervals used during training, suggesting that cortical circuits are inherently capable of temporal processing on short timescales.
This is a preview of subscription content
Access options
Subscribe to Journal
Get full journal access for 1 year
$59.00
only $4.92 per issue
All prices are NET prices.
VAT will be added later in the checkout.
Tax calculation will be finalised during checkout.
Buy article
Get time limited or full article access on ReadCube.
$32.00
All prices are NET prices.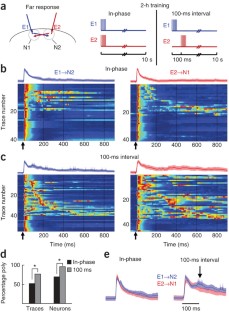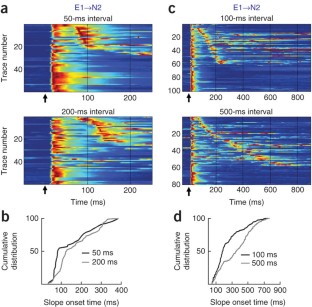 References
Mauk, M.D. & Buonomano, D.V. Annu. Rev. Neurosci. 27, 307–340 (2004).

Ivry, R.B. & Schlerf, J.E. Trends Cogn. Sci. 12, 273–280 (2008).

Johnson, H.A. & Buonomano, D.V. J. Neurosci. Methods 176, 136–143 (2009).

Wagenaar, D.A., Pine, J. & Potter, S.M. BMC Neurosci. 7, 11 (2006).

MacLean, J.N., Watson, B.O., Aaron, G.B. & Yuste, R. Neuron 48, 811–823 (2005).

Buonomano, D.V. Proc. Natl. Acad. Sci. USA 100, 4897–4902 (2003).

Liu, J.K. & Buonomano, D.V. J. Neurosci. 29, 13172–13181 (2009).

Fiete, I.R., Senn, W., Wang, C.Z.H. & Hahnloser, R.H.R. Neuron 65, 563–576 (2010).

Karmarkar, U.R. & Dan, Y. Neuron 52, 577–585 (2006).

Wagenaar, D.A., Pine, J. & Potter, S.M. J. Negat. Results Biomed. 5, 16 (2006).

Jimbo, Y., Tateno, T. & Robinson, H.P.C. Biophys. J. 76, 670–678 (1999).

Shahaf, G. & Marom, S. J. Neurosci. 21, 8782–8788 (2001).

Ruaro, M.E., Bonifazi, P. & Torre, V. IEEE Trans. Biomed. Eng. 52, 371–383 (2005).

Bi, G. & Poo, M. Nature 401, 792–796 (1999).

Pratt, K.G., Dong, W. & Aizenman, C.D. Nat. Neurosci. 11, 467–475 (2008).
Acknowledgements
We thank T. Carvalho, J. Feldman, T. O'Dell and F. Schweizer for helpful discussion and comments on this manuscript. We thank K. Gurley, J. Lee and T. Lee for technical assistance. This work was supported by the National Institute of Mental Health (MH60163).
Ethics declarations
Competing interests
The authors declare no competing financial interests.
Supplementary information
About this article
Cite this article
Johnson, H., Goel, A. & Buonomano, D. Neural dynamics of in vitro cortical networks reflects experienced temporal patterns. Nat Neurosci 13, 917–919 (2010). https://doi.org/10.1038/nn.2579
Received:

Accepted:

Published:

Issue Date:

DOI: https://doi.org/10.1038/nn.2579