Abstract
Maternal care influences hypothalamic-pituitary-adrenal (HPA) function in the rat through epigenetic programming of glucocorticoid receptor expression. In humans, childhood abuse alters HPA stress responses and increases the risk of suicide. We examined epigenetic differences in a neuron-specific glucocorticoid receptor (NR3C1) promoter between postmortem hippocampus obtained from suicide victims with a history of childhood abuse and those from either suicide victims with no childhood abuse or controls. We found decreased levels of glucocorticoid receptor mRNA, as well as mRNA transcripts bearing the glucocorticoid receptor 1F splice variant and increased cytosine methylation of an NR3C1 promoter. Patch-methylated NR3C1 promoter constructs that mimicked the methylation state in samples from abused suicide victims showed decreased NGFI-A transcription factor binding and NGFI-A–inducible gene transcription. These findings translate previous results from rat to humans and suggest a common effect of parental care on the epigenetic regulation of hippocampal glucocorticoid receptor expression.
Your institute does not have access to this article
Relevant articles
Open Access articles citing this article.
Jacqueline S. R. Chin

,

Tram-Anh N. Phan

…

Erik R. Duboué

Scientific Reports Open Access 27 July 2022

Mina Salimi

,

Farzaneh Eskandari

…

Homeira Zardooz

Scientific Reports Open Access 22 July 2022

J. Wagner-Skacel

,

D. Riedl

…

A. Lampe

Scientific Reports Open Access 26 April 2022
Access options
Subscribe to Journal
Get full journal access for 1 year
$59.00
only $4.92 per issue
All prices are NET prices.
VAT will be added later in the checkout.
Tax calculation will be finalised during checkout.
Buy article
Get time limited or full article access on ReadCube.
$32.00
All prices are NET prices.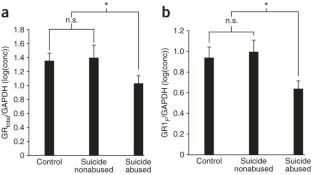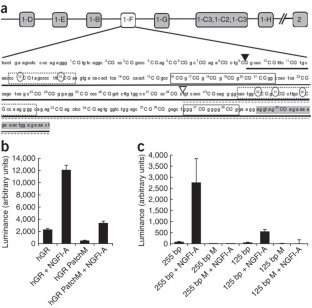 Accession codes
Accessions
GenBank/EMBL/DDBJ
References
Meaney, M.J. Maternal care, gene expression, and the transmission of individual differences in stress reactivity across generations. Annu. Rev. Neurosci. 24, 1161–1192 (2001).

Higley, J.D., Hasert, M.F., Suomi, S.J. & Linnoila, M. Nonhuman primate model of alcohol abuse: effects of early experience, personality and stress on alcohol consumption. Proc. Natl. Acad. Sci. USA 88, 7261–7265 (1991).

Liu, D. et al. Maternal care, hippocampal glucocorticoid receptors and hypothalamic-pituitary-adrenal responses to stress. Science 277, 1659–1662 (1997).

Weaver, I.C. et al. Epigenetic programming by maternal behavior. Nat. Neurosci. 7, 847–854 (2004).

de Kloet, E.R., Joels, M. & Holsboer, F. Stress and the brain: from adaptation to disease. Nat. Rev. Neurosci. 6, 463–475 (2005).

Boyle, M.P. et al. Acquired deficit of forebrain glucocorticoid receptor produces depression-like changes in adrenal axis regulation and behavior. Proc. Natl. Acad. Sci. USA 102, 473–478 (2005).

Ridder, S. et al. Mice with genetically altered glucocorticoid receptor expression show altered sensitivity for stress-induced depressive reactions. J. Neurosci. 25, 6243–6250 (2005).

Reichardt, H.M., Tronche, F., Bauer, A. & Schutz, G. Molecular genetic analysis of glucocorticoid signaling using the Cre/loxP system. Biol. Chem. 381, 961–964 (2000).

De Bellis, M.D. et al. Hypothalamic-pituitary-adrenal axis dysregulation in sexually abused girls. J. Clin. Endocrinol. Metab. 78, 249–255 (1994).

Pruessner, J.C., Champagne, F., Meaney, M.J. & Dagher, A. Dopamine release in response to a psychological stress in humans and its relationship to early life maternal care: a positron emission tomography study using [11C]raclopride. J. Neurosci. 24, 2825–2831 (2004).

Heim, C. & Nemeroff, C.B. The role of childhood trauma in the neurobiology of mood and anxiety disorders: preclinical and clinical studies. Biol. Psychiatry 49, 1023–1039 (2001).

Webster, M.J., Knable, M.B., O'Grady, J., Orthmann, J. & Weickert, C.S. Regional specificity of brain glucocorticoid receptor mRNA alterations in subjects with schizophrenia and mood disorders. Mol. Psychiatry 7, 985–994 (2002).

Schatzberg, A.F., Rothschild, A.J., Langlais, P.J., Bird, E.D. & Cole, J.O. A corticosteroid/dopamine hypothesis for psychotic depression and related states. J. Psychiatr. Res. 19, 57–64 (1985).

Isometsa, E.T. et al. Suicide in major depression. Am. J. Psychiatry 151, 530–536 (1994).

Widom, C.S., DuMont, K. & Czaja, S.J. A prospective investigation of major depressive disorder and comorbidity in abused and neglected children grown up. Arch. Gen. Psychiatry 64, 49–56 (2007).

Fergusson, D.M., Horwood, L.J. & Lynskey, M.T. Childhood sexual abuse and psychiatric disorder in young adulthood. II. Psychiatric outcomes of childhood sexual abuse. J. Am. Acad. Child Adolesc. Psychiatry 35, 1365–1374 (1996).

Weaver, I.C. et al. The transcription factor nerve growth factor–inducible protein a mediates epigenetic programming: altering epigenetic marks by immediate-early genes. J. Neurosci. 27, 1756–1768 (2007).

McCormick, J.A. et al. 5′-heterogeneity of glucocorticoid receptor messenger RNA is tissue specific: differential regulation of variant transcripts by early-life events. Mol. Endocrinol. 14, 506–517 (2000).

Turner, J.D. & Muller, C.P. Structure of the glucocorticoid receptor (NR3C1) gene 5′ untranslated region: identification and tissue distribution of multiple new human exon 1. J. Mol. Endocrinol. 35, 283–292 (2005).

Breslin, M.B., Geng, C.D. & Vedeckis, W.V. Multiple promoters exist in the human GR gene, one of which is activated by glucocorticoids. Mol. Endocrinol. 15, 1381–1395 (2001).

Encio, I.J. & Detera-Wadleigh, S.D. The genomic structure of the human glucocorticoid receptor. J. Biol. Chem. 266, 7182–7188 (1991).

Weaver, I.C. et al. Reversal of maternal programming of stress responses in adult offspring through methyl supplementation: altering epigenetic marking later in life. J. Neurosci. 25, 11045–11054 (2005).

Razin, A. CpG methylation, chromatin structure and gene silencing a three-way connection. EMBO J. 17, 4905–4908 (1998).

Bird, A. Molecular biology. Methylation talk between histones and DNA. Science 294, 2113–2115 (2001).

Clark, S.J., Harrison, J., Paul, C.L. & Frommer, M. High sensitivity mapping of methylated cytosines. Nucleic Acids Res. 22, 2990–2997 (1994).

Yamada, K. et al. Genetic analysis of the calcineurin pathway identifies members of the EGR gene family, specifically EGR3, as potential susceptibility candidates in schizophrenia. Proc. Natl. Acad. Sci. USA 104, 2815–2820 (2007).

Cervoni, N. & Szyf, M. Demethylase activity is directed by histone acetylation. J. Biol. Chem. 276, 40778–40787 (2001).

Crosby, S.D., Puetz, J.J., Simburger, K.S., Fahrner, T.J. & Milbrandt, J. The early response gene NGFI-C encodes a zinc finger transcriptional activator and is a member of the GCGGGGGCG (GSG) element–binding protein family. Mol. Cell. Biol. 11, 3835–3841 (1991).

Plotsky, P.M. et al. Long-term consequences of neonatal rearing on central corticotropin-releasing factor systems in adult male rat offspring. Neuropsychopharmacology 30, 2192–2204 (2005).

Oberlander, T.F. et al. Prenatal exposure to maternal depression, neonatal methylation of human glucocorticoid receptor gene (NR3C1) and infant cortisol stress responses. Epigenetics 3, 97–106 (2008).

Fleming, A.S., O'Day, D.H. & Kraemer, G.W. Neurobiology of mother-infant interactions: experience and central nervous system plasticity across development and generations. Neurosci. Biobehav. Rev. 23, 673–685 (1999).

Pilowsky, D.J. et al. Children of depressed mothers 1 year after the initiation of maternal treatment: findings from the STAR*D child study. Am. J. Psychiatry 165, 1136–1147 (2008).

Holsboer, F. The corticosteroid receptor hypothesis of depression. Neuropsychopharmacology 23, 477–501 (2000).

Neigh, G.N. & Nemeroff, C.B. Reduced glucocorticoid receptors: consequence or cause of depression? Trends Endocrinol. Metab. 17, 124–125 (2006).

Abdolmaleky, H.M. et al. Hypomethylation of MB-COMT promoter is a major risk factor for schizophrenia and bipolar disorder. Hum. Mol. Genet. 15, 3132–3145 (2006).

Grayson, D.R. et al. Reelin promoter hypermethylation in schizophrenia. Proc. Natl. Acad. Sci. USA 102, 9341–9346 (2005).

Siegmund, K.D. et al. DNA methylation in the human cerebral cortex is dynamically regulated throughout the life span and involves differentiated neurons. PLoS ONE 2, e895 (2007).

Ernst, C. et al. The effects of pH on DNA methylation state: in vitro and postmortem brain studies. J. Neurosci. Methods 174, 123–125 (2008).

Vythilingam, M. et al. Childhood trauma associated with smaller hippocampal volume in women with major depression. Am. J. Psychiatry 159, 2072–2080 (2002).

Seguin, M. et al. Life trajectories and burden of adversity: mapping the developmental profiles of suicide mortality. Psychol. Med. 37, 1575–1583 (2007).

Brezo, J. et al. Natural history of suicidal behaviors in a population-based sample of young adults. Psychol. Med. 37, 1563–1574 (2007).

Kaufman, J., Plotsky, P.M., Nemeroff, C.B. & Charney, D.S. Effects of early adverse experiences on brain structure and function: clinical implications. Biol. Psychiatry 48, 778–790 (2000).

Teicher, M.H., Andersen, S.L., Polcari, A., Anderson, C.M. & Navalta, C.P. Developmental neurobiology of childhood stress and trauma. Psychiatr. Clin. North Am. 25, 397–426 (2002).

Fisher, P.A., Gunnar, M.R., Chamberlain, P. & Reid, J.B. Preventive intervention for maltreated preschool children: impact on children's behavior, neuroendocrine activity and foster parent functioning. J. Am. Acad. Child Adolesc. Psychiatry 39, 1356–1364 (2000).

Brezo, J. et al. Predicting suicide attempts in young adults with histories of childhood abuse. Br. J. Psychiatry 193, 134–139 (2008).

Sequeira, A. & Turecki, G. Genome wide gene expression studies in mood disorders. OMICS 10, 444–454 (2006).

Spitzer, R.L., Williams, J.B., Gibbon, M. & First, M.B. The Structured Clinical Interview for DSM-III-R (SCID). I: history, rationale and description. Arch. Gen. Psychiatry 49, 624–629 (1992).

Dumais, A. et al. Risk factors for suicide completion in major depression: a case-control study of impulsive and aggressive behaviors in men. Am. J. Psychiatry 162, 2116–2124 (2005).

Bifulco, A., Brown, G.W. & Harris, T.O. Childhood Experience of Care and Abuse (CECA): a retrospective interview measure. J. Child Psychol. Psychiatry 35, 1419–1435 (1994).

Frommer, M. et al. A genomic sequencing protocol that yields a positive display of 5-methylcytosine residues in individual DNA strands. Proc. Natl. Acad. Sci. USA 89, 1827–1831 (1992).
Acknowledgements
This research was supported by grants from the US National Institutes of Health (National Institute of Child Health and Human Development; M.J.M. and M.S.), the Canadian Institutes for Health Research (M.J.M., M.S. and G.T.), a Team Grant from the Human Frontiers Science Program (M.J.M. and M.S.) and a Maternal Adversity, Vulnerability and Neurodevelopment Project grant from the Canadian Institutes for Health Research (M.J.M. and M.S.).
Supplementary information
About this article
Cite this article
McGowan, P., Sasaki, A., D'Alessio, A. et al. Epigenetic regulation of the glucocorticoid receptor in human brain associates with childhood abuse. Nat Neurosci 12, 342–348 (2009). https://doi.org/10.1038/nn.2270
Received:

Accepted:

Published:

Issue Date:

DOI: https://doi.org/10.1038/nn.2270