Abstract
Spinocerebellar ataxia type 1 is caused by expansion of a translated CAG repeat in ataxin1 (ATXN1). The level of the polyglutamine-expanded protein is one of the factors that contributes to disease severity. Here we found that miR-19, miR-101 and miR-130 co-regulate ataxin1 levels and that their inhibition enhanced the cytotoxicity of polyglutamine-expanded ATXN1 in human cells. We provide a new candidate mechanism for modulating the pathogenesis of neurodegenerative diseases sensitive to protein dosage.
Access options
Subscribe to Journal
Get full journal access for 1 year
$225.00
only $18.75 per issue
All prices are NET prices.
VAT will be added later in the checkout.
Rent or Buy article
Get time limited or full article access on ReadCube.
from$8.99
All prices are NET prices.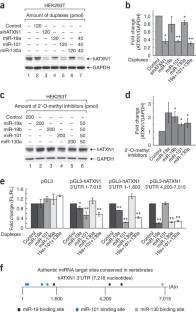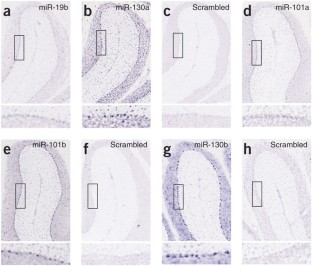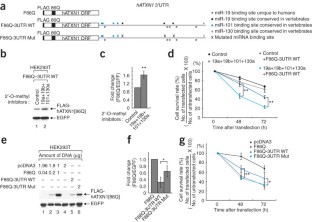 References
1

Orr, H.T. & Zoghbi, H.Y. Annu. Rev. Neurosci. 30, 575–621 (2007).

2

Orr, H.T. et al. Nat. Genet. 4, 221–226 (1993).

3

Banfi, S. et al. Nat. Genet. 7, 513–520 (1994).

4

Burright, E.N. et al. Cell 82, 937–948 (1995).

5

Cemal, C.K. et al. Hum. Mol. Genet. 11, 1075–1094 (2002).

6

Xia, H. et al. Nat. Med. 10, 816–820 (2004).

7

Huynh, D.P., Figueroa, K., Hoang, N. & Pulst, S.M. Nat. Genet. 26, 44–50 (2000).

8

Bartel, D.P. Cell 116, 281–297 (2004).

9

Lewis, B.P., Shih, I.H., Jones-Rhoades, M.W., Bartel, D.P. & Burge, C.B. Cell 115, 787–798 (2003).

10

Krek, A. et al. Nat. Genet. 37, 495–500 (2005).

11

Schaefer, A. et al. J. Exp. Med. 204, 1553–1558 (2007).

12

Zoghbi, H.Y. & Orr, H.T. Semin. Cell Biol. 6, 29–35 (1995).

13

Clark, H.B. et al. J. Neurosci. 17, 7385–7395 (1997).

14

Rich, T. & Varadaraj, A. PLoS ONE 2, e1014 (2007).

15

Lim, J. et al. Nature 452, 713–718 (2008).
Acknowledgements
We thank N. Ao, Y. Liu and A. Liang of the Baylor College of Medicine In Situ Hybridization core for technical assistance and V.N. Kim and members of the Zoghbi laboratory for helpful discussions and comments on the manuscript. This research was supported by US National Institutes of Health grants NS27699 and HD24064 to H.Y.Z. and NS22920 to H.T.O. H.Y.Z. is an investigator with the Howard Hughes Medical Institute.
Supplementary information
About this article
Cite this article
Lee, Y., Samaco, R., Gatchel, J. et al. miR-19, miR-101 and miR-130 co-regulate ATXN1 levels to potentially modulate SCA1 pathogenesis. Nat Neurosci 11, 1137–1139 (2008) doi:10.1038/nn.2183
Received

Accepted

Published

Issue Date