Abstract
Understanding how neural circuits process information requires rapid measurements of activity from identified neurons distributed in 3D space. Here we describe an acousto-optic lens two-photon microscope that performs high-speed focusing and line scanning within a volume spanning hundreds of micrometers. We demonstrate its random-access functionality by selectively imaging cerebellar interneurons sparsely distributed in 3D space and by simultaneously recording from the soma, proximal and distal dendrites of neocortical pyramidal cells in awake behaving mice.
Access options
Subscribe to Journal
Get full journal access for 1 year
$242.00
only $20.17 per issue
All prices are NET prices.
VAT will be added later in the checkout.
Rent or Buy article
Get time limited or full article access on ReadCube.
from$8.99
All prices are NET prices.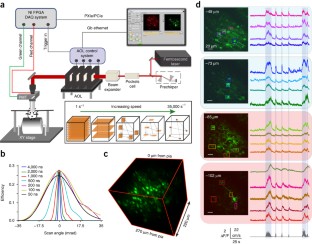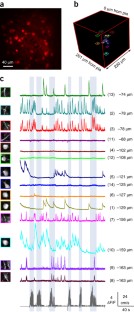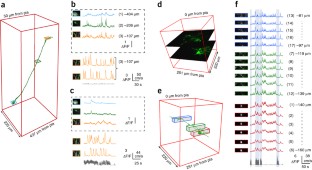 References
1

Svoboda, K. & Yasuda, R. Neuron 50, 823–839 (2006).

2

Grewe, B.F., Voigt, F.F., van 't Hoff, M. & Helmchen, F. Biomed. Opt. Express 2, 2035–2046 (2011).

3

Kong, L. et al. Nat. Methods 12, 759–762 (2015).

4

Botcherby, E.J. et al. Proc. Natl. Acad. Sci. USA 109, 2919–2924 (2012).

5

Kaplan, A., Friedman, N. & Davidson, N. Opt. Lett. 26, 1078–1080 (2001).

6

Kirkby, P.A., Srinivas Nadella, K.M. & Silver, R.A. Opt. Express 18, 13721–13745 (2010).

7

Reddy, G.D. & Saggau, P. J. Biomed. Opt. 10, 064038 (2005).

8

Fernández-Alfonso, T. et al. J. Neurosci. Methods 222, 69–81 (2014).

9

Katona, G. et al. Nat. Methods 9, 201–208 (2012).

10

Froudarakis, E. et al. Nat. Neurosci. 17, 851–857 (2014).

11

Roorda, R.D., Hohl, T.M., Toledo-Crow, R. & Miesenböck, G. J. Neurophysiol. 92, 609–621 (2004).

12

Chen, X. et al. Nat. Protoc. 7, 1818–1829 (2012).

13

Evans, G.J., Kirkby, P.A., Naga Srinivas Nadella, K.M., Marin, B. & Angus Silver, R. Opt. Express 23, 23493–23510 (2015).

14

Ozden, I., Dombeck, D.A., Hoogland, T.M., Tank, D.W. & Wang, S.S. PLoS One 7, e42650 (2012).

15

Chen, T.W. et al. Nature 499, 295–300 (2013).

16

Yang, W. et al. Neuron 89, 269–284 (2016).

17

Cheng, A., Gonçalves, J.T., Golshani, P., Arisaka, K. & Portera-Cailliau, C. Nat. Methods 8, 139–142 (2011).

18

Akemann, W. et al. Opt. Express 23, 28191–28205 (2015).

19

Konstantinou, G. et al. Opt. Express 24, 6283–6299 (2016).

20

Emiliani, V., Cohen, A.E., Deisseroth, K. & Häusser, M. J. Neurosci. 35, 13917–13926 (2015).

21

Kaifosh, P., Zaremba, J.D., Danielson, N.B. & Losonczy, A. Front. Neuroinform. 8, 80 (2014).

22

Feng, L., Zhao, T. & Kim, J. eNeuro 2, 1 (2015).
Acknowledgements
This work was funded by the ERC (294667), the UCL impact PhD programme and the Wellcome Trust (095074). R.A.S. is in receipt of a Wellcome Trust Principal Research Fellowship in Basic Biomedical Science (095667; 203048). C.B. was funded by the Wellcome Trust PhD programme (097266). V.A.G. was funded by an EPSRC CASE studentship. We thank D. Farquharson and A. Hogben from the UCL Biosciences mechanical engineering workshop for the design and fabrication of mechanical components and G. Keller for sharing acquisition code. We acknowledge the GENIE Program and the Janelia Research Campus, Howard Hughes Medical Institute for making the GCaMP6 material available; the Mutant Mouse Resource Research Centre (MMRRC) for the C57BL/6 mGluR2-Cre-IRES-eGFP mouse strain. We thank D. Coyle for excellent technical assistance and D. DiGregorio, T. Fernandez-Alfonso, T. Margrie, A. Valera and T. Younts for comments on the manuscript.
Ethics declarations
Competing interests
Patents on the AOL technology have been filed (WO/2008/032061, WO/2011/131933).
Integrated supplementary information
Supplementary information
About this article
Cite this article
Nadella, K., Roš, H., Baragli, C. et al. Random-access scanning microscopy for 3D imaging in awake behaving animals. Nat Methods 13, 1001–1004 (2016). https://doi.org/10.1038/nmeth.4033
Received:

Accepted:

Published:

Issue Date: