Excitatory neurotransmission through NMDA receptors (NMDARs) has a pivotal role in healthy brain function, and its dysfunction has long been implicated in the pathogenesis of neurodegenerative disorders, including Huntington's disease. A new study uncovers a molecular link between mutant huntingtin and aberrant trafficking of an unconventional NDMAR subunit (GluN3A). Targeting this disease mechanism in a Huntington's disease mouse model had multiple therapeutic benefits (pages 1030–1038).
Access options
Subscribe to Journal
Get full journal access for 1 year
$79.00
only $6.58 per issue
All prices are NET prices.
VAT will be added later in the checkout.
Tax calculation will be finalised during checkout.
Buy article
Get time limited or full article access on ReadCube.
$32.00
All prices are NET prices.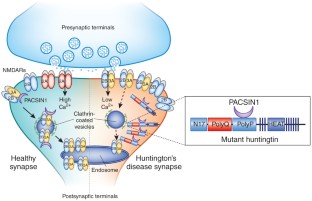 References
Raymond, L.A. et al. Neuroscience 198, 252–273 (2011).

Marco, S. et al. Nat. Med. 19, 1030–1038 (2013).

Ross, C.A. & Tabrizi, S.J. Lancet Neurol. 10, 83–98 (2011).

Shirasaki, D.I. et al. Neuron 75, 41–57 (2012).

Sanz-Clemente, A., Nicoll, R.A. & Roche, K.W. Neuroscientist 19, 62–75 (2013).

Newpher, T.M. & Ehlers, M.D. Neuron 58, 472–497 (2008).

Das, S. et al. Nature 393, 377–381 (1998).

Milnerwood, A.J. et al. Neuron 65, 178–190 (2010).

Okamoto, S. et al. Nat. Med. 15, 1407–1413 (2009).

Pérez-Otaño, I. et al. Nat. Neurosci. 9, 611–621 (2006).

Modregger, J. et al. Hum. Mol. Genet. 11, 2547–2558 (2002).

Southwell, A.L. et al. J. Neurosci. 28, 9013–9020 (2008).
Ethics declarations
Competing interests
The authors declare no competing financial interests.
About this article
Cite this article
Daggett, A., Yang, X. Huntington's disease: easing the NMDAR traffic jam. Nat Med 19, 971–973 (2013). https://doi.org/10.1038/nm.3283
Published:

Issue Date:

DOI: https://doi.org/10.1038/nm.3283