Abstract
Interferon-λ (IFN-λ) is a central regulator of mucosal immunity; however, its signaling specificity relative to that of type I interferons is poorly defined. IFN-λ can induce antiviral interferon-stimulated genes (ISGs) in epithelia, while the effect of IFN-λ in non-epithelial cells remains unclear. Here we report that neutrophils responded to IFN-λ. We found that in addition to inducing ISG transcription, IFN-λ (but not IFN-β) specifically activated a translation-independent signaling pathway that diminished the production of reactive oxygen species and degranulation in neutrophils. In mice, IFN-λ was elicited by enteric viruses and acted on neutrophils to decrease oxidative stress and intestinal damage. Thus, IFN-λ acted as a unique immunomodulatory agent by modifying transcriptional and non-translational neutrophil responses, which might permit a controlled development of the inflammatory process.
Access options
Subscribe to Journal
Get full journal access for 1 year
$209.00
only $17.42 per issue
All prices are NET prices.
VAT will be added later in the checkout.
Rent or Buy article
Get time limited or full article access on ReadCube.
from$8.99
All prices are NET prices.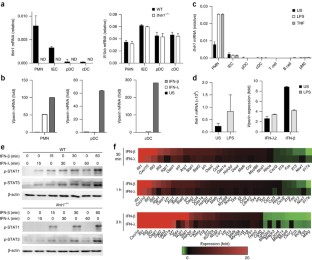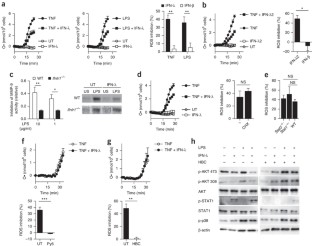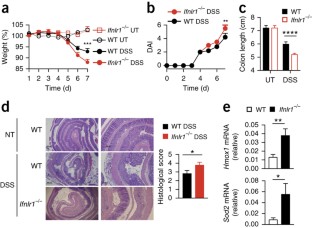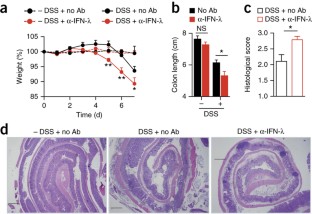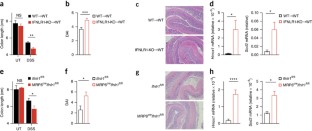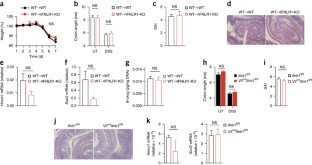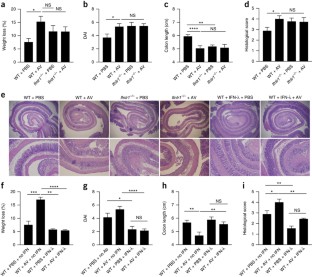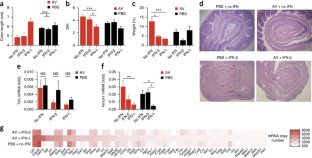 References
1

Schneider, W.M., Chevillotte, M.D. & Rice, C.M. Interferon-stimulated genes: a complex web of host defenses. Annu. Rev. Immunol. 32, 513–545 (2014).

2

Baldridge, M.T. et al. Commensal microbes and interferon-λ determine persistence of enteric murine norovirus infection. Science 347, 266–269 (2015).

3

Pott, J. et al. IFN-lambda determines the intestinal epithelial antiviral host defense. Proc. Natl. Acad. Sci. USA 108, 7944–7949 (2011).

4

Mahlakõiv, T., Hernandez, P., Gronke, K., Diefenbach, A. & Staeheli, P. Leukocyte-derived IFN-α/β and epithelial IFN-λ constitute a compartmentalized mucosal defense system that restricts enteric virus infections. PLoS Pathog. 11, e1004782 (2015).

5

Lin, J.D. et al. distinct roles of type I and type III interferons in intestinal immunity to homologous and heterologous rotavirus infections. PLoS Pathog. 12, e1005600 (2016).

6

Hernández, P.P. et al. Interferon-λ and interleukin 22 act synergistically for the induction of interferon-stimulated genes and control of rotavirus infection. Nat. Immunol. 16, 698–707 (2015).

7

Zhou, Z. et al. Type III interferon (IFN) induces a type I IFN-like response in a restricted subset of cells through signaling pathways involving both the Jak-STAT pathway and the mitogen-activated protein kinases. J. Virol. 81, 7749–7758 (2007).

8

Doyle, S.E. et al. Interleukin-29 uses a type 1 interferon-like program to promote antiviral responses in human hepatocytes. Hepatology 44, 896–906 (2006).

9

Marcello, T. et al. Interferons alpha and lambda inhibit hepatitis C virus replication with distinct signal transduction and gene regulation kinetics. Gastroenterology 131, 1887–1898 (2006).

10

Souza-Fonseca-Guimaraes, F. et al. NK cells require IL-28R for optimal in vivo activity. Proc. Natl. Acad. Sci. USA 112, E2376–E2384 (2015).

11

Yin, Z. et al. Type III IFNs are produced by and stimulate human plasmacytoid dendritic cells. J. Immunol. 189, 2735–2745 (2012).

12

Finotti, G., Tamassia, N., Calzetti, F., Fattovich, G. & Cassatella, M.A. Endogenously produced TNF-α contributes to the expression of CXCL10/IP-10 in IFN-λ3-activated plasmacytoid dendritic cells. J. Leukoc. Biol. 99, 107–119 (2016).

13

Dai, J., Megjugorac, N.J., Gallagher, G.E., Yu, R.Y. & Gallagher, G. IFN-lambda1 (IL-29) inhibits GATA3 expression and suppresses Th2 responses in human naive and memory T cells. Blood 113, 5829–5838 (2009).

14

Megjugorac, N.J., Gallagher, G.E. & Gallagher, G. Modulation of human plasmacytoid DC function by IFN-λ1 (IL-29). J. Leukoc. Biol. 86, 1359–1363 (2009).

15

Blazek, K. et al. IFN-λ resolves inflammation via suppression of neutrophil infiltration and IL-1β production. J. Exp. Med. 212, 845–853 (2015).

16

de Groen, R.A. et al. IFN-λ-mediated IL-12 production in macrophages induces IFN-γ production in human NK cells. Eur. J. Immunol. 45, 250–259 (2015).

17

de Groen, R.A., Groothuismink, Z.M., Liu, B.S. & Boonstra, A. IFN-λ is able to augment TLR-mediated activation and subsequent function of primary human B cells. J. Leukoc. Biol. 98, 623–630 (2015).

18

Wolk, K. et al. IL-29 is produced by TH17 cells and mediates the cutaneous antiviral competence in psoriasis. Sci. Transl. Med. 5, 204ra129 (2013).

19

Sommereyns, C., Paul, S., Staeheli, P. & Michiels, T. IFN-lambda (IFN-λ) is expressed in a tissue-dependent fashion and primarily acts on epithelial cells in vivo. PLoS Pathog. 4, e1000017 (2008).

20

Mordstein, M. et al. Lambda interferon renders epithelial cells of the respiratory and gastrointestinal tracts resistant to viral infections. J. Virol. 84, 5670–5677 (2010).

21

Davidson, S. et al. IFNλ is a potent anti-influenza therapeutic without the inflammatory side effects of IFNα treatment. EMBO Mol. Med. 8, 1099–1112 (2016).

22

Kotenko, S.V. et al. IFN-lambdas mediate antiviral protection through a distinct class II cytokine receptor complex. Nat. Immunol. 4, 69–77 (2003).

23

Sheppard, P. et al. IL-28, IL-29 and their class II cytokine receptor IL-28R. Nat. Immunol. 4, 63–68 (2003).

24

Meager, A., Visvalingam, K., Dilger, P., Bryan, D. & Wadhwa, M. Biological activity of interleukins-28 and -29: comparison with type I interferons. Cytokine 31, 109–118 (2005).

25

Mócsai, A. Diverse novel functions of neutrophils in immunity, inflammation, and beyond. J. Exp. Med. 210, 1283–1299 (2013).

26

Ivashkiv, L.B. & Donlin, L.T. Regulation of type I interferon responses. Nat. Rev. Immunol. 14, 36–49 (2014).

27

Wegrzyn, J. et al. Function of mitochondrial Stat3 in cellular respiration. Science 323, 793–797 (2009).

28

Gough, D.J. et al. Mitochondrial STAT3 supports Ras-dependent oncogenic transformation. Science 324, 1713–1716 (2009).

29

Meier, J.A. et al. Stress-induced dynamic regulation of mitochondrial STAT3 and its association with cyclophilin D reduce mitochondrial ROS production. Sci. Signal. 10, eaag2588 (2017).

30

Odendall, C. et al. Diverse intracellular pathogens activate type III interferon expression from peroxisomes. Nat. Immunol. 15, 717–726 (2014).

31

El-Benna, J., Dang, P.M., Gougerot-Pocidalo, M.A., Marie, J.C. & Braut-Boucher, F. p47phox, the phagocyte NADPH oxidase/NOX2 organizer: structure, phosphorylation and implication in diseases. Exp. Mol. Med. 41, 217–225 (2009).

32

Reeves, E.P. et al. Direct interaction between p47phox and protein kinase C: evidence for targeting of protein kinase C by p47phox in neutrophils. Biochem. J. 344, 859–866 (1999).

33

Hoyal, C.R. et al. Modulation of p47PHOX activity by site-specific phosphorylation: Akt-dependent activation of the NADPH oxidase. Proc. Natl. Acad. Sci. USA 100, 5130–5135 (2003).

34

Chen, Q. et al. Akt phosphorylates p47phox and mediates respiratory burst activity in human neutrophils. J. Immunol. 170, 5302–5308 (2003).

35

El Benna, J. et al. Activation of p38 in stimulated human neutrophils: phosphorylation of the oxidase component p47phox by p38 and ERK but not by JNK. Arch. Biochem. Biophys. 334, 395–400 (1996).

36

Baldridge, M.T. et al. Expression of IFNLR1 on intestinal epithelial cells is critical to the antiviral effects of interferon λ against norovirus and reovirus. J. Virol. 91, e02079–16 (2017).

37

Yang, J.Y. et al. Enteric viruses ameliorate gut inflammation via Toll-like receptor 3 and Toll-like receptor 7-mediated interferon-β production. Immunity 44, 889–900 (2016).

38

Nice, T.J. et al. Interferon-λ cures persistent murine norovirus infection in the absence of adaptive immunity. Science 347, 269–273 (2015).

39

Galani, I.E. et al. Interferon-λ mediates non-redundant front-line antiviral protection against influenza virus infection without compromising host fitness. Immunity 46, 875–890 (2017).

40

Glocker, E.O. et al. Inflammatory bowel disease and mutations affecting the interleukin-10 receptor. N. Engl. J. Med. 361, 2033–2045 (2009).

41

Kotlarz, D. et al. Loss of interleukin-10 signaling and infantile inflammatory bowel disease: implications for diagnosis and therapy. Gastroenterology 143, 347–355 (2012).

42

Shouval, D.S. et al. Interleukin-10 receptor signaling in innate immune cells regulates mucosal immune tolerance and anti-inflammatory macrophage function. Immunity 40, 706–719 (2014).

43

Chiriac, M.T. et al. activation of epithelial signal transducer and activator of transcription 1 by interleukin 28 controls mucosal healing in mice with colitis and is increased in mucosa of patients with inflammatory bowel disease. Gastroenterology 153, 123–138 (2017).

44

Mócsai, A. et al. Kinase pathways in chemoattractant-induced degranulation of neutrophils: the role of p38 mitogen-activated protein kinase activated by Src family kinases. J. Immunol. 164, 4321–4331 (2000).

45

Chassaing, B., Aitken, J.D., Malleshappa, M. & Vijay-Kumar, M. Dextran sulfate sodium (DSS)-induced colitis in mice. Curr. Protoc. Immunol. 104, Unit 15 25 (2014).
Acknowledgements
We thank S.B. Snapper (Harvard Medical School) for Stat1−/− and LysMcreStat3fl/fl mice; the Wellcome Trust Sanger Institute Mouse Genetics Project (Sanger MGP) and its funders for the mutant mouse line Ifnlr1tm1a(EUCOMM)Wtsi; H.W. Virgin (Washington University) for the Ifnlr1tm1a(EUCOMM)Wtsi mouse line backcrossed to Villincre-recombinase-expressing mice; and J.C. Kagan, L.R. Marek-Kagan, the Kagan Lab, S.B. Snapper, the Snapper Lab, A. Mocsai and H.W. Virgin for discussions, help and support. Supported by the US National Institutes of Health (1R01DK115217, 1R01AI121066-01A1 to I.Z.), the Harvard Digestive Diseases Center (P30 DK034854 to I.Z.), the Harvard Medical School Milton Fund (to I.Z.), Crohn's and Colitis Foundation of America (I.Z.), the Cariplo Foundation (I.Z. and F.G.), the Associazione Italiana per la Ricerca sul Cancro (F.G.), Fondazione Italiana di Ricerca per la SLA–Sclerosi Laterale Amiotrofica (ARISLA ) (F.G.), Fondazione Regionale per la Ricerca Biomedica (F.G.) and the Jane Coffin Child's Memorial Fund for Medical Research (Y.T.).
Ethics declarations
Competing interests
The authors declare no competing financial interests.
Integrated supplementary information
Supplementary information
Supplementary Figures 1–8 and Supplementary Tables 1–2.
About this article
Cite this article
Broggi, A., Tan, Y., Granucci, F. et al. IFN-λ suppresses intestinal inflammation by non-translational regulation of neutrophil function. Nat Immunol 18, 1084–1093 (2017). https://doi.org/10.1038/ni.3821
Received:

Accepted:

Published:

Issue Date: