Abstract
The maintenance of naive CD8+ T cells is necessary for lifelong immunocompetence but for unknown reasons requires signaling via both interleukin 7 (IL-7) and the T cell antigen receptor (TCR). We now report that naive CD8+ T cells required IL-7 signaling to be intermittent, not continuous, because prolonged IL-7 signaling induced naive CD8+ T cells to proliferate, produce interferon-γ (IFN-γ) and undergo IFN-γ-triggered cell death. Homeostatic engagement of the TCR interrupted IL-7 signaling and thereby supported the survival and quiescence of CD8+ T cells. However, CD8+ T cells with insufficient TCR affinity for self ligands received prolonged IL-7 signaling and died during homeostasis. In this study we identified regulation of the duration of IL-7 signaling by homeostatic engagement of the TCR as the basis for in vivo CD8+ T cell homeostasis.
Relevant articles
Open Access articles citing this article.
Julia Böhme

,

Nuria Martinez

…

Amit Singhal

Nature Communications Open Access 16 October 2020

Huang Huang

,

Xiaoping Wu

…

Xinyuan Zhou

Cellular & Molecular Immunology Open Access 22 September 2020

Ana S. Leal

,

Sean A. Misek

…

Karen T. Liby

Scientific Reports Open Access 08 May 2019
Access options
Subscribe to Journal
Get full journal access for 1 year
$79.00
only $6.58 per issue
All prices are NET prices.
VAT will be added later in the checkout.
Tax calculation will be finalised during checkout.
Buy article
Get time limited or full article access on ReadCube.
$32.00
All prices are NET prices.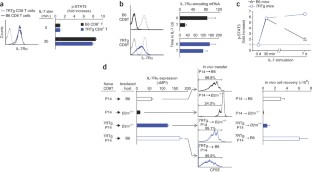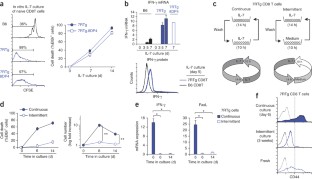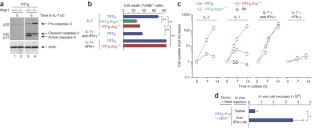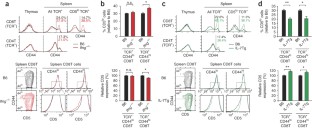 References
Takada, K. & Jameson, S.C. Naive T cell homeostasis: from awareness of space to a sense of place. Nat. Rev. Immunol. 9, 823–832 (2009).

Surh, C.D. & Sprent, J. Homeostasis of naive and memory T cells. Immunity 29, 848–862 (2008).

Sprent, J. & Surh, C.D. Normal T cell homeostasis: the conversion of naive cells into memory-phenotype cells. Nat. Immunol. 12, 478–484 (2011).

Goldrath, A.W. & Bevan, M.J. Selecting and maintaining a diverse T-cell repertoire. Nature 402, 255–262 (1999).

Seddon, B. & Zamoyska, R. Regulation of peripheral T-cell homeostasis by receptor signalling. Curr. Opin. Immunol. 15, 321–324 (2003).

Schluns, K.S., Kieper, W.C., Jameson, S.C. & Lefrancois, L. Interleukin-7 mediates the homeostasis of naive and memory CD8 T cells in vivo. Nat. Immunol. 1, 426–432 (2000).

Tan, J.T. et al. IL-7 is critical for homeostatic proliferation and survival of naive T cells. Proc. Natl. Acad. Sci. USA 98, 8732–8737 (2001).

Vivien, L., Benoist, C. & Mathis, D. T lymphocytes need IL-7 but not IL-4 or IL-6 to survive in vivo. Int. Immunol. 13, 763–768 (2001).

Mazzucchelli, R. & Durum, S.K. Interleukin-7 receptor expression: intelligent design. Nat. Rev. Immunol. 7, 144–154 (2007).

Jiang, Q. et al. Cell biology of IL-7, a key lymphotrophin. Cytokine Growth Factor Rev. 16, 513–533 (2005).

Rochman, Y., Spolski, R. & Leonard, W.J. New insights into the regulation of T cells by gamma(c) family cytokines. Nat. Rev. Immunol. 9, 480–490 (2009).

Wofford, J.A., Wieman, H.L., Jacobs, S.R., Zhao, Y. & Rathmell, J.C. IL-7 promotes Glut1 trafficking and glucose uptake via STAT5-mediated activation of Akt to support T-cell survival. Blood 111, 2101–2111 (2008).

Park, J.H. et al. Suppression of IL7Ralpha transcription by IL-7 and other prosurvival cytokines: a novel mechanism for maximizing IL-7-dependent T cell survival. Immunity 21, 289–302 (2004).

Swainson, L. et al. IL-7-induced proliferation of recent thymic emigrants requires activation of the PI3K pathway. Blood 109, 1034–1042 (2007).

Kerdiles, Y.M. et al. Foxo1 links homing and survival of naive T cells by regulating L-selectin, CCR7 and interleukin 7 receptor. Nat. Immunol. 10, 176–184 (2009).

Tanchot, C., Lemonnier, F.A., Perarnau, B., Freitas, A.A. & Rocha, B. Differential requirements for survival and proliferation of CD8 naive or memory T cells. Science 276, 2057–2062 (1997).

Kirberg, J., Berns, A. & von Boehmer, H. Peripheral T cell survival requires continual ligation of the T cell receptor to major histocompatibility complex-encoded molecules. J. Exp. Med. 186, 1269–1275 (1997).

Nesic, D. & Vukmanovic, S. MHC class I is required for peripheral accumulation of CD8+ thymic emigrants. J. Immunol. 160, 3705–3712 (1998).

Ernst, B., Lee, D.S., Chang, J.M., Sprent, J. & Surh, C.D. The peptide ligands mediating positive selection in the thymus control T cell survival and homeostatic proliferation in the periphery. Immunity 11, 173–181 (1999).

Markiewicz, M.A., Brown, I. & Gajewski, T.F. Death of peripheral CD8+ T cells in the absence of MHC class I is Fas-dependent and not blocked by Bcl-xL. Eur. J. Immunol. 33, 2917–2926 (2003).

Takada, K. & Jameson, S.C. Self-class I MHC molecules support survival of naive CD8 T cells, but depress their functional sensitivity through regulation of CD8 expression levels. J. Exp. Med. 206, 2253–2269 (2009).

Cho, J.H., Kim, H.O., Surh, C.D. & Sprent, J. T cell receptor-dependent regulation of lipid rafts controls naive CD8+ T cell homeostasis. Immunity 32, 214–226 (2010).

Polic, B., Kunkel, D., Scheffold, A. & Rajewsky, K. How alpha beta T cells deal with induced TCR alpha ablation. Proc. Natl. Acad. Sci. USA 98, 8744–8749 (2001).

Park, J.H. et al. 'Coreceptor tuning': cytokine signals transcriptionally tailor CD8 coreceptor expression to the self-specificity of the TCR. Nat. Immunol. 8, 1049–1059 (2007).

Bream, J.H. et al. A distal region in the interferon-γ gene is a site of epigenetic remodeling and transcriptional regulation by interleukin-2. J. Biol. Chem. 279, 41249–41257 (2004).

Xu, X., Sun, Y.L. & Hoey, T. Cooperative DNA binding and sequence-selective recognition conferred by the STAT amino-terminal domain. Science 273, 794–797 (1996).

Sarafova, S.D. et al. Modulation of coreceptor transcription during positive selection dictates lineage fate independently of TCR/coreceptor specificity. Immunity 23, 75–87 (2005).

Noguchi, M. et al. Functional cleavage of the common cytokine receptor gamma chain (gammac) by calpain. Proc. Natl. Acad. Sci. USA 94, 11534–11539 (1997).

Lee, I.H., Li, W.P., Hisert, K.B. & Ivashkiv, L.B. Inhibition of interleukin 2 signaling and signal transducer and activator of transcription (STAT)5 activation during T cell receptor-mediated feedback inhibition of T cell expansion. J. Exp. Med. 190, 1263–1274 (1999).

Zhu, J. et al. Transient inhibition of interleukin 4 signaling by T cell receptor ligation. J. Exp. Med. 192, 1125–1134 (2000).

Erman, B. et al. Coreceptor signal strength regulates positive selection but does not determine CD4/CD8 lineage choice in a physiologic in vivo model. J. Immunol. 177, 6613–6625 (2006).

Badovinac, V.P., Tvinnereim, A.R. & Harty, J.T. Regulation of antigen-specific CD8+ T cell homeostasis by perforin and interferon-γ. Science 290, 1354–1358 (2000).

Lohman, B.L. & Welsh, R.M. Apoptotic regulation of T cells and absence of immune deficiency in virus-infected gamma interferon receptor knockout mice. J. Virol. 72, 7815–7821 (1998).

Liu, Y. & Janeway, C.A. Jr. Interferon γ plays a critical role in induced cell death of effector T cell: a possible third mechanism of self-tolerance. J. Exp. Med. 172, 1735–1739 (1990).

Refaeli, Y., Van Parijs, L., Alexander, S.I. & Abbas, A.K. Interferon γ is required for activation-induced death of T lymphocytes. J. Exp. Med. 196, 999–1005 (2002).

Dalton, D.K., Haynes, L., Chu, C.Q., Swain, S.L. & Wittmer, S. Interferon γ eliminates responding CD4 T cells during mycobacterial infection by inducing apoptosis of activated CD4 T cells. J. Exp. Med. 192, 117–122 (2000).

Tomita, Y., Bilim, V., Hara, N., Kasahara, T. & Takahashi, K. Role of IRF-1 and caspase-7 in IFN-γ enhancement of Fas-mediated apoptosis in ACHN renal cell carcinoma cells. Int. J. Cancer 104, 400–408 (2003).

Watanabe, Y., Suzuki, O., Haruyama, T. & Akaike, T. Interferon-γ induces reactive oxygen species and endoplasmic reticulum stress at the hepatic apoptosis. J. Cell. Biochem. 89, 244–253 (2003).

Pyo, C.W., Lee, S.H. & Choi, S.Y. Oxidative stress induces PKR-dependent apoptosis via IFN-γ activation signaling in Jurkat T cells. Biochem. Biophys. Res. Commun. 377, 1001–1006 (2008).

Chang, J.H., Kim, Y.J., Han, S.H. & Kang, C.Y. IFN-γ–STAT1 signal regulates the differentiation of inducible Treg: potential role for ROS-mediated apoptosis. Eur. J. Immunol. 39, 1241–1251 (2009).

Mertsching, E., Burdet, C. & Ceredig, R. IL-7 transgenic mice: analysis of the role of IL-7 in the differentiation of thymocytes in vivo and in vitro. Int. Immunol. 7, 401–414 (1995).

Yu, Q., Erman, B., Park, J.H., Feigenbaum, L. & Singer, A. IL-7 receptor signals inhibit expression of transcription factors TCF-1, LEF-1, and RORgammat: impact on thymocyte development. J. Exp. Med. 200, 797–803 (2004).
Acknowledgements
We thank R. Hodes and N. Taylor for critical reading of the manuscript; S. Sharrow and L. Granger for flow cytometry; and members of the Singer laboratory for discussions. Supported by the Uehara Memorial Foundation (M.Y.K.), the Kanae Foundation (M.Y.K.), and the Intramural Research Program of the US National Institutes of Health, National Cancer Institute, Center for Cancer Research.
Ethics declarations
Competing interests
The authors declare no competing financial interests.
Supplementary information
About this article
Cite this article
Kimura, M., Pobezinsky, L., Guinter, T. et al. IL-7 signaling must be intermittent, not continuous, during CD8+ T cell homeostasis to promote cell survival instead of cell death. Nat Immunol 14, 143–151 (2013). https://doi.org/10.1038/ni.2494
Received:

Accepted:

Published:

Issue Date:

DOI: https://doi.org/10.1038/ni.2494