Abstract
The UK Biobank (UKB) has recently released genotypes on 152,328 individuals together with extensive phenotypic and lifestyle information. We present a new phasing method, SHAPEIT3, that can handle such biobank-scale data sets and results in switch error rates as low as ∼0.3%. The method exhibits O(NlogN) scaling with sample size N, enabling fast and accurate phasing of even larger cohorts.
Relevant articles
Open Access articles citing this article.
Ron Nudel

,

Wesley K. Thompson

…

Michael E. Benros

Translational Psychiatry Open Access 16 August 2022

João Fadista

,

Line Skotte

…

Frank Geller

Nature Communications Open Access 09 June 2022

Waheed-Ul-Rahman Ahmed

,

Sam Kleeman

…

Dominic Furniss

Nature Communications Open Access 02 June 2022
Access options
Subscribe to Journal
Get full journal access for 1 year
$99.00
only $8.25 per issue
All prices are NET prices.
VAT will be added later in the checkout.
Tax calculation will be finalised during checkout.
Buy article
Get time limited or full article access on ReadCube.
$32.00
All prices are NET prices.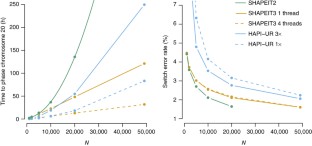 References
Hellenthal, G. et al. A genetic atlas of human admixture history. Science 343, 747–751 (2014).

1000 Genomes Project Consortium. A global reference for human genetic variation. Nature 526, 68–74 (2015).

Marchini, J. & Howie, B. Genotype imputation for genome-wide association studies. Nat. Rev. Genet. 11, 499–511 (2010).

Howie, B., Fuchsberger, C., Stephens, M., Marchini, J. & Abecasis, G.R. Fast and accurate genotype imputation in genome-wide association studies through pre-phasing. Nat. Genet. 44, 955–959 (2012).

Hoffmann, T.J. et al. Imputation of the rare HOXB13 G84E mutation and cancer risk in a large population-based cohort. PLoS Genet. 11, e1004930 (2015).

Chen, Z. et al. China Kadoorie Biobank of 0.5 million people: survey methods, baseline characteristics and long-term follow-up. Int. J. Epidemiol. 40, 1652–1666 (2011).

Wain, L.V. et al. Novel insights into the genetics of smoking behaviour, lung function, and chronic obstructive pulmonary disease (UK BiLEVE): a genetic association study in UK Biobank. Lancet Respir. Med. 3, 769–781 (2015).

Delaneau, O., Zagury, J.-F. & Marchini, J. Improved whole-chromosome phasing for disease and population genetic studies. Nat. Methods 10, 5–6 (2013).

O'Connell, J. et al. A general approach for haplotype phasing across the full spectrum of relatedness. PLoS Genet. 10, e1004234 (2014).

Martin, H.C. et al. Multicohort analysis of the maternal age effect on recombination. Nat. Commun. 6, 7846 (2015).

Kong, A. et al. Detection of sharing by descent, long-range phasing and haplotype imputation. Nat. Genet. 40, 1068–1075 (2008).

Williams, A.L., Patterson, N., Glessner, J., Hakonarson, H. & Reich, D. Phasing of many thousands of genotyped samples. Am. J. Hum. Genet. 91, 238–251 (2012).

Loh, P.-R., Palamara, P.F. & Price, A.L. Fast and accurate long-range phasing and imputation in a UK Biobank cohort. Nat. Genet. http://dx.doi.org/10.1038/ng.3571 (2016).

Scheet, P. & Stephens, M. A fast and flexible statistical model for large-scale population genotype data: applications to inferring missing genotypes and haplotypic phase. Am. J. Hum. Genet. 78, 629–644 (2006).

Li, Y., Willer, C.J., Ding, J., Scheet, P. & Abecasis, G.R. MaCH: using sequence and genotype data to estimate haplotypes and unobserved genotypes. Genet. Epidemiol. 34, 816–834 (2010).

Howie, B.N., Donnelly, P. & Marchini, J. A flexible and accurate genotype imputation method for the next generation of genome-wide association studies. PLoS Genet. 5, e1000529 (2009).

Delaneau, O., Marchini, J. & Zagury, J.-F. A linear complexity phasing method for thousands of genomes. Nat. Methods 9, 179–181 (2012).

Koga, H., Ishibashi, T. & Watanabe, T. Fast agglomerative hierarchical clustering algorithm using locality-sensitive hashing. Knowl. Inf. Syst. 12, 25–53 (2007).

McCarthy, S. et al. A reference panel of 64,976 haplotypes for genotype imputation. BioRxiv http://dx.doi.org/10.1101/035170 (2015).

Sharp, K., Kretzschmar, W., Delaneau, O. & Marchini, J. Phasing for medical sequencing using rare variants and large haplotype reference panels. Bioinformatics http://dx.doi.org/10.1093/bioinformatics/btw065 (2016).

Lloyd, S. Least squares quantization in PCM. IEEE Trans. Inf. Theory 28, 129–137 (1982).

Manichaikul, A. et al. Robust relationship inference in genome-wide association studies. Bioinformatics 26, 2867–2873 (2010).

Hinch, A.G. et al. The landscape of recombination in African Americans. Nature 476, 170–175 (2011).
Acknowledgements
UK BiLEVE was funded by a Medical Research Council (MRC) strategic award to M.T., I.H., D. Strachan and L.W. (MC_PC_12010). We would like to thank the UK BiLEVE study investigators, array design team, analysis group and steering group. This research has been conducted using the UK Biobank Resource. This article presents independent research funded partially by the National Institute for Health Research (NIHR). The views expressed are those of the authors and not necessarily those of the NHS, the NIHR or the UK Department of Health. J.M. acknowledges support from the ERC (grant 617306).
Ethics declarations
Competing interests
The authors declare no competing financial interests.
Integrated supplementary information
Supplementary information
Supplementary Figures 1–8, Supplementary Tables 1–4 and Supplementary Note. (PDF 2340 kb)
About this article
Cite this article
O'Connell, J., Sharp, K., Shrine, N. et al. Haplotype estimation for biobank-scale data sets. Nat Genet 48, 817–820 (2016). https://doi.org/10.1038/ng.3583
Received:

Accepted:

Published:

Issue Date:

DOI: https://doi.org/10.1038/ng.3583